Are you thinking about visiting Bangladesh? Would you like to combine fun and adventurous vacations while indulging in new cultures and traditions in Bangladesh? Are you interested in hearing about the top and cheapest tour providers in Bangladesh?
Bangladesh has magnificent temples, rich history and culture, royal palaces, ancient ruins, and national parks. More importantly, guests are almost always welcomed greeted with open arms and warm smiles. A visit to this South Asia gorgeous country is a tranquil and memorable holiday since many attractions are less crowded, especially in the rural areas.
While vacationing in Bangladesh is a life-changing experience, it gets complicated once you start finding a safe, professional, and affordable Bangladesh tour company. Any internet search will make you realize that many companies offer tours to Bangladesh, with prices ranging from a few hundred to thousands of dollars, for essentially the same travel tours.
You can easily get overwhelmed or even fooled by these tour agencies. Furthermore, how can you trust and be sure of the tour services you're signing up for? We have seen many people who have rushed and made the wrong choice only to end up with a lackluster and jaded trip experience abroad.
At TravellersQuest, we do not want you to pay super high costs for a tour in Bangladesh. Our goal is for you to join reputable, affordable, and safe tours to Bangladesh, where you'll create fun and unforgettable memories to last for a lifetime.
So, guess what? We researched for you! We spent many hours studying and finding the 10 best Bangladesh tour companies, just for you to travel and have a great time during tour travel abroad.
You can choose any of these top 10 tour operators to Bangladesh that is safe and highly with top-notch tour packages in Bangladesh. We candidly believe that choosing one of these agencies will result in a wonderful tour experience abroad.
Keep reading to discover the 10 Best Tour Company in Bangladesh that is highly rated and affordable.
Providers
Package
Reviews
Tours and Trips Bangladesh
Sundarbans Tour
Wild Rafting on bamboo
Trip Advisor – 173 reviews
Royal Bengal Tours
Photography Tour
Half Day Tour In Dhaka
Trip Advisor – 103 reviews
Deshghuri – Day Tours
Dhaka City Tour
Visit Chittagong Hill Tracks
Trip Advisor – 121 reviews
Bangladesh Scenic Tours
Chittagong Hill Tracts – 8 Days
Dhaka Museum Tour – 1 Day
Trip Advisor – 35 reviews
Cholo Bangladesh
Dhaka Photography Tour – Walking Street
Sonargaon & Panam Nagar Tour
Trip Advisor – 18 reviews
Orient Tourism Channel
Floating Market Barisal tour
Chittagong Hill Tracts
Trip Advisor – 41 reviews
Dhaka Holidays
BANGLADESH BIRD WATCHING TOUR
BANGLADESH WORLD HERITAGE SITES TOUR PACKAGE
Trip Advisor – 44 reviews
Taabu Tour
Dhaka City Tour
Coxs bazaar Holidays Tour
Trip Advisor – 131 reviews
Nijhoom Tours
Kantaji Temple Tour
Dhaka Photography Tour
Trip Advisor – 350 reviews
Table update Oct 16, 2021
Tours and Tripa Bangladesh
Company's location and type: Dhaka, Local Tour Operator
Awards, Certification: Ranked #1 Trip Advisor Certificate of Excellence 2019/2018
Reviews: 173 reviews on Trip Advisor 100% rated great and outstanding
About Company
Tours and Trips Bangladesh is a family-owned tour operator in Bangladesh with a philosophy for connecting tourists with the beautiful country interestingly and insightfully. The company is managed by local staff with years of experience in tourism and is passionate about providing attention to detail during the excursion. They pride themselves on top-notch and adventurous tour packages that are affordable to meet the budgets of all types of travelers.
Packages
Tours and Trips Bangladesh has many great Bangladesh tour packages around the country, and you can be sure to find something exciting for you.
The tour to Tea Heaven is designed to introduce you to Old Dhaka's Lifestyle and archeological sites from the 11th century, including a sightseeing excursion in the world-famous tea-growing area of Srimangal. If you are looking to improve your street photography, take the Photography in Dhaka Tour with a professional guide who is also a photographer. The Sundarbans are the largest mangrove forests in the world and were declared a UNESCO Heritage site.
Reviews
Tours and Trips Bangladesh has been offering high-quality and affordable Bangladesh tours and is has been awarded the Certificate of Excellence by Trip Advisor in 2018, 2019, and 2020. This tour company in Bangladesh has garnered amazing and raving reviews and is rated 5-stars for excellent packages. See this review from a past tourist:
"It was all about Trust! WHAT AN AMAZING TEAM, always there to help share and exchange perspectives. Very well organized, very complete, and a great opportunity." – Joao Lages: March 2020
Royal Bengal Tours
Company's location and type: Dhaka, Local Tour Operator
Awards, Certification: Ranked #3 Trip Advisor
Reviews: 103 reviews on Trip Advisor 99% outstanding and very good.
About Company
Royal Bengal Tours is an award-winning adventure tour company in Bangladesh specializing in tailor-made and eco-friendly excursions in small groups to some of Bangladesh's most attractive places. Their services include day trips, motorbike trips, river cruises, and village homestays. Besides, the company also guarantees 24/7 customer support with English-speaking tour guides. Take a trip with Royal Bengal Tours for the ultimate tour to Bangladesh.
Packages
Royal Bengal Tours organizes some great tour Bangladesh packages that many tourists wouldn't like to miss out on.
The northern part of Bangladesh offers numerous mosques, Hindu temples, and Buddhist Stupas south of the Himalayas. On the Overnight Trip to Rajshahi & Puthia, you will experience rare historical monuments dating back to the 16th-century. The streets of Dhaka are full of stories and a great opportunity for Photography Trip in the old town and the Kawran Bazar. One of the company's most famous trips is a Sightseeing and River Cruise, which combines an expedition in the Old Capital, Sonargaon, with a cruise on the Meghna River.
Reviews
Royal Bengal Tours is one of the most popular tour operators in Bangladesh, with over 100 glowing reviews on Trip Advisor. Over 99% of the company's tour reviews state that the company is either very good or outstanding. See the glowing review below:
"My wife and I had an unbelievably amazing experience on our tour of the parliament building. It was the highlight of our trip to Dhaka for certain! Royal Bengal Tours provided great information and made the whole process easier and more interesting! – Calvin S: Feb 2021"
Deshghuri- Day Tours
Company's location and type: Dhaka, Local Tour Operator
Awards, Certification: Ranked #3 Trip Advisor
Reviews: 121 reviews on Trip Advisor 99% outstanding and very good.
About Company
Deshghuri Day Tours is a registered and licensed tour company in Bangladesh based in Dhaka specializing in unique day tours and tourism-related services such as hotel bookings and car rentals. With many years of experience in the industry, they take pride in well-trained English-speaking guides committed to helping you explore the country safely and authentically.
Packages
Deshghuri Day Tours has some great guided tours in Bangladesh that is worth considering during your trip.
In the Dhaka City Tour, you will find colorful parks and roads with Rickshaws, street food, and former British constructions built in the 19th century. Otter Fishing is still popular in Bangladesh. This ancient technology dating back over 1000 years is fun to engage in and experience alternative natural fishing methods. Join in and explore the ethnic culture in Bangladesh by visiting the Chittagong Hill Tracks and learn about Ethnic Lusai Families, their culture, and food.
Reviews
You can be guaranteed delightful grand tours in Bangladesh with Deshghuri Day Tours. From 121 reviews on Trip Advisor, this operator is highly rated with expertise in providing safe trips with educated tour guides. They have a five-star rating and are ranked #4 out of 85 outdoor activities in Dhaka.
"I received the opportunity to visit Bangladesh. During the trip, I went in touch with the life of this country. The People is very kind, helpful and friendly Thanks a lot to Mr Sajjat and his team for supporting us during all the vacation." – Gio M: Jan 2020
Bangladesh Scenic Tours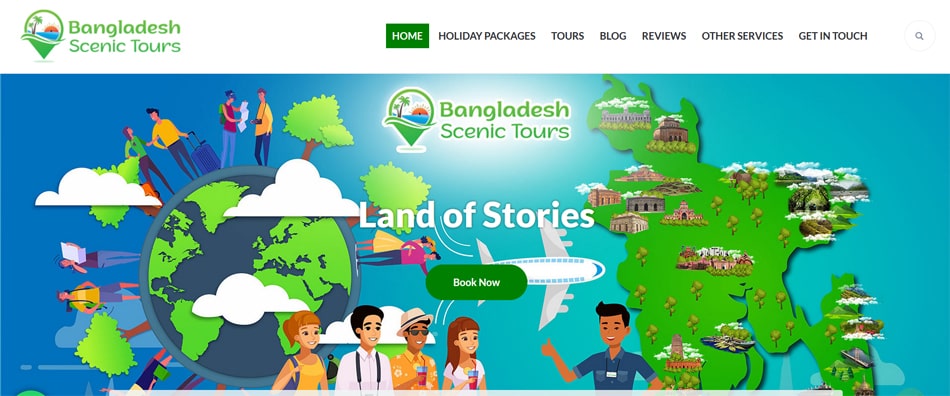 Company's location and type: Dhaka, Local Tour Operator
Awards, Certification: Ranked #5 Trip Advisor
Reviews: 35 reviews on Trip Advisor
About Company
Bangladesh Scenic Tours is a top and leading tour company in Bangladesh. The company specializes in delivering second-to-none holiday vacations, including sightseeing, photography, archaeological, and world heritage tours to domestic and international tourists. With professional and enthusiastic tour guides, you will feel just like a local with world-class services guaranteed. Bangladesh Scenic Tours' goal is to be flexible and ensure your satisfaction and happiness. Besides, they are committed to making your trip safe, secure, and pleasant.
Packages
Bangladesh Scenic Tours has many worthwhile tour packages in Bangladesh that are flexible and fun to join.
The Chittagong Hill Tracts has a rugged mountainous terrain with deep forests, waterfalls, and lakes giving it an authentic appeal from the rest of Bangladesh. It is in the North and is mostly inhabited by local tribes. If you are looking for wildlife and biodiversity, then take the Sundarbans Safari and explore the largest mangrove forest in the world, home to the Royal Bengal Tiger. Visit the Bangladesh National Museum, the largest in South Asia, with archaeological artifacts, contemporary arts, and displays of historical documents.
Reviews
Bangladesh Scenic Tours is a highly rated tour company in Bangladesh. There are many online reviews on the internet where past travelers praise the company for its services and outstanding customer service. The company has earned a five-star rating on Trip Advisor for its safe and affordable Bangladesh tours. Read an honest review here:
"Obaidul was an incredibly knowledgeable guide! In the short time we had in Dhaka, we left feeling confident that we saw the best sights and were fully given the background behind it. He was friendly, personable, and a pleasure to see the sights with. The boat ride and rickshaw ride were very very enjoyable. People are super friendly and want to take a selfie with us; Liton drove us nicely in such a chaotic city like Dhaka. We wish to come back again to see this beautiful country. 5 stars all around!" – Lenard W: Nov 2019
Cholo Bangladesh

Company's location and type: Dhaka, Local Tour Operator
Awards, Certification: Ranked #1 Trip Advisor
Reviews: 18 reviews on Trip Advisor 100% outstanding and great.
About Company
Cholo Bangladesh Tours is a top and reputable tour company in Bangladeshdelivering top-notch tour packages at a very affordable price. Their priority is always your safety, and the staff members and guides ensure everything is perfect during your tour. In addition to Bangladesh trips, Cholo Bangladesh Tours offers other tourism-related services, including ticket bookings, hotel reservations, and airport transfers. Check them out for the best Bangladesh Tours and Book now!
Packages
With Cholo Bangladesh Tours' packages in Bangladesh tours, you can expect to enjoy and have the best time of your life abroad.
The Sundarbans Private Tour is very popular with tourists since it is a UNESCO world heritage site and where you find the Royal Bengal Tigers in their natural habitat. Take the guided street Photography Tour in Dhaka for the ultimate Bangladesh experience through your camera lens. Go and explore the Old Capital of Bangladesh, Sonargaon, Bangladesh's former inland port, and business epicenter. On this tour, you will discover the abandoned old capital, Panam Nagar, and the Sonargaon museum.
Reviews
Cholo Bangladesh Tours has years of experience providing adventure tours in Bangladesh. They have gained a 5-star rating with raving and happy reviews on Trip Advisor. Besides, the company is ranked #1 out of 23 operators in Dhaka. See an honest review from a past customer here!
"My Sajek Valley tour experience with Cholo Bangladesh Tours was very pleasant. They provide great and soothing service including resort, transport, and food. The tour guide was very friendly as well as professional. According to me, Cholo Bangladesh Tours is one of the best tour operator companies in Bangladesh." -Tazrin R: Jun 2021
Orient Tourism Channel
Company's location and type: Dhaka, Local Tour Operator
Year of establishment: 2001
Awards, Certification: Ranked #8 Trip Advisor
Reviews: 41 reviews on Trip Advisor 97% professional and excellent.
About Company
Founded in 2001, Orient Tourism Channel is an award-winning experienced tour company in Bangladesh dedicated to delivering highly rated travel tours to international and local tourists. The company has not only received awards from England but has also been mentioned in the travel guide books Petit Fute and Bradt. With over 20 years of experience, Orient Tourism Channel provides tailor-made sightseeing tours with professional English-speaking local guides.
Packages
Orient Tourism Channel offers a popular and exciting Sundarbans tour package in Bangladesh, and you will have an opportunity to join a trip that best fits your needs.
The Floating market Barisal Tour is by boat, taking you to see lifestyles of people living by the Sandha river and canal. You can also join the Chittagong Hill Tracts Tour to see the aboriginal and jungle life and discover stunning Buddhist temples while trekking along the Blue Water Lake. When you take the Sundarban Tour, you will cruise to the delta region of Meghna, Padma, and Brahmaputra River basin and explore the largest mangrove forest in the world.
Reviews
This tour operator in Bangladesh ranks highly at number 8 of 85 different outdoor activities in Dhaka. Their exceptional services have earned them a 5-star rating with nearly 50 excellent reviews on Trip Advisor. Below, you can read lovely feedback left by a former client:
"From the first email with owner Razbe I knew they would be the perfect tour company! My guide Suleman was absolutely fantastic, it was like traveling with a long-lost friend and was great fun exploring Sreemangal tea plantations! Razbe helped arrange a last-minute long-distance taxi when I fell ill, absolutely great service! They truly go above and beyond." – MindfulRyan: Oct 2019
Dhaka Holidays

Company's location and type: Dhaka, Local Tour Operator
Awards, Certification: Ranked #8 Trip Advisor
Reviews: 44 reviews on Trip Advisor 99% specialized and outstanding.
About Company
Dhaka Holidays is a proven success by offering the best guide tours of Bangladesh. The company leaves no stone unturned to ensure your trip is memorable and impactful with many great experiences. They are famous for serving all customers with the same level of dedication and loyalty, whether domestic or international. Along with delivering spectacular travel experiences, This tour company in Bangladesh designs tour packages catering to your passion budget and needs. Besides, they have a team of professional guides with expertise to create customized all-inclusive tours of Bangladesh.
Packages
No matter what you decide to do, this tour operator in Bangladesh will take your vacation to the next level with great tour packages.
One thrilling option is the Sundarbans Tour which starts with a cruise from Mongla, through narrowed creeks to see wildlife, including the Kingfishers, Bee-eaters, and flycatchers. The company's popular Photography Tour features the Sadarghat River Front, Ganges Rivers, and Old Dhaka. Bangladesh is home to more than 650 species of birds. Join the Birdwatching Tour with a professional Zoologist and learn about the different birds and the immigration patterns.
Reviews
This tour company in Bangladesh has many raving and glowing reviews online, showing that its previous customers have been very fulfilled with its tour packages and customer service. See an example of a lovely remark from Trip Advisor:
"We spent 20 days with John, Azim, and Unus, and we had a great time with them, very gentle, always kind, precise, and attentive to our needs as photographers, prepared for visits and places. Warmly recommended!!!!" – Giacomo L: Jan 2020
Taabu Tour
Company's location and type: Dhaka, Local Tour Operator
Awards, Certification: Ranked #1 Trip Advisor
Reviews: 131 reviews on Trip Advisor
About Company
TaabuTour is one of the best and top travel management tour operators in Bangladesh that was founded by a group of adventurers' locals with more than ten years of travel experience individually. The company is dedicated to creating Bangladesh tours that are safe for all travelers. They deliver a variety of city tours, cultural trips, and natural excursions. TaabuTour works with a friendly team to create tailor-made tours for all kinds of travel, including private, corporate, and educational. Besides, the company also delivers homestay programs and hotel accommodations around Bangladesh.
Packages
You have many options of tour packages from Bangladesh to join for a fun-filled vacation with TaabuTour.
Dhaka is the capital city of Bangladesh. On the Tour of Dhaka City, you will see many great attractions, including Ahsan manzil, Lalbagh Fort, the Dhakeshwari Temple, Parliament Buildings, and many more. For more adventure in the wild, take the Sundarbans and Bagerhat Tour, and explore through the streams to enjoy the gorgeous green landscape along the river to deep forest in Sundarbans and Bagerhat. With this tour company in Bangladesh, you can explore the Cox's Bazar, the longest unbroken sea beach in the world, and Himchari National Park, a local tropical rainforest.
Reviews
TaabuTour offers inexpensive and highly rated tours to Bangladesh. They also offer memorable, safe experiences with unrivaled flexibility allowing travelers to enjoy the country with comfort and confidence. The company boasts nearly 131 positive reviews on Trip Advisor. Read great feedback here:
"Jafar is very knowledgeable, entertaining and he gave us much information we never can get online. He educated us on the dos and don'ts of this authentic country. He definitely is a great company to explore this powerful City!" – Smith D: March 2020
Nijhoom Tours
Company's location and type: Dhaka, Local Tour Operator
Awards, Certification: Ranked #4 Trip Advisor Certificate of Excellence 2015/2019
Reviews: 350 reviews on Trip Advisor
About Company
If you are looking for a reputable, professional, and highly rated best tour company in Bangladesh, look no further than Nijhoom Tours. It is a multi-award-winning travel tour specializing in unforgettable private and group tours in the country. Nijhoom is the first and only tour agency to win the Trip Advisor's Hall of Fame Award in Bangladesh. Expect to enjoy well-crafted, safe, and fun tours that support local small businesses and protect the environment.
Packages
No matter what you decide to do, Nijhoom Tours will have impactful tour packages from Bangladesh to take your trip to the next level.
Take the Kantaji Temple Tour and discover the most beautiful Hindu temple in Bangladesh built by the Maharaja Dinajpur and wrapped with stunning terracotta plaques. The Dhaka Photography Tour will allow you to discover the most hidden and attractive backstreets and bazaars while taking gorgeous street portrait pictures. Visit the remote village in Dhamrai in the outskirts of Dhaka and enjoy the Brass and Pottery Tour that shows great ancient lost wax techniques of molding statues.
Reviews
Out of all the tour companies in Bangladesh thus far, Nijhoom Tours is one of the highest-ranked, with an excellent percentage of raving feedback on Trip Advisor. With more than 350 reviews, an astounding 99% say the tours are professional and well-executed ranking, the company at #4 out of 50 Boat Tours in Dhaka. See the happy traveler's response below:
"I took a photography tour yesterday with Nijhoom Tours and its fearless leader, Hasan. Hasan displayed an incredible ability to navigate the hectic maze that is Old Dhaka and imparted lots of knowledge about the city and the country. It was a super-efficient and organized way to experience the most interesting and colorful parts of Dhaka in one full day. Highly recommend!" – Christopher C; Feb 2021
Conclusion
As you can see, this tour operator in Bangladesh list has clearly summed up the best and highly rated Bangladesh tours. We hope this information will be of huge assistance to you and that you will use it to help select the best tour company in Bangladesh that fulfills all your vacation needs and interests,
If you have already been to Bangladesh with one of these tour agencies, we would be interested in hearing all about your adventure with them in Bangladesh? Please write to us and share your experience.
Honorable Mention
Related Links