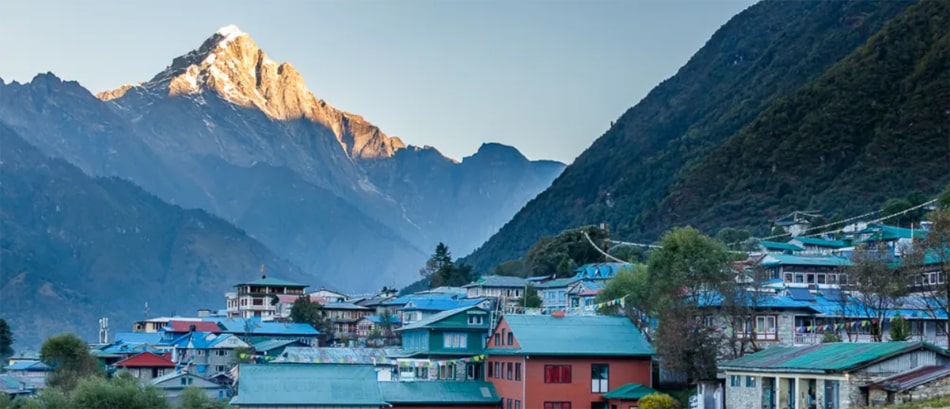 Image Credit : https://thecareyadventures.com/blog/lukla-airport-and-the-himalayas/
Do you have plans to travel to Nepal? Have you been thinking about trekking in the Everest region of Nepal? Are you interested in learning about Lukla, Nepal,the trekking and mountaineering gateway of Mt. Everest region? If so, your search ends here. Keep reading this article to learn in detail about best time to travel to Lukla, Lukla culture, best things to do and trek near Lukla, Lukla airport and much more.
Lukla, a small town in the Khumbu region of Solukhumbu district, Nepal, sits at 2,860m. Many describe Lukla, Nepal as a place known for its airport and intricate hotels, but this quaint town offers so much more. Since the establishment of Lukla Domestic Airport, Lukla has been gaining popularity amongst domestic and international travellers.
Currently, it is one of the most popular destinations for travelers seeking to visit Nepal's magnificent Everest Himalaya region. Lukla of Nepal is a hub for travelers as they rest here on their journey to Namche Bazaar and ultimately their respective trek destinations. It is also an acclimatization stop for trekkers who must adapt to environmental changes to avoid the risk of altitude sickness.
The town is renowned not only for being a stop to the Everest region of Nepal. It has also gained a reputation for being home to one of the scariest airports in the world, with adrenaline-pumping landings. Regardless, it has been a significant gateway and made it accessible for travelers worldwide to explore the grandeur and beauty of the Himalayan region.
Quick Facts About Lukla, Nepal
The name Lukla translates to "the region for sheep and goats."
Lukla is the start point for expeditions to the Everest region of Nepal.
Goods and products are expensive in Lukla because they are carried by potters and pack animals.
Sherpa heavily inhibits the region.
Lukla of Nepal is famous for its stunning landscape and grassland.
It is famous for its herbage, yaks, and sheep-rearing grassland.
Best Time to Visit Lukla, Nepal
The ideal time to travel to Lukla, Nepal, is from March to May. During this time of the year, the weather reaches a temperature of 25 degrees Celsius. The weather is clear and pristine, and you will enjoy stunning views of the surrounding landscapes. However, the best time depends on your preference and the purpose of the visit. We provide detailed information on the climate and weather patterns throughout the year to help you decide the best time to visit Lukla.
Lukla Weather and Climate
The small town of Lukla features a tundra climate. As a result, the weather is usually calm and dry. Summers are usually wet with a short downpour of rain. Summers start in Late June and last till September in Lukla.
The average temperature in Lukla is significantly colder than in other lower regions of Nepal. The climate in Lukla is cold and experiences snowfall most of the time. January is considered to be the coldest time of the year as the temperature falls to -3°C dropping to as low as -15.°C.
The month of May brings frequent snowfall in Lukla, and November experiences the least snowfall. Regarding rain, Lukla has had a total number of 142 rainy days throughout the years. July is the month with the least sunshine and the most rainfall. As a result, the climate in the region is humid most of the time. Among other months of the year, July has the highest humidity level, averaging 92%.
Lukla, Nepal Seasons and Months
Spring
During the month of Spring, the temperature ranges between 17.4°C to 25°C. It lasts from February to May. The temperature does get warmer later this month with occasional rainfall. The crisp and clear weather offers a stunning scene of the majestic Everest mountain ranges.
Further, you can witness several species of small animals and birds, lush vegetation such as pine, rhododendron trees, and oak. The flowing river streams through the beautiful meadow also add to the vibe. So, the season of Spring is regarded to be the ideal season to travel to Lukla and commence outdoor expeditions in the region.
Summer/Monsoon
The month from June to August experiences high temperatures and is not considered an ideal time for visitors. Further, frequent rainfalls throughout the region make the trails slippery and unpassable. So, traveling to Lukla in Nepal is also one of the low seasons.
With a few travelers visiting Lukla, accommodations are readily available, and food prices are lower as well. As a result, most travelers prefer to visit Lukla during this season despite occasional bursts of rain. It is also a perfect opportunity to witness the magnificent views of the Himalayas and vegetation as the rain clears the dust in the surrounding environment.
Autumn/Fall
The temperature ranges from 15°C to 25°C from September to November. This is the Autumn season when the weather is calm and composed, and Lukla in Nepal experiences more sunny days. Despite the hot temperature, the night can still be cold and chilling. As a result, most travelers prefer to visit Lukla during this time of the year because of its stable weather conditions.
Winter
The month from December to February is the winter season in Lukla with an average rainfall of 1 day per month. The weather is freezing, and the numbers of tourists are low compared to other seasons of the year. Regardless, it is a great opportunity to enjoy food and accommodation at a lower price rate.
Lukla Airport
Image Credit : https://himalayantrekkers.com/blog/guide-to-lukla-airport
Lukla Airport, or Tenzing Airport, is a domestic airport in the Everest region of Nepal. The airport was built under the guidance of Sir Edmund Hillary in the year 1964 A.D. The airport was named Tenzing Hillary Airport to honor Tenzing Norgay Sherpa and Sir Edmund Hillary.
The domestic airport runway measures around 527m in length and 65 feet in width. The aircraft are landed through the means of a radio communication system. Due to its runway size, only aircraft with small wingspans can take off and land at the airport.
The takeoff from the airport starts from south to north of the railway, while the landing begins from north to south. Further, the airport is surrounded by wired fences and under surveillance by the Nepal Army.
Flight Experiences to Lukla, Nepal
The aircraft traveling to Lukla are relatively small and carry around 25 passengers per trip. Thousands of travelers travel to the  Everest region via the Lukla airport. The flight to Lukla in Nepal offers you panoramic scenes of the majestic mountains and stunning landscapes in Nepal.
The flight is a thrilling adventure; where you fly through hills and mountains, offering you the majestic sights of the Everest region of Nepal. Besides, the flight takes place only during the early hours of the day. So, it is an opportunity for you to witness the glorious sunrise spread across the morning sky of Nepal.
Ways to Travel to Lukla, Nepal
One of the popular options to travel to Lukla in Nepal is by flight from Ramechhap, Kathmandu and Pokhara. There are also other alternatives such as traveling by vehicle or even on foot. You can book a ticket and travel by bus, which is cheaper. It usually takes around 10-12 hours to reach Lukla from Kathmandu.
Also, you can book a private vehicle, which can be a bit expensive but a faster alternative to traveling by bus. Besides, we have gathered information on each means of traveling to Lukla of Nepal. So, you can plan your trip and pick the best option that meets your needs and preferences.
Kathmandu to Lukla Flight
Most travelers visit Lukla by flight, which lasts around 30 to 45 minutes from Tribhuvan International Airport. Several flights operate every day, but it can depend on the weather condition at a given time. If the weather patterns keep fluctuating, your flight might even delay 1 to 2 days.
Also, keep in mind that the flight to Lukla only allows 5 kg of hand-carry and 10 kg of luggage for passengers. You need to pack accordingly and bring only what you need. If the weight of your baggage exceeds, you must pay $1 per kg. Other details can help you plan your trip to Lukla, Nepal.
Flight Fare: 200 USD (Price keeps fluctuating)
Duration: 30-40 minutes
Distance:140 km
Popular airlines: Summit Airlines, Tara Airlines
Kathmandu to Lukla By Helicopter
Another alternative to reach Lukla, Nepal, is by Helicopter. Like booking a flight, it usually takes around 45 minutes from Kathmandu to reach Lukla via a Helicopter. Throughout the trip, you will be amazed by the views of stunning hills, landscapes, and staggering mountains.
Kathmandu to Lukla By Road/Foot
Unlike air travel, the journey by road to Lukla in Nepal takes a significant amount of time. Your trip starts from Kathmandu and passes through distinct geographical landscapes. Also, the travel via road offers gorgeous views of the rivers, mountains, villages and the countryside. However, the road trip does not directly take you to Lukla. You have to trek from Jiri or Phaplu, which takes around three to five days.
Accommodations at Lukla, Airport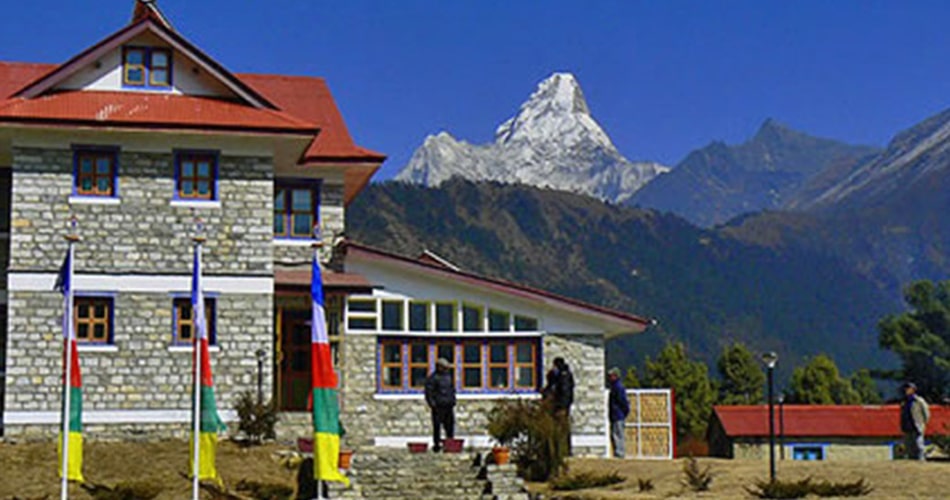 Image Credit : https://www.ampersandtravel.com/nepal/hotels/everest-summit-lodge/
Lukla, Nepal offers ample accommodation options, like restaurants, teahouses, luxury houses and lodges. The prices can differ according to the establishment you are staying at. Regardless, all the accommodations provide basic facilities for trekkers during their trek.
The interior design of most of the hotels in Lukla reflect warm hospitality and their local culture. The rooms available in these hotels feature an attached bathroom with a hot shower or without. These rooms have a single or twin bed, a table, hangers, and charging ports.
Usually, the rooms in these accommodations are pretty warm, but it can get cold during winter. So, you are provided with thick mattresses, duvets and pillows to warm yourself. Also, you can ask for an additional blanket, which might cost you extra expenses.
During your stay, you can also enjoy the services of Wi-Fi. Besides, you can also use a data package to stay connected to the internet during the event of a power cut. You must get an NTC or Ncell sim, readily available in major cities like Kathmandu and Pokhara, to use the services. It would help if you kept in mind that these services may differ depending on the hotel you are staying at.
Some of the famous guest house where you can stay during your visit to Lukla in Nepal are as follows:
Buddha Lodge
Yeti Mountain Home
North Face Resort
Himalaya Lodge
Lukla Airport Resort
Food in Lukla, Nepal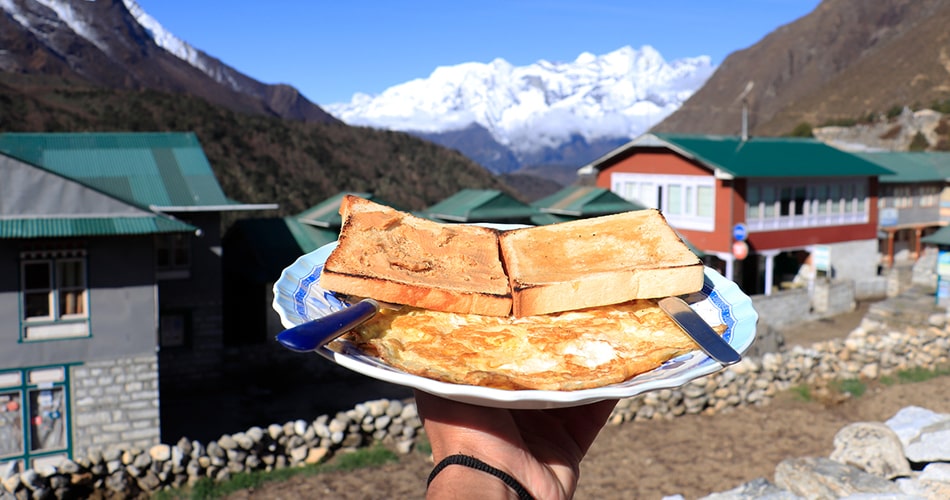 Image Credit :https://mysticadventureholidays.com/blog/food-in-everest-base-camp-trek
The Tea House and lodges in Lukla, Nepal offer you various food and beverages. Some of the popular beverages you can try to keep yourself hydrated are hot lemon, tea, coffee, milk, and hot chocolate.
Whereas rice and noodles are among trekkers' favorites as they provide them with the necessary protein and carbohydrates to walk steep hills and terrains. Most of the dishes are a combination of rice, vegetable, chapati, omelets, potatoes, and cheese.
Popular options for breakfast in the accommodation establishments include oatmeal, chapati, fries, boiled eggs, mashed potatoes, porridge and omelets. Similarly, you will have the option of dal bhaat, pizza, pasta, chowmein, and momos for lunch and dinner. You can also have nutritious soups after lunch or dinner. For dessert, chocolate cake, apple pie, and rice pudding are some of the popular options.
Culture in Lukla, Nepal
Sherpa's are one of the prominent communities residing in Lukla for generations. These people are known for their superior strength, climbing skill, endurance and honesty. Most people in Lukla Nepal work in the travel and tourism industry and run hotels and lodges.
The Sherpa worship the mountains as gods and refer to Mount Everest as Chomolungma, "Mother of the World." In terms of how they live, the houses of the Sherpa people are made of wood and heavy stones. The Sherpa use their houses' lower half to store food, fodder, livestock and firewood. The upper part of the houses is covered with carpets and rugs to keep themselves warm.
The Sherpa people are known for their loyal nature. Often renowned for their hospitality, travelers are welcomed by offering a "Khada," that symbolizes friendship and respect. Also, you will be welcomed with Sherpa Tea upon your arrival in the tea houses.
Major Sherpa Festivals in Lukla
One of the major festivals of the Sherpas is the Loshar. Additionally, the Sherpa celebrate the Manu Rimdu festival, which falls between October and November. The festival is celebrated in masterpieces such as Tengboche Monastery and Chiwong Thame.
Best Things to Do in Lukla, Nepal
Lukla, Nepal, is a beautiful destination full of inns, lodges and hotels which offer stunning scenes and sights of the surrounding landscapes and mountains. It is a popular hub for travelers to start their expeditions in the Everest region of Nepal. Travelers also come here to relax, enjoying the views of the magnificent Himalayas, followed by short outdoor outings. Some of the popular things you can do during your visit to Lukla are as follows:
Custom and private tours
Enjoy the local cuisine and beverages
Explore the Sherpa monastery
Immerse yourself in the Sherpa culture and history.
Thrilling outdoor activities
Magnificent views of the mountains, rivers and hills
Walk through the beautiful Sherpa village, religious shrines, temples and main walls.
Trek Expeditions Near Lukla, Nepal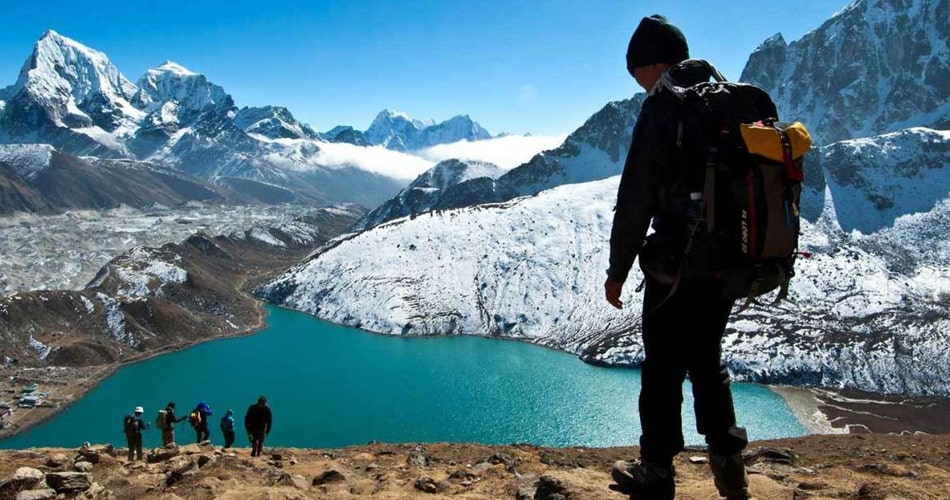 Image Credit :https://www.getyourguide.com/kathmandu-l101/from-kathmandu-everest-high-passes-20-day-trek-t331181/
Lukla, Nepal, is the start point of most of the treks in the Everest region. The small town is a primary hub for acclimation and accommodation during your expedition to the Himalayas.
The town also connects every small village and route in the region. As a result, you will have a wide range of options for starting an outdoor expedition. Here is the list of the best treks that are nearby Lukla, Nepal.
Everest Luxury Trek
Gokyo Lake Trekking
Everest to Chola Pass Trek
Trekking to Everest's Three Passes
EBC Trek
If you're planning a trip to Nepal, consider trekking the Annapurna Circuit and Manaslu trek after your visit to Lukla. These treks offer breathtaking views of the Himalayan mountains, authentic cultural experiences, and a chance to immerse yourself in the natural beauty of Nepal.
These best Nepali travel agencies and trekking companies are the best choice for your adventure in Nepal. They offer you experienced and knowledgeable guides, safe and comfortable accommodations, and personalized itineraries tailored to your preferences.
FAQs
Is Lukla, Nepal worth visiting?
Yes, if you love natural beauty and adventure, Lukla is definitely worth visiting. It is the gateway to the Everest region, and is famous for its scenic beauty, and unique culture.
Can you see Everest from Lukla in Nepal?
It is not possible to see Mount Everest from Lukla itself, but you can get a glimpse of the world's tallest mountain from various viewpoints along the trek to Everest Base Camp.
What is Lukla of Nepal known for?
Lukla is known as the gateway to the world's highest mountain, Mount Everest, and is a popular destination for trekkers and adventure enthusiasts from around the world.
Can you drive to Lukla?
No, you cannot drive to Lukla, Nepal. There are no roads connecting it to other parts of the country.