887 Views
Home
»
blog
» 9 Best Cheap [Include Rates & Reviews] Bali Volunteer Teaching English Companies 2021| Compare & Save
9 Best Cheap [Include Rates & Reviews] Bali Volunteer Teaching English Companies 2021| Compare & Save

Travellers Quest is committed to help you take a decision to volunteer abroad with confidence. We don't have a bias to ANY of the organization featured here. Our best list is created after careful examination of prices, reviews and organization reputation. You are free to select any organization with no obligation.
Are you searching for a way to expand you cultural and travel horizons while working with disadvantaged people in poor communities in Bali, one of the most gorgeous places in the world? Now, that you have made a decision to travel to Bali Volunteer Teaching English, searching for the right provider will not be a surefire experience.
While there are hundreds of volunteer organizations out there and plenty that offer volunteer teaching opportunities in Bali, we have done our research and summarized for you the 9 most reputable, safe and affordable Bali volunteer organizations right now. Save your time and efforts going through numerous websites and reviews. In this article, you will get to:
Find out the most affordable volunteer providers for teaching English in Bali
Click the GET MORE INFO NOW button, and with one click, send an inquiry to all the providers on this list.
Easily select the perfect program for you by comparing prices and programs with absolutely no obligation whatsoever.
Download the FREE volunteer abroad guide at the end of this article. It has ALL you need to know for a safe, and impactful volunteer abroad opportunity.
Table update September 16, 2019
Founded by volunteers for volunteers, Plan My Gap Year (PMGY) is a best organization especially for young travellers or students looking to take sometime off studies and gain experience working with impoverished communities around the world. Based in UK PMGY hosts over 2000 volunteers each year in over 150 volunteers abroad programs in 17 countries across the world. If you are travelling solo, you will be able to meet and work with other volunteers like you with PMGY programs.
About PMGY Bali English Teaching Volunteers
PMGY offers an affordable and diverse teaching program in Bali. In this program, you will work to encourage students to develop a skill that will help them to achieve their future goals. You will make a difference by opening up possibilities of developing English for local children in Tabanan aged from 4- 14 years. It is an empowering and rewarding project, which really makes a difference to those less fortunate in providing free English education to the children to make their futures bright.
PMGY: Bali Volunteer Teaching English Fee
You'll pay $190 registration fee used for the pre-trip planning and support throughout your trip. This English teaching volunteer program in Bali is quite affordable with a two-week stay at $318, which covers airport pick-up, accommodation, meals and fundraising for the project, and it is paid directly to the projects.
Reviews
Many raving online reviews from happy and satisfied volunteers, give PMGY a 96% rating on Go Overseas. Previous volunteers comments range from programs being cheap to being impactful and having the best host families. PMGY does not compromise on your experience and offers affordable and secure programs.
Why we selected Plan My Gap Year:
PMGY is a top pick for teaching English volunteer program in Bali because they are extremely affordable and the programs are set out to fit young and learning first-timer volunteers. Even with limited programs, PMGY allows you to experience communities and culture without compromising quality of the program.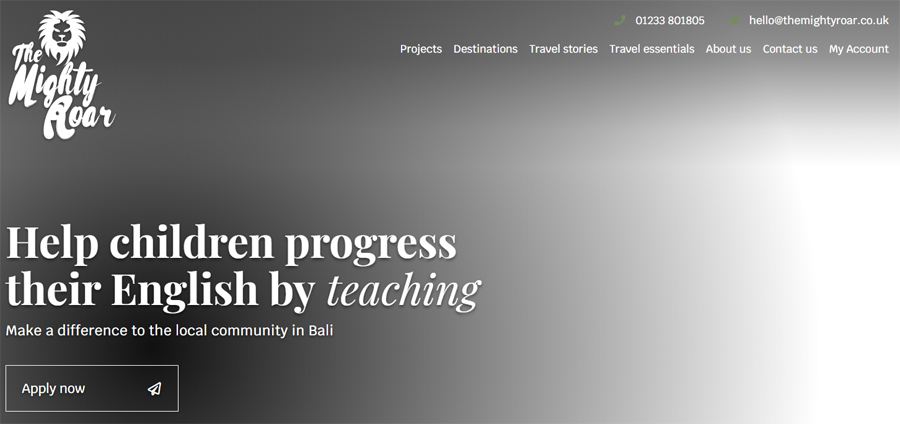 This award-winning UK based organization provides structured, safe and affordable volunteer programmes abroad to make a positive impact in 15 destinations around the world. Might Roar maybe the best option for you if are looking for a provider that is involved in conservation, research and protection of some of the worlds most amazing and endangered animals. This organization also offers you an opportunity to work with local communities with making new friends with fellow volunteers because they offer maximum interactions in the programs.
About Mighty Roar Bali Teaching Volunteers
Mighty Roar offers a rewarding project within the community in Tianyar, a traditional fishing village. Established in 2008, the center is 100% run and owned by the locals, it has been developed with assistance of volunteers like you from around the world. With the main aim of teaching English for free, the children attend our classes as well as their normal government run education. You, along with other volunteers will focus on providing a fun and enjoyable experience, where the children can further progress their English speaking skills, to find employment and turn their lives around in the future.
The Fee
You'll pay the low registration fee of $164 for teaching English volunteering program in Bali project. In addition to a two week stay program fee of $343 or $ 622 for a four-week stay. The programs fees cover for food, accommodation, airport pickup and transfer, program orientation and safety briefing, 24/7 local support and project placement and onsite supervision.
Reviews
Since its inception this affordable best teaching volunteers in Bali provider, has created a very reliable and impactful projects. As a result, it has received many positive feedbacks, reviews and ratings from former volunteers of 4.7 stars rating on social media platforms including Facebook.
See more here
Why we selected Mighty Roar:
Mighty Roar caught our attention because of the unique and affordable Bali teaching English volunteer opportunity they offer. All the programs are environmental friendly and very interactive. Because they work with local communities this teaching volunteers program is limited but provides an opportunity to meet new volunteers and create lasting professional relationships.
This great best volunteer organization was formed in 1998, and has hosted over 18,000 international volunteers. Rural Community Development Program (RCDP) has unparalleled in-country support from experienced staff, that ensure your volunteer experience is safe, worthwhile and exciting. We like the affordable prices this provider offers and you might not get them with any other provider. It's a double win!
About teaching English in Bali volunteer program
RCDP offers quality and affordable teaching program in Bali. In this program you will teach local Balinese children how to read, how to write, how to think in a different language and how to communicate their thoughts verbally. Each class is unique. Your role as a volunteer teacher will vary depending on your skills, experience and the needs of the school. The best part volunteering teaching English in Bali abroad you may ask? You are the teacher! There is something you can share, a skill you took for granted all your life
The Fee
This organization is very affordable with an application fee of $279. Program fees of $370 for a two-week stay or $610 for a four-week stay will be needed. The program fees cover for food, accommodation, airport pick up and transfer, program orientation, in-country support, personalized project, pre-departure information and certificate of completion.
Reviews
RCDP attests to numerous positive testimonials from its past volunteers, with special praise for the popular Bali volunteer English teaching program, which offers excellent safe logistical arrangements, affordable program fees, and very good support from the local staff throughout. You can read more reviews about this organization
Why we selected RCDP:
The reason RCDP was selected as the best to organization is because of the high quality impactful and affordable programs they offer. Although the program is a bit limited, past volunteers have raved about the level of impact and high-value program RCDP offers. Including transparency when it comes to allocation of program fees.
IFRE Volunteer is a registered non-profit founded in 2006 in Dallas, Texas, with a goal to offer affordable and high quality volunteer and humanitarian experiences abroad. We were drawn to this organization because almost 80 percent of the program fee is reinvested back to the communities to ensure all the programs IFRE work in are sustainable. Since inception they have hosted over 22,000 volunteers in 18 countries and continue to send 1, 000 each across the world.
About IFRE Teaching English Volunteer Program in Bali
You'll definitely set to make a difference in this IFRE's great teaching program in Bali. In this program you'll give an opportunity to children from low-income families, so they can have bright futures in the lucrative tourism industry that pours millions of dollars into Bali each year. Not only will you help these disadvantaged children, you will gain valuable teaching experience, make lifelong memories, and feel great knowing you are making a big difference in the world.
IFRE: Bali Volunteer Teaching English Fee
IFRE claims that it offers one of the best and most affordable top quality volunteer teaching English programs in Bali. IFRE charges a registration fee of $299 to cover advertising costs, staff expenses and so on. A program fee of $370 for two weeks and $610 for four weeks covers food and accommodation in-country support and donation to the community.
Reviews
This provider is very popular because of the high quality programs and also that 80 percent of program fees are invest back to the communities. Past volunteers have a lot of great things to say about the organization and the teaching English Bali volunteer program. Comments like "unbelievable how a few dollars can change lives" "Nothing beats a child smile when you teach them." More information is available below:
Why we selected IFRE:
We were attracted to IFRE because they offer well-priced volunteering programs, which don't compromise on quality. Costs are very affordable because IFRE reinvests money back to the community with no profit out of volunteering activities.

As a best provider New Zealand registered company, Love Volunteers was founded in year 2009. The organization offers unique and cost effective programs in 36 countries across the world. Love Volunteers made our top 9 best providers' list because they are great choice for young travellers without any volunteering experience who are seeking simple life-changing capabilities.
About Love Volunteers Education Support in Bali
Love Volunteers offers a top rated great education program in Bali. In this program they offer opportunities to volunteers like you who have a passion for children. Teaching volunteer program in Bali supports wonderful, but impoverished families, enabling their children to learn the skills required to better enhancing their futures. You'll work to provide free English language lessons to under-privileged children at a non-profit learning center. Around 60 children, ranging in ages from 5 – 18 years attend the classes, which will give you an opportunity to interact and learn more about the Balinese people and culture, and spend time exploring this magical location.
Love Volunteers: Bali Volunteer Teaching English Fee
This is organization maintains affordable prices in Bali. You'll pay $299 for registration, while a minimum of two-week stay at the programs will be $449. The teaching volunteering opportunity in Bali fees cover for the housing and foodby the host family, local support and security, including airport pickup and transfer.
Reviews
With over 450 positive and great reviews online about the education program in Bali, this providers offers amazing cultural exposure and exchnage at the programs. Previous volunteers have also given this organization positive feedback on their very helpful local coordinators, responsive staff, the life-changing program, as well as their cost. Check more here:
Why we selected Love Volunteers:
Love Volunteers was right up in our alley. From numerous reliable reviews this provider for volunteer teaching English in Bali has successfully positioned themselves to offer affordable and simple programs for beginners with easy personalized dashboard. The local and international staff is available to take you through this easy process. Who would not like this?
International Volunteer HQ (IVHQ) is an award-winning organization started in 2007 by an experienced volunteer, Dan Radcliffe. Based in New Zealand, this best teaching program provider has hosted over 100,000 volunteers in the last 10 years in 40 destinations. We selected them after reading all the amazing reviews on volunteering experience and diversity of the programs especially in Bali.
About IVHQ Volunteer English Teaching in Bali
IVHQ offers a great and diverse teaching program in Bali. In this program, you will play a hands-on role in developing the English language skills of elementary students within Ubud. Balinese students are eager to practice their conversational English skills and learn from native speakers, as greater English literacy supports opportunities for higher education and career prospects in areas like Bali where Tourism is a rapidly expanding industry.
The Fee
You'll be offered one of the best and cheap volunteering in Bali in English teaching program sector, and it is rated to be affordable to all. The program fee is Bali starts at $ 470 for two weeks, rising to $745 for four week. Program registration fee is a one-time payment of $299.
Reviews
It has been positively been rated and reviewed by both alumni volunteers as well as online reviewing websites like Go Overseas all with amazing things to say. Impressive reviews include, one past volunteer that stated Bali Volunteer Teaching English surpassed all his expectations. Another one said, "IVHQ was very helpful and provided free online courses to prepare."
Why we selected IVHQ:
The company stood out because it offers FREE online courses for teaching preparation in Bali. With the best and affordable volunteer teaching English in Bali program, IVHQ inspires prospective volunteers who want to make a meaningful difference to both their own life, and those of others. We loved the approach offering limited but many impactful programs.
Go Eco is a nonprofit and ethical volunteer organization founded by Jonathan Gilben and Jonathan Tal in 2005. These two founders have years of experience travelling numerous destinations to volunteer on international ecological projects, which later inspired them to start their own. We selected this provider because of their consistence growth each year providing a wide range of programs based on community and wildlife in 34 international destinations,
About Go Eco Education and Community Work In Bali Program
Go Eco provides a great Bali teaching English volunteer program. In this program, you'll make a difference through teaching in underdeveloped villages, participating in construction, teaching health education and inspire community members to strive towards a brighter and more sustainable future!
The Fee
Affordable and pocket friendly defines the cost for teaching volunteering programs in Bali. Go Eco does not charge a registration fee, but you will find their prices are slightly on the higher side compared to other providers. Two weeks in Bali will cost you $770, which includes airport pick up and departure transport, housing, food, and full support throughout your trip.
Reviews
Go Eco is an efficient organization with amazing reviews online. Go Overseas has 64 reviews with a rating of 94%, while go abroad has about 517 reviews at an average of 9.67 stars. It is highly praised by past volunteers for its transparency, impactful projects and affordable cost.
Why we selected Go Eco:
Go Eco was selected as the best Bali Volunteer Teaching English because of the environmental friendly programs, as a non-profit most of the programs are community based that leaves sustainable impact and affordability. Even thou this provider is slightly pricy, you will be able to directly support the communities and positively impact children's lives forever.
As a best provider Friends Of Asia was founded in 2007 Todd Cikraji, an experienced teacher and Peace Corps Volunteer. Over the years this Asian organization has hosted over 2,500 volunteers from more than 18 nationalities in volunteer and internship programs in four countries around Asia. This organization struck us because they are solely independent and rely on program fees to support programs, yet they have managed to keep the cost low and offer high-quality volunteer opportunities.
About Friends For AsiaTeaching English Volunteer Project
Friends of Asia's top rated and great program focuses on changing the lives of unprivileged children. In this program you'll be expected to help teach Basic English as a second language (ESL). Helping with the learning of vocabulary is very important for ESL learners and you are encouraged and welcomed to use music, games and other interactive activities to make the learning experience as fun and as beneficial as possible. If you are friendly and outgoing it is a plus, as it will help the kids warm up to you and learn. Your passion to work with children will change lives forever.
The Fee
The main focus of this provider is to offer top quality teaching English volunteer opportunity in Bali at very reasonable prices. You will not be required to pay registration fee, which you can put in consideration while making your selection. However, a two week-stay begins at $850 that cover many costs including airport pick up, pre-departure information and certificate of completion.
Reviews
This is among the most famous and popularinternational volunteering providers offering top quality Bali Volunteer Teaching English programs at reasonable rates.Past volunteers have only but pleasant things to say about the organization recommending the company to prospective volunteers looking for the best and most affordable volunteering opportunities in Bali
Why we selected Friends For Asia:
We selected Friends of Asia as best 9 because it is very familiar with teaching English volunteering programs in Bali. Besides working with local communities who understand the communities well they are also very affordable and more 60 percent of the program fee is reinvested back to communities.
This UK based organization specializes in offering opportunities to volunteer abroad on your gap year, sabbatical or career break including work experience projects. Founded 25 years ago, Travellers Worldwide is widely recognized as an experienced industry leader with over 300 projects in developing countries around the world. They are best organization and we selected them because of the experience and the numerous high value projects they have.
About Travellers Worldwide Teach Children in Local Schools In Bali
This the best top rated teaching English Bali volunteer program offered by Travellers Worldwide is very affordable. In this program you will work with local children as an assistant teacher teaching English, Sport and Games in a school or Teaching Centre. You will be able to teach a variety of English Based subjects, and teach whole classes on your own or take classes together with other volunteers. The average ages of children are between 4-7 years old for preschool and 7-14 years old for primary school. Your passion and support will improve English skills to underprivileged children in Bali.
The Fee
Affordable and cost efficient is what best defines Travellers Worldwide. This organization does not charge a registration fee for teach English volunteer program in Bali, but you will pay $1,000 for a two-week stay or $1,250 for a four- week stay. The fees cater for accommodations, meals, 24-hour airport pickup and project placement and onsite supervision.
Reviews
The company strives hard to satisfy its clients whilst also encouraging potential volunteers by offering the best services at the most affordable prices. This is the reason reason why Travellers Worldwide has such a solid reputation worldwide and loved by past volunteers. Check overwhelming reviews here Go Overseas Go Abroad
Why we selected Travellers Worldwide:
Travellers Worldwide is one of the best volunteering abroad companies for young and first time volunteers across the globe. If you want an organization that has secure and safe programs then, this is the right choice for you. The high price is a demerit point, but the Bali volunteer teaching English programs on offer are affordable, high quality and also worthwhile and the reason we selected this organization.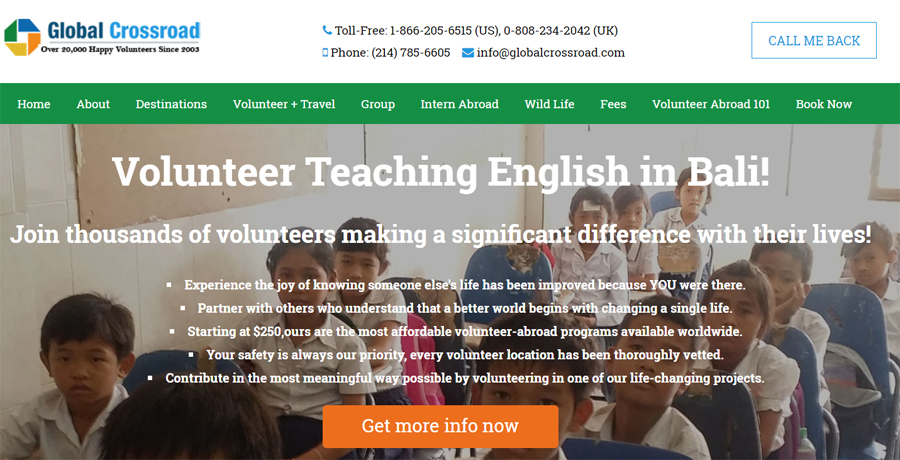 This US based organization was formed in 2003 volunteer programs. It is renown from reviews online to offer the best rewarding volunteer abroad opportunities, a caring host family, and extensive support from their professional staff members. Since 2003, more than 20,000 volunteers have experience Global Crossroad volunteer opportunities in 18 countries.
About Global Crossroad Teaching English in Bali Volunteer Program
This highly rated and reasonably priced Global Crossroad teaching program helps disadvantaged children in Bali. In this program, expected to provide love, support and attention to those children. Due to the high influx of tourists who travel to Bali every year, the ability to communicate in English opens a lot of career opportunities in tourism for the local Balinese. You can help teach this valuable skill set to the children of Bali in an effort to prepare them for a brighter and more successful future.
Global Crossroad: Bali Volunteer Teaching English Fee
Global Crossroad strives to provide low cost Bali teaching English volunteer program so that volunteers benefit and easily enroll. The program registration fee is $ 299. A two-week stay at the project is $370 or $610 for a four-week stay. The fees cover food and accommodation, airport pickup, airport pickup, orientation and in-country support. The program fees do not cover airfare, visa fee, vaccinations, insurance and other personal expenses.
Reviews
Past volunteers praise the welcoming people of Bali including the learning attitude of the children, who are happy to learn from natives. Reviews include comments like "highly recommended" "high value program" and "highly impactful program."
Why we selected Global Crossroad:
This provider topped the top 9 volunteer teaching English in Bali because of the affordable price and professionalism. If you are looking for an organization that is unique with high standards then you are in the right curve. The teaching program is not as diverse but it does not limit you and your experience in Bali
Conclusion
Bali is a top tourist destination in the world. If you decide to travel and volunteer in Bali, you can b sure you to have an incredible time. And now that you have gone thorough our guide above, you can now choose with confidence and no obligation the provider you would like Bali Volunteer Teaching English with. Apply now and join thousands of volunteers like you!
Keep in touch and give us your feedback after your trip abroad! Safe travels.
If you are interested to volunteer teaching in any other beautiful country, we have teaching programs available in countries like Tanzania, India, Ecuador, Brazil, Argentina, Peru, Kenya, Uganda, South Africa, Ghana, Thailand, Cambodia, Nepal, and Sirlanka