21 Best things to do in Milan, Italy| TravellersQuest
By Gloria
A budding freelance writer. Alongside writing, her passions include reading and learning new things. Lover of good food, animals, and creative projects. Blog – abubblyymind.wordpress.com
Worthy of the title of one of the most beautiful cities of Europe, the Fashion Capital of the World is a must-see destination for a short trip full of enjoyment. Situated in Lombardy, the most-developed region of Italy, this city is known for its' magnificent buildings, historical sights, and numerous fantastic locations that contribute to the atmosphere of a metropolis. From great shopping to beautiful nights by the Navigli canals, everyone can find an activity that suits them, be it that you enjoy art, music, entertainment or simply relaxation. A city like this is the perfect place for experiencing a "true Italian vacation". Here is a list of 21 things to do on a weekend trip in Milan:
The Duomo
The Duomo Cathedral is one of the most recognizable buildings in Milan if not the most recognizable. Built over almost 6 centuries, in Gothic style, it is the seat of the Archbishopric of Milan. Year after year, it makes a massive impression on visitors to this city, especially the incredible view of the city from the top of the cathedral. While the entrance to the cathedral is free, there is a charge for going to other parts, or to the top, where you can enjoy the view for the price of 8-25e depending on what you want to visit, ie the ticket you choose.
Galleria Vittorio Emanuele II
Galleria Vittorio Emanuele II offers a unique opportunity for those who want to experience the atmosphere of luxury shopping in Italy in a place of fascinating architecture. It is home to exclusive boutiques of the most famous luxury fashion brands, such as Prada, Versace and many others. In addition to shopping, the mall offers many other places of interest such as various restaurants and bars making it the best things to do in Milan.
Corso Vittorio Emanuele II
Take a stroll on Corso Vittorio Emanuele II, one of the busiest shopping streets in Milan, Italy. Located in the main city centre, it is packed with various retail stores. You are sure to find some that fit your taste and budget as there are a number of retail clothing stores such as Zara, Bershka and Mango.
The Golden Triangle – A Peek at the Luxuries
Quadrilaterodella Moda is the luxury shopping district and the best things to do in Milan, Italy. When you're visiting the Fashion Capital of the World, you have to take a stroll through the Golden Triangle. Even if you're just window shopping, taking a look at ornately decorated windows of high-end stores such as Dolce and Gabbana, Prada, and Roberto Cavalli will be enough.
Try the Traditional Italian Dishes
When you mention Italy, what comes to your mind first is probably Pizza, Pasta and Lasagna. While you're exploring the city center, stop by one of the restaurants. Most of them serve traditional dishes in Italy, amongst them Prosciutto, Risotto, Pizza, and many other options. Trying various types of Pizza is indeed a top must do things in Milan, Italy.
Pinacoteca di Brera
The Pinacoteca di Brera, one of the largest art galleries in Milan, contains a number of well-known Italian masterpieces including works of Rafael, Rembrandt, Caravaggio, and many other famous Italian artists. Stop by to view and admire magnificent pieces of artwork. Entrance fees range from 8-12 euros. While you're there, taking a tour of the Brera Botanical Garden is an interesting thing to do in Milan.
Brera Botanical Garden (OrtoBotanico di Brera) – A Breeze of Nature in a Big City
A botanical garden located behind Palazzo Brera which also houses the Pinacoteca. It holds various species of plants, along with ponds and an arboretum on the 5.000 m2 of the garden area. The entrance is free on weekdays.
Theatre La Scala (TeatroallaScala)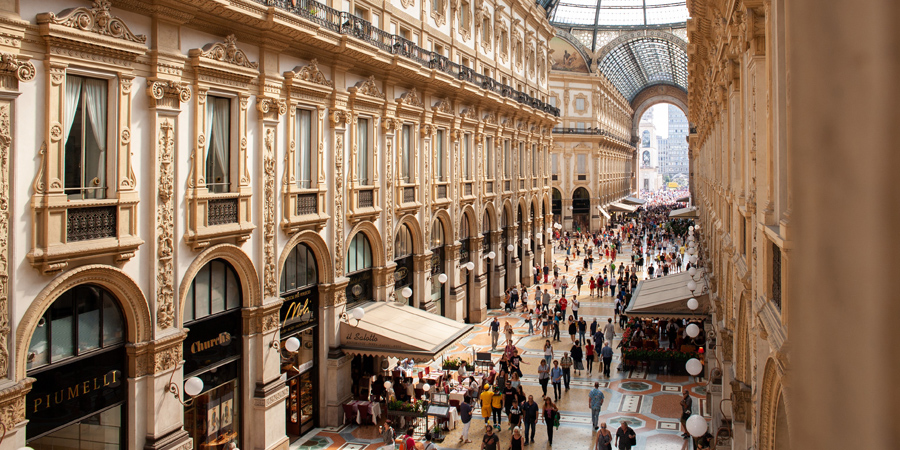 Experience Italian opera at La Scala, or choose the museum or ballet shows if you are not an avid opera fan. A place for art lovers, as well as one of the most famous opera houses in the world, is a place where some of the greatest composers had their work shown. This is the best things to do in Milan, Italy that is the reason some choose this city as their destination.
Holy Mary of Grace (Santa Maria delle Grazie)
Take a visit to the church and Dominican convent, which houses Leonardo da Vinci's famous masterpiece, The Last Supper. It is listed as a UNESCO World Heritage Site in Europe. Tickets are usually sold months in advance, as the room containing the mural is fairly small. But you can go through tour agencies and secure a slot on one of their tours, as they purchase a bundle of tickets in advance.
Ambrosian Library (Biblioteca Ambrosiana)
Housing Pinacoteca Ambrosiana, an art gallery with historical paintings, the library contains a large collection of books and writings. It is a top thing to do in Milan for book-lovers and history enthusiasts, as it contains some of Dante's and Leonardo da Vinci's writings.
La Triennale di Milano
A notable cultural institution and art and design museum that features a number of art exhibits and conferences. It is one of the most popular and most-visited art and design centers in Milan. Located in Parco Sempione, it is situated in the breathtaking Palazzo dell'Arte. Price of tickets usually depends on the exhibition.
Mudec – Visit the exhibits on show
Visiting a museum of modern art and culture is an interesting thing to do in Milan. It is situated in a former industrial zone in an unusually designed building. Home to constantly rotating exhibits, a restaurant, and a bookshop, it provides a look into modern art and culture. Complete with a design store by the entrance, it is a go-to location for creative individuals who wish to peruse the magnificent exhibits. Tickets range from 3-5 euros.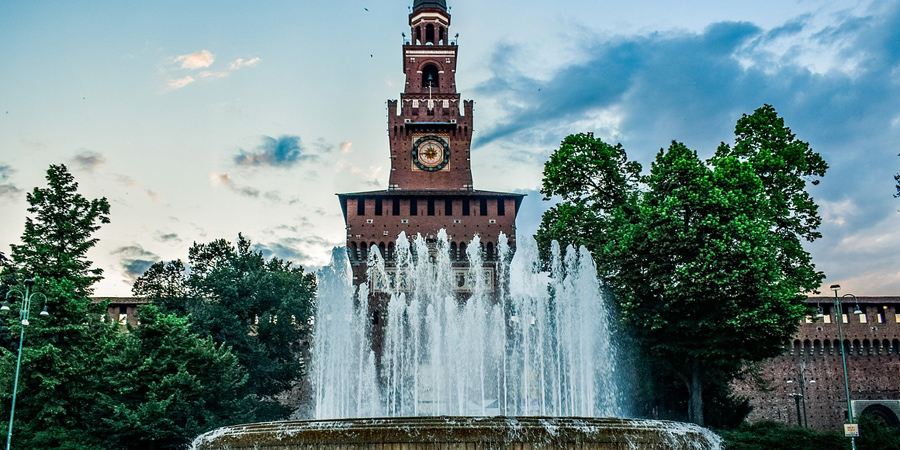 A historic building very well worth visiting. Previously serving as the main residence of Italian rulers, it has now been transformed into a site with numerous museums and libraries where art and history enthusiasts head to enjoy the exhibits. Take a tour of the castle or simply relax and admire the imposing fountain located at the front of the castle.
Take a break in Parco Sempione
Located between Sforza Castle and Arco della Pace, is Parco Sempione, the most famous park in Milan. It was built to resemble the style of English gardens. The park is home to museums, a sports stadium (Arena Civica), and an artificial lake with lots of animals. It is an ideal place for families, with plenty of space for various activities, making it the best things to do in Milan, Italy.
Civic Aquarium of Milan (AcquarioCivico)
This small but beautiful aquarium is a perfect activity for a rainy day. It is the third oldest aquarium in Europe featuring many species of the underwater world. Tickets range from 3-5 euros.
Terrazza Aperol – Experience the True Italian Lifestyle
During the tour breaks, you can find Italian cafes and restaurants on almost every corner. Especially in the city center, where you can also find some of the best bars in the city, located on the terrace of the shopping center Galleria Vittorio Emanuele II with the most magnificent views of the cathedral. The best things to do in Milan, Italy is Terrazza Aperol, if you are not against paying a little more than the bargain price, you can enjoy your trip in true Italian style complete with an aperitif that comes with a variety of appetizers while you enjoy the best view on the Duomo Cathedral.
Panzerotti Luini
Tucked behind the shopping center Galleria Vittorio EmanueleII, is a small bakery named Panzerotti Luini. It is known for its famous panzerotti, where waiting lines can be found every morning as the residents of Milan, as well as tourists, are waiting on their turn to try the famous delicious panzerotti.
Walk the Bustling Streets
Taking a walk through the crowded streets is indeed a fun thing to do in Milan, Italy. Full of performers, small cafes and attractions, you are sure to have an amazing experience as you take in the joyous atmosphere of the city. In most streets, you will come by a bakery or a gelato shop, where you can stop and try the delicious Italian gelato.
Museo delProfumo
The best things to do in Milan, Italy for cosmetics enthusiasts. A museum dedicated entirely to perfume history. There are guided tours available, with a chance to hear about perfume history and see rare flasks of perfumes. Visits are made only by appointments.
Enjoy a Romantic Evening in the Navigli Area
Perhaps the chosen attraction for fans of hedonism is the Navigli metropolitan area, which is a system of the Navigli canals surrounded by romantic restaurants where you can spend a lovely night out in Milan. In many of these restaurants, you can find a popular option for tourists, at the price of one drink you have a buffet at your disposal and unlimited refills. By all accounts, this may be the most cost-effective option and top thing to do in Milan, Italy for those who want to save a little money while experiencing all of the Italian charms.
Breakfast (and Lunch!) in Milan
Take a chance to fully experience the charms of Italy. Stopping by some of the lovely bakeries or coffee shops and trying a classic Italian breakfast is really an interesting thing to do in Milan. Croissants with a cup of coffee (a Capuccino or a Macchiato-as they take milky coffee only in the morning) are a typical go-to breakfast for Italian residents. For an afternoon pick-me-up you can order a caffee (a shot of espresso). You should know that most shops close from around 3 to 5 pm for a lunch break (pausapranzo) as they regard lunch as the most important meal of the day.
Whether you're planning a vacation or just a weekend trip to Milan, be sure to visit some of these outstanding places. As a big city with a long cultural history, Milan offers some of the most diverse attractions and activities for visitors. Even if you're just searching for a site to visit on a whim, most of the attractions require no prior appointments. With an array of museums, art galleries, and memorable places, you're sure to find something that suits various tastes and makes a lifelong impression on you.
Other Related Articles:
Our other articles you might want to go through: