526 Views
8 [Best Cheap] Costa Rica Turtle Conservation Volunteer Programs Providers for 2021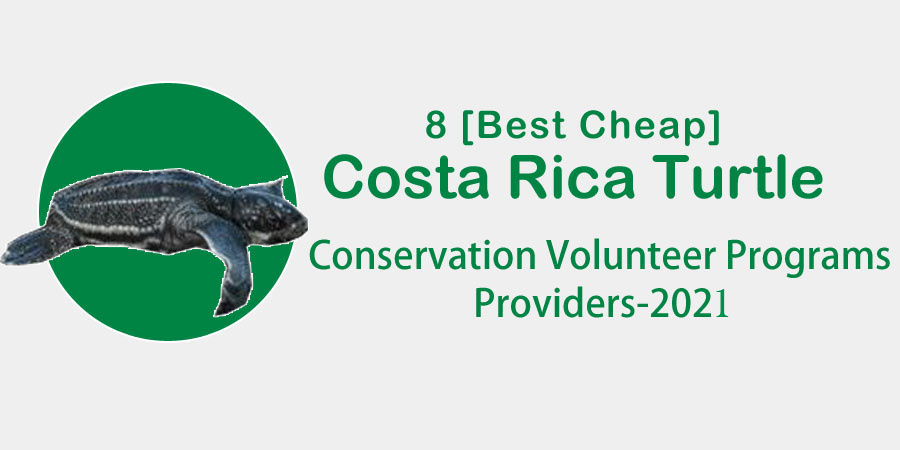 Are you looking for a best organization in Costa Rica to conserve sea turtle but you seem to hit a dead rock? Because there are so many Costa Rica Turtle conservation Volunteer programs that are so different in quality, it is easy to end up selecting the wrong one. If you fail to choose the right provider, you may end up losing money, risking your life with an unsafe program or even having a bad experience volunteering in Costa Rica.
In this article we will offer you several excellent resources to choose from, so you can easily find the ones that will suit your needs and budge. We worked hard to explore and find the best and cheap volunteer abroad opportunities. We have concentrated on cheap and low cost volunteer programs that are highly rated and offer the best value for you. In this article, you will discover:
Cheap volunteer in Costa Rica sea turtle conservation program providers.
A "Get More Info" button at the bottom to send an inquiry to all the providers on this list.
Compare the charges and programs and choose without commitment the best one for you.
FREE volunteer abroad guide at the end of this guide. It has ALL you need to know for a safe, and high impact volunteer abroad opportunity.
International Volunteer HQ
As a best volunteer abroad organization International Volunteer HQ (IVHQ) was founded in 2007in New Zealand and has since hosted over 105,000 volunteers abroad. With about 12 years of experience, IVHQ offers over 200 safe, affordable and impactful programs worldwide. We selected this provider because it offers volunteers free online training and they are very transparent with program fees with 100 percent commitment to be accountable to the volunteers.
About International Volunteer HQ Turtle Conservation In Costa Rica Program
IVHQ has the best Turtle conservation Costa Rica volunteer. In this program you will work alongside a local biologist to assist with sea turtle studies, focus on marine-conservation volunteer activities and support sustainable egg protection programs. This Costa Rica conservation work project is well suited to hard-working individuals who love nature, the marine environment and being part of rewarding volunteer work within a coastal setting
The Fee
This provider offerslow-priced turtle conservancy volunteering opportunities in Costa Rica. You'll pay $299 for program registration, with weekly fees starting at an affordable minimum of $625 for two-week stay in Costa Rica program. The fee covers your utilities including food, accommodation and airport pickup. It does not cover airfare, sightseeing trips, or any such form of transportation.
Reviews
Raving online reviews include comments like "I could stay there forever" "felt fulfilled and safe" "love the free online guide." Past volunteers loved that the programs were high value and the most affordable in Costa Rica. Read more reviews:
Why We Selected IVHQ:
IVHQ was our best provider for volunteer Costa Rica turtle conservation because of high value combined with low cost program they offer. In addition, they offer a free online guide and training to prepare you before heading out to Costa Rica, who would not love that?
Global Crossroad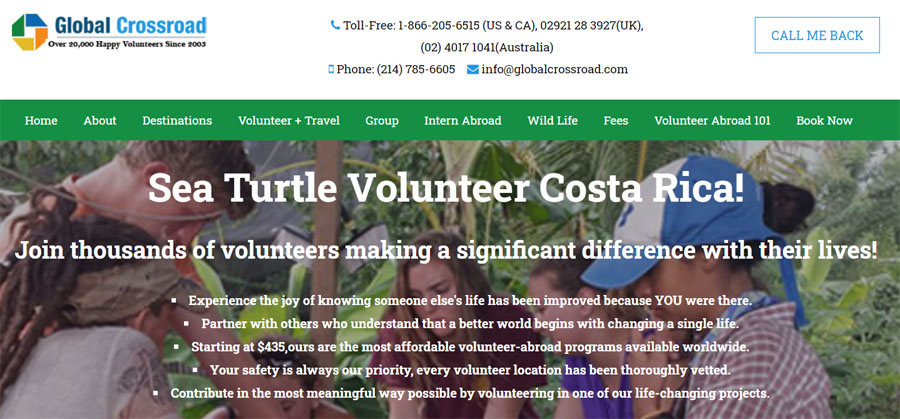 Since 2003, Global Crossroad has been offering numerous programs including individualized placements, travel and adventure, cross-cultural learning experiences, in-country travel arrangements, free-time exploration, and other services as per the special needs of participants. This best organization continues to grow by 300 percent since each year, a reflection shown by over 18,000 volunteers who have participated in 200 projects in 18 countries worldwide.
About Global Crossroad Volunteer with the Turtle
This Costa Rica conservation workby Global Crossroad is located in Osa Peninsula, Costa Rica. In this program, you'll live in a rustic but beautiful landscape and work with scientists to track turtles and save their environment. You need to be dedicated to help gather data and protect nesting sites. This will be a wonderful hands-on learning experience. You will feel highly satisfied knowing that your contribution to the volunteer with turtle conservation program in Costa Rica makes a huge difference in the present and future lives of these special marine animals.
The Fee
Global Crossroad is an amazingly affordable and dependable organization for volunteer conservation with sea turtle project. The registration fee is $299 and only $770 for a two-week stay, that cover many costs including airport pick up and food and housing.
Reviews
Global Crossroad is one of the most highly reviewed companies, and there are literally hundreds of positive reviews online. In all reviews, volunteers praise their life changing experience, quality of service, reasonable fees. Read all reviews here:
Why We Selected Global Crossroad:
We selected Global Crossroad to this top list because it is has the cheapest Costa Rica Turtle conservation Volunteer program. The program is hard to custom make because Global Crossroad works with local organizations, however you can choose to work in various locations throughout Costa Rica that will give you a good chance to experience more.
A Broader View (USA)
A Broader View (ABV) is a US based non-profit founded by Sarah and Oliver Elhers in 2007. This great provider was started with a goal to offer in-expensive volunteer-abroad options across the world. We loved that ABV has raised more than $4 million for local communities in developing countries through their 245 programs in 25 countries.
About A Broader View Sea Turtle Conservation Program
ABV offers three great options to this turtle conservancy volunteer work opportunity in Costa Rica. In this program you get to choose form internship program, pacific or the Caribbean conservation program. You'll participate on the sea turtle preservation including monitoring and registering nesting patterns, record keeping of eggs, moving eggs to the hatchery, beach patrols, freeing of the newborns to the ocean. Experience not required, but anticipate strange work hours (middle of the night!) and lots of time spent on the beach.
The Fee
ABV volunteer with sea turtle volunteering program in Costa Rica is really absolutely affordable. For a minimum of two-week stay prices start at $1,360 no registration fee is required. These fees are inclusive of accommodation, food, airport pick up, pre-departure info pack, and transfers to the project. Volunteers will need to prepare extra cash for airfare, visa fees, and travel insurance.
Reviews
This provider is highly rated by past volunteers who worked inturtle volunteering program in Costa Rica. The volunteers are very satisfied on overall value of the programs offered, the safety of project sites, as well as the support provided. Check out some of the reviews!
Why We Selected A Broader View:
We were attracted to A Broader View because of their unique volunteer turtle Costa Rica program. They are slightly costly but also consider they no registration cost, which we love.
IFRE Volunteer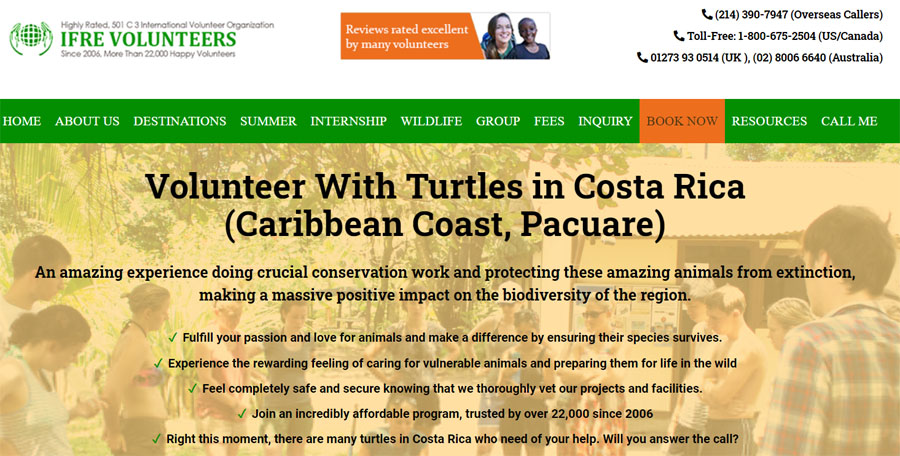 IFRE is a leading affordable and the best volunteer organization in the industry. Founded in 2006, IFRE has hosted over 17,000 volunteers in over 200 programs across the world in 18 countries. The mission of this organization is offer authentic and meaningful experiences of volunteering while touring and immersing in another country's culture. To date the organization remains one of the safest, affordable and the most trusted by past volunteers.
About IFRE Turtle Conservation Program
IFRE offers a wide range of life-changing volunteer projects in Costa Rica that allow you to make a huge difference in the lives of countless people in a variety of ways. This Costa Rica conservation workhas unique research-based Costa Rica Turtle conservation Volunteer, available year-round on the Osa Peninsula. You'll help scientists carry out in-water research and learn more about sea turtles at all stages of their lives by catching, tagging, and tracking wild turtles in the GolfoDulce sea grass meadows.
The Fee
The fee turtle conservancyvolunteer program in Costa Rica is $770 for two weeks. A registration fee of $299 is required and covers the marketing and administrative costs. Program fee that is paid directly to the host family includes food and accommodation, in country staff service, workshops and program orientation.
Reviews
IFRE attracts a solid number of great reviews from the users of their programs in Costa Rica. There is plenty of praise for the host families and the fact that there were no additional unexpected charges, thus making IFRE one of the best budget volunteer abroad opportunities in Costa Rica. Read reviews here:
Why We Selected IFRE
IFREwas selected as a top best organization since they have very affordable programs compared to other providers in Costa Rica. Although the Costa Rica Turtle conservation Volunteer is a bit limited to one area, past volunteers have raved about learning experience and how open to new ideas the project is actually open to trying.
Go Eco
As a leading non-profit, Go Eco is a one of the most reputable environmental and wildlife volunteer program providers in the industry. Founded by Jonathan Gilben and Jonathan Tal in 2005, this best provider works with disadvantaged communities in developing countries. It was chosen as a best provider because of the field experience they exude in conservation programs.
About Go Eco Volunteer Conservation Sea turtle Program in Costa Rica
Go Eco offers a great program in Costa Rica. In this turtle conservancy program you will spend nights patrolling the beach, looking for sea turtle eggs under the moonlight, including learn about marine conservation as well as participate in environmental projects developed by the community. You will also become involved in every aspect of sea turtle conservation, from protecting eggs to caring for hatchlings along the coasts.
The Fee
Go Eco is committed to keep prices low so that everyone can afford to travel to Costa Rica and join Costa Rica volunteer in sea turtle conservation program. There is no registration fee for this project, however for a minimum of two weeks you will pay $990. The fee covers for food, accommodation, airport pickup and donation to the local community.
Reviews
The majority of the online reviews for Go Eco Costa Rica conservation work are extremely positive. Many users have had life changing experiences because of the ability of this best provider to set up environments in which the volunteers can interact with the locals and receive support during their time in Costa Rica. Here are all online reviews!
Why We Selected Go Eco:
This best provider has numerous excellent reviews confirming that they are personable and reliable. We extremely loved the low cost sea turtle conservation volunteer project Costa Rica and the safety they offer to volunteers including learning opportunity.
Working Abroad
Founded in 1997, and based in Switzerland Working Abroad, runs programs in over 30 countries across the world focusing on wildlife conservation and community development projects. We are confident with this organization because it offers over 20 years of experience, in marine conservation volunteering, wildlife and habitat conservation volunteering, environmental education and ecology.
About Working Abroad Pacific Sea Turtle Volunteer Project In Costa Rica
Working Abroad offers the best sea turtle conservancyprograms in Osa Peninsula is one of the most intensely bio diverse places on the planet. In this program, you'll work under the direct supervision of a Scientific Supervisor to perform night surveys on the beach to find nesting turtles and help protect them from illegal extraction and predators, including relocating eggs to the hatchery, collecting biometric data on the beach and helping with local environmental education and English classes at the school of Rincón and the local community.
The Fee
Their sea turtle conservation program starts at a cost of $766 for two weeks or $1,137 for four weeks. We love that the program is affordable and does not require a registration cost. The program fee covers for costs such as program inspection, and marketing costs, food, accommodation and airport pickup.
Reviews
About 50 alumni volunteers have been extremely fulfilled and content volunteering in Costa Rica with baby turtles. They loved that Working Abroad has programs that specific and well articulated while affordable. Read more about the great things they have to say about Working Abroad:
Why We Selected Working Abroad:
This provider is best because they not only offer affordable prices for Costa Rica Turtle conservation Volunteer but also they have over 20 years experience offering wildlife and environmental conservation programs. They work with scientific professionals to ensure you experience and learn in the most professional way possible.
Volunteer World
Since inception in 2006 this great and best organization has hosted over 65,000 volunteers in 85 destinations around the world. if you are looking for an international volunteer organization, fully accredited and featured in top news outlet like CNN and Forbes Magazine then you are in the right place. With over 300 programs to offer this award winning organization started as a volunteer blog that has grown massively to provide best programs worldwide.
About Volunteer World Sea turtle Conservation Ambassador Program
Volunteers World offers the best sea turtle conservancy program in Costa Rica. In this program, you'll have the opportunity to be involved in the entire turtle hatching process. This includes taking shifts patrolling the beach in the evenings to locate female turtles that have come ashore to lay their nests.
The Fee
This organization's prices are amazingly great for the high value and impactful turtle conservation program offered in Costa Rica for $776 for two weeks stay at the program. The fees cover for costs of host family/hostel accommodation, three meals per day, and services of the local staff members. There is no registration fee and more than 80you're your program money goes back to support the community.
Reviews
Volunteer World is the best volunteer abroad organization. Past volunteers mostly love the safe and affordable impactful Costa Rica Turtle conservation Volunteer. They also raved about the culture immersion and travel opportunity offered by this organization. Read all 743 reviews here:
Why We Selected Volunteer Abroad:
We intrigued that Volunteer Abroad was not only reasonably priced but also has very high impact award-winning sea turtle volunteer program in Costa Rica. We selected them because they also offer a learning opportunity for volunteers and it is very friendly for first timers who want to engage travel abroad opportunities.
RCDP International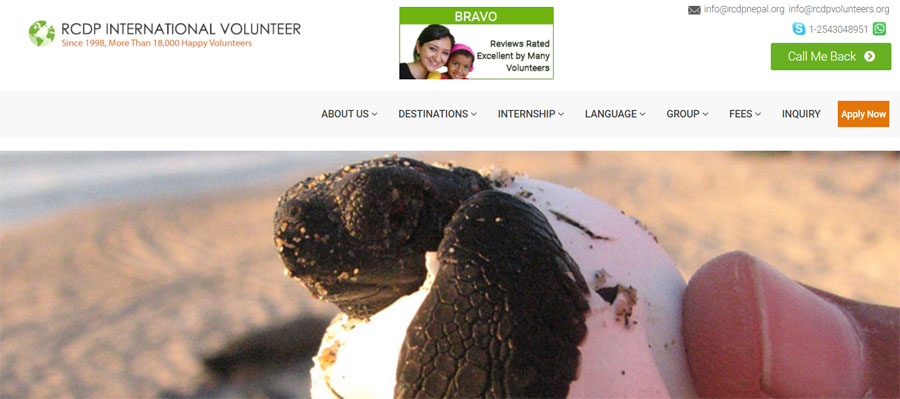 This great volunteer abroad organization offers the most affordable and reliable Costa Rica conservation work in the world. Started in 1998, RCDP offers award-winning volunteering programs in 20 developing countries. Since inauguration they have hosted 18,000 volunteers in over 200 life-changing programs. What we loved most about this organization is that it continues to expand with about 300 percent each year!
About RCDP Sea Turtle Conservation Project In Costa Rica
RCDP's sea turtle conservation project in Costa Rica focuses on strengthening the turtle population, by providing support to encourage breeding efforts. In this best program, you'll work with local community associations to implement turtle management strategies that are being imposed by Costa Rica's Environment Ministry. You will learn about the ecology and conservation of baby sea turtles while experiencing what life is like for a field worker. This project is located in Osa Peninsula, close to Corcovado National Park, one of the few remaining sizeable areas of lowland rainforest in the world.
The Fee
When compared to other programs this provider offer a more affordable sea turtle volunteer program. A minimum of two-week stay starts at $870 with a registration fee of $279. The fees are inclusive of accommodation, food, airport pick up, pre-departure info pack, and transfers to the project. You'll not find this kind of prices easily in any Costa Rica program.
Reviews
RCDP are overall positively reviewed, with minor issues reported. In general their programs are reviewed as well organized, life-changing and totally worth the money making them the best consideration for one of the best inexpensive volunteer abroad opportunities in Costa Rica Turtle conservation Volunteer.
Why We Selected RCDP:
What we interested us most to this provider were great online reputation and highly rated as one of the best volunteering opportunities for turtle conservation Costa Rica. In general their programs are well organized, life-changing and totally worth the money making them a consideration for one of the best inexpensive volunteer providers in Costa Rica.
Conclusion
Costa Rica is a beautiful and exciting country that is certainly worth experiencing. These affordable volunteering programs in Costa Rica are an excellent opportunity for you to see and experience it. They are professionally organized, safe and affordable professionals with experts in the field. All you need is select the best with no obligation and take the next steps.
We would like to hear your experience once you take up an opportunity with these great providers. Share with us your feedback!
If you are interested to volunteer in any other beautiful country, check out these articles that explain turtle conservation volunteer program providers in Bali