780 Views
Home
»
blog
» 10 Best Cheap [Include Rates & Reviews] Ecuador Orphanage Volunteer Companies 2021| Compare & Save
10 Best Cheap [Include Rates & Reviews] Ecuador Orphanage Volunteer Companies 2021| Compare & Save

Travellers Quest is committed to help you take a decision to volunteer abroad with confidence. We don't have a bias to ANY of the organization featured here. Our best list is created after careful examination of prices, reviews and organization reputation. You are free to select any organization with no obligation.
Are you looking for an affordable and safe way to explore a new country while also giving back to the children who reside there? Would you like to discover Ecuador's diverse and social culture while working with orphaned children living in poor conditions? If this is what you are looking for then this Ecuador orphanage Volunteer program is just the right fit for you.
If you start searching online, you will see that there are very many providers offering orphanage programs in Ecuador. Since there are too many organizations offering same program with different impact and prices, it is very easy to end up selecting the wrong one. If you fail to choose the right company, you will end up losing a lot of money and in the wrong program.
Although, the most logical thing would be to choose the cheapest provider, you have to look deeper and wide to avoid bad experiences. TravellersQuest has done the groundwork for you. After numerous hours of research we narrowed down 10 best orphanage volunteer in Ecuador program providers based on cost, online reviews, company reputation and the value of the program.
In this article, you will get to:
Identify the best 10 best volunteer providers for orphanage program in Ecuador
Click the GET MORE INFO NOW button, and with one click, send an inquiry to all the providers on this list.
Easily select the perfect program for you by comparing prices and programs with absolutely no obligation whatsoever.
You'll be able to download our BONUS volunteer abroad guide at the bottom of this article, which will tell you everything you need to know for an affordable, safe, and life changing volunteer experience.
Table update September 30, 2019
Plan My Gap Year (PMGY) offers life-changing experiences and opportunities to volunteers across 17 countries in Africa, Asia and South America. Volunteers with the goal to reach out to more volunteers worldwide founded this award winning volunteer organization that currently has offices in both UK and US. PMGY provides safe, structured and a social platform for volunteers to travel and change the world while immersing in different cultures with opportunities available from 1-40 weeks.
About Plan My Gap Year Ecuador Childcare Volunteers
Ecuador is home to over 200,000 neglected children due to abandonment, death and alcoholism. Many children are forced into homes and life on the streets due to dysfunctional settings or abuse within their own families.
Volunteers Ecuador childcare volunteering program help with the daily chores like cleaning, helping to feed the children, singing them songs, teaching them about hygiene and other important skills, playing with children in a recreational setting outdoors is also a big part of the job due to the limited time the caregivers have to do such an activity. You will have the chance to interact with the kids by organizing games, manual activities and other things to keep them busy. Taking the initiative and applying creativity is an important skill to have in this kind of work.
The Fee
Program registration fee for childcare volunteering program in Ecuador is $190. A two-week stay at the project is $419 or for four-week stay is $597. The fee pays for food and accommodation, airport pickup orientation and full safety briefing, 24/7 local support network and project placement and onsite supervision.
Reviews
Very impressive online reviews about PMGY include statements such as "great local staff" "great connection" and "best volunteering experience ever." If you're looking for an organization that offer Ecuador orphanage Volunteerthat are impactful and transparent then you might need to check PMGY further.
With over 40 destinations across Africa Asia, Central America, North America, Europe, the Caribbean and the Pacific, International Volunteer HQ (IVHQ) is one of the largest volunteer organizations in the world. Based in New Zealand IVHQ has hosted over 100,000 international volunteers around the world. If you're searching for meaningful volunteer work and the opportunity to experience a life-changing volunteer vacation, gap year or alternative break, you can trust IVHQ to make it happen. IVHQ has over 40 volunteer programs worldwide.
About Volunteer HQ Childcare Volunteer Program In Ecuador
For many Ecuadorian children, school is never an option. The children you will be working with on this project spend 365 days a year working in the streets and markets, selling goods and performing with their parents to help provide for their families. In Ecuador IVHQ works with local NGOs to enable them to widen their reach and support more children within the local community.
By joining childcare volunteer opportunity in Ecuador, you will be working with children of all ages and assisting in providing basic school lessons. You may also have the opportunity to organize singing and dancing for the children, provide hygiene awareness lessons, and introduce the children to new activities and games. The families of the children are hugely appreciative of the interactions shared with international volunteers, as this offers the children new opportunities and perspectives on life that they otherwise would not have been exposed to.
The Fee
Program registration fee will be $299, with a two-week program stay for $535 or $895 for four-week stay in Ecuador orphanage volunteer program. The fee paid covers for 24/7 local support network, project orientation, volunteer placement, food, and accommodation and airport pick-up on arrival.
Reviews
IVHQ has many positive reviews because it offers very affordable and well-structured programs. Many previous volunteers state that the organization was very helpful, with an amazing local team. They also rave about the affordability and transparency. When researching for best and most affordable volunteer in Ecuador orphanage opportunities we advise you to look out for International Volunteer HQ.
Ubelong is a registered volunteer abroad organization based in Washington US. Founded in 2009 Ubelong offers one week to six-months volunteer program across three continents in the world. The organization prides itself in safe volunteer program with highly experienced local staff that works closely with you throughout your volunteer experience abroad. Cedric Hodgeman an experienced international volunteer started the organization.
About Ubelong Program Volunteer With Children In Day Care Center In Ecuador
Local children face many challenges related to poor living conditions. A large percentage suffers from malnutrition and poor hygiene, while even more abandon school to help financially support their families or themselves if they are orphans. On the opposite end of the spectrum, the elderly in Quito are very vulnerable if they do not have family to take care of them. There is limited social support, and neglect of the elderly is common.
While orphanage program in Ecuador, you will work with children ranging from babies to 5 year-olds, depending on the local needs. You will engage the children through various activities like making art, playing games and singing songs. Additionally you will also work with the local staff to lead learning activities in culture, recycling and good personal hygiene. When required, volunteers also help with feeding and cleaning.
The Fee
An application fee of $295 is needed to join Ecuador orphanage Volunteer program. Program fee of $395 for a two-week stay or $635 for a four-week stay is required. The fee covers for food, accommodation, airport pickup and transfer and in-country support.
Reviews
Ubelong is one of the top international volunteering providers in the US with safe and secure programs. Past reviews are excellent with statements like "UBELONG connected me with an incredible family of coordinators, volunteers, teachers, and students which I would never have otherwise gotten to know." We are recommending researching the company for volunteer In Ecuador daycare center.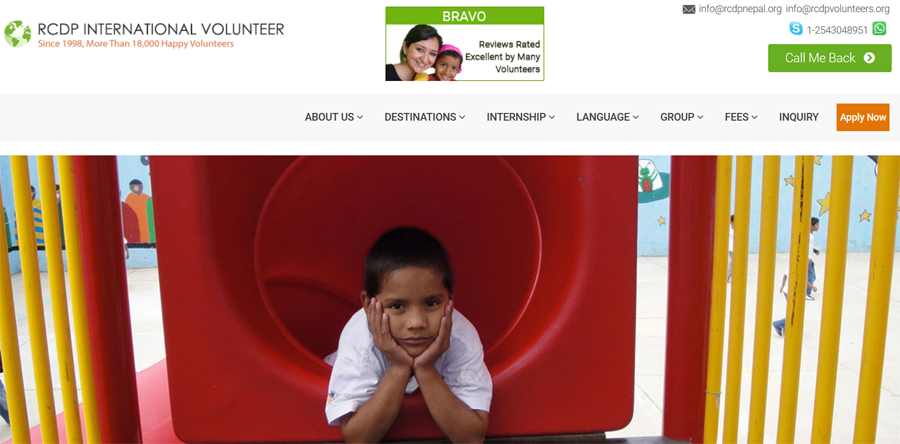 Founded in 1998, RCDP International (RCDP) is known affordable volunteer programs that bring positive change in impoverished communities. With over 200 programs in 20 countries across Africa, Asia, and Latin America, the company focuses on establishing sustainable community development efforts and giving volunteers a change to travel and experience different culture and make new social contacts. The company also prides itself on unparalleled in-country support from experienced staff, ensuring a safe, meaningful volunteer experience.
About RCDP Volunteer In Ecuador Orphanage Program
In recent years, the population of Ecuador has dramatically increased. Regretfully poverty has plagued the population and government infrastructure and other social issues have left many on the streets. Many poor children have been abandoned. These children struggle with issues of education, health, home, and many others.
This orphanage volunteer opportunity in Ecuador focuses volunteers assisting the needs of the local orphanage where many children call home. Volunteers will act as mentors, teachers, and general support systems for these children. Volunteers will be donating their personal talents and skills to assist these children in living the best life possible. Your role as a volunteer is to offer love and other such resources to keep these children off the streets and help them build a better life.
The Fee
Program fees include a $279 registration fee, along with $427 for a two-week stay, and $749 for four weeks. Fees cover in-country support, airport pickup and transfer, program orientation, personalized project, pre-departure information and certificate of completion.
Reviews
Impressive online reviews of this provider include "affordable and inspiring" "graceful local community" "attention to detail by local staff." With years of experience in the market and affordable prices, RCDP deserves a look as you research Ecuador Orphanage Volunteer.
Founded in 2006, IFRE is one of the recognized leaders in the volunteer abroad field. As a registered non-profit, the organization collaborates with hundreds of local orphanages, schools, medical centers, women projects, local NGOs and grassroots organizations in 20 countries around the globe, making a huge impact with the help of dedicated international volunteers. IFRE prides itself in offering the lowest cost and highest quality volunteer programs on the market, which enables more volunteers like to serve humanity and have a lifetime experience abroad.
About IFRE Volunteer In Ecuador Orphanage Program
In the last two decades, the population of Ecuador has doubled, which has led to a dramatic growth in the number of abandoned children in urban and rural areas. Due to the death of their parents, poverty, neglect, and abuse, millions of children are left in the care of orphanages where they can find the kindness and compassion they need. Since there is many orphanages and community centers in Ecuador that struggle to serve so many orphans, the need for passionate and dedicated international volunteers is always very high.
At Ecuador orphanage volunteer program, you will be helping provide orphans with the care and love they so desperately need. The goal of this volunteering program is to help these orphaned children by sharing your compassion, empathy, and skills. You will work with local staff members and participate in various skill-developing activities and change the lives of orphans and enrich your own life with memories you will cherish forever.
The Fee
You will need $299 to register for the Ecuador orphanage Volunteer program. In addition to the registration fee, you will pay $427 for a two-week stay or $749 for a four-week stay. The fee will take care of costs such as your accommodation, food, airport pickup and transfer, program orientation including in-country support, pre-departure information and certificate of completion. The weekly fee does not include your airfare, daily transportation, visa and visa extension fee and airport drop.
Reviews
With years of experience in the industry, IFRE has amazing online reviews Volunteers have left impressive comments such as "perfect home and respectful host family" "impactful programs and excellent local staff support." Be sure to give IFRE a deeper look while researching to volunteer in Ecuador in orphanage program.
Global Crossroad is an American based international volunteer abroad organization. Founded in 2003, Global Crossroad offers a variety of programs including individualized placements, travel and adventure, cross-cultural learning experiences, in-country travel arrangements, free-time exploration, and other services as per the special needs of participants. Since inception, the organization has been growing substantially each year an increase of nearly 300% since 2003 that is a true reflects the unique volunteer vacation and travel abroad programs.
About Global Crossroad Volunteer In Orphanage Program in Ecuador
The population of Ecuador has doubled in the last 2 decades, creating a growing population of abandoned children. Most of these children are from poor and/or indigenous families. Growing poverty, lacking education, and limited governmental resources further exacerbate the problem of street children and orphans in Ecuador.
When you volunteer in an orphanage program in Ecuador, you will help the underprivileged children of the orphanage by teaching Basic English or Spanish. During your stay, you will also have the opportunity to explore and learn Spanish. You will help by feeding, caring for, and simply playing with these very young children.
The Fee
The registration fee for this Ecuador Orphanage Volunteer program is $299. The cost for a two-week stay is $427 or $749 for a four-week stay. The program fee covers airport pickup, program orientation, food and accommodation, personalized project, pre-departure information and certificate of completion.
Reviews
Global Crossroad is one of the fastest volunteering abroad companies. The organization is quite popular online with many past volunteers reviewing that the organization is safe and secure with very impactful projects. The price is a merit point, and the programs are worth it. If you are looking for affordable and quality Ecuador orphanage volunteering opportunity check this provider out.
With programs in Europe, the Middle East, Central and South America, the Caribbean, Africa, Asia, and Australasia, Love Volunteers (LV) has a non-profit policy on program fees. 10% of program fees are used to cover international bank fees and the rest goes to the local charities and organizations hosting you. All the programs listed on Love Volunteers have been fully audited for safety, social responsibility and impact. The organization was founded in 2009 by two siblings Julian and Kelly.
About Love Volunteers Childcare Program In Ecuador
This fun program is based in the beautiful city of Quito, where volunteers will find their help is invaluable and very much in need. The program offers quality childcare to parents so they can work and support their families, and ultimately leave the poverty cycle
Whilst participating in this Ecuador childcare volunteer program, your tasks will include playing with the children, feeding those in need, assisting with the acquisition of social skills and language development, as well as helping children to do their homework. The program provides volunteers with the opportunity to share their knowledge and skills with those in need, and to help shape the lives of the beautiful children of Ecuador. It promises to be an experience that a volunteer will never forget.
The Fee
Program fees include a $299 registration fee, along with $489 for a two-week stay, and $699 for four weeks. Fees cover airport pickup, orientation and safety briefing, project placement and onsite supervision, accommodations and meals.
Reviews
Past Love Volunteers participants have praise the welcoming culture of care centers, and learning attitudes of the children, despite the conditions. Reviews include comments like "friends forever" "full of energy" and "highly recommended." With its professional approach to overseas volunteering, Love Volunteers should be on your list to explore in finding a position as an Ecuador Orphanage Volunteer opportunity.
A Broader View Volunteers (ABV) is a non-profit, 501 c (3) founded in 2007 by Sarah and Oliver Elhers. Over the years ABV has raised more than $3 million for impoverished communities around the world. ABV has over 240 programs in 25 countries across South and Central America, Asia and Africa. Over 68,900 volunteers volunteered with ABV since its inception.
About A Broader View Volunteer In Ecuador Orphanage Program
Extreme poverty has destroyed many families in Ecuador, forcing parents to migrate to cities in search of work, sometimes abandoning their children. These conditions create an ongoing need for volunteers in Ecuador orphanages, a need that rises every year. Orphanages provide a safe place for local children who have suffered violence, physical and psychological or other risk to their lives. Created to have a family environment, with emphasis on education, the children are provided with a positive outlook on the lives.
When you join volunteer in orphanage program in Ecuador you will help organize recreational activities, support the kids with homework help, encourage and teach the importance of hygiene, daily life skills and doing their daily chores at the home. There is a large garden that the children use to plant their own vegetables. This has proven to be very successful with the children and youth because they take pride in what they have planted and are always eager to learn how to improve them.
The Fee
ABV doesn't charge a registration fee, however, the two-week Ecuador orphanage Volunteerprogram is $1050, and the four-week stay is $1340. Program fees cover accommodations and food, airport pickup on arrival, in-country orientation and safety briefing, and 24/7 local support network and project placement and onsite supervision.
Reviews
Positive online reviews include statements like "time well spent" "I feel like I have changed the world" "humbling and eye opening experience." Past volunteers have expressed great satisfaction with the company rated it at 9.9/10 in Go Overseas. Look up for A Broader View in your research about orphanage volunteering opportunity in Ecuador.
Projects abroad has over 25 years helping volunteers and interns fulfill their potential and make the world a better place. The organization offers hassle-free travel, with secure projects; hospitable host families and programs that make real impact in the world. Based in the UK, Projects Abroad mission is to provide the gold standard of support and safety, so our volunteers and interns can fulfill their potential, discover themselves and create positive change in the world.
About Projects Abroad Volunteer with Children In Ecuador Program
Ecuador is also a popular tourist destination, so Projects Abroad focuses on teaching English. Good English skills help people find employment, so we try to give children a solid foundation. This also helps them cope once they start learning English formally at school. Teachers also benefit from practicing English with you, and they use any materials like flash cards created by volunteer.
When you volunteer with children, you'll support teachers in overcrowded classrooms. You'll help with their lessons and you'll be able to give more individual attention to children in small groups. The more volunteers we have, the more children can get the individual support they need. This is a great way to travel and gain practical childcare experience, all while making a difference.
The Fee
There is no registration fee; a two-week stay is priced at $1,440, and a four-week stay is $1,780. Fees cover Accommodation, food, in country 24-hour back up from the team of full-time local staff, emergency assistance from international emergency response team, and certification of project completion.
Reviews
Projects Abroad is a little more costly but the years of experience and duty to offer sustainable and impactful programs means you get to experience the best volunteer opportunity. Excellent online reviews include comments like "worthy every cent" "they know their business" "could not ask for more." If you are willing to pay a little bit more for a very impactful Ecuador orphanage Volunteerand childcare programthen, be sure to look at Projects Abroad.
Original Volunteers is a leading independent volunteer abroad organization that sends thousands of volunteers each year across 20 countries in Asia, Africa and Latin America. With over 200 volunteer programs Original Volunteers offers unrivalled expert advice just in case you are not sure which project you can help for your first time, how to get there or how to mix and match projects. They offer a range of program including work with orphans, street kids, animal conservation and health care and medical.
About Original Volunteer Program Volunteer with Children In Ecuador
The daycare center provides a busy daytime shelter, education and nutritional food for local children who may come from low-income households. The staff also works with parents to improve the quality of life for families in the area through health and social care initiatives.
If you have an interest in special needs education and physiotherapy you can help at a day center for children and young people with cerebral palsy aged 2 to 25 years. By joining volunteer with children program in Ecuador, you will achieve a lot and make such a difference working one-to-one in a friendly supportive environment. You will also have the weekend to travel around in Ecuador.
The Fee
Program fees include, $158 for the registration fee, including a $335 for a two-week stay or $670 for a four- week stay. The fees include costs of accommodations, meals, airport pickup and in-country support.
Reviews
Original Volunteers has created very great affordable programs across the world. Online reviews and ratings from former volunteers are at 8.2/10 with Abroad Review website. Volunteers' life-changing Ecuador orphanage Volunteer opportunity that is very popular with volunteers. Be sure to check them out in your research into volunteer in Ecuador.
Abroad Review
Conclusion
Ecuador is a developing country and many children find themselves alongside their families living in destitute conditions. As a result many children end up losing their parents very young, leaving them with no one to take care of them. Most of the times they will be roaming the streets or working for low wages without access to education.
This will be an enriching, educational, and eye- opening experience in a colorful and vibrant town in Ecuador. In addition you will be fulfilled and satisfied knowing that you are achieving your life passion of working in impoverished communities to positively change lives while marking sustainable change.
And, now you have the 10 best Ecuador Orphanage Volunteerproviders above, we advise you to choose wisely with no obligation. Most of these providers have great customer service; we recommend that you also speak to them before making a decision. Compare, choose wisely and then take the next step.
We would love to hear your experience once you take up on any of these great opportunities. Please keep in touch.
If you are interested to volunteer at an orphanage of other beautiful countries, we have orphanage programs available in countries like Nepal, India, Sirlanka, Thailand, Ghana, Uganda, Cambodia, Kenya, Tanzania, Peru, Guatemala, and South Africa .