692 Views
7 [Best Affordable] Guatemala Medical Volunteer Program Providers for 2021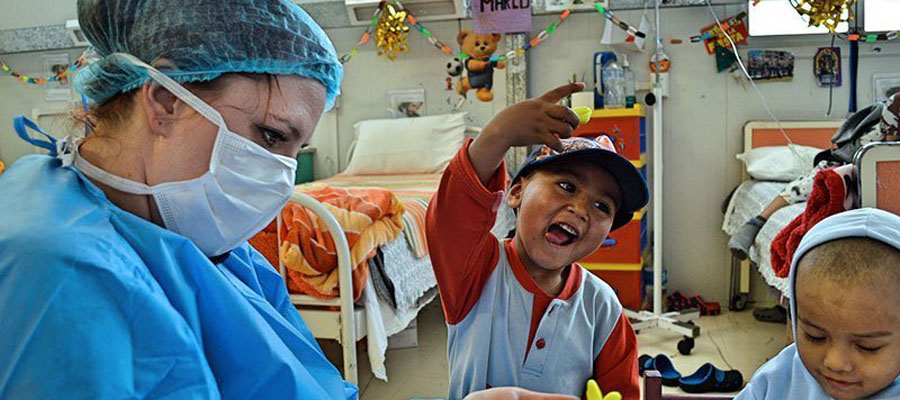 You're ready to head to Guatemala and advance your medical career with an exciting volunteer abroad adventure, but the sea of program providers might have you wondering how you'll ever decide which is best. Which is the most affordable, most reliable, has the most to offer you?
To help you answer these questions, Traveller's Quest has compiled the top 7 affordable program providers offering medical volunteer programs in Guatemala. We've compared price, years in business, past volunteer experience, and more to help you find the perfect program that is just right for you and your particular situation. Keep reading to learn:
The top 7 most affordable program providers offering medical volunteer programs in Guatemala.
Click the GET MORE INFO NOW button below to send an inquiry to all the providers on our list.
Easily compare providers with absolutely no obligation whatsoever.
Download the free Volunteer Abroad Guide at the end of this article for insider tips on making the most of your time in Guatemala!
Table update Jan 11, 2020
IFRE Volunteers
This impactful nonprofit has helped 22,000 volunteers make a difference abroad at extremely low rates since 2006. IFRE works closely with poor communities around the world, immersing you in the local culture through an enriching homestay experience and making a big impact through life-changing programs.
About the medical volunteering program in Guatemala:
IFRE offers two medical opportunities in Guatemala, one in Xela, and the other in Antigua. You will shadow doctors and nurses in public hospitals providing care to underprivileged Guatemalans, gaining valuable professional experience which will help advance your medical career while giving back to those in need.
Fees:
IFRE offers some of the lowest rates you'll find anywhere without sacrificing a high-quality program that really makes a difference. You'll pay a standard $299 registration fee, and programs start at as little as $135 a week, which includes 10 hours Spanish, housing, meals, airport pickup, and 24/7 support.
Reviews:
Prospective Medical Volunteer Guatemala should check out reviews to see what past volunteers have to say about a provider. One past IFRE medical volunteer said, "I was able to gain more than just the skills to diagnose and treat patients; I left feeling reassured that I wanted to pursue a career in medicine."
Why we selected IFRE Volunteers:
IFRE has extremely low rates, a strong history in the volunteer abroad field backed up by positive reviews, and a refreshing payment structure that has you paying your weekly fees directly to local partners, ensuring your money goes back into the struggling local community. A great opportunity for Guatemala medical volunteering!
Global Crossroad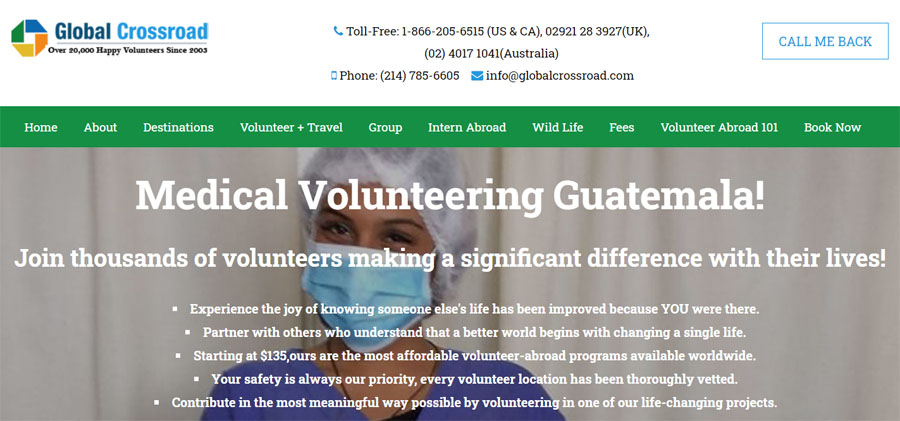 This Dallas, TX based non-profit is one of the fastest growing volunteer organizations in the world, thanks to their affordable rates and impactful programs in 18 countries around the world. Over 20,000 volunteers have traveled with them since 2003, and this is a great choice if you are looking for a provider you can trust.
About the healthcare program in Guatemala:
Hospitals and clinics in the rural areas outside of Xela and Antigua, Guatemala are understaffed, underfunded, and overwhelmed by the amount of people that struggle to get quality care. Your help is desperately needed, and with this program you can make a difference while being trained by a skilled medical professional.
Fees:
Global Crossroad charges a $299 registration fee, and the low price of $135 per week. This includes a crash course in Guatemalan culture, 10 hours of Spanish, housing and meals, help fundraising for your trip, 24/7 support from the Global Crossroad team, and the amazing opportunity to build professional medical skills under the guidance of your mentor.
Reviews:
Seeing that past volunteers were happy with their experience can help you select a provider for your Guatemala medical volunteer program. Global Crossroad has a lot of positive past reviews, like this one, "The volunteer program was great and very well organized!"
Why we selected Global Crossroad:
Global Crossroad made our list for top 7 Medical Volunteer Guatemala program providers thanks to their rock bottom prices, high quality programs, and positive reviews. We also love the culturally immersive experience they offer through homestays, a cultural orientation, and included Spanish classes.
A Broader View
Founded in 2007, this US based non-profit works hard not only to bring volunteers to poor communities worldwide, but has raised an impressive $3.5 million to help build orphanages, bring medical aid to people in poverty, provide clean drinking water, etc. to their local partners, so this is a great choice for making a big impact.
About the Guatemala medical program:
A Broader View offers a variety of medical volunteer work opportunities in Guatemala. You can assist doctors and performing health checks in orphanages and rural communities. For larger groups, medical brigades can be organized to help impoverished communities on a larger scale, with housing up to 25 volunteers.
Fees:
A two-weekprogram will cost you $995. They don't charge a registration fee, so factor that in when comparing prices. The weekly fee includes airport pickup and drop-off, accommodations, three vegetarian meals a day, and 24/7 support. You'll also get a personalized website to help you raise funds for your trip!
Reviews:
A great feature of A Broader View's website is the ability to read reviews for particular projects. One Guatemala volunteer said, "It felt good to help the people at the clinic, and our host family was amazing."
Why we selected A Broader View:
A Broader View is near the top of our list of best providers for medical volunteering trip in Guatemala because of the tremendous impact they make and the large amount of funds they raise for carrying out initiatives with their local partners. We also love their ability to take on large groups and special projects.
International Volunteer HQ
IVHQ is the largest volunteer provider for Medical Volunteer Guatemala program. They offer low rates, have great reviews, and you can choose from a variety of meaningful programs around the world. With so many IVHQ volunteers traveling each month, you'll make plenty of new friends!
About the medical Guatemala program
You'll be assisting doctors and nurses in small local clinics for poor Guatemalans. 1st and 2nd year med students will observe and assist with basic tasks like taking blood pressure, speaking with patients, sterilizing equipment, etc. Those further along or with their degrees can work more hands-on, based on their experience.
Fees:
You'll pay a standard $299 registration fee, and a reasonable price of $310 per week. Due to the material costs involved in the medical program, you'll also need to tack on an extra $65 per week. Your fees will include accommodations, meals, airport pickup, 24/7 support, and special discounts on flights and insurance.
Reviews:
IVHQ also offers a searchable review feature, so you can check out what past Guatemala medical volunteers have to say about their experience. One rave review stated, "IVHQ provides a powerful yet accessible experience in international volunteering that builds cultural awareness and an impetus for global change."
Why we selected International Volunteer HQ:
With 20-50 IVHQ volunteers headed to Guatemala every single month, this is a great medical volunteering experience in Guatemala provider if you're looking to make lots of likeminded friends to share your experience abroad with. They also have low rates, great reviews, and 100,000+ volunteers under their belt.
Love Volunteers

In 2009, a brother and sister from New Zealand set out to change the face of international volunteering and founded Love Volunteers. They've since gone on to win awards and help thousands of volunteers. This is a great choice for first timers, as their online dashboard walks you through the process step by step.
About the Guatemala medical program:
You will be assisting doctors and nurses at a rural outpost in the Sacatepéquez region, set up to provide much-needed medical care to the impoverished indigenous population. Your level of hands-on work will depend on your background and experience. You may also conduct field research to better serve these communities.
Fees:
You'll begin by paying a $299 registration fee, which will give you access to that handy dashboard to start planning your trip step by step. This program has a 4-week minimum, for which the cost is $929. This covers your accommodations, meals, airport pickup, and 24/7 support from the Love Volunteers team.
Reviews:
The best recommendation is going to come from a volunteer who has participated themselves. One past Medical Volunteer Guatemala said of Love Volunteers, "I would recommend this project to any health professional or student interested in living outside of their native country for an extended period of time!"
Why we selected Love Volunteers:
Reasonable rates, great reviews, and years of experience earned Love Volunteers a place on our list of top 7 providers of medical volunteering project in Guatemala. We also love that this program provides medical care to the indigenous population, 80% of which are in extreme poverty in Guatemala.
RCDP International
Founded in Colorado back in 1998, RCDP is one of the longest running and most trusted volunteer agencies on this list. They consistently offer low rates but high-quality programs, fulfilling their mission of making volunteering abroad affordable to everyone who wants to make a difference. A solid provider you can count on.
About the Guatemala medical program:
RCDP offers healthcare opportunities in Xela and Guatemala City. Many hospitals, clinics, and health camps are severely short on both staff and supplies and need your help to provide medical care to Guatemala's poorest citizens. Your duties will vary based on your skill and background but expect a hands-on experience.
Fees:
One of the best features of RCDP is their extremely affordable prices. You'll pay a registration fee of $279, and the super low rate of only $135 a week. This includes your placement, accommodations, three local meals a day, airport pickup, and the full support of RCDP's experienced humanitarian staff.
Reviews:
Take a look at what past RCDP Medical Volunteer Guatemala have to say about how hands-on their amazing experiences were. One said, "I was immersed in OBGYN care, even going as far as delivering several babies. As a medical student this program helped to fill my cup as far as involvement and fulfillment goes."
Why we selected RCDP International:
RCDP is one of our top choices for providers. They have years of experience, extremely affordable rates, and offer a very hands-on medical program that makes a real difference in the world. If you want to make a huge impact for less, RCDP is for you!
New Hope Volunteer
New Hope Volunteer is a non-profit organization offering a unique 3 phase approach to volunteering abroad. You begin with a week of cultural immersion and language classes, enter the 2nd phase of your impactful volunteer service work, and end with the 3rdphase of recreational travel to make the most of your time abroad.
About the volunteer in Guatemala medical program:
Healthcare in Guatemala, particularly in rural areas, leaves much to be desired and many people die of treatable diseases. Help combat this ill by volunteering in local clinics, hospitals, and health camps. You'll observe and assist doctors and carry out educational outreach to help improve the quality of life for poor Guatemalans.
Fees:
Another organization offering super low rates, you'll pay a $279 registration fee, and pay only $135 per week. This will cover your culturally immersive accommodations staying with a welcoming Guatemalan host family, three local meals a day, 10 hours of Spanish lessons per week, airport pickup, and full support 24/7.
Reviews:
New Hope has rave reviews, a great sign when selecting a Medical Volunteer Guatemala. One veteran said, "An amazing experience and one we would recommend to anybody. Go For It and Thank you New Hope."
Why we selected New Hope Volunteer:
If the low rates and great reviews weren't enough to earn New Hope a coveted spot on our list, we love their unique three phase approach which allows you to get fully immersed in Guatemalan culture and work on your Spanish before volunteering, make a difference, and then do some well-earned traveling to end up your trip.
Conclusion:
We've reviewed our top 7 providers, given you the lowdown on what each one has to offer, and you're now armed with the knowledge you need to confidently select the Medical Volunteer Guatemala of your dreams!
If you'd like some insider tips to make the most of your exciting adventure abroad, download the Volunteer Abroad Guide below. Keep checking back here, as Traveller's Quest adds new and helpful articles like this one all the time. Bon voyage!
If you are interested to volunteer in any other beautiful country, check out these articles that explain best medical volunteer program providers in Argentina, Nepal, India, Thailand, Cambodia, Tanzania, Ghana, Kenya, South Africa, Peru and Uganda