586 Views
8 [Best Cheap] South Africa Medical Volunteer Program Providers for 2021

Future and current medical professionals can gain valuable experience in the field while also giving back and making the world a better place by joining impactful medical volunteer abroad programs. South Africa is a great location to do this in, making your dreams of visiting Africa come true and addressing a great need in this beautiful country.
There are so many providers out there that selecting the best one can be a challenge. If you make the wrong choice, you could end up in a dangerous situation without the support you expected, or spending way more money than you need to. To help you out, Traveller's Quest has selected the most reliable and affordable options and compiled them here.
Keep reading to learn:
The top 8 providers of medical volunteer programs in South Africa.
Click the "GET MORE INFO NOW" button below to send an inquiry to all of the carefully vetted providers we included on our list.
Easily compare prices and program offerings with absolutely no obligation whatsoever.
Download our free Volunteer Abroad Guide at the end of this article to help make your volunteer experience in South Africa a resounding success.
Table update Jan 10, 2020
African Impact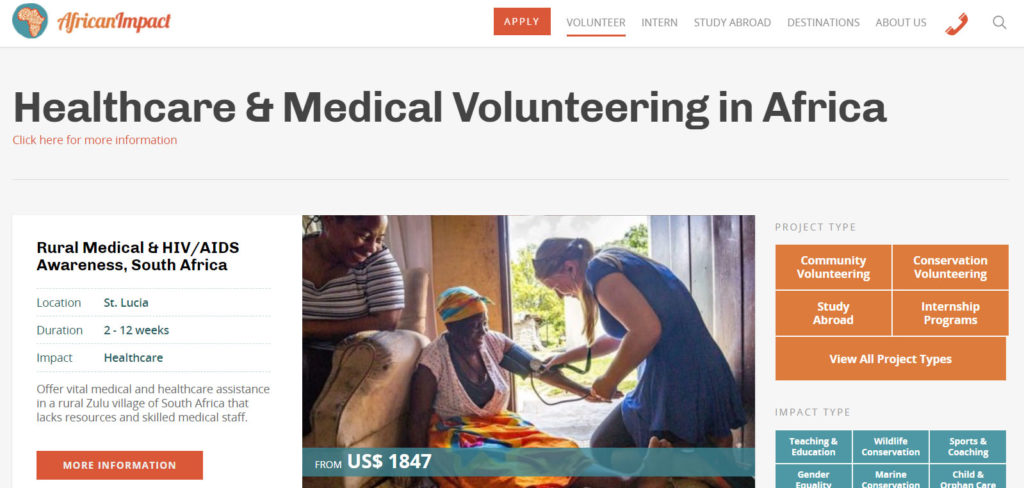 Founded in 2004, African Impact is focused solely on community development and wildlife conservation projects on the African continent. Based in Cape Town, South Africa, this is a local grassroots initiative. More than just a volunteer agency, African Impact has built their own projects hand in hand with local communities.
About the volunteer in South Africa medical program:
At this project you'll be observing and offering much-needed support in a rural Zulu village. With some of the highest rates of HIV/AIDS in the country, this area is in desperate need of medical assistance, and you'll also help provide vital education and awareness on this terrible disease. You'll be staying in lovely St. Lucia.
Fees:
African Impact charges $1524 for a 2-week medical program in South Africa. This fee includes airport pickup and drop-off, accommodations you'll share with staff and fellow volunteers and interns, three local meals a day during the week, and the full support of the African Impact team.
Reviews:
Helping others is likely your primary goal as a Medical Volunteer South Africa, but you also want to build valuable medical skills to help you in your future career. This former African Impact volunteer said, "The program was excellent, and I enjoyed every minute of it. I have gained many new skills and learnt a lot."
Why we selected African Impact:
African Impact made our list of top 8 medical volunteeringtrip providers in South Africa thanks to their African roots, and the unique way they have built their very own projects working closely with local communities. We also love their big impact and reasonable rates.
RCDP International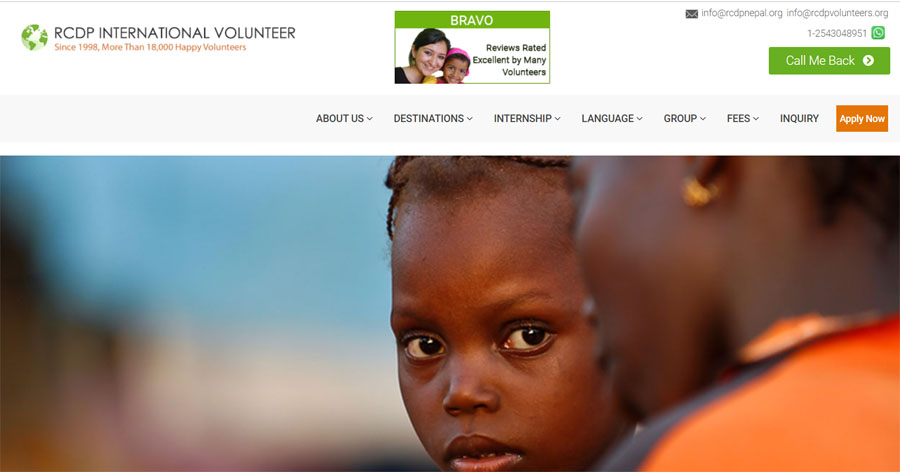 Founded in 1998, RCDP International is a recognized leader in the volunteer abroad world that has already sent over 18,000 volunteers to projects that are making a big difference in countries around the world. RCDP offers low weekly program fees which go right back into the community you are there to support.
About the South Africa volunteer in healthcare program:
This impactful project will have you working in Cape Town, South Africa. Many rural and impoverished South Africans fall prey to treatable diseases or have been infected with the deadly HIV/AIDS virus. You will observe and assist local doctors and nurses who need your help, raise awareness and educate the public.
Fees:
RCDP offers low rates while still maintaining high quality programs. You will pay a registration fee of $279, and a 2-week program costs $450. That's only $225 per week. This fee includes your airport pickup, accommodations in either a volunteer house or host family, 2 meals a day during the week, and 24/7 support.
Reviews:
You can see from past reviews that RCDP offers a well-rounded program in all aspects, a great sign when selecting a medical volunteer work opportunity in South Africa. This past volunteer said, "We had a lot of fun and the people were amazing. Lovely food and housing as well as comfort and flexibility from the organization."
Why we selected RCDP International:
RCDP International is one of our top picks for your medical trip to South Africa thanks to their many years of experience in the field, thousands of past volunteers and positive reviews, their impactful programs that make a difference for local communities, and their extremely affordable rates.
Love Volunteers

This organization is based in New Zealand and was founded in 2009. A brother and sister, former volunteers themselves, set out on a journey around the world to find non-profits that needed help. They have since won awards and helped thousands make a difference, offering great programs and low rates.
About the Medical Volunteer South Africa:
You will be placed in a variety of government funded medical clinics in Cape Town that lack the staff and resources to adequately serve all of the disadvantaged South Africans who can't afford private care. You'll begin observing, and as the doctors get to know you may take on more responsibility based on your knowledge and skills.
Fees:
You'll pay a registration fee of $299, and 2 weeks of volunteering will cost you $449.This includes an airport pickup, your accommodations in a volunteer house, a self-service breakfast, and dinner served at a local restaurant during the week. You'll also have 24/7 support and an online dashboard to help you plan your trip.
Reviews:
Love Volunteers has rave reviews, something worth considering as you compare South Africa medical volunteering programs. One former volunteer said, "Great projects. Awesome service. Lowest fees. Love Volunteers is the REAL deal."
Why we selected Love Volunteers:
We selected Love Volunteers as a reliable provider of South Africa healthcare volunteer experience due to their high acclaim from rave reviews to awards that have been bestowed on them. We also love their reasonable rates, and helpful online dashboard to make your trip planning a breeze.
IFRE Volunteers
IFRE was founded in 2006 in Dallas, TX. They have helped over 20,000 volunteers make a big impact in 20 countries around the globe. They offer low rates and have a focus on cultural immersion. You'll learn all about the local culture and language and immerse yourself while helping poor communities in need.
About the South Africa medical program:
The local government-funded clinics that serve impoverished citizens are always lacking resources and manpower, so your help is greatly needed. You'll work alongside local doctors treating patients, may help in a baby clinic, and you will also join in much-needed HIV/AIDS awareness campaigns.
Fees:
IFRE charges a standard registration fee of $299, and only $450 for a 2-week program. Your fee includes a safe and secure airport pickup, accommodations in a fun volunteer house in an artsy, bohemian neighborhood, 2 meals a day during the week, and the dedicated support of the helpful and experienced IFRE team.
Reviews:
You'll want to get as much experience as possible inMedical Volunteer South Africa, and IFRE is known for their hands-on programs. This is evidenced by this past review, "We were looking for a true hands-on experience that was affordable and educational. It was all that and more!"
Why we selected IFRE Volunteers:
IFRE Volunteers was an easy choice as a reliable provider for South Africa medical volunteering trip opportunity. They have years of experience, over 20,000 satisfied volunteers, impactful programs in 20 countries around the world, and they offer a hands-on experience that will help you learn and make a difference at the same time.
Eli Abroad

Eli is short for Experiential Learning International, and this reflects the philosophy of this hardworking organization founded in 2001. They believe that experiencing meaningful experiences abroad will change the way you see the world, and their programs help you make a difference while you're at it.
About the South Africa medical program:
Eli Abroad offers a three different and totally unique medical volunteer programs. The first is in public health, addressing the terrible epidemics of HIV/AIDS and TB, spreading awareness and doing research. The second is an internship in psychiatry. The third is a physical therapy program serving ill and injured kids in need.
Fees:
Eli's fees are a bit different than other organizations. You will begin by paying a $200 registration fee, and all programs have a fee of $795. On top of this, you'll pay a monthly rent for your housing, which is approximately $350. Included is airport pickup, orientation, and 24/7 support. You will buy and prepare your own food.
Reviews:
If you have a particular skillset or specialty, Eli is a great choice for your Medical Volunteer South Africa. A former volunteer said, "It's rare to find an organization that matches the need of the volunteer to the needs of the community, and at such an exceptionally affordable rate."
Why we selected Eli Abroad:
Eli Abroad made the cut for our top 8South Africa medical volunteer program providers thanks to their many years of experience, rave reviews, and the unique program offerings they have available that will give you experience in a range of medical specialties like psychiatry, public health, and physical therapy.
Global Crossroad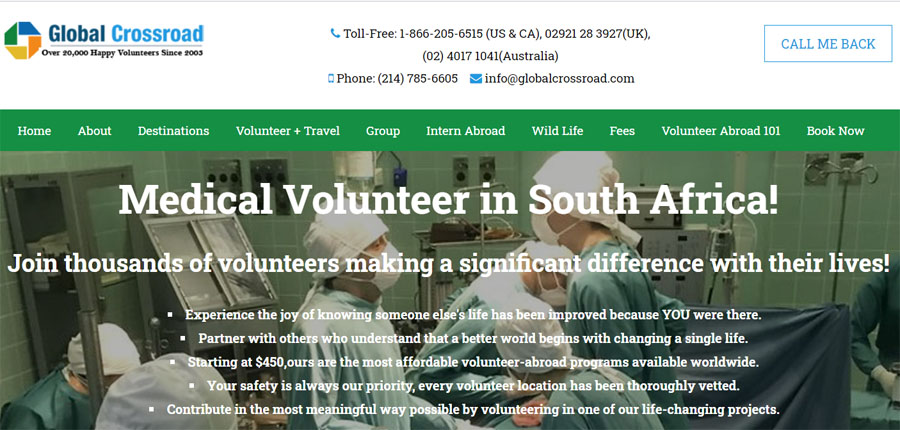 This impactful non-profit was founded in 2003 and has very low rates. They've sent over 20,000 volunteers to 18 countries around the globe and offer a variety of unique programs including international volunteering, meaningful travel tours, and language programs.
About the South Africa medical program:
This is a great program for medical students to observe local doctors and nurses in a local clinic in Cape Town. You will learn primarily through shadowing and will assist in basic tasks such as taking blood pressure, temperature and pulse measurements, weighing patients, etc., and helping with public awareness programs.
Fees:
Global Crossroad offers very reasonable rates, with weekly fees that go down considerably the longer you volunteer, meaning you can save and make more of a difference. You'll pay a registration fee of $299, and a 2-week volunteer programcosts only $450. This includes housing, meals, airport pickup, and 24/7 support.
Reviews:
Be sure to carefully go over reviews when looking for your medical volunteering program in South Africa. This former Global Crossroad volunteer reports, "It was such a touching and eye-opening experience for me."
Why we selected Global Crossroad:
Global Crossroad was a no-brainer when it came to compiling the top 8 affordable and reliable Medical Volunteer South Africa. They offer some of the lowest rates you'll find anywhere, have been offering quality programs worldwide for years, and offer a valuable learning experience to future medical professionals.
Go Eco
Go Eco was the brain child of two former volunteers and was originally founded in 2006 to bring volunteers to a sea turtle project in Greece. It has now grown to include 150 projects around the world and has the unique focus of promoting projects which are environmentally and ethically responsible.
About the South Africa medical program:
Go Eco offers two different medical programs in South Africa. The first is volunteering in rural healthcare and HIV/AIDS awareness in the areas around St. Lucia. The second is a medical internship that is carried out in a busy Cape Town hospital. You will shadow doctors in the triage, pharmacy, and maternity units.
Fees:
Go Eco does not charge a registration fee, so be sure to factor that in when comparing program costs. This program has a 4-week minimum, for which the cost is $1890. This includes your airport pickup, accommodations in a shared room in a hostel, and 24/7 support. Meals are not included except for an orientation breakfast.
Reviews:
With Go Eco you can count on making a big difference and having a meaningful experience as a Medical Volunteer South Africa programs, as evidenced by this past volunteer's comments. "Being there and feeling the positivity of the work you're doing and the impact you have on other people's lives is indescribable."
Why we selected Go Eco:
Go Eco is a great choice for your South Africa medical volunteering project if you are searching for an organization that puts a strong emphasis on environmentalism and ethical volunteering. They have affordable rates, and great reviews.
Good Hope Volunteers
This organization was started by two expats who made their home in Cape Town, South Africa, and saw the great need in the local communities and felt called to help the various non-profits working hard to make a difference. Founded in 2009, they now offer 40 meaningful programs in southern Africa.
About the volunteer in South Africa medical program:
This project is open even to those without a medical background, so great for those volunteers just exploring the field. You will help in a rural clinic that serves a group of indigenous people pushed off their ancestral homeland. You can also offer your time and attention in a children's hospital or provide companionship to the elderly.
Fees:
The cost of a 2-week program is $1835. You will pay a deposit of $140, but this will go towards your overall volunteer fee .Your fee will include your housing, meals, visa fee, airport pickup and drop-off, and 24-7 support from the Good Hope Volunteers team.
Reviews:
This Cape Town based organization has garnered some highly rated reviews, which helped push them onto our list of top providers of Medical Volunteer South Africa.
This former volunteer said, "It was an exceptional experience! The project was totally in line with my expectations. I learned a lot of things while being in a magnificent setting."
Why we selected Good Hope Volunteers:
Given that this group is based in Cape Town, Africa and works so closely with all of their volunteer projects were big selling points for including Good Hope Volunteers on our list of top 8 reliable medical volunteering program providers in South Africa. We love their rave reviews and grassroots approach.
Conclusion
Now that you've learned all about our top 8 picks for program providers in South Africa, you should be well on your way to selecting the option that is just right for you and your own particular needs. By selecting one of these carefully vetted options, you'll save yourself money, ensure your safety while in Africa, and have an amazing time abroad.
There's always more to learn, so keep checking back in at Traveller's Quest as new and informative articles like this one are added all the time. To get the inside scoop before you head out for South Africa, download our Volunteer Abroad Guide below, our free gift to you! Happy travels and thanks for making the world a better place!
If you are interested to volunteer in any other beautiful country, check out these articles that explain best medical volunteer program providers in Argentina, Nepal, India, Thailand, Cambodia, Tanzania, Ghana, Kenya, Peru, Guatemala and Uganda