1015 Views
8 [Best Cheap] Sri Lanka Elephant Sanctuary Volunteer Project Providers For 2021

Are you finding it hard to get a provider that meets all your objectives and goals for your volunteer work in Sri Lanka? There are so many companies offering the same Sri Lanka Elephant Sanctuary Volunteer and selecting the wrong company can cost your a lot of money, ruin your experience abroad and shatter your dream to pursue your passion working with underprivileged communities.
Feel free to save your time and energy, as we have done the hard work for you, and researched many elephant orphanage volunteer organizations in Sri Lanka. Herewith is a list of 8 highly rated, affordable and professional organizations, with details of their best programs, reviews and fees. All you need to do is choose the ones that appeal most without obligation.
In this article you will find:
Eight best cheap volunteer providers for elephant conservation in Sri Lanka
Press the "Get More Info" button below to send a review of all the mentioned providers.
Match fees and programs and pick the top one for you with no commitments.
Download our FREE volunteer abroad guide at end of this article that will articulate everything there is to know about safe and transformational volunteer experience.
International Volunteer HQ
As one of the best volunteer abroad organizations, International Volunteer HQ (IVHQ) is a New Zealand based organization started in 2007. We loved this organization because it focuses on providing meaningful volunteer opportunities around the world in the last 12 years IVHQ has successfully hosted 120,000 volunteers in 30 countries across three continents.
About International Volunteer HQ (IVHQ) Wild Elephant Conservation In Sri Lanka
IVHQ offers a great volunteer program on wild elephant conservation within the Wasgamuwa region Central Province of Sri Lanka. In this program you'll assess human-elephant conflicts, mapping biodiversity using surveying techniques, assisting with the implementation of human-elephant conflict resolution projects, and developing sustainable rural livelihood initiatives.
The Fee
The low cost wild elephant orphanage volunteering opportunity in Sri Lanka offered by IVHQ is an excellent value for money and includes your accommodation and homestay experience.
Reviews
Past volunteers are very happy with their experiences at IVHQ affordable elephant sanctuary in Sri Lanka volunteer opportunity. Most reviews mention the high quality of the programs and lots of new things to learn. With over 1,400 reviews on Go Overseas IVHQ is rated at it at 95 percent.
Why We Selected IVHQ:
This organization topped our best providers list because the affordable cost and the professionalism in handling the volunteers, including offering a simple FREE online course for Sri Lanka Elephant Sanctuary Volunteer in preparation for the life-changing volunteering experience.
Plan My Gap Year (United Kingdom)
Plan My Gap Year (PMGY) is a very credible company with over 10 years of experience in the industry. We selected this award winning volunteer abroad organization because it offers safe, structured and affordable programs from 1-40 weeks to over 2,000 volunteers each year. Since inception PMGY offers over 200 unique programs in 40 destinations around the world.
About Plan My Gap Year Sri Lanka Elephant Conservation Volunteers
PMGY offers one of the most affordable and cost efficient volunteer Sri Lankaanimal programs. This program is based in Wasgamuwa National Park, the only national park in the whole of the central province where you will encounter elephants in their natural habitats. In this program you'll be Working alongside local biologists, research assistants and conservationists to help conduct research, you will get involved in a number of activities in the fields of conservation and research all with the ultimate aim off reducing human-elephant conflict and endorsing long-lasting land use.
The Fee
This provider offers a low cost elephant conservation in Sri Lanka. The affordable volunteering opportunities have program fee that include your meals, accommodation, airport pickup and program orientation while you are volunteering. For two weeks you will pay $955 including a registration fee.
Reviews
PMGY is one of the best volunteer organizations offering the best elephant volunteering program in Sri Lanka. It has over 2,500 reviews praising its program, quality, and customer service. Past volunteers have truly loved their experience with PMGY and had an incredible time.
Why We Selected Plan My Gap Year:
We were not only amazed at how cheap and affordable PMGY's Sri Lanka Elephant Sanctuary Volunteer program was but also at how they work closely with volunteers and local organization to ensure you have a fulfilling and life-changing experience abroad. They had to be top in our list.
RCDP
RCDP was founded in 1998 and has hosted more than 18,000 volunteers in 200 volunteer programs across 18 countries worldwide. As a registered non-profit we loved that they are empowering disadvantaged communities with sustainable and meaningful volunteer program. If you are looking for RCDP unique and safe opportunity to greatly immerse yourself in local culture while making lasting positive contribution in poor communities then this is right up your alley.
About RCDP Elephant Project in Sri Lanka
RCDP offers a diverse and affordable great program in Sri Lanka Thisvolunteer elephant sanctuary project is divided in to three parts elephant conservation, Eco farming and teaching. This is a very rural project located in Randeniya, Hiriwadunna, Kegalle, in central Sri Lanka. The project is situated in a lush 15-acre sanctuary. You do not require any specific qualifications and experiences to work in this project but you must be fit and in good health.
The Fee
With fees that include your accommodation, delicious local meals, and some internal transportation, this provider is very affordable and worthwhile. Prices for two weeks start at $799 including a registration fee at the elephant orphanage volunteer project in Pinnawala, Sri Lanka.
Reviews
RCDP is known as a very consistent and professional organization; therefore the ratings online are high with decorated reviews such as " life-changing" "very helpful local staff" "diverse projects." Previous participants loved that RCDP is a well-established company with years of experience offering the best Sri Lanka elephant sanctuary volunteer.
Why We Selected RCDP:
RCDP made to this 8 best list because they offer very diverse and a flexible programs that are fairly priced. The program fee is affordable and 80% is reinvested back to the elephant orphanage project to keep it sustainable.
Go Eco
We loved this provider because from the reviews it is reputed as best eco-tourism volunteer abroad organization. This UK based firm was founded in 2003 and currently runs over 150 extraordinary community, wildlife conservation and environmental initiatives around the world. Go Eco hosts over 1,000 volunteers each year offering varied and life-changing programs ranging from local community groups to renowned global organizations.
About Go Eco Volunteer Wild Elephant Conservation and Research Program
Go Eco offers life changing and impactful program in Sri Lanka. In this program, you'll observe and collect data on wild Asian elephants while they are in their natural habitat! Data collected on this project is used for the conservation efforts of this endangered species.
The Fee
You'll not pay registration fee, this should be a good consideration while comparing organizations offering elephant orphanage volunteering project in Sri Lanka.
A two-week stay fee is $1250. The fees include food and accommodation, airport pickup, program orientation, in-country support, personalized project, pre-departure information and certificate of completion.
Reviews
Raving online reviews include, a volunteer who said they had an incredible fulfilling experience. Another one said, "They would recommend to other volunteers." Past volunteers can attest to the most impactful Sri Lanka elephant volunteer project at affordable prices with Go Eco.
Why We Selected Go Eco:
Go Eco captured our attention because of the unique elephant conservation Sri Lanka project and the learning experience they offer Sri Lanka. Their program includes a research aspect, which volunteers can use as a learning curve and add to their professional career! How cool is that two birds with one stone.
Volunteering Solutions (VolSol)
Founded in 2007, Volunteering Solutions is a reputable best provider with high value and cost- effective volunteer opportunities. An award- winning organization they have over 154 programs and hosted over 14,000 volunteers in 26 countries who worked for more than 780,000 combined volunteer hours. VolSol was chosen because it has very unique and safe and affordable programs across the world.
About Volunteering Solutions Elephant and Community Volunteer Project In Sri Lanka
This great program in Sri Lanka conservation volunteerssupports the gentle giants and the local community who takes care of them as well. In this program, you will engage deeply with the local community, and get to teach the children of the local community and work in local shelters housing differently abled children. Additionally you will be to help the staff, assisting with the work of the mahouts as and when required. Your contribution towards the community development work will change lives in Sri Lanka forever.
The Fee
VolSol endeavors to provide low cost elephant orphanage volunteering opportunity in Sri Lanka, so that volunteers benefit and easily enroll. The program registration fee is $ 250. A two-week stay at the project is $850 including a registration fee. The fees cover food and accommodation, airport pickup, airport pickup, orientation and in-country support. The program fees do not cover airfare, visa fee, vaccinations, insurance and other personal expenses.
Reviews
From years of experience VolSol offers best and most affordable volunteer experience in Sri Lanka with elephants. Past volunteers had nothing but positive reviews online. With over 450 reviews it has a rating of 9.4/10 on website. Go are read more here:
Why We Selected Volunteering Solutions:
This organization was included to this 8 best Sri Lanka Elephant sanctuary volunteer providers list because of the, cost, diversity and the fact that VolSol works directly with local organizations. While the program is restricted to one rural community, this community is in dire need for help and you can be able to change this situation through your passion.
IFRE Volunteers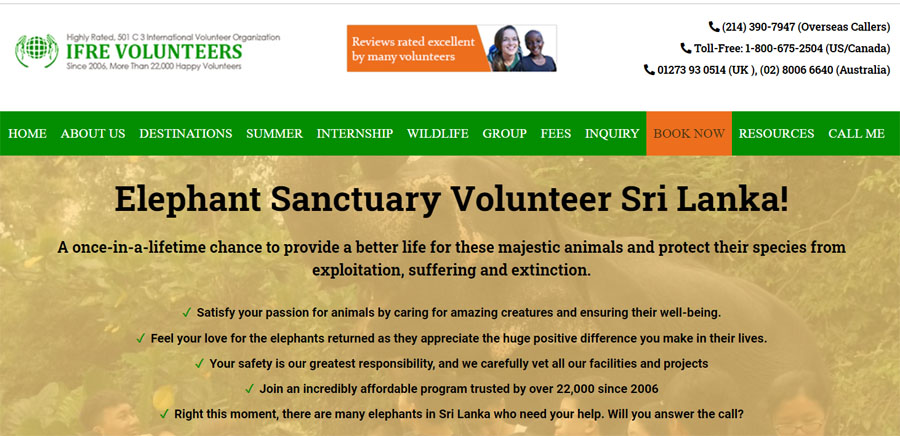 IFRE Volunteer is a best provider non-profit founded in 2006 in Texas, US, with a mission to offer the most affordable as well as the highest quality volunteer and humanitarian experience abroad. If you are seeking a meaningful and exciting adventure abroad then this is the right organization for you. If you are looking for the best travel and culture engaging opportunity while helping poor communities then this organization is the best for you, since you will be working for only 4 hours a day.
About IFRE Elephant Sanctuary Volunteer Sri Lanka
In this IFRE's great program, they partner with local elephant center that has cared for more than 80 elephants since its inception. By joining the important work done here, you will provide important care and nurture these traumatized animals to help their chances of survival as a species. In this once-in-a-lifetime wildlife conservationexperience that really gives back to animals in need, and for elephant lovers you will never feel more fulfilled by showing humanity to these amazing animals and ensure their health, their well being and survival.
The Fee
This organization offers volunteers with some of the most affordable fees for elephant conservation Sri Lanka. Your program fees will completely cover your accommodations, breakfast and dinner, airport pick-up and transfer, and the constant support of a local team in Sri Lanka. There is a one-time registration fee of $299 and two week program fee is $520.
Reviews
IFRE is the best volunteering abroad companies in Sri Lanka and 402 volunteers can attest to that. Comments such as "inexpensive and safe" "best volunteering experience ever" and "time well spent."
Read more positive comments to understand this organization better.
Why We Selected IFRE:
This provider stood out for us because it offers safe, affordable and an impactful opportunity to volunteer with elephant in Sri Lanka that allows volunteers a lot of free time to travel around Sri Lanka and experience and indulge in the culture. We think it is a great opportunity for volunteers to get the best out of the volunteer abroad program including traveling to experience the country.
Pod Volunteer

Pod Volunteers is a top best award winning UK based non-profit founded in 2001. This provider is a finalist in the Best Volunteering Organization category of the 2015 British Youth Travel Awards. They focus on promoting responsible volunteering and travel for volunteers in 10 different countries around the world. And each year Pod Volunteer sends 1,000 volunteers around the world to work with grassroots organizations in developing countries..
About Pod Volunteer Elephant And Wildlife Conservation In Sri Lanka
Pod Volunteer's elephant and wildlife conservation volunteer project in Sri Lanka has an award-winning approach to protecting elephants and wildlife which are found in the national park and local communities. In this program, you'll get to work alongside the local team to support their initiatives to help elephants and communities live together in harmony. You will also assist their research to increase the understanding and knowledge of the 300+ elephants and other wildlife including sloth bears, leopards and jungle cats, living in the surrounding area, which helps to protect them for the future.
The Fee
Pod Volunteer has a cheap Sri Lanka elephant sanctuary volunteering work. The program fees are not-for-profit, so are invested back in the community and project you are part of. For two weeks, all-inclusive program fees start at $1295. No registration fee is required!
Reviews
We selected this provider because they have overwhelming positive reviews online. With great and cost efficient elephant volunteer in Sri Lanka, this organization gives volunteers the best time while working in the programs. Past volunteers have loved the impact the program has on them and their dedication to saving endangered elephants. Go Abroad rates this provider at at 9.5/10 from over 61 positive reviews.
Why We Selected Pod Volunteer:
Volunteering abroad and making priceless memories in your globetrotting experience won't be as expensive as you first thought with Pod Volunteer's great value and cheap volunteering opportunities. They made a good impression because of the program fees that they put back to the communities including the safe programs they offer. They are slightly costly but the fee is invested back to Sri Lanka Elephant Sanctuary Volunteer.
The Great Projects
It all started at The Great Orangutan Project in Malaysian Borneo. After years working with local authorities, and hard-working volunteers to create a sustainable projects they decided to use the experiences and knowledge we had gained to expand our expertise to other projects in Asia, Africa, South and Central America and Europe! Now with over 35 programs they offer the most incredible wildlife conservation volunteer programs. We selected this best organization because they donate up to £350 to the project visited to help the project itself.
About The Great Projects Great Elephant Project In Sri Lanka
Great Projects' incredible project is based on the outskirts of Sri Lanka's Wasgamuwa National Park. In this elephant conservation Sri Lanka program you will take part in a number of activities designed to better understand the elephant populations around Wasgamuwa National Park and their movements. The use of camera traps, GPS and remote sensors, alongside other traditional methods, will allow you to help contribute to a database of information, which in turn, will enable the project to develop new ways of reducing human-animal conflict
The Fee
This low cost elephant orphanage volunteering opportunity in Sri Lanka with Great Projects start at $1428 for two weeks with a registration cost. These fees cover airport pickup, orientation, accommodations, meals, continual program support, project placement and supervision.
Reviews
Great Projects is one of the top volunteering abroad companies when it comes to wildlife conservation and community development, past volunteers can confirm that. Comments such as "inexpensive and safe" "best abroad experience ever" and "best local support I received while in Sri Lanka."
Check out more 170 reviews here:
Why We Selected The Great Projects:
This best 8 providers for great elephant volunteering program in Sri Lanka was highly impressive because not only is the organization affordable and safe, they also have years of experience caring and protecting wildlife in Sri Lanka. We also love the fact that 350 pounds is invested back to the project!
Conclusion
Have gone through our entire guide? Now, you can without a doubt find a provider that works for you and your objectives in Sri Lanka. Select with no commitment the best Sri Lanka Elephant Sanctuary Volunteer; confirm you get a good sense by directly contacting them for more information. Choose wisely!
We love to hear your experience once you take your volunteering opportunity abroad. Please share with us your feedback.