21 Top Sights and Experiences in Venice, Italy| TravellersQuest
By Amanda Ramirez
Amanda is a Freelance Writer and Blogger specializing in travel and parenting. Catch up with her latest adventures and get some travel tips and inspiration on her family travel blog
Ahhh, Venice. Just the word brings to mind images of gondolas floating down quiet canals and white masks with delicate feathers or sparkles hiding the identity of a friend or lover.
Venice is a spectacle of sights, sounds and tastes. Millions of visitors a year indulge in its charms. Read on to learn the 21 top sights and experiences in Venice, Italy.
Top Sights in Venice, Italy
Piazza San Marco (St. Mark's Square)
Famous as one of Europe's must-see destinations, Piazza San Marco is one of the top sights to visit in Venice, Italy. You're surrounded by Venice's most famous sights: St. Mark's Basilica, the Doge's Palace and the Campanile Bell Tower.
Pigeons, tourists and gawkers seem to constantly wander the piazza to create a buzz of excitement and romance. Drink it all in. Take the elevator to the top of the Campanile Bell Tower for fantastic views of the square and nearby seas. Visit the Correr Museum to learn more about Venice's history and art.
Have a drink in one of the cafes lining the square, not cheaply of course, but to enjoy one of the most fabulous scenes on the continent.
Address: Piazza San Marco, 30124 Venice
Basilica di San Marco (St. Mark's Basilica)
Filled with gorgeous mosaics that tell Biblical stories, St. Mark's Basilica is another of the best sights to see in Venice, Italy. The church is located on the famous Piazza San Marco. Its design is Byzantine, and like much of the city, it is a blend of Italian architecture with Islamic or Eastern influences.
The exterior alone is a reason to photograph and celebrate the exquisite and unique design.
Crowds flock to the basilica, so be sure to book a tour or ticket ahead of time. It's easy to use their online reservation system to beat the crowds. Once inside, bring a guidebook or download an online tour (such as the one from Rick Steves) to lead you through the intricate interior. A little explanation makes the decorations of the church come alive.
Address: Piazza San Marco 328, 30124 Venice
Palazzo Ducale (Doge's Palace)
Located on the famous Pizza San Marco, the Doge(or Duke) controlled Venice's politics for more than 400 years. A visit to the sumptuous Palace will include the Senate Hall, Armory and Hall of the Grand Council. Italian works of art by Tintoretto and Veronese line the walls.
The Palace is also frequently overrun with lines of tourists. Buy your ticket online for a small (but worth it) fee.
Towards the end of your tour, you'll see the Bridge of Sighs, the last glimpse of freedom that condemned prisoners saw before they headed to the prison. The views from inside are beautiful. But a photo of the bridge from outside the walls is one of thetop sights in Venice!
Address: Piazza San Marco1, 30124 Venice
Bridges of Venice
The bridges of Venice are legendary. As a city built over water, bridges are a necessary solution to pedestrian traffic on the island. But some bridges are not just elemental, but a work of art. The Rialto Bridge is the most famous in Venice. Its little shelters host small shops, and its unique silhouette is renowned worldwide. Thrillophilia's Italy tour packages include this bridge of Venice tour.
A photo taken at sunset from the Rialto Bridge is one of the best visiting sights in Venice. Other bridges to note are the Accadamia Bridge and the Calatrava Bridge, although its modern design is quite controversial to locals.
Address: Rialto Bridge, Riva del Ferro 5119-5129, 30124 Venice
Galleria dell'Accademia (Accademia)
Venice's most celebrated art museum, the Accademia, features Venetian heavy-hitters along with Italian painters from the region. See Venetian Renaissance art with a love of color and life. Medieval Madonnas shine, and Titan's religious scenes fascinate. Truly, the Accademia is one of the top sights to see in Venice, Italy.
It can be busy mid-day, but if you arrive early in the morning (before 10 A.M.), you should be fine. And tickets can be booked online in advance.
Address: Campo dellaCarità 1050, 30123 Venice
TOP Activities in Venice, Italy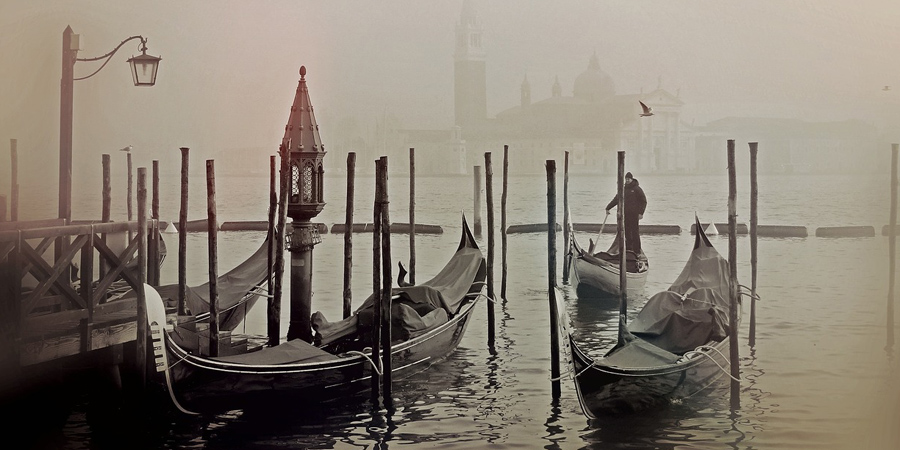 Gondola Rides
You can't visit Venice and miss a gondola ride. Yes, it's touristy and expensive. But it's still worth it. Go just before sunset and stick to the smaller canals to enjoy a romantic and scenic tour.
A peacefulgondola ride with your significant other will surely be one of the top sights in Venice that you will remember for a lifetime.
Arrange a ride at a gondola station easily located by canals around town. Talk with your gondolier to agree on the price, route and whether you want him to narrate, sing (costs extra!) or let you enjoy the ride in silence. Prices start at 80Euros and go up at nighttime. Check the current rates on the gondoliers' association website.
Address: Gondola stations are located throughout the city by canals.
Photography
Venice has some of the most photographic places in the world. From beautiful bridges to ornately decorated buildings in slow decay, Venice is a must-see destination for outstanding photography.
Sunset photos from the Rialto bridge are arguably the most note-worthy photo op in Venice. Take a few snaps standing behind the bridge, too, so you can capture its incredible architecture as well.
Other outstanding locations are the Accademia Bridge, St. Mark's Square, from the top of the Campanile Bell Tower and the unique Bridge of Sighs. These are some of the best sights to see in Venice!
Photos from Venice, with its ocean backdrop and pastel-colored buildings, create memorable images that visitors and admirers remember. Bring your camera and prepare to capture the beauty.
Address: Campanile Bell Tower, Piazza San Marco 328, 30124 Venice
Murano Glass Demonstration
One of the products synonymous with the Venice region is Murano glass. The glass artisans on the nearby island of Murano have been famous for centuries. Their colorful, intricate creations were sought after by the wealthy customers and royalty, and are still valued today.
However, many visitors don't have time to leave Venice to visit Murano.The perfect solution is to catch a glass-blowing demonstration in St. Mark's Square. Glass-blowing demos are one of the top sights in Venice, Italy. You can learn more information here. There is a fee for the presentation, but it is worth it if you don't have time to trek to Murano island.
Address: RamodelSpirond'Oro 1758, 30124 Venice
TOP Food in Venice, Italy
Cicchetti
Unique to this island city is an appetizer-sized sea food creation called Cicchetti. Locals have lived on what they hauled out of the sea for centuries, long before flying in frozen fish from northern countries was an option. Cicchetti is ordered in small plates, usually for lunch or in the early evening. Dinner is served much later, according to European customs.
Your Cicchetti may include sardines in a spicy sauce, whole baby octopus or dried fish blended into a paste that is eaten on toasted bread. It's very special to the city and a must-try delicacy when you visit Venice to see top must see sights!
Address: Many possibilities like, Osteriaai Storti, Calle San Matio o delMarangon 819, 30125 Venice
Risotto and Rici e Bisi
The Veneto region is a massive producer of rice.Therefore, many traditional dishes in Venice use rice as the main ingredient. Risotto is well-known across Italy, but a unique twist here is the added squid ink. The result is a black sauce that looks unpalatable but is surprisingly tasty.
Rici e Bisi is rice with green peas. It's made in the springtime when the peas are in season. It's not quite a stew and not quite a soup. Trying this dish is the best thing to do while visiting the must see sights in Venice, Italy.
Address: Many possibilities like, Ristorante Antica Sacrestia, Calle de la Corona 4463, Venice 30122
Frittelle
Frittelle is a delicious fried donut filled with cream and dipped in sugar. Decadent! You can also find them filled with fruit like raisins or candied orange peels. Sadly, this sweet treat is only available around the time of Carnevale.
TOP Areas to Stay in Venice, Italy
San Marco for a Splurge
Just steps away from the top sights in Venice, the San Marco area is where it's at. West of the famous square is quite expensive, but you can find better values if you search to the north or east of the square.
Dorsoduro is a Hidden Treasure
But your best bet for accommodations will be in the Dorsoduro area in the southernmost edge of the island. The quiet homes and canals feel miles from the tourist bustle, and yet you can be in the heart of the action in minutes. And prices are much lower to boot. (be sure to get closer to the San Marco end)
The things to remember when searching for lodging in Venice to see top sights are:
Book early for the best choice of accommodations.
There are quite a few hotels and rooms for rent, so that prices can be flexible, especially in the slower times of the year.
Carnevale and festivals will raise room rates enormously, be prepared for this!
Don't even think of staying off the island. You came here to wander the canals and drink in the strange, sinking treasure of a city. Be a temporary resident, not a day tourist.
TOP Transportation in Venice, Italy
Vaporetti: The Best City Bus You'll Ever Take
In most cities, taking the bus is practical, but not exciting. But not while visiting the best sights in Venice! You'll travel in style around this grand city in vaporetti: anarmada of boats capable of shuttling passengers down the Grand Canal or around the island. There are specific routes, although tourists mostly use Lines #1 and #2, which go up and down the Grand Canal.
Buy individual tickets (7.50 Euros) or the better value day passes (starts at 20 Euro) at tobacco shops, news stands or anywhere you see the ACTV logo. Load your ticket onto a plastic card, and hop on a for a gentle ride with stellar views. An evening ride is also a memorable experience, with the city all lit up.
Smart tourists time their rides to avoid busy periods. Boats heading to the end of the line (St. Mark's Square) in the morning will be packed. And boats going back to the mainland (to the train station) at the end of the day are also frequently full.
Venetian Water Taxis
If you're in a hurry, have plenty of money or just want the experience of zipping across the canal in a motorboat, then try a water taxi. Prices are significantly higher than vaporetti, but a large group can split the cost.
TOP Excursions in Venice, Italy
Trip to Murano
Murano is a small island approximately 1.5 km from Venice. It's easily reached by vaporetto. Murano is famous for its blown glass industry. Glassmaking was moved to Murano from Venice in the 13th century due to the danger of fire from the intense furnaces needed to heat the glass.
Glass-blowing is a tradition passed down from family to family, and their colorful, intricate creations will dazzle you. Seeing the artisans skillfully bend and turn the melted glass into beautiful shapes is one of the must-see sights in Venice.
Be sure to see a glass-blowing demonstration. You may want to take home a vase, sculpture or piece of jewelry for yourself.
Trip to Burano
The island of Burano is known for it's beautiful and delicate handmade lace. Getting there takes a little longer than Murano, about 45 minutes. But the two islands share a vaporetto line so you could easily tour both places in one trip.
When visiting Burano, be sure to see the museum dedicated to lacemaking. Then browse the lovely shops and quiet canals for a completely different atmosphere from Venice. See the brightly colored homes, and take some unforgettable photos in front of the leaning bell tower on the island. Burano is one of my top Sights in Venice.
TOP Souvenirs in Venice, Italy
Murano Glass
The best souvenir in Venice is anything made with authentic Murano blown glass. Choose a small sculpture, piece of jewelry or vase to fit in your suitcase, or shops can help you mail a larger purchase home. You can find beautiful glass around the world, but Murano glass is truly unique.
Venetian Masks
Whether you're in town for the celebration of Carnevale or not, an authentic Venetian mask is a special souvenir while experiencing the top must see sights in Venice, Italy. Masks come in several varieties, like simple lace that covers the eye area or infamous plague doctor masks with a long nose.
Paper mâché eye masks can beadorned with glitter and feathers,and full-faced white masks with colorfully painted details or lace are a classic choice. You can purchase a mask to wear or display on the wall after you get home.
TOP Special Events in Venice, Italy
Carnevale
Carnevale is celebrated in Venice every year during the ten days leading up to Shrove Tuesday (Fat Tuesday) and then Lent. It's a massive party that gets rowdier as the culmination grows nearer. The city is filled with revelers, and numerous musical acts are giving free concerts all over Venice.
Special foods are made just for the celebration, and people wear masks and costumes to get into the spirit of things. It's one of the top sights in Venice, Italy! It ends with a spectacular show of fireworks over the Grand Canal. But the most exciting part of Carnevale is the Masked Balls.
Most balls are private, but there are a few that the public can purchase (extremely) expensive tickets to attend. If you're going all out, be sure to rent an elegant costume, buy or make a mask and have a photographer fully capture the moment!
La Biennale de Venizia
Happening every other year (in the odd-numbered years), The Biennale d'Arte is a long-running cultural celebration that brings modern artists from around the world to exhibit in Venice. Paintings and sculptures are displayed in the National Pavilions and venues around the city.
Tickets are sold for various events. The Biennale lasts from May – November. Fans of contemporary art flock to the city to view the art and inspiration.
But There's So Much More…
Venice is truly a remarkable and unforgettable place to visit. It's unique east-meets-west architecture and flooded streets will fascinate any visitor. The tasty food and numerous opportunities to tour interesting sights will keep you busy for days. There are so many incredible sights to see in Venice.
Explore Venice's secrets. You never know what you may find.
Other Related Articles
Other possibilities are featured in: