606 Views
8 [Best Cheap] Turtle Conservation Bali Volunteer Programs Providers for 2021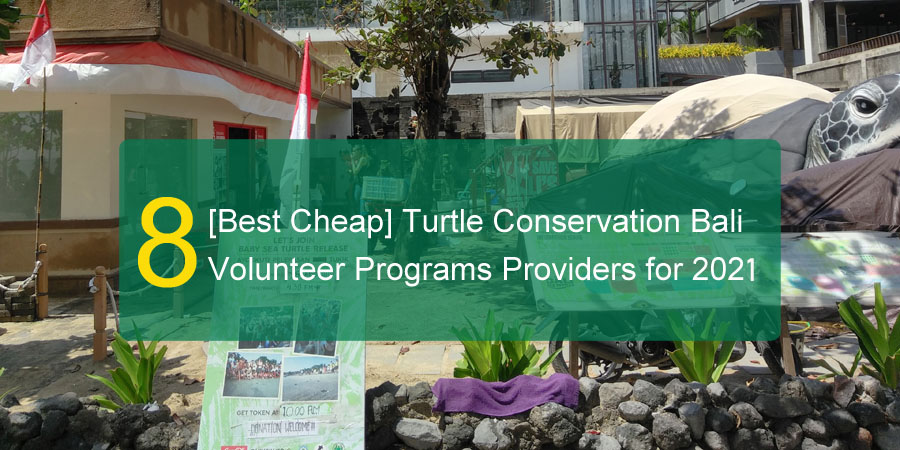 Are you looking to travel to one of the best tourist destinations in the world and experience culture while working to conserve the endangered species? Now, that you have made a decision to travel to Turtle Conservation Bali Volunteer, searching for the right provider can be a very challenging experience.
When you try to search the Internet, you'll find numerous companies each offering enticing turtle conservation volunteering program in Bali, fees and volunteer experience. It can be confusing and time wasting activity, and at worst you could easily leave you out of pocket or have a poor experience. We have selected 8 of the most highly reviewed, impactful and cheap volunteer opportunities in Bali. This article will save you time and money in your goal of finding the perfect life-changing experience. In this article, you will get to:
Read about the most affordable volunteer providers for turtle conservation in Bali.
Connect the "Get More Info" button below to send an inquiry to all the providers on this list.
Compare the charges and programs and select without commitment the best one for you.
Download our BONUS volunteer abroad guide at the end of this article. It has ALL you need to know for a safe, and impactful volunteer abroad opportunity.
IFRE Volunteer
IFRE is a best and leading volunteer abroad organization in the industry. Founded in 2006, this provider has hosted over 17,000 volunteers in over 200 programs in 18 countries cross the world. We loved this organization because since inception it has remained one of the safest, affordable and the most trusted by past volunteers in online reviews.
About IFRE Turtle Conservation Bali Volunteering Program
IFRE offers a great program in Bali. Working in Bali Turtle conservation project is an incredible volunteer experience. There are variety of volunteer works that ranges from helping in hatcheries to answering the question of visitors who come to the turtle conservation center mostly to ask question about turtles and opportunities to release them.
In this sea turtle conservation volunteer program you'll be cleaning turtle tanks, placing eggs in the hatchery, collecting the baby turtles upon hatching, nurturing them and preparing them for release, taking care of sick and injured turtles, monitoring their health. Additionally, you will be scouting the beach for turtle eggs, collecting data, feeding the turtles and participate in educational awareness classes.
The Fee
Fees range from $520 for two weeks up to $760 for four weeks. Program fees for Turtle Conservation Bali Volunteer cover airport pick-up, orientation, accommodation and meals program supervision, in-country 24/7 volunteer support and administration costs. Each program carries an additional registration fee of $299 USD.
Reviews
Outstanding online reviews include comments like "a invaluable experience" "felt secure and safe" "most amazing on ground experience ever." Past volunteers loved that the programs were very impactful and reliably conducted in Bali. Check more:
Why We Selected IFRE:
This best provider for volunteer with turtle program in Bali was our top pick because of the reasonable cost and high value program. Even thou there are no many program options available with this provider in Bali, past volunteers have confirmed that it is a sustainable with high quality program.
International Volunteer HQ (IVHQ)
This best and award winning organization was founded in 2007and has grown to be top volunteer abroad organization. Since inception it has hosted over 105,000 volunteers in 150 programs across 20 countries worldwide. What we love most about this provider was that they offer free courses to prepare volunteers for the work abroad programs, with free online bonus courses.
About International Volunteer HQ Bali Turtle Conservation Opportunity
IVHQ offers the best turtle conservation program in Bali. If you're someone who has an interest in wildlife, conservation efforts and likes being outdoors, this project is for you! In this program you'll have a hands-on role in caring for the turtles housed at the conservation center. Typical tasks include feeding and cleaning of turtles and the equipment at the center. Additionally, you can assist with proactive conservation efforts, which include the improvement of the surrounding environment via beach clean ups, waste management improvement and educating locals about the issues facing Indonesia's sea turtles and what can be done to help.
The Fee
IVHQ offers low cost prices for volunteering in turtle conservation program in Bali to encourage more volunteers from various backgrounds to enroll. Registration cost is $299 with a two-week stay for $470. The fee covers for food, airport pickup accommodation and donation to the local community.
Reviews
This provider is a professional organization with astounding reviews online. Go Overseas has over 1,400 reviews with a rating of 9.5 /10, while go abroad has about 1,074 reviews at an average of 9.3/10 rate. It is highly praised by previous volunteers for its good and impactful projects and free online courses.
Why We Selected International Volunteer:
We selected this best provider as a top provider because they not only offer the best prices Turtle Conservation Bali Volunteer but also offer free online training courses for all volunteers in preparation of the volunteer work abroad. It is one of the most professional organizations in Bali.
Global Crossroad
Global Crossroad was started in 2003 and is based in Dallas Texas. Every year this organization has grown exponentially to about 300 percent. With over 200 programs in 18 countries Global Crossroad is located across the world we selected this provider because they offer affordable life-changing opportunities and experiences to over 2,000 volunteers each year.
About Global Crossroad Bali Volunteer With Turtle Conservation Program
Global Crossroad has a safe and affordable volunteer program that will put you right on the ground working side by side with conservation professionals protecting endangered sea turtles in Bali. In this program, you'll spread awareness to the community on how to protect sea turtles or help newly hatched babies find their way out into the ocean home, everything you do at program will make a huge impact on this ancient and enchanting species.
The Fee
This provider runs a very affordable sea turtle volunteer opportunity in Bali, and is a great option. Program fees range from $520 for a two-week program to $b760 for four weeks. The registration cost is $299. The weekly fees cover the costs of host family/hostel accommodation, three meals per day, and services of the local staff members.
Reviews
Global Crossroad is favorably rated and respected by past volunteers. This provider has impressive statements on both Go Overseas and Abroad Reviews with a rating of 9.2/10 stars from a total of 60 online reviews. Previous volunteers have commended the organization for taking safety and security as the top most priority.
Why We Selected Global Crossroad:
This organization was selected to this best organization because of the comprehensive security measures the organization takes up for the volunteers. The provider is a little bit limited in Turtle Conservation Bali Volunteer program they provide but it is very affordable with a life changing impact on the volunteer
GoEco (USA) – 2006
GoEco is a great and one of the best eco-tourism volunteer abroad organizations in the industry. Based in the UK, it was founded in 2003 and currently runs over 150 extraordinary community, wildlife and environmental initiatives around the world. Go Eco hosts over 1,000 volunteers each year offering diversified and impactful programs ranging from local community groups to renowned global organizations. This organization was selected because it offers the best and cheap environmental programs around the world.
About Go Eco Bali Sea Turtle Rescue volunteering
Go Eco offers an affordable and great program in Bali. In this program, you'll care help care for injured turtles until they are ready to be released into the sea again! In addition you can enjoy the turquoise beaches while living on the tropical island of Nusa Penida.
The Fee
This organization offers affordable turtle rescue volunteering work in Bali without compromising the quality of your experience. This provider does not charge a registration fee, however you will pay of $905 for a two-week program stay or $1,550 for four-week stay. Program fees cover transportation, program induction, food and accommodation, administrative costs, and community project funding.
Reviews
Go Eco is an extremely well respected organization whose volunteer programs offer a truly unforgettable work experience that will put you face to face with the local communities and workforce of Bali. Past volunteers love that Go Eco is experienced and affordable with years of experience. Read more than 550 reviews here:
Why We Selected Go Eco:
We selected Go Eco as best Bali turtle rescue volunteer project provider because all their programs are continuously inspected for positive impact, social responsibility, and safety. Even with high prices, the programs remain sustainable because 90% of program fee is invested back to the project in Bali
Travellers Worldwide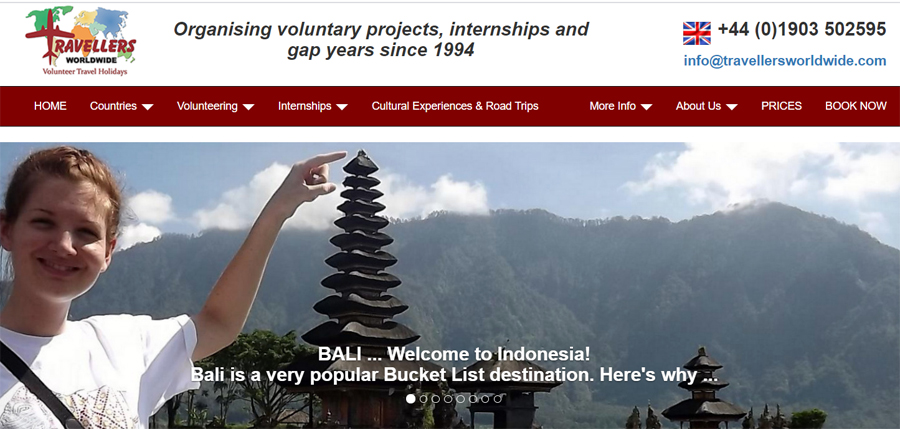 This UK based organization specializes in offering opportunities to volunteer abroad on your gap year, sabbatical or career break including work experience projects. Founded 25 years ago, Travellers Worldwide is widely recognized as an experienced industry leader with over 300 projects in developing countries around the world. They are best organization and we selected them because of the experience and the numerous high value projects they have.
About Travellers Worldwide Sea Turtle Conservation Center Program
Travellers Worldwide offers a great turtle volunteering program in Bali. Million years ago, turtles were already roaming and thriving in the oceans. At that time, they had little to fear from getting caught in nets set by fishers, or to lose their nesting beaches due to a raising tourism infrastructure or the plundering of their nests for egg consumption. In 2006 a center opened in order to give them a last chance in being protected from the illegal trade and tourism and getting out in the ocean after recovering. The Centre is an educational experience, not only for university students and visiting school children, but also for everyone involved.
The Fee
No registration fee is required to volunteer in Bali with sea turtles. For a two-week stay charges are $1,413, and a four-weeks stay is $2,407. Your program fee covers for food, accommodation, airport pickup and drop-off, in-country support and 24-hour back up team of local staff, emergency assistance from our international emergency response and certification of project completion.
Reviews
Travellers Worldwide offers best experience in Bali. Their volunteer programs are very popular among the volunteer community, and have been favorably rated by almost 95% of volunteers giving a rate of 9/10 on the Go Overseas website.
Why We Selected Travellers Worldwide:
This provider attracted our because of the knowledge they have when it comes to communities in Bali, and the turtle conservation program. The prices are slightly compared to other providers Turtle Conservation Bali Volunteer, but they are highly experienced in this project and offer the best conservation projects in Bali.
RCDP International
Founded in 1998, RCDP International (RCDP) is known its moderate prices and reliability. With more than 200 programs in 20 countries across the company this best provider focuses on establishing sustainable community development efforts in extremely impoverished communities. As a registered non-profit, RCDP has hosted over 18,000 volunteers in impactful community based programs across the world.
About RCDP Volunteer With A Turtle Conservation Project In Bali
RCDP's great turtle conservation project takes place in this natural haven to help, protect and sustain the local sea turtle population. In this turtle conservation Bali program,you'll be part of a team of volunteers lead by dedicated professionals. You will roll up your sleeves and get involved in all the activities needed to the sea turtles thrive. Expect anything from assisting injured sea turtles to looking after their eggs and newly hatched babies. Your turtle love already makes a difference, act on it!
The Fee
RCDP offers the best and most inexpensive volunteering opportunity in Bali with sea turtles. You'll pay a registration fee of $279. For a two-week stay the cost is $520 and $7600 for a four-week stay. The weekly program fee includes accommodation, meals, airport pickup and transfers, program orientation, in-country support, pre-departure information and certificate of completion. However this fee does not cover for flight costs or any personal expenses.
Reviews
RCDP amazing Bali conservation projects has got many positive reviews. Past participants have been especially impressed with the quality of the program and the help from the local staff. If you want to learn more about what to expect before going abroad, check these websites to read more reviews!
Why We Selected RCDP:
RCDP was right up in our best provider. Hundreds of reliable reviews on this provider for Turtle Conservation Bali Volunteer confirm that RCDP has positioned itself as a best provider that offers affordable and high quality programs for beginners with easy personalized dashboard. The local staff will teach you much more!
Volunteer World

This best organization is not only an award winning organization but it has also been reviewed and featured in Forbes Magazine, FOX and CNN. Started over a decade ago as a volunteer blog, this Volunteer World has grown impressively, with over 300 programs in 85 destinations across the world. Over 65,000 volunteers have worked in collaboration with this best organization in the last ten years.
About Volunteer World Sea Turtle Conservation Volunteer Program In Bali
Volunteers World offers a top rated great conservation program in Bali. In this program, you'll, take care of turtle eggs and make sure that they are prepared for their journey back to the sea! In addition to protecting endangered sea turtles. While in Bali you will also meet like-minded volunteers from all over the world and build life-long friendships.
The Fee
Volunteer World offers the most manageable volunteer opportunity in turtle conservation in Bali. No registration fee is required and the minimum stay is four weeks for a cost of $780. Your program fee covers for food, accommodation, airport pickup and drop-off, in-country support and 24-hour back up team of local staff, emergency assistance from our international emergency response and certification of project completion and a lot more.
Reviews
Amazing online reviews include comments like "Volunteer World is affordable and created a great learning environment " "host family felt like home" "best learning opportunity." this provider has a commitment to provide the most affordable and high value Turtle Conservation Bali Volunteer projects. Before you make a decision check out more reviews here:
Why We Selected Volunteer World:
What we loved most about this provider is that they are the most affordable with top international reviews. The program is also of high value and well organized, so you will not only be volunteering but also learning more about turtles.
Frontier
Frontier is a best international volunteer organization founded in 1989. With over 400 programs in over 60 countries, this organization successfully sends over 2,000 volunteers around the world each year. We loved that they have years of experience in conservation and have worked with hundreds of local communities to protect biodiversity and build sustainable livelihoods.
About Frontier Bali Sea Turtle Conservation Program
Frontier offers once in a lifetime best volunteer project in Bali. In this project, you will have the opportunity to not only learn about the intriguing culture of Bali but also to get hands on experience in the conservation of its majestic and enchanting sea turtles. Through working to reduce their vulnerability to external threats and maintaining population numbers through juvenile protection and re release you will be making a positive and valuable contribution to their survival.You will also work to rehabilitate the weaker juvenile sea turtles in a natural enclosure until they are ready for release.
The Fee
This cost effective provider does not charge for registration fees for sea turtle conservation volunteering opportunity in Bali. A minimum of two-week stay at the program starts at $888 or a four-week stay for $1,711. The fees cover for costs of host family/hostel accommodation, three meals per day, and services of the local staff members.
Reviews
Frontier has been a well-respected volunteer organization for over 25 years. They are fully verified on Go Overseas and Volunteer Forever with an average rating of 88% positive rating. Frontier has about 100 great online reviews. Volunteers have praised the organization for their well-organized programs, helpful support staff, and impactful projects.
Why We Selected Frontier:
Frontier is a best company offering not only Turtle Conservation Bali Volunteer to you but also conserves the environment and offers community development, that we loved about this organization. The fees are also very affordable and the program is diverse if you are looking for more than caring for turtles.
Conclusion
Now, that you gone through our selected best 8 volunteer in turtle conservation volunteer program, travelling to Bali to work with disadvantaged communities is no longer a dream. The programs are great and affordable. Choose wisely with no obligation, you can also contact the organization directly for more information.
Share your feedback with us and Safe travels!
If you are interested to volunteer in any other beautiful country, check out these articles that explain turtle conservation volunteer in Costa Rica