446 Views
8 [Best Cheap] Volunteer Galapagos Programs Providers for 2021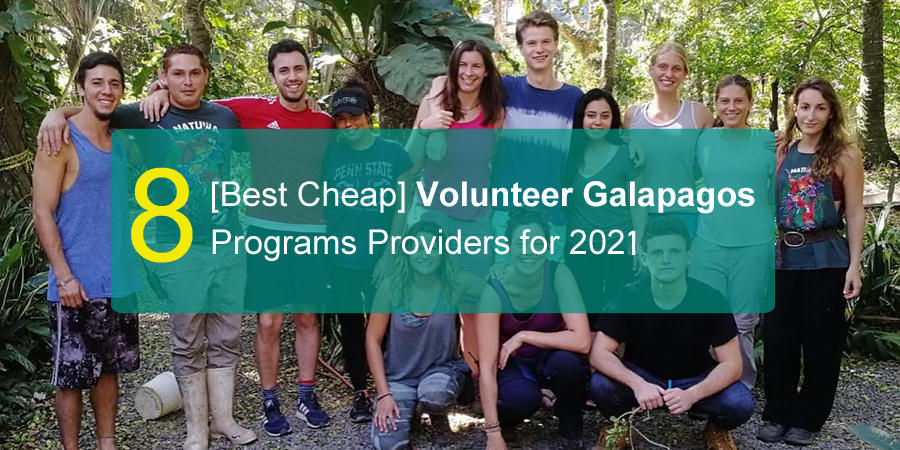 Are you finding it difficult to get the right organization for your abroad volunteer opportunity in Galapagos? You can easily waste your time searching through hundreds of web pages and reviews for volunteer opportunityin Galapagos program providers. Some may seem compelling, others not so much! How do you select the best option that works for you and your passion to positively change the world? We found an easy solution for you!
In this guide, we have scrutinized hundreds of organizations and selected the best 8 volunteer Galapagos program providers that are professional, highly rated and affordable for you. We hope that in this article you find and select with no commitment the most exceptional provider that will provide you a life changing and fulfilling volunteer experience in Galapagos. In this guide, you will find:
The most affordable volunteer in Galapagos program providers.
A "Get More Info" button below to send an inquiry to all the providers on this list.
The charges and programs and select without obligation the best one for you.
A BONUS volunteer abroad guide at the end of this article. It has ALL you need to know for a safe, and impactful volunteer abroad opportunity.
Global Crossroad
Founded in 2003 this Dallas, Texas based renowned international abroad volunteer organization Global Crossroad offers over 200 programs in 18 countries across the world. We were particularly impressed with this organization because since inception, it has consistently had about 300 percent growth each year. If you are looking for best volunteer programs in Galapagos with plenty of time for travel and adventure, then Global Crossroad will offer that and much more.
About Global Crossroad Volunteer Conservation Program In The Galapagos
Global Crossroad's unique has a unique program in Galapagos and years ago Charles Darwin discovered that the plant and marine life in the island weren't influenced by the outside forces and were perfectly adapted to their natural environment. However, New species arrive everyday and threaten indigenous ones. In this great individual and family volunteering Galapagos program you'll work with local farmers to develop agricultural practices that are sustainable and environmentally friendly.
The Fee
This provider is dedicated to keeping the prices for volunteer in conservation program low to ensure that anyone from all economic background can join. Registration cost is $299 including a minimum of two-week program stay in volunteer Galapagos program for $816. The fee covers for food, accommodation, airport pickup and donation to the local community.
Reviews
Global Crossroad is known to be an extremely consistent organization, therefore the ratings online are high with decorated reviews such as " saving the environment changed my life" quality and life-changing environmental program" "very reliable and honest organization." Check out 420 more reviews online:
Why we selected Global Crossroad:
This provider is top of our list because they are well established with years of experience providing very affordable and high value conservation volunteering program in Galapagos. From the reviews online many volunteers attest to an organization that is well organized and very transparent on how your program fees are distributed to the communities and host family.
Ubelong (USA)
If you are a first time volunteer, then this best organization may be your best bet. Founded by Cedric Hodgeman in 2009, Ubelong is a US based independent volunteer abroad program best provider. It offers affordable program starting from two weeks up to six months. Ubelong hosts thousands of volunteers each year and they have collectively served over 4 million volunteer hours. They have diverse programs starting from gap year, to high school programs including internship and seniors program.
About Ubelong Forest Conservation and Sustainable Farming Volunteering Program in Galapagos
Ubelong offers a great and affordable program in Galapagos that also serves as a learning experience for volunteers like you. In this program, you'll be involved in a range of conservation activities like removing foreign plants especially blackberry, or "mora", by hand and with machetes, collecting seeds, helping in local greenhouses including participating in community and/or government initiatives that reach out to local farmers. You may also partake in reserve tasks like basic construction and trail maintenance, as well as collecting fruits for the cook and helping in the kitchen.
The Fee
Fees are affordable for this best cheap volunteer opportunity in Galapagos. The weekly program fee covers accommodation, food, field support, airport pickup and more.
Reviews
Ubelong gives volunteers a chance to experience everything Galapagos has to offer including travels and culture immersion. Volunteers are pleased with their supportive local teams and the richness of the programs offered. The hundreds of glowing online reviews available on various travel abroad websites demonstrate this.
Why we selected Ubelong:
We selected Ubelong for volunteer Galapagos program because they have well-intentioned volunteer program with an affordable fee structure, and a safe and friendly environment. They also take into consideration volunteers of every age starting from 18-82 years. They take deep considerations for first timers, young and older volunteers, and we love that about this provider.
A Broader View (USA)
Sarah and Oliver Ehlers founded this best organization in 2007. After a volunteering trip to Chile, they realized the overwhelming needs required by impoverished children and the incredible difference volunteers made while in helping local orphanages. We loved that this non-profit works in 25 developing countries, through partnering with local communities to bring real positive change and improve lives of disadvantaged communities.
About A Broader View Volunteer In Island Conservation/Animal Welfare Program
A Broader View's great and high value program is based on Isabela Island, the largest of the islands of the Galapagos. Here you'll have the opportunity to support the conservation efforts and land turtle support projects on Isabela Island. Additionally, you will help in light construction tasks, reforestation efforts and help with eradication of non-native plants. This will be a great opportunity to discover the wonders and wild life of the Galapagos by offering hands on contributions to their sustainability.
The Fee
With no application fee, the cost to participate in this conservation and animal welfare volunteering opportunity in Galapagos will be only $2,135 for two weeks. The fee covers airport pick-up, accommodation, meals and fundraising for the project, and it is paid directly to the projects.
Reviews
Many raving online reviews from content and fulfilled volunteers, give A Broader View a rating of 99% rating on Go Abroad website. Past volunteers comments range from programs being impactful and diverse to easy application process and learning a lot on environmental conservation. See more reviews!
Why we selected A Broader View:
A Broader View does not compromise on your experience and offers affordable and secure programs, this is the reason why selected them. Thou their program is more costly compared to other volunteer Galapagos opportunities, it is all inclusive and more than 80% of the fee is paid directly to help the communities.
IFRE Volunteer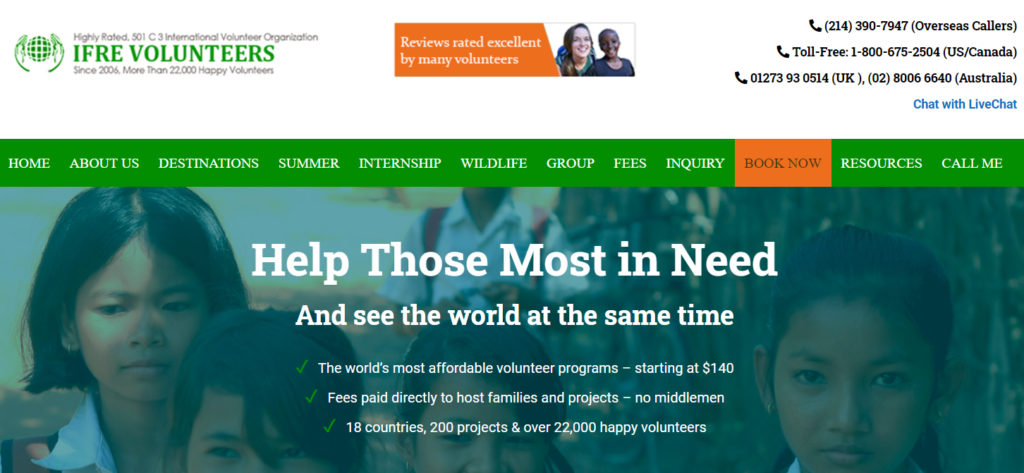 Founded in 2005 in Dallas, Texas IFRE is a top volunteer Galapagos program provider. As one of the most affordable volunteering organizations, it has over 200 projects in 18 countries worldwide and has worked with more than 22,000 volunteers since inception. We loved this organization because they have the best value programs with devoted local coordinators, and a personalized personal dashboard application process.
About IFRE Volunteer Galapagos Program
IFRE's affordable and great conservation program in Galapagos, works in sustainable agriculture, promotion of ethical, low-impact tourism, and work preserving and reforesting the natural environment. In this program you'll help out with trail maintenance, collect and classify seeds, and help establish much needed biological corridors throughout the island. Your time at this project will make your dream of visiting the Galapagos come true, and also have a huge impact on protecting and saving this natural wonder of the world.
The Fee
IFRE provides cheap volunteering conservation opportunities in Galapagos at a low cost when compared to other organizations. A two-week stay at the program fee starts at just $816 with a registration fee of $299. This program fees are paid directly to the host family and the project you are working on which guarantees that your money is not for company profit.
Reviews
As a best provider we are highly impressed by astounding reviews on Abroad Review of 9.1/10 rating. Many previous volunteers have shown a lot of enthusiasm with comments like " learning experience " "completely changing lives positively." makes sure to check out more online reviews:
Why we selected IFRE:
IFRE was included to this 8 best Galapagos conservation volunteer program providers list because of the value, cost and cultural exposure the volunteers experience while in the program. While the programs are somewhat limited you can be sure that the local staff is very supportive with a very easy and personalized application process.
Go Eco
GoEco is the best and highly reputable eco-tourism volunteer abroad organization. This UK based firm was founded in 2003 and currently runs over 150 extraordinary community, wildlife and environmental initiatives around the world. Go Eco hosts over 1,000 volunteers each year offering diversified and impactful programs ranging from local community groups to renowned global organizations. This organization was top on our list because it is affordable with years of experience in conservation and environmental programs.
About Go Eco Volunteer Giant Tortoise and Sea Turtle Conservation Program
GoEco great turtle volunteer in the Galapagos helps care for ancient, giant tortoises and sea turtles hatchlings. In this program you'll work closely with the Galapagos National Park in their efforts to continue to conserve this indigenous species or sea turtle hatchlings.
The Fee
This provider offers volunteers the best and affordable conservation volunteering experience in Galapagos. The fees comprise of only one constituent, no application! Weekly program fee paid directly to your project, the minimum stay volunteering is four weeks for a cost of $2,320. Program fee includes housing, food, airport pickup, and a 24/7 local support network.
Reviews
Go Eco is a favorably rated volunteer company, and their wide selection of conservation volunteer Galapagos program is of high quality and competitively priced. Impressive reviews include, one past volunteer that stated volunteering in Go Eco met all what was in his checklist. Another one said, "Go Eco is good at what they do and they do it with the best interest of the communities."
Why we selected Go Eco:
This organization topped our best Galapagos conservation volunteer work providers list because safety and environmental impact always comes first with Go Eco, so you can enjoy your life changing experience without worrying. We were happy that this provider is committed to upholding firm ethical standards that ensure a helpful and long-lasting impact upon the communities, environments, institutions, volunteers, children, animals and people they work wit
Working Abroad (Switzerland)
Founded in 1997, it is one of the first volunteer abroad agencies on the web and one of the pioneers in worldwide volunteering abroad. Working Abroad currently runs programs in over 30 countries across the world focusing on wildlife conservation and community development projects. If you are looking to learn from an organization withyears of experience in marine conservation volunteering, wildlife and habitat conservation volunteering, environmental education and ecology, then you found the right one.
About Working Abroad Galapagos Conservation Volunteer Program
Working Abroad has a great program with a range of choices including wildlife conservation and environmental projects on Isabela Island. In this program you will join a dynamic team of volunteers and local staff and help tocare for giant tortoises or become an ecotourism intern in the national park and get involved withturtle nest monitoring. During your free time you can snorkel with penguins and sea lions, and enjoy living in a town filled with friendly locals and active volcanoes. How cool!
The Fee
You'll enjoy a low cost of this exceptional experience. A two-week volunteer conservation experience in Galapagos will only cost about $1,645 or $2,203 for four week at the program. Keep in mind that during your considerations that this program does not have a registration fee.
Reviews
Previous volunteers love how helpful and friendly the local and international staff is. Great online reviews for this organization include "a great organization with the know how" "committed to the environment and volunteers" "I will go back again and recommend this organization." With its incredible environmental program and a swift application process they deserve a chance:
Why we selected Working Abroad:
This organization was selected to this list of 8 best volunteer Galapagos since it is very cost effective with lots of resources about the environment and animal conservation with over 22 years of experience! Since the program is a bit costly compared to the other providers they offer over 90% of the program fees to the community to ensure sustainability. And we love that about Working Abroad.
Volunteer World
Volunteer World journey started in 2006 as a volunteer blog and launched its first independent volunteer program in 2015. Since then it has been a roller coaster growth journey. Now, this best provider has over 300 programs in 85 destinations around the world and hosted about 65,000 volunteers. They have been featured and reviewed by Forbes Magazine, FOX and CNN and they all had nothing but great things to say about this organization and we love it!
About Volunteer World Giant Tortoise Breeding Center Program
Volunteer World's great program aims to protect giant tortoises in Isabela Island. Between 100,000 to 200,000 giant tortoises have been removed and killed in two centuries through hunting, to habitat alteration, to the current biggest threat – the introduction of animals now acting as predators and competitors, the giant tortoise population has almost been wiped out. In thisvolunteer Galapagos program, you'll work at the GiantTortoise Breeding Center, started in 1990 in attempts to recuperate the giant tortoise population through its program of breeding, care, and reintroduction to the wild, as well as through education programs for tourists and local people.
The Fee
This giant tortoise volunteering program in Galapagos at a breeding center offers a unique opportunity at reasonable price, for a minimum stay of 4 weeks. With no application cost, the program fee is $2,529. The weekly program fee includes accommodation, meals and support, but does not cover flight costs or any personal expenses.
Reviews
Past volunteers have enjoyed this project particularly the opportunity to work with tortoise, educate the local community and learn more about Giant tortoises. There are over 750 raving online reviews about the volunteering and learning experience, including the travels and culture immersion in the beautiful island.
Why we selected Volunteer World:
This provider stood out because of how structured the trips are, and how informative and educational the local staff at breeding center program is. This Galapagos volunteer work opportunityis carefully vetted to ensure every volunteer experience is safe and impactful, while giving you a chance to impact any skills or knowledge you may have when it comes to tortoise, while also learning new skills. It a double win situation!
RCDP International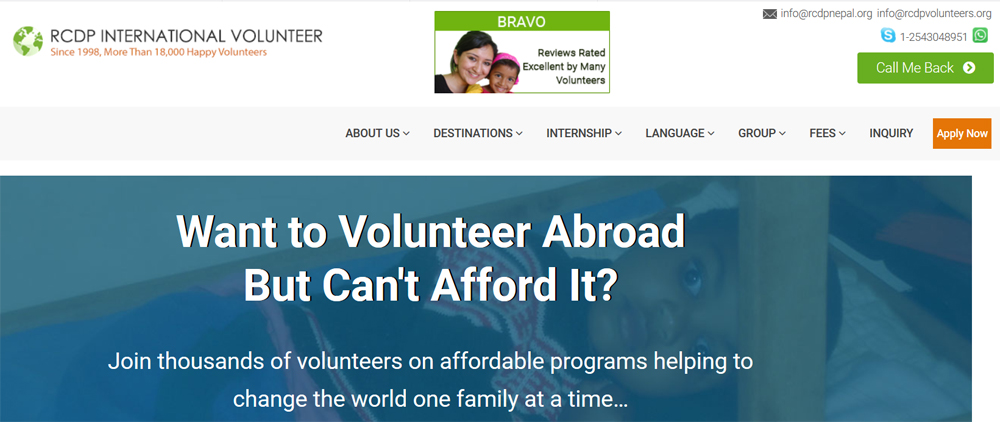 As a best program, RCDP International is a non-profit organization established in 1998, with a goal to empower underprivileged communities with sustainable and meaningful volunteer abroad programs. Over the last 20 years RCDP has offered over 200 programs to over 20,000 volunteers in 18 countries across the world. As a registered non-profit we love that this organization works directly with the community and gives back over 80 of the program fee to the grassroots organizations.
About RCDP Galapagos Conservation Program
This great best program by RCDP offers two main work projects. In this program you can either help with habitat restoration or agricultural activities. The project also encourages volunteers to develop their own conservation volunteering work in Galapagos. One of the challenges volunteers take is to learn and do guided hike tour of the reserve and explain about local ecosystem, biodiversity, the history, and marine and plant life.
The Fee
RCDP offers you one of the least expensive conservation programs in Galapagos, with a registration fee of just $279 and a minimum two-week stay of $816. The fee covers, accommodation, food, program orientation, airport pickup transport, in-country support and many more.
Reviews
RCDP has 250 positive and best reviews online on the volunteer conservation project in Galapagos. It offers best cheap prices with professional and helpful staff in the field. Preceding volunteers are happy about the host families and the design of the program to have enough travel time around the island and Ecuador while experiencing culture. Check more here:
Why we selected RCDP:
RCDP was a best bet right from the reviews to the cost, including the unique program that includes learning. They offer a lever of support to ensure you are safe and getting educated. While with RCDP volunteer Galapagos program, you will be assigned an agent, a person who is available to answer any and all questions both before the trip and during the trip and that is why it is our top 8 best provider.
Conclusion
The providers you just went through in this guide are the best reputable, with excellent reviews, and are well known for providing quality volunteer opportunities in Galapagos at an affordable cost. Now, that you have most of the information you need, select the best organization without commitment and get ready for a life-changing experience in Galapagos.
Let us know your experience with the provider that you select for your trip to volunteer Galapagos. Share your feedback and Safe travels!
If you are interested to volunteer in any other beautiful country, we have programs in Nepal , SriLanka , India , Bali , Cambodia , Tanzania , Ghana , Kenya, SouthAfrica, Brazil, Peru, Ecuador, Guatemala, Mexico, Uganda, Costa Rica, and Thailand. Get idea about scholarship volunteering by reading our 50 Best Volunteer Abroad Scholarships 2020. Check out our High School Volunteer Abroad program providers to find best affordable program for high schoolers.