The 10 [Best Cheap] Africa Volunteer Programs Providers 2023
The 10 Best Cheap Africa Volunteer Programs Providers 2023
Are you planning to volunteer in Africa, but unsure which provider to select? Now, you no longer have to waste time searching the internet and filling out dozens of contact forms. Simply fill out ONE form, we'll send it off to multiple providers and they'll contact YOU! You'll be able to compare rates and find the lowest cost program for the most affordable trip abroad.
Get Free Quotes From 10 Best Cheap Africa Volunteer Programs Providers
Are you looking for a chance to visit Africa in a responsible and impactful way? Are you worried that the organization you choose to volunteer with is little more than a scam? This list of the 10 best cheap providers of volunteer programs in Africa will help guide you and make sure your time as a volunteer in Africa is as impactful and life changing as possible.
Once you've made your decision to volunteer abroad, it can be extremely intimidating to search through the countless organizations that offer volunteer programs and decide which can be trusted and which can't. Indeed, there are many organizations that overcharge and outright scam well-meaning volunteers, greatly detracting from the impact and experience they are able to have.
This is especially true if this is your first time volunteering, as without having any experience in what is to be expected of a volunteer abroad organization, it can be difficult to judge the quality of providers. With so many volunteer opportunities in Africa, you can easily get lost and end up booking someone you wished you hadn't.
This is where we come in! Here at TravellersQuest we have done extensive research on hundreds of organizations and selected 10 of the very best and most affordable providers, as well as a few runner ups. With the information gathered here at hand, you'll be able to make an informed choice on what volunteer program in Africa you want to participate in.
Use this list to find the best and cheapest volunteer programs in Africa to help you make the biggest positive impact you can.
Table Updated: Dec 24, 2019
IFRE Volunteers was founded in 2006 and since then has provided safe, impactful and fun volunteering experiences to more than 22,000 travelers like yourself. Their philosophy is based on a commitment to grass-roots projects that allow volunteers to get a deep and personal connection with the community and individuals that they work with.
Fees begin with a $299USD registration fee, followed by incredibly low project fees. This means that you can join a volunteer program with IFRE on almost any budget, no matter how limited, and the organization is happy to help you fundraise even this amount. Their 9.1/10 score on Abroad Reviews and 8.9/10 on Go Overseas with over 350 former volunteers reporting their experience lends credence to their reputation as an excellent organization to volunteer in Africa with.
Volunteering opportunities with IFRE Volunteers
Ghana is an excellent choice for your volunteer trip to Africa. Known as the "gateway to Africa", Ghana is one of the most peaceful nations on the continent and is filled with deep and rich culture as well as plenty of amazing history that is easily accessible. Not only this, amazing sandy beaches line the country's shore, providing you with a great mix of exploration and relaxation.
Despite all these things, Ghana struggles with major issues such as a lack of clean water, poor education for poor and rural areas leading to a lack of employment, and inadequate infrastructure to deal with weather conditions, often resulting in catastrophic crop failures and hunger.
IFRE aims to solve some of these problems through projects focused on areas such as HIV/AIDS prevention, healthcare, and education, which in turn will give the local population the tools, skills, and capacity to further improve quality of life in their homeland. Starting at an incredibly low $175USD, IFRE is an ideal choice for affordable volunteer programs in Africa.
Kenya is home to some of the most amazing nature on the planet. Home to the famous Serengeti, not to mention the giant herds of wildebeests, lions, and many more animals, Kenya is every nature lovers' dream, and you owe it to yourself to visit this cradle of humanity at least once in your lifetime.
Sadly, despite significant improvements in recent years, Kenya still struggles with a host of problems ranging from poor access to education, poverty, and lacking economic opportunities, all made worse by the rapid population growth in the country. Thus, Kenya is an excellent choice for your volunteer work in Africa.
Starting at a very affordable $150USD, you can join IFRE in making Kenya a better place to live even if you're on a limited budget. Among their incredible programs in the country are opportunities for orphanage work, teaching, and more.
Tanzania, home of the magnificent Mount Kilimanjaro, the tallest mountain on the continent, as well as Lake Tanganyika, the world's second deepest lake, is an excellent choice for Africa volunteer opportunities. Tanzania also shares the awe-inspiring and ever-present wildlife with neighboring Kenya, yet another reason to consider this as a volunteer destination.
Unfortunately, close to 70% of the country's population lives in extreme poverty, leading to a host of grievous societal conditions such as epidemics, hunger, lack of employment and social mobility, and orphaned children with no one to look to.
IFRE's programs in Tanzania include teaching English, empowering women, and training local kids in how to use a computer. Starting at the low price of $175USD, these programs are attainable for almost anyone, making IFRE and Tanzania excellent choices for your Africa volunteer work.
Located on the equator, Uganda is a diverse land of jungles, savannah, and beautiful Lake Victoria. Many adventurers of the past went to great lengths to discover the source of the Nile that is located there, and the country remains an amazing destination for adventurous individuals looking for a unique experience deep in Africa.
However, there are many problems plaguing Uganda. Poverty has led to thousands of orphaned children, and HIV is still a major issue. IFRE's volunteer programs in Uganda are committed to important work aimed at improving these conditions such as working with orphans, teaching English, spreading awareness of HIV and caring for its victims, and more.
Prices are again on the lower end, with projects ranging from $150USD. If you're wondering how to volunteer in Africa, going to Uganda with one of IFRE's excellent programs there is a great answer.
Plan My Gap Year is founded by volunteers for volunteers. They have committed themselves to sustainable long-term development in their projects and affordable fees that are 100% transparent, ensuring that almost anyone can afford to volunteer in Africa in one of their programs.
PMGY also offers a focus on the social aspect of volunteering, which is a significant part of the experience and connects you with your fellow volunteers well in advance of your departure, giving you the chance to get to know them even before you leave.
There is a $190USD registration fee for all of the organization's programs, and the individual project fees are all affordable ranging from $191USD to $368USD for the programs featured here. Their reviews are great, with 96% on Go Overseas and 4.8/5 on Review Center from a combined 600+ reviews. While the four programs we list here are our favorite of their volunteer programs in Africa, they run a host of other great programs around the world.
Plan My Gap Year (PMGY) Volunteering Opportunities
Ghana was the first black African country to achieve independence from colonial rule and its home to a highly diverse set of people and tribes both ethnically and religiously. The country is most famous for its mixture of verdant jungles filled with diverse animal life and picturesque beaches lining its coast.
Ghana is also rich in history, with many states and empires originating from the region across the centuries, and there may have been humans living here as long ago as 10,000 BCE. Many of the country's problems today that you can dedicate your volunteer work in Africa to can be traced back to poor management and corruption in the 70's and 80's.
Despite strong economic and political reforms in the 1990s which has led to the country being held as a model example for other African countries, Ghana still suffers from problems like high-income inequality, rising living costs, and poor public health.
Prices for PMGY's Ghana programs start at $318USD, and you can engage in various rewarding projects such as caring for disabled children, working in the medical field or even mental health, teaching various subjects, and more. This is one of the best Africa volunteer programs while also being very affordable.
Madagascar is a fascinating country that rests in the Indian Ocean. The massive island was first settled by people traveling by boats all the way from Indonesia as recently as 500CE, and is also famous for its highly divergent wildlife, with its long isolation from the mainland resulting in some incredibly unique species.
While the native population does not consider itself African, cultural ties with French-speaking West Africa and the proximity to the continent earn it a place on our list of Africa volunteer opportunities. The country struggles with a host of issues ranging from poverty to poor access to vital services, running water, healthcare, or education.
Quality of life varies greatly depending on what region you're in, and PMGY's programs all take place in the city of Fort Dauphin located on the southern coast of the country which is significantly poorer than other areas with greater natural resources or cash crops. They offer three projects with their childcare and teaching projects both starting at $360USD for a minimum of 2 weeks and their animal conservation project a little more costly at $230USD for a 1-week duration.
Morocco is a truly ancient civilization and the land is filled with an interesting history that has over millennia left its mark on the country in the form of ancient architecture, castles, and heritage sites. Natural wonders abound equally like the Sahara Desert, Atlas Mountains, and one side of the straits of Gibraltar. All this and more make it a great place to take part in volunteer opportunities in Africa.
Unfortunately, Morocco struggles with unemployment, especially when it comes to young people, and thus poverty. Many parents cannot afford childcare for their young children while they both have to work, and young women who have a child out of wedlock are penalized and discriminated against as sex before marriage is illegal. As many as 250,000 young mothers suffer this fate, and lack of funds means that children with disabilities are hit the hardest.
PMGY's Africa volunteer work tackles these problems through their childcare program by working with childcare centers in the city of Rabat offering free childcare services to unwed mothers, poor families, and those with disabled children. They also work with local primary and secondary schools to teach children aged 6-15 English. While Morocco generally uses French as a second language, this is to combat the rising youth unemployment rate as English competence can secure students a job in the thriving tourism industry or other service work.
Both programs start at $190USD for one week of volunteering, with a maximum duration of 12 weeks. The city of Rabat where the programs are located in the capital of Morocco and is known for its large number of landmarks both as an Islamic nation and part of the French colonial empire. It's also further away from the tourist trail, which means that it enjoys a much more authentically Moroccan atmosphere and you can enjoy everything it has to offer without being swarmed with tourists.
South Africa is considered the most beautiful country in the world by many. Home to mountains, a long coastline, vast plains, and the famous African "Big 5" (Lions, Leopards, Rhinos, Elephants, and Buffalo). The vibrant backpacking scene also makes it much easier to combine your volunteer work with more traditional backpacking than other destinations for volunteer programs in Africa.
Of course, South Africa also has a dark history and many systemic problems still to overcome. Poor families and communities often lack access to vital services like childcare and English education and poor areas of Cape Town where PMGY's programs take place are hit especially hard. Animal conservation is also an ongoing challenge, as the country's famous and diverse wildlife is under constant threat from ever-decreasing habitats and poaching.
PMGY's South Africa volunteer work consists of three main projects focused on childcare, education, and animal conservation. When working with childcare or teaching English, volunteers stay and work in Cape Town, allowing poor families to rest easy knowing their child is taken care of while they work, and impoverished kids a chance at better employment in the future.
Their wildlife conservation project focuses on the famous big 5 and will take you to a massive 6000-hectare game reserve in the Eastern Cape. While you're not going to be up close and personal with the animals, who are mostly wild predators, you'll get to monitor them at a distance and all sorts of other educational work to help out with the conservation effort.
All three programs start at $360USD, which for the childcare and teaching projects pays for two weeks as a South Africa volunteer, whereas it's the price for 1 week in the conservation project. Whichever you choose, the maximum duration is 12 weeks, and PMGY also offers several more travel-focused programs with a ton of preplanned activities running between 2 and 12 weeks.
African Impact was founded in 2004 by a group of travelers who wanted to introduce others to the Africa that they knew. Over the years it has grown significantly since those humble beginnings, and they are now headquartered in Cape Town, South Africa. Their stated core values are transparency and honesty, and they seem committed to providing a real service both to the people they help in Africa and the volunteers they inspire to volunteer in Africa.
While the company's fees are a bit higher than others, they charge no registration fee, and from what we can tell you get an absolutely outstanding quality of service for a somewhat higher price. Reviews are also great, as the company enjoys a 9.2 rating on Go Abroad and a 9.4 on Go Overseas with a combined 2600+ former volunteers leaving reviews on their Africa volunteer programs.
African Impact offers volunteer programs in 11 different countries across the continent, but we've picked out the four that we thought stood out the most to us. If you're interested in any of their other countries in particular though (Zambia, Zimbabwe, Kenya, Zanzibar, Tanzania, Mozambique, and Seychelles), we definitely recommend checking those out as well.
Volunteer Opportunities with African Impact
South Africa is a truly stunning country to visit, and anyone who loves spectacular views, gorgeous nature and fascinating wildlife owe themselves a trip there at least once. Sporting a much more forgiving temperate climate that resembles the Mediterranean, South Africa is a great destination for various adventure activities like hiking, climbing, biking, and more. All this makes it a great idea to become a South Africa volunteer.
African Impact offers a truly stunning range of different projects to commit yourself to in South Africa. Anything from veterinarian support to female empowerment to teaching English. They also cover a range of destinations all over South Africa including Cape Town, St. Lucia, the Greater Kruger Area, and more.
Starting at $1229USD for a two-week minimum, volunteers can generally stay as long as 12 weeks. While the moderate fees might make it less suited for those wanting to volunteer for the absolute least amount of money, from what we can tell the higher fees are absolutely worth it for those who can afford it, as you'll find an amazing South Africa volunteer trip from African Impact.
Madagascar is a fascinating country located on the massive island of the same name off the African coast in the Indian Ocean. One of the country's biggest claims to fame is its highly unique and specialized animal species as the island split from the mainland a very long time ago allowing for many divergent evolutions compared to the continent itself.
The island was once covered in dense forests, extending all the way to the country's long coastline. Logging and deforestation have taken a huge toll on these habitats in modern times, and the highly specialized nature of many of its animal species is particularly vulnerable to such a drastic change. While African Impact usually offers many different volunteer trips to Africa in each country, they only have one in Madagascar.
It's an important one though. Among the species threatened by the factors we just covered are the lemur as well as various reptile and amphibian species. Starting at $1010USD, you can spend anywhere from 2 to 10 weeks working in a conservation center in St. Luce that works to protect these critically endangered animals from extinction.
Namibia is a breathtakingly beautiful country that is emblematic of one famous part of African nature, that of the desert. Home to both the Namib and Kalahari deserts, as well as many other stunning natural sights, the country is an amazing place to visit for those seeking this unique natural experience while they volunteer in Africa.
It's only fitting then that African Impact's volunteer project in Namibia involves camping out in the wild, far from civilization and sleeping under the stars as you take in the wonderous and untouched landscape around you.
Sadly, Namibia is a country desperately short on water, the large deserts mean that there is not enough to go around for everyone, and a battle for resources between the human population and the elephants who make their home there has ensued. Starting at $1160USD, you can join African Impact in their volunteer work in Africa making sure everyone in Namibia gets the water they need and that the elephants are protected.
Malawi is another great choice for wildlife lovers and those interested in conservation and animal welfare. African Impact's volunteer program here takes place on-site in a wildlife conservation center and allows you to be surrounded by animals. Here they take care of a host of different animals including monkeys and fight for the continued preservation of critically endangered species.
This is necessary as Malawi has sustained significant destruction of animal habitats, the conflict between humans and animals, and large amounts of poaching. Taking part in African Impact's wildlife conservation project in Malawi, you'll shadow local veterinarians as they treat animals, help spread awareness and combat practices such as deforestation and poaching, and work closely with the local community during your volunteer program in Africa.
Starting at around $1700USD for 2 weeks, the fee is fairly high, but the unique destination and incredibly educational experience makes it more than worth it. You can stay for a maximum of 12 weeks and the project is located close to the capital of Lilongwe, giving you the perfect opportunity to not only experience the wildlife, but also the culture of Malawi.

When traveling the world, the brother and sister duo of Julian and Kelly became frustrated with the many less than reputable organizations and companies that offered chances to volunteer in Africa and elsewhere for ridiculous prices. Thus, they founded Love Volunteers in 2009 as a response to this problem, and they have received a great response from travelers around the world and seem to have grown exceptionally since then.
They have excellent review scores across the board with 9.1 on Go Overseas, 9.7 on Go Abroad, and 4.6/5 on Volunteer Forever. In total, about 500 former volunteers have chimed in to give this overall positive opinion of the company, and it seems warranted.
Their fees are generally low, and they charge a fairly standard $299USD registration fee. We decided that their programs in Zimbabwe, Uganda, and South Africa were of particular note, but their volunteer work in Africa also includes Cameroon, Rwanda, Zambia, Ghana, Kenya, Tanzania, and Morocco. So, check them out if any of these countries are of particular interest to you.
Volunteering Opportunities with Love Volunteers
Much has already been said in this article about the reasons to travel to and volunteer in South Africa. If the beautiful nature, amazing wildlife, and well-established backpacking scene appeal to you, then Love Volunteers is a great option for some very affordable volunteer projects located at the southern tip of the continent.
Love Volunteers offers 9 separate projects in South Africa, most taking place in Cape Town but also an animal rescue project in the Philippi farming area and a wildlife conservation project in Port Elizabeth. The South Africa volunteer programs start at $449USD for 2 weeks and can run as long as 12 weeks if you so desire.
Projects in Cape Town include childcare, education, environmental work, developmental work both social and sports, and a medical internship. All these projects work hard to combat the serious social problems facing the poor parts of the city today.
Zimbabwe, like many other countries on this list, is host to a vast selection of natural beauty. The famous Victoria Falls are located here, and all of Love Volunteers' volunteer programs in the country are located nearby.
Sadly, due to economical collapse and widespread poverty, many young Zimbabweans are left without access to vital care and education. English is a particularly useful skill to these kids, as their proximity to the huge tourist attraction of the falls provides them with excellent employment opportunities if they can speak English well. Love Volunteers has some of the best Africa volunteer programs to tackle these issues in Zimbabwe.
Poverty has also contributed to a widespread HIV epidemic, and your volunteering with Love Volunteers can take the form of childcare and development, providing educational support, or working to fight the spread of HIV/AIDS and care for its victims. The two former projects start at $439 for 1 week while the latter is $599USD for 2 weeks.
Uganda is a diverse country filled with many different cultures and rich history and heritage. Located in the country's capital Kampala on the shores of Lake Victoria, Love Volunteers' projects are an excellent way to experience these cultures and a great choice for your volunteer work in Africa.
All three projects offered by Love Volunteers aim to combat the effects of poverty in the city by providing education and childcare to struggling families and offering a medical internship to those qualified to help relieve the healthcare system.
Love Volunteers' Ugandan volunteer programs in Africa run for 2 weeks, with the childcare and education projects starting at $399USD and the medical internship at $429USD.Unlike the other Love Volunteers, volunteer programs in Africa featured in this list your accommodation is provided by a host family, which is an excellent way to immerse yourself in the fascinating culture.
Ubelong was founded by Cedric Hodgeman while he was still studying at Cornell University in 2009. By 2011, the company was running several programs for people wanting to volunteer in Africa. As their name suggests, the company focuses on creating a sense of belonging and purpose for their volunteers and have done so for thousands of volunteers each year since their foundation, with more going every day.
Like all the companies selected for this list, Ubelong receives excellent reviews from those who have volunteered with them. They have a 9.1/10 score on Go Overseas with more than 220 former volunteers reporting back to review their experience with Ubelong which seems to be overwhelmingly positive.
Aside from the great reviews and excellent programs detailed on their website, another key reason to choose Ubelong are their affordable prices. You must first pay a registration fee of $295USD, regardless of the project, followed by the individual project fees which vary. The programs featured in this list all start at the $225USD to $300USD range, making Ubelong an eminently affordable option for your volunteer work in Africa.
African Volunteer Opportunities with Ubelong
Morocco is a beautiful North African country nestled in between oceans and deserts. The mighty Atlas Mountains, famous since antiquity, runs through the center of the country before reaching the Atlantic Coast and is filled with fascinating mountain culture and gorgeous views.
Sadly, Morocco struggles in several areas, despite significant improvements in recent years. The gender gap is wide in almost every metric including health, literacy, and education, access to healthcare is sorely lacking for poor people and those with problems like HIB or mental illness are needlessly stigmatized. Children also suffer, especially young girls, as childcare for poorer families or adequate language education is merely a dream for these children. Thus, you should consider Morocco for your volunteer program in Africa.
Ubelong's programs in Morocco aim to solve all these problems. They run five programs tackling childcare, English education, healthcare, and women's empowerment as well as a program that supports local NGO's working with a grassroots approach to all these issues. Their programs start at $260USD and you can volunteer from 1 week with childcare, 2 weeks with education, 4 weeks with healthcare or women's empowerment, and 5 weeks with NGO support.
In many ways, Ghana is an incredible success story. The first black African country to gain independence, it inspired many others to throw off the shackles of colonial rule, and despite poor management of the economy and significant corruption, the country has managed to rebound significantly following reforms in the 1990s. Doing your volunteer work in Africa in Ghana with Ubelong is a great way to see this amazing country.
However, there are still serious issues plaguing the people of Ghana. Access to education and healthcare is limited, leaving many poor citizens to suffer from preventable or treatable diseases, and leaving young people with a hard time finding work due to lacking qualifications. There are also significant human rights issues with children as young as five being illegally forced to work and shoddy infrastructure limits their opportunities later in life as well.
By joining one of Ubelong's 4 Ghana projects, covering construction, education, law & human rights, and healthcare, you can be part of the solution to these problems. Starting at $300USD, choosing to go to Ghana with Ubelong out of all the volunteer programs in Africa available to you is a great and very affordable choice.
If you've read this far, there's really not much more we can say to sell you on South Africa. We've mentioned the country's stunning nature, beautiful coastline, and forgiving climate, all great reasons to choose it as your volunteer destination. Ubelong's projects here are located in Cape Town, where there is a large disadvantaged population suffering from various problems.
These problems include lacking education, especially of a high standard, no cheap or free caregiving facilities to allow parents to work without fearing for their kid's well-being, and a lack of extracurricular activities such as sports, as poor communities often cannot afford to maintain the facilities needed and hire trainers, coaches, and all the other necessary staff. Thus, picking Ubelong and South Africa for your volunteer program in Africa will really let you make a difference.
Ubelong tackles these three problems with three separate projects. You can work in childcare either in a regular daycare or one specifically for disabled children. For education, you can teach in a local elementary school or a center for kids living with autism. Finally, if you have an interest in sports you can work with children and provide crucial encouragement and skills in this activity. Programs start at $225USD and all require a minimum of 2 weeks commitment, with the exception of the daycare, where you can also stay for 1 week.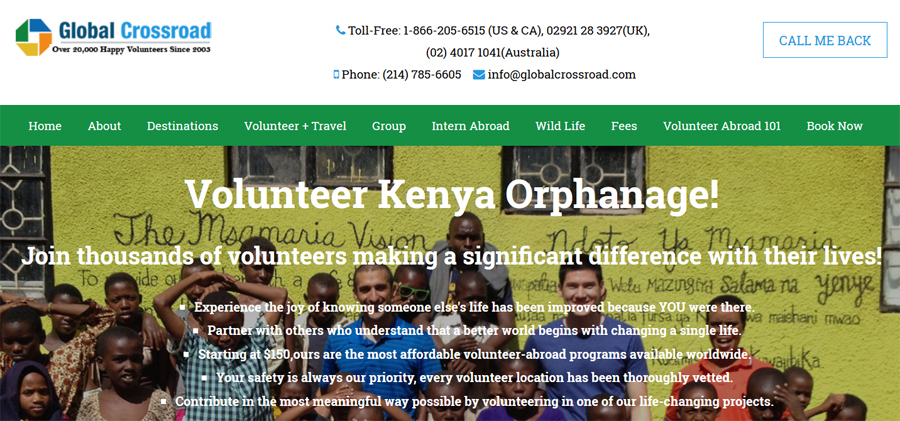 Founded in 2003 in Dallas, Texas, Global Crossroad is a rapidly growing volunteer organization that has expanded by more than 300% since 2003. They focus on ensuring that volunteers are placed with the perfect volunteer program for them and have in the last 16 years served more than 20,000 volunteers traveling to 18 different countries, including several destinations for those looking to volunteer in Africa.
Aside from the four countries featured in this list, GCR also offers an excellent range of programs in Ghana which you should definitely check out if you're especially interested in the small country known as the gateway to Africa.
The company charges a $250 USD registration fee, followed by very low project fees, with starting prices ranging from $150USD to $400USD. Reviewers have been kind to GCR, awarding them a 9.2/10 on Go Overseas and 8.8/10 on Abroad Reviews with about 400 past volunteers checking in. Without question, GCR is a great choice for your volunteer work in Africa.
Volunteering Opportunities with GCR
Located on the juncture of the East African savannah and the West African jungle, Uganda is obviously an incredibly diverse country in terms of nature and wildlife. Home of the Nile river's source, the country is also located right on the equator and filled with friendly and welcoming people.
Unfortunately, problems like high HIV infection rates, lack of education, and poor nutrition all contribute to making Uganda a desperately poor country deprived of the resources it needs to pull itself out of its situation. GCR programs aim to help relieve some of these issues, and with them your volunteer program in Africa can include orphanage work, teaching English, working with HIV victims, and in healthcare. All projects take place in Kampala and start at $150USD, making them very affordable.
Home of the Serengeti plan, giant animal migrations, and the tallest mountain in Africa, Mount Kilimanjaro, Tanzania is an incredibly beautiful country with a never-ending supply of fascinating experiences on offer for nature and wildlife lovers.
Sadly, despite all its natural beauty and animal diversity, Tanzania is among the poorest countries in the world, and though the country has made big strides in recent years to improve quality of life, there are still numerous problems such as HIV, gender inequality, poverty, and more. As far as volunteer trips to Africa go, choosing Tanzania with GCR is a great way to make an impact.
GCR has 7 different projects in Tanzania, focusing on orphanages, teaching English, teaching computer skills, healthcare, HIV/AIDS, female empowerment, and a hands-on medical project. Prices start at $175USD, making this a very affordable option.
If you're still not convinced on the appeal of South Africa after reading this far, there's not much more we can say to sell you on it. If you're intrigued with the countless wonders, thriving backpacking scene, and amazing South Africa volunteer opportunities though, GCR is a phenomenal choice.
GCR's programs are located in Cape Town and focus on helping the disadvantaged community living there. While the prices are somewhat higher than GCR's other African volunteer programs, starting at $400USD, the amazing country of South Africa more than compensates for this. You can choose between teaching, working with PE, providing healthcare, or caring for underprivileged children.
Kenya has much in common with neighboring Tanzania. You can see the famous Mount Kilimanjaro towering over the border, and the same Serengeti ecosystem and biosphere exist here as well. Not only that, but Kenya is also an amazingly diverse fabric of cultures and ethnicities, creating a treasure trove of cultural sights to see while you go on a volunteer trip to Africa.
Sadly, Kenya also shares many of Tanzania's problems. From poverty to HIV, lack of education, and gender inequality, there are many ways that a beautiful country needs the help of dedicated people like you. GCR's projects all take place in either the capital of Nairobi or in the countryside among the Maasai tribes, who still live as they have for millennia in many ways, preserving their traditions and culture through turbulent times.
Projects include orphanage work, teaching English, medical volunteering, and HIV work in Nairobi, as well as teaching English, healthcare work, community development, and cultural conservation with the Maasai. All these volunteer programs in Africa start at $150USD and there's also a hands-on medical project that starts at $488USD.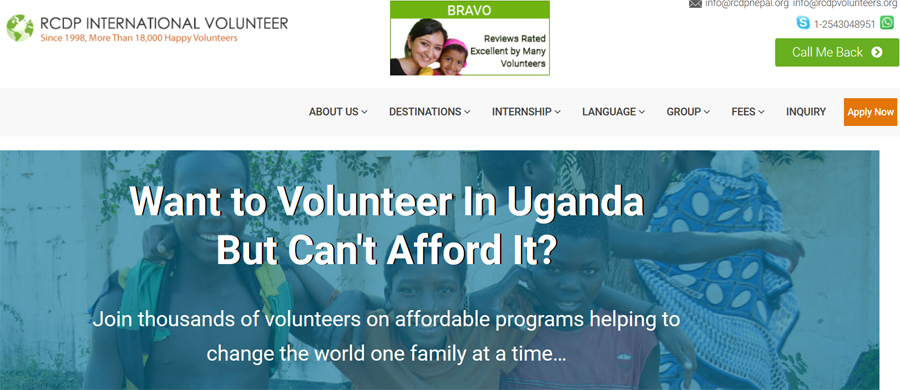 RCDP was founded in 1998 and offers volunteer trips abroad to more than 20 different countries. They've facilitated the successful volunteer journey of more than 18,000 volunteers since then, and through their special focus on incredible in-country support, they have earned themselves a trusted reputation in the business. In short, RCDP is a great choice for those looking to volunteer in Africa.
Featured in this list are their programs in Ghana, South Africa, and Kenya, but they also run a range of programs in Uganda and Tanzania, which you also can't really go wrong with.
With more than 300 reviewers checking in, RCDP has a 9.2 score on Abroad Review and a 94% ranking on Go Overseas. The company is also very affordable, as all you need to pay is a $299USD registration fee followed by individual project fees as low as $150USD. Clearly, this affordability combined with the rave reviews proves that RCDP is an excellent provider of volunteer programs in Africa.
Volunteering Opportunities with RCDP
We've talked a lot about Ghana as a destination for volunteer work in Africa already, so you probably know already if the country itself appeals to you or not but picking the provider might be difficult as many of the ones in our list feature several programs in Ghana.
RCDP's projects take place in Accra and Kumasi, both beautiful cities with ample access to the natural splendor that the country is famous for right on their doorsteps. You can take part in one of four projects, including orphanage work, teaching English, HIV prevention, and medical work, all of which are available in both locations and start at $175 for one week.
We're not going to repeat ourselves with our praise for South Africa as a destination and suffice to say the country is an amazing place to visit and commit your time to volunteer programs in Africa.
RCDP's projects in South Africa all take place in poor areas of the city of Cape Town. Here you can work with underprivileged children, teach English, engage kids in sport, work with healthcare and help conserve animals threatened by the rapid expansion of the big city into their habitats.
RCDP's South Africa volunteer programs start at $450USD and all last from 1 to 12 weeks. While there you will stay in a hostel with fellow travelers and volunteers or with a host family.
As we've covered in this article, Kenya is filled with stunning nature in the form of dense forests and the famous Serengeti plain. It's also home to a wide array of different cultures and tribes making a visit here incredibly culturally enriching.
If you choose to take your volunteer trip to Africa in Kenya with RCDP, you can commit yourself to one of four different projects. You can work with HIV prevention, teach English, provide healthcare, or work in an orphanage. All these programs take place in the country's capital Nairobi, start at $150USD which is very affordable and runs from 1-12 weeks.
Founded in 1998, GVI is one of the most critically acclaimed and most talked about volunteer abroad organizations in the whole world. With many awards and commendations from various organizations and publications, they offer trips for those looking to volunteer in Africa, as well as pretty much anywhere else on the planet.
Featured on this list are the programs in South Africa, Tanzania, Zanzibar, and Zambia but GVI also hosts programs in Ghana or Seychelles, so if you're interested in these specifically you should check them out too. They don't charge any registration fee, so while project fees are somewhat higher, the end result in terms of pricing is similar to other companies on this list.
The sheer quantity of reviews for Global Vision International is astounding, with more than 3000 former volunteers leaving their impressions of the company. Most are clearly very happy, as GVI enjoys a 9.5 on Go Overseas, 4.3/5 on Volunteer Forever, 9.55 on Go Abroad, and finally 4.4/5 on Tour Radar. This really makes it clear that GVI is an excellent choice for your volunteer work in Africa.
Volunteer Opportunities with GVI
There's a reason why South Africa appears for 8 of the 10 companies listed in this article, and if you've read this far, you're probably well aware of all the benefits of visiting the gorgeous country.
GVI's South Africa volunteer opportunities will take you to a picturesque coastal village 45 minutes from Cape Town where you can work in more than 30 different projects. The cheapest of them starts at $439, which is very affordable considering the lack of a registration fee.
If you're fascinated with the famous Mount Kilimanjaro, then GVI's volunteer programs in Tanzania are the perfect fit for you. They offer two programs, both located right at the feet of the mighty peak, starting at $439USD, which is a great price considering there's no registration fee.
The programs allow you to either work with female empowerment, helping create a future where the women of Tanzania are equal and able to sustain themselves without being reliant on families or spouses. You can also teach language and literacy to young children, further brightening the future of this wonderful country, making it a great choice for your volunteer trip to Africa.
Zanzibar is a beautiful island country that rests in the Indian Ocean. These amazing islands are ringed with gorgeous beaches and have been a center of trade, culture, and politics for centuries if not millennia. Zanzibar boasts an impressive array of marine life, but sadly this amazing part of the country is under constant threat.
Thus, you can do your volunteer work in Africa with GVI in Zanzibar and work with the conservation and research into the dolphins that live in the waters surrounding the island, or teach English to ensure young children from poor backgrounds a chance to get a job in the thriving tourism sector related to the marine life. The former costs from $708USD while the latter will run you $469USD and up.
Zambia is home to the Zambesi River which forms its border with Zimbabwe and also feeds the magnificent Victoria Falls. With GVI you can stay and work in the town of Livingstone located a mere 20 minutes away from the falls. Here you can work with girl empowerment or teaching English, both activities that will help protect and encourage the most vulnerable members of Zambian society.
Both programs start at $469USD and are great volunteer programs in Africa. Choosing one of these will allow you to visit a country not many people ever get to see, and also marvel at the amazing sight of Victoria Falls.
Founded in 2007 by the executive director Dan Radcliffe after he returned from a backpacking trip where he spent time as a volunteer in Africa, International Volunteer HQ operates based on its four core values of responsibility, innovation, trust and "awesome".
Their prices are very affordable, with all their projects listed here being very cheap with the exception of the ones at Victoria Falls, which due to its location in a game reserve is somewhat more expensive. Volunteers must first pay a $299USD registration fee, followed by project fees as low as $250USD.
Their reviews are great, and there is an astounding number of people who have returned from their volunteer program in Africa or elsewhere and left their feedback. With more than 3500 reviews, they have a 9.5/10 score on Go Overseas, 9.53 on Go Abroad, 9.6 on TrustPilot, and 4.8/5 on Volunteer Forever.
Volunteer Opportunities with IVHQ
IVHQ's volunteer programs in Uganda are varied, serving 7 distinct projects, but all take place in the town of Mutungo, located 15 kilometers from the capital city of Kampala. You can work in childcare, teaching, healthcare, and more starting at the very affordable price of $280USD.
This large mix of projects and affordable price combined with the exciting destination that few other volunteer organizations offer to make this one of the best choices for a volunteer trip to Africa.
Zambia is a gorgeous country that struggles to provide adequate facilities, services, and infrastructure to all its people, especially in rural areas. The gorgeous Victoria Falls are located nearby to the placement location of Livingstone, making this a more affordable alternative for visiting the falls while doing volunteer work in Africa starting at $270USD.
Projects in Livingstone include teaching English, working in a kindergarten for poor children, doing medical work, caring for the elderly, and helping with construction and renovation. In addition, IVHQ also offers a rural teaching project that will take your volunteer work in Africa to the rural village of Makumba.
The roaring Victoria Falls are known worldwide for their raw ferocity and natural splendor. If you've dreamed of seeing the magnificent falls in person, volunteering with IVHQ is a great way of doing it.
The only way to spend your volunteer trip to Africa by the Victoria Falls in Zimbabwe with IVHQ is to work in animal conservation, which is a truly worthwhile and rewarding cause to champion. The project is more expensive than IVHQ's other ones, starting at $1000USD, but the amazing location makes up for this increase in price.
South Africa is featured one final time in our list, this time with IVHQ offering volunteer programs. With IVHQ you will get to live and work in Muizenberg, located 30 minutes from Cape Town. Their projects start at $250USD which is very affordable for South Africa.
The South Africa volunteer programs offered here are varied and include offering childcare, teaching English, facilitating sports, and training computer skills. IVHQ also offers a very unique program focused on surfing, which allows you to inspire a love of the sport in poor South African children's hearts, giving them a great chance at employment and enrichment in the future as surfing is a major industry in the country.
As of 2019, CCS has 24 years of experience in the volunteer abroad world, and their stated vision is that of a world where all children have access to quality education and healthcare enabled by a community of international volunteers who volunteer in Africa and elsewhere. With this focus, they have worked towards their goal by providing more than 2,500,000 hours of volunteer work to various causes around the world.
CCS also focuses heavily on providing its volunteers with deep and genuine cultural experiences, hence the organization's name, which does lead to somewhat higher prices, but the added activities and experiences that CCS provides more than make up for the increased price. They have a 9.2 on Go Overseas and 9.67 on Go Abroad with around 200 volunteers checking in.
As mentioned, their volunteer programs in Africa are slightly more expensive than the others in this list, and prices start at $1990, but there is no registration fee.
Volunteer Opportunities with CCS
As Ghana is featured in 5 of the 10 organizations we have selected for this list, we have already mentioned all the incredible benefits of traveling to the gateway to Africa to volunteer.
CCS is laser-focused on the well-being of children, so the two projects you can take part in with them in Ghana is children's health and children's education. Both start at $1990USD, which is a bit pricey, but include many activities and cultural experiences you usually have to pay extra for when joining a volunteer program in Africa.
If you're more interested in Northern Africa and Arabic culture, Morocco is a great place to go for your volunteering. The beautiful country is incredibly rich both in culture and history, but women and children especially still suffer due to lacking infrastructure, opportunities, and discrimination.
With CCS, you can work in child health, making sure children do not suffer needlessly from preventable and treatable diseases, and children's education, providing a better future filled with economic opportunities for the kids of Morocco. Both projects start at $1990USD and offer plenty of cultural experiences and activities that are included. If you want a real glimpse into North African culture, consider going to Morocco with CCS for your volunteer trip in Africa.
Other Good Cheap Volunteer Organizations to Consider:
In addition to the 10 featured organizations in this list, we would like to include an additional five that are definitely worth your time to check out if you're not convinced by any of the main entries in this list. These include:
Projects Abroad, which is one of the most prolific volunteer organizations around and enjoys an incredibly good review rating across sites such as a 9.2 score on Go Overseas, 4.6/5 on Volunteer Forever, 9.4 on Trust Pilot, and 9.45 on Go Abroad with about 2000 former volunteers providing feedback on their time as a volunteer in Africa or elsewhere.
Global Volunteers, which looks great but has comparatively few reviews but great scores including 9.4 on Go Overseas and 4.5/5 on Volunteer Forever, but with just roughly 140 volunteers leaving feedback.
A Broader View Volunteers, founded in 2007 and enjoying essentially perfect scores online with a 99% on Go Abroad, 5/5 on Volunteer Forever, and 9.9/10 on Go Overseas with more than 450 reviewers.
GoEco, an organization founded in 2006 and focused on sustainable development and growth. They also have great reviews, with 9.76 on Go Abroad and 9.4 on Go Overseas with more than 550 former volunteers talking about their volunteer trips to Africa and elsewhere.
Naturally Africa Volunteers, a South African organization with a good review score but again a low amount of reviews. They have a 9.4/10 rating on Go Overseas, 4.9/5 on Volunteer Forever, and 9.7 on Go Abroad but with only about 40 reviewers checking in.
Conclusion
In conclusion, there is no end to your options if you want to volunteer in Africa. From working with animals deep in the jungle to disadvantaged kids and women in culturally rich cities, there is plenty of ways for you to make a difference and have great experiences at the same time while exploring Africa, the birthplace of humanity.