729 Views
9 [Best Cheap] Volunteer South Africa Wildlife Program Providers For 2021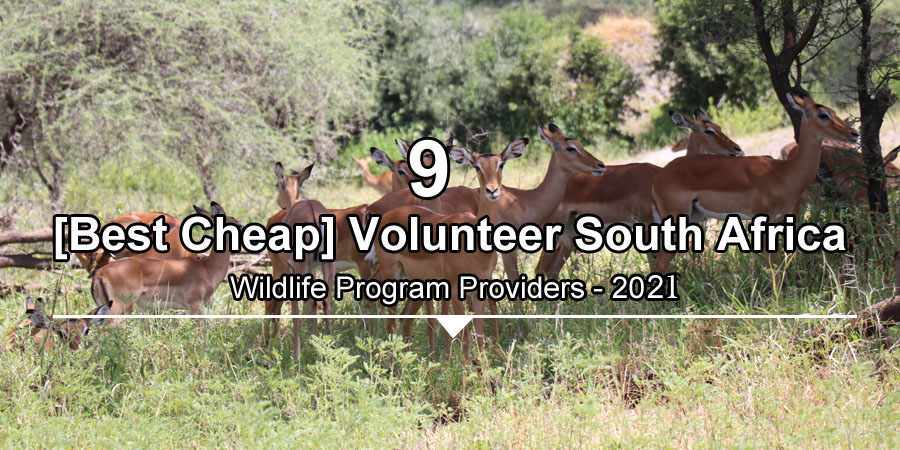 Are you looking for to volunteer in South Africa and you are wondering how to get the best program provider? When you start your research for volunteer South Africa wildlife you will get many providers offering almost the same program. If you select one without doing any serious Internet research, you will waste your money or choose a bad program that may threaten your safety, and ruin your volunteer abroad experience.
In this article, our research team has evaluated and assessed hundreds of volunteer organizations and chose nine of best cheap, impactful and safe volunteer organizations offering opportunities in South Africa. In this guide you will:
Get to know the best 9 cheap providers for volunteer in South Africa wildlife project.
Click "Get More Info" button below to send a review of all the mentioned providers.
Compare and contrast fees and programs and pick the top one for you with no commitments.
Get our FREE volunteer abroad guide at end of this article that will articulate everything there is to know about safe and transformational volunteer experience.
IFRE Volunteer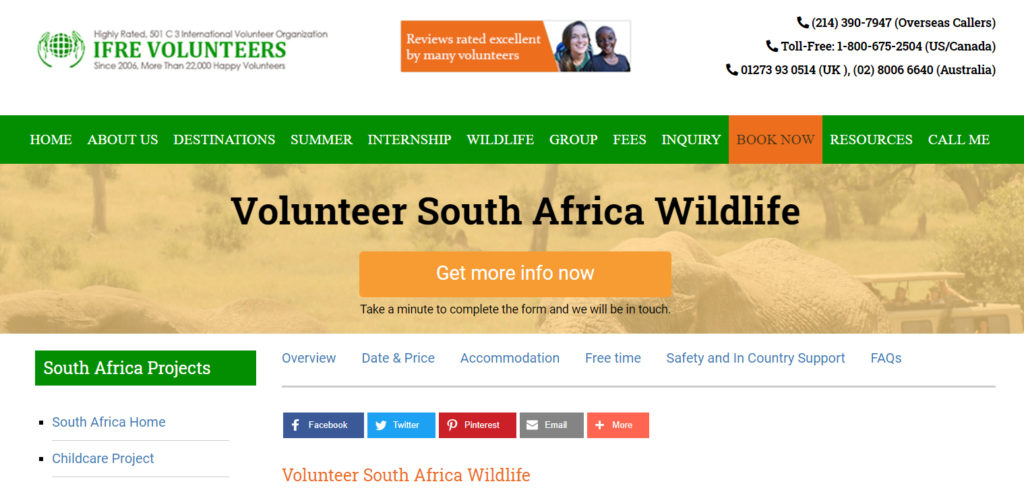 IFRE is a nonprofit organization located in the USA. Founded in 2005, IFRE Volunteers consists of dedicated humanitarians. With 200 projects and more than 22,000 volunteers in 28 countries they have built their reputation supporting underprivileged children, local community development, and grassroots organizations worldwide. We love that they are affordable with high value programs.
About IFRE -Volunteer South Africa Wildlife
IFRE offers the best program in South Africa, for wildlife conservation will make a deep positive impact on the lives of wild animals. In this program, you'll work to save species from extinction and improve the chances of survival for injured ones in rehabilitation. By working with a wildlife conservation project in South Africa you will be part of the solution these animals and plants need to thrive in their natural environment. As a passionate wildlife lover your help is needed to secure a more promising future for the plants and animals on the brink of extinction in South Africa.
The Fee
This is among the cheapest volunteering opportunity in South Africa in wildlife program. You'll pay $1,100 for a two-week stay with an enrollment fee of $299 and covers for costs such as program inspection, and marketing costs, food, accommodation and airport pickup.
Reviews
IFRE is a favorite for past volunteers who have worked in South Africa before. From 347 reviews online on Go Overseas and Abroad Reviews the organization has an average rating of 9.7/10. Past volunteers are content on the value of the program and the affordability. Read more here!
Why We Selected IFRE:
IFRE was attractive as a best top 9 providers because of the high value volunteer South Africa wildlife and as a reputable non-profit they work with grassroots organization to provide impactful programs. They are also one of the most affordable organizations in South Africa.
Plan My Gap Year (UK)
Plan My Gap Year (PMGY) has amazing and life-changing experiences and opportunities to volunteers across 17 countries around three continents. Founded by volunteers for volunteers in 2009, PMGY is an award winning volunteer organization with offices in both UK and US. PMGY is the best organization if you are a first time traveller or a gap year young student. Each year they host over 4,000 volunteers.
About Plan My Gap Year South Africa Big 5 Wildlife Experience Program
PMGY's Big 5 Wildlife Experience is a life-changing experience that allows you to work behind the scenes on a world-class wildlife reserve in South Africa! This program is designed for volunteers interested in having a truly African experience while making a difference to the local wildlife and environment. Activities for this program vary on a day-to-day basis and are dependent on weather and other factors.
The Fee
Not only is it one of the most rated but also very cost efficient offering the best wildlife sanctuary volunteer program in South Africa. A registration fee of $189 is required, with a minimum program stay of 2 weeks for super low fee of only $749. This includes airport pick-up, housing, program orientation, and your breakfast, lunch and dinner each day.
Reviews
Over 600 alumni volunteers have been enormously satisfied and content volunteering in South Africa with wildlife. They loved that this provider has programs that are simple and set out for first timers and are cheap. Read more about the great things they have to say about PMGY.
Why We Selected Plan My Gap Year:
We loved that PMGY was not only affordable but also has simple and well structured programs for young and adventurous first time volunteers. They topped our list as best volunteer South Africa wildlifesanctuary provider also because they offer safe programs with amazing feedback from past volunteers.
Love Volunteers
Love Volunteers offers the affordable best programs in 35 countries around the world. Julian and Kelly founded the organization in 2009 after many years of volunteering abroad in developing countries. Over the years they have worked with over 20,000 volunteers offering safe and impactful programs. If you are looking for an experienced provider that works with local organizations to ensure program sustainability, then this is your safe choice.
About Love Volunteers Wildlife sanctuary Conservation Program In South Africa
This fabulous wildlife conservation projects in Africa was developed to simply save the lives of the majestic native animals of South Africa. This program plays a significant role is helping to maintain the reserve and protect the animal. You'll be able to assist local staff. Like many conservation programs, funds are greatly lacking, and you'll be essential to the success of the project. Your duties vary on a day-to-day basis and are dependent on factors such as the weather. The work is mostly outdoors and will sometimes be in unpleasant conditions, so volunteers will need to be willing to lend a hand with all sorts of tasks.
The Fee
Love Volunteers provides an inexpensive wildlife sanctuary volunteering in South Africa program, they strive to keep the costs affordable for their volunteers. Program rates start as low as $1,239 for a two-week stay with a registration fee of $299. This includes airport pick-up, housing, program orientation, and your breakfast, lunch and dinner each day.
Reviews
They also offer volunteers memorable experiences and security options on top of the flexibility these programs offer. This company has countless positive reviews from past volunteers and stories on the Internet which you can easily view utilizing a simple search.
Why We Selected Love Volunteers:
This provider is a top best company and was selected because of the high quality of the programs, affordability and fact that they work very closely to ensure sustainable South Africa wildlife sanctuary volunteering work opportunities in the communities. It is slightly limiting if you are looking for more than two program choices but it is very cost efficient with proper allocation of program fees to the communities.
RCDP International
As a best organization, we loved that RCDP is one of the most affordable and reliable volunteer abroad organizations in the world. Established in 1998, RCDP offers volunteering programs in 20 countries across the world. With over 18,000 volunteers, RCDP offers over 200 meaningful programs across three continents in 18 developing countries. This organization is best because over the years it has grown exponentially more than 300 percent per year.
About RCDP Wildlife Conservation Volunteering Program In South Africa
RCDP's great program is located in the Southern Suburbs and along the False Bay Coastline to maintain the wonderful beauty, landscape and marine life. In this program, you'll play an active role in the conservation project. You do not need any skills to volunteer in the project. But you must have passion and dedication to work outdoors, be comfortable working with children and must work in a team and learn all the work given to you.
The Fee
This provider works to provide low cost South Africa wildlife volunteering project. They provide programs for as low as $1,100 for two weeks with a registration fee of $279. The fees cover accommodations and meals, transport, support inside the country, information prior to departure and program, completion certificate.
Reviews
Past volunteers rave about the friendliness of the South Africa people despite the difficult situations they are in. Glowing reviews of RCDP programs include comments like "very comfortable accommodation " and "rewarding experience." Read more on the most affordable organizations in wildlife volunteer South Africa.
Why We Selected RCDP:
RCDP is reputable across South Africa with years of experience for offering a very cheap and affordable volunteer South Africa wildlife project. We selected them because they have safe and high value program that allows you a lot of time to travel around South Africa immersing in the culture.
ELI Abroad
Experiential Learning International (ELI) and this non-profit was founded in 2011. ELI offers over 100 programs to 1,000 volunteers each year providing them an amazing array of life-changing opportunities. This provider caught our attention because they not only have programs for first timers but also for seniors including students and internship.
About ELI Abroad Wildlife sanctuaryProgram In South Africa
ELI's best wildlife conservation projects in Africa is based in beautiful Cape Town, located on a small peninsula from the southern tip of South Africa into the Atlantic Ocean. This program is dedicated for conservation, pre-veterinary or veterinary students who would like to simultaneously learn from professionals and contribute their skills. Specific placements are available working with monkeys, ostriches, penguins, birds, cheetahs, reptiles, horses, or the aquarium.
The Fee
This provider is affordable and cost effective. You'll pay a fee of $200 to get registered for South Africa wildlife reserve volunteer. Only a two-week stay for the price of $795 is available in this program. The fee covers for program orientation, food, accommodation, airport pickup and transfer, project placement and onsite supervision.
Reviews
ELI has earned numerous positive reviews as a great and affordable organization offering impactful opportunities South Africa. Past participants have been very impressed by the diversity of the program and that you can customize your project to meet your needs. This provider has rating of 9.1/10 on Go Overseas.
Why We Selected ELI Abroad:
We selected ELI because they have very diverse volunteer South Africa wildlife project in which is affordable and safe. The projects can accommodate all volunteers looking to positively change the world and we love that. The programs has a limitation of only two weeks but you can be sure that it is sufficient time to learn and work to protect the wildlife.
African Impact
This best provider was started in 2004 in Zimbabwe by a group of well-travelled volunteers. As an award-winning organization, they not only offer development and conservation volunteer programs but also provide a lifestyle for all their volunteers. African Impact offers over 100 programs in 11 countries across Africa. We love the transformational approach they take in the communities around Africa.
About African Impact African Big 5 &Wildlife Conservation In South Africa
African Impact has a life-changing program in South Africa. In this wildlife conservation projects in Africa, you will learn how to compile and collect data, which is analyzed and used to create reports, maps, and up-to-date profiles of the animals that we observe. Using whisker patterns, scars and ear notches you will understand how to distinguish individuals in order to create and update ID kits, which will monitor their movement and their health in the years to come.
The Fee
This provider does not charge to register for South Africa wildlife volunteering. A two-week program stay is $2,272, or a four-week stay for $3,495. Fees paid cover pre-departure information, program orientation, food, accommodation, airport pickup and transfer, in-country support and project placement and onsite supervision.
Reviews
Outstanding reviews include statements like "greatly recommended" "I learnt something new everyday" "satisfying experience." Several past volunteers said they wish they could have stayed longer and loved working in the project. Another said he had the best time of his life. Be sure to check more reviews here:
Why We Selected African Impact:
African Impact successfully made to these 9 best providers for wildlife volunteer programs South Africa because the program is not only an mazing volunteer program but also the best learning experience. From the reviews many volunteers were exposed to a learning experience. If you are looking for high quality and unique learning program then this is the provider for you!
Connect-123 (South Africa)
If you are looking for an extraordinary experience in an exciting international city then you are in the right place. Founded in 2002, Connect-123 has developed programs in cities that we love – Barcelona, Buenos Aires, Cape Town, Dublin, and Shanghai. We loved that this provider has the best tailor made programs in the industry, you let them know how much time you have available and when you can arrive and they will provide an opportunity that works for your schedule.
About Connect-123 Animal Science and Wildlife Volunteer Programs in Cape Town
Connect-123 offers a great and unique program in South Africa. In this animal sanctuary Africa program, you will get exposure to some of unique wildlife like helping with the rehabilitation of African penguins and other seabirds, including volunteering at a cheetah outreach program. You can also work at a vet practice, an animal shelter, and a nature reserve that is home to a hippo family.
The Fee
Connect-123 has low cost volunteering experience in South Africa with wildlife and they are striving very hard to keep the costs affordable. Their program fees for a two-week stay are $2,750. The fees include food and accommodation, airport pickup, program orientation, in-country support, personalized project, pre-departure information and certificate of completion.
Reviews
Impressive online reviews include, a volunteer who said they had an incredible rewarding experience. Another one said, "They would do it again." Past volunteers can attest to the most unique and customized project at a cost efficient affordable price.
Why We Selected African Impact:
This organization was top of our list for volunteer South Africa wildlife because they provide experienced, international team that advice volunteers prior to departure and provide ongoing support and guidance upon arrival in each international city. This includes academic advice and mentoring to hands-on help in case of an emergency
Go Eco
As a best provider, GoEco is a leading eco-tourism company founded by Jonathan Gilben and Jonathan Tal over 10 years ago. With over 150 programs around the world, GoEco team is made up of experienced and passionate specialists who are eager to give you the volunteering vacation of a lifetime. They pride themselves in having well-diversified providers, ranging from local community groups to renowned global organizations.
About Go Eco African Wildlife Ranch Program
Go Eco great animal sanctuary Africa program is ideal if you are passionate about wild animals. In thisSouth Africa wildlife volunteering program, you'll make a difference in their lives. By helping the incredible staff with conservation efforts you will experience close encounters with a variety of different species. You will also gain insight and knowledge of the locally endangered animals and different aspects of animal care by working alongside a team of professionals.
The Fee
This provider's South African wildlife conservation volunteer opportunity is absolutely cost friendly. A minimum of two-week stay starts at $1,250 with no registration fee. The fees are inclusive of accommodation, food, airport pick up, pre-departure info pack, and transfers to the project. You'll not find this kind of prices anywhere else.
Reviews
This provider has years of experience in animal and environmental conservation and is affordable compared to other organizations. For this reasons many past volunteers had remarkable things to say. Comments such as "impactful program " "learning with no borders." are in many online reviews. Read more reviews here:
Why We Selected Go Eco:
This provider stood out for us because it offers secure, inexpensive and an impactful volunteer South Africa wildlife project that allows volunteers to learn and try something new with animal conservation. We think it is a great opportunity to get help local communities safe guard the endangered species.
Projects Abroad
Projects Abroad is UK based best providers with over 25 years helping volunteers follow their passion to change the world and make it a better place. We like their hassle-free travel, with secure projects that work to change poor communities around the world. Since inception they have sent worked with 115,000 volunteers on incredible and fulfilling projects in over 20 countries.
About Projects Abroad Volunteer with Animals In South Africa Program
This best animal sanctuary Africa program by Project Abroad helps improve the lives of abused domestic animals or sea birds suffering from illness or injury. In this program you will work at a local shelter or at a rehabilitation center for African penguins and other seabirds. This is a great way to gain experience in animal care and add valuable skills.
The Fee
Projects Abroad offers highly reviewed and affordable animal volunteering opportunities in South Africa. There is no registration cost with this provider, the minimum stay for two weeks starts at fees $3,165 and covers for food, accommodation and donation to the local community, emergency assistance, transport to and from work and in-country support.
Reviews
Just like you, many other volunteers have put their trust in Projects Abroad for an exceptional experience volunteering abroad and it has certainly been a life-changing experience. Read more about how former volunteers have enjoyed their cultural experience and transformed communities in need by volunteering in South Africa.
Why we selected Projects Abroad
We like their commitment to volunteer safety and security with one of the best comprehensive evacuation plan in the industry. The fees are higher but the program insurance cover will take your volunteer experience in South Africa with wildlife to the next level.
Conclusion
We have done the most of the research for you and analyzed the best low cost volunteer South Africa wildlife providers the ultimate decision is up to you with no commitment. Pick wisely and confirm the company has good communication before you commit to them. Find a company that responds well to your passion and life goals.
It is important that you volunteer with a company that you really believe in and see through your passion to make positive change in the world. Remember to keep in touch and give us your feedback after your trip abroad.