773 Views
Home
»
blog
» 10 Best Cheap [Include Rates & Reviews] Volunteer Tanzania Orphanage Companies 2021| Compare & Save
10 Best Cheap [Include Rates & Reviews] Volunteer Tanzania Orphanage Companies 2021| Compare & Save

Travellers Quest is committed to help you take a decision to volunteer abroad with confidence. We don't have a bias to ANY of the organization featured here. Our best list is created after careful examination of prices, reviews and organization reputation. You are free to select any organization with no obligation.
Are you looking to care and work with poor communities in Tanzania while learning their culture and traditions? Do you dream of exploring Tanzania to hike mount Kilimanjaro and take a Safari in the Serengeti park? Then this volunteer work Tanzania orphanage is the right fit for you.
Unfortunately when you search online there are hundreds of organizations offering cheap volunteer Tanzania orphanage programs. It is quite confusing because they are all offering the same program but for different prices. Selecting one is a daunting task and can be very time consuming. The difficult part is to now identify the best company that works within your budget, giving you the best experience abroad while ensuring your personal goals are fulfilled.
The research team at TravellersQuest has done the groundwork for you. After hours of research, and basing our evaluations on professionalism, reliability, reputation, and pricing we then selected the top 10 volunteer orphanage and childcare project providers in Tanzania. We believe that these organizations will offer you programs that will be life changing and memorable.
In this article, you will get to:
Identify the best 10 best volunteer providers for orphanage program in Tanzania
Click the GET MORE INFO NOW button, and with one click, send an inquiry to all the providers on this list.
Easily select the perfect program for you by comparing prices and programs with absolutely no obligation whatsoever.
You'll be able to download our BONUS volunteer abroad guide at the bottom of this article, which will tell you everything you need to know for an affordable, safe, and life changing volunteer experience.
Table update September 29, 2019
Plan My Gap Year (PMGY) is an award winning international volunteer organization offering programs across 17 countries in Africa, Asia and South America. Founded over 10 years ago PMGY offers safe, structured and social platforms with volunteer to travel and work with communities while immersing in their culture for a period of one week to 40 weeks. With offices in UK, and US PMGY is widely regarded as the global leader in affordable and impactful volunteering experiences.
About Plan My Gap Year Child Care Volunteer Project
PMGY's childcare volunteer program in Tanzania improves lives of young children making a vital and important contribution to their daily lives. It is estimated that around 1.4 million Tanzanians are infected with HIV. Furthermore, for every 1,000 births almost 6 women die in childbirth. These factors along with general widespread poverty and minimal state welfare have resulted in an alarmingly high level of abandoned kids and street children in Tanzania. PMGY works with a number of centres in Arusha that strive to address this issue.
These homes are typically understaffed and highly overcrowded. You will help to feed and help to prepare meals, to organizing games and sporting activities, or simply spending time with the children. Most of volunteers play an active role in the general care of the children but have a primary focus on Basic English lessons and class activities making Tanzania experience worth it.
The Fee
To join you childcare program in Tanzania you will pay $190 for the registration fee and $318 for a two-week stay or $597for a four-week stay. The payment covers for project place men and onsite supervision, airport transfers and food & accommodation and orientation and full safety briefing.
Reviews
PMGY has received amazing online reviews from websites like Go Overseas. Comments like " wonderful three weeks in Asia" "wonderful experience" and "I will be back" are conspicuous through the review session. PMGY has been able to maintain top quality programs and safety and they deserve a chance when you are researching for childcare programs in Tanzania.
RCDP International is a non-profit organization founded in 1998, with an objective to empower disadvantaged communities with sustainable and meaningful volunteer program.
With more than 18,000 participants to date, from across the world, RCDP mission is to offer the most affordable as well as the highest quality volunteer and humanitarian abroad experiences enabling volunteers to make a contribution for all of humanity in the quest to make the world a better place. RCDP works in over 18 countries across Africa, Asia and Latin America.
About RCDP Volunteer Tanzania Orphanage Volunteer Work
Tanzania remains one of the poorest countries in Africa. The government has limited resources and cannot offer much help to the orphaned children. These young kids mostly end up living on the street and many become involve in petty crime or are exploited as they seek work to survive. There are many orphanages running through private efforts or some through government programs that are taking good care of the children.
When you join orphanage volunteer project in Tanzania you will work to better the lives and the future of orphaned children. You will provide love, care, impart skills and turn the children into confident individuals capable of believing in themselves. In return, you will receive warm appreciation, an experience that will enrich your life and memories that will stay with your forever. You will make a difference in lives of children.
The Fee
RCDP is one of the most affordable international volunteer organizations. You will pay $299 for the application fee with $279 for a two-week volunteer Tanzania orphanageor $525 for four-week stay. These payments cover for meals, accommodation, program orientation, and certificate of completion, pre-departure information and in-country support. Flights and insurance are not included in this fee.
Reviews
RCDP has received positive feedback from many of its past volunteers including current volunteers. Reassuring statements like "life worthy" "God sent" are in many online reviews. Do not hesitate to go on their website and see more about RCDP's Tanzania orphanage volunteering project. Thank us later!
IFRE is a registered nonprofit 501(c)3 organization founded in 2006. Based in Dallas, Texas, USA. IFRE's volunteer abroad programs have hosted nearly 22,000 happy and fulfilled volunteers. Currently, IFRE Volunteers offers some of the most affordable, safe and successful and fastest growing volunteer abroad programs. With more than 200 programs across Africa, Asia and Latin America, IFRE remains committed to maintaining low fee structure, which provides more opportunities for budget travelers to still have the opportunity to make a real difference in the world.
About IFRE Work in an Orphanage in Tanzania
Tanzania is a desperately poor country, with close to 70 percent of the population living in poverty. It is one of the least-developed countries in the world, and so suffers from problems common to the developing world. Problems like wealth inequality, malnutrition and a lack of education, health care and social injustice hurts children and women from poor families especially.
Many private organizations and NGOs are working to help these children. IFRE partners with these organizations to help bridge the gap by providing the much needed help in the orphanages By joining Tanzania orphanage volunteer project you will help solve these problems by teaching English, working in an orphanage, volunteering in a healthcare project, or promote HIV/AIDS awareness.
The Fee
To join the program, the registration fee is $299. In addition you will pay $300 two-week stay or a four-week stay costing $550. The fees cover accommodations and meals, transport, support inside the country, information prior to departure and program, completion certificate.
Reviews
Past volunteers for volunteer Tanzania orphanage rave about the friendliness of the Tanzanian people despite the difficult situations they are in. Glowing reviews of IFRE programs include comments like "very friendly people " and "must go back." As one of the most affordable organizations in Tanzania volunteering in orphanage program, IFRE deserves a close look in your volunteer-abroad research.

Love Volunteers is a New Zealand based organization founded in 2009. The organization is very passionate about making a difference in developing communities around Europe, the Middle East, Central and South America, the Caribbean, Africa, Asia, and Australasia. Love Volunteer prides itself as non-profit whose 10% of program fees are used to cover international bank fees and the rest goes to the local charities and organizations hosting you.
About Love Volunteer Tanzania Childcare Program
There are many orphanages running through private efforts or some through government programs that are taking good care of the children. These orphanages house, feed, send the children to school and clothe them. Despite this good work, these orphanages are always struggling for funds and are understaffed
By joining volunteering in Tanzania in childcare program you will help to improve the lives and the future of orphaned children. Your support and love will impart abilities and turn the children into confident individuals capable of believing in themselves to ensure they have a brighter future. The program also has strong links with the local Maasai tribe in the region and where possible, time is spent in remote villages, teaching about the environment, healthy eating and basic hygiene which is often a highlight for volunteers
The Fee
A fee of $299 will get you registered for the volunteer Tanzania orphanage program. A two-week stay will cost$ 359 and $ 619 for a four-week stay. This fee covers for program orientation, food, accommodation, airport pickup and transfer, project placement and onsite supervision.
The Review
Love Volunteer has received hundreds of positive online reviews. Comments such as "don't be afraid to join this program" "amazing indeed." With an average of 9 overall rating, childcare volunteer project in Tanzania is guaranteed to be an impactful experience. Give this company a try!
Dan Radcliffe founded International Volunteer HQ (IVHQ) in 2007, after going in a volunteer trip in Africa. After realizing the high cost of volunteering abroad and the lack of affordable options he decided to change the narrative. Based in New Zealand, IVHQ has established itself as the world's premier volunteer travel organization, operating in 40+ countries throughout the world. The organization prides itself for being able to provide online training for the participants before they embark on the project.
About International Volunteer HQ Volunteer Childcare Project in Tanzania
IVHQ Childcare volunteers provide assistance in community centers, day care centers, after school programs, and feeding programs. Volunteers work is led by local staff and tasks vary, but generally you will be involved in providing personalized attention, mentoring, educational support, or playing games and assisting with daily operations, such as cooking and cleaning.
By joining volunteer in orphanage program in Tanzania, your work will help improve the quality of life by supporting and guiding children to create a better life for themselves and future generations. Your help and support will not only improve lives of the children but also leave you fulfilled knowing that generational poverty in Tanzania will be eliminated.
The Fee
For $299 you will be able to volunteer. In addition you will be required $370 for a two-week stay or $ 595 for a four-week stay. The program fees cover for food, accommodation, airport pickup and transfer, in country support and program orientation.
Review
Amazing online reviews for volunteer Tanzania orphanage include comments like "IVHQ really fostered a collective atmosphere of the volunteer spirit" "It was the most perfect moment" "amazing opportunity." The organization commitment to affordable and impactful projects makes this provider top Tanzania Childcare volunteer opportunity. Make sure to check them out.
Agape Volunteers is a UK registered non-profit helping thousands of volunteers visit abroad to support humanitarian projects for the last decade. The organization guarantees impactful and affordable programs around Africa including Kenya, South Africa and Ghana. Agape Volunteers mission is to ensure both genuine benefits for the communities and assurance your money is spent wisely.
About Agape Volunteers Orphanage Volunteering in Tanzania
Agape Volunteers supports a number of orphanages in Tanzania, providing assistance to overworked local staff and helping to give children a brighter future. Although local staff are extremely committed and do brilliant work supporting young children, orphanage volunteers are integral in supplementing their stretched resources.
As an orphanage volunteer in Tanzania some of your duties will involve teaching small classes, as many children's homes have schools attached. You will also help with running structured games and activities. Helping to foster a sense of family and community at the home is hugely important because some of the children will have lacked this all their lives.
The Fee
Agape Volunteers does not require a registration fee, while for a two-week stay the cost is $895 or $1,295 for four weeks. Volunteer Tanzania orphanagefees cover for airport pickup and drop off, program orientation, two meals a day, registration and administration, accommodations and meals, and donation to local projects.
Reviews
Great online reviews for this organization include "comprehensive project" "committed to perfection" "you get what they say you will get." With its incredible programs and travel packages the organization deserves a chance as you research orphanage volunteering opportunity in Tanzania.
Naturally Marc Crounch and Felicity Milligan founded Africa Volunteers after visiting hundreds of volunteer projects worldwide. With over 14 years of experience the organization supports a small network of locally operated volunteer projects across Africa. The experience that Marc and Felicity gained on the ground as volunteers has been valuable to them personally, as it gave them an insight into the daily challenges of operating the volunteer projects and managing groups of volunteers effectively. Naturally Africa Volunteers provides opportunities for skilled and non-skilled volunteers to help make a difference in Africa.
About Naturally Africa Street Kids/Sport Volunteer Project
Tanzania has experienced relative stability compared with many other African nations. However, the country has little in the way of exportable minerals, relying on tourism, as one of its main sources of income and it remains one of the poorest countries in the world.
With the help and support of volunteers this programme is able to bring sports and games to vulnerable children, or from disadvantaged backgrounds. Due to its popularity in Tanzania and across Africa football is currently the main sport that is being coached to both boys and girls.
The childcare and orphanage Tanzania volunteer program was initially focused on providing support, care, basic education and sports coaching to boys at a street kids' center in Mwanza. Mwanza has a large number of children who are orphaned, or have run away from home and are living on the street. The street children volunteer project offers a refuge for children and when you join the volunteer program you will help with the provision of the activities and empower the children,
The Fee
Neither does Naturally Africa charge a registration fee nor a two-week program stay. However, you will pay $705 for a four-week stay.
Fee covers for airport pickup and transfer, accommodations, food, orientation and safety briefing, project placement and onsite supervision and 24/7 local support.
Reviews
Spectacular online reviews include one that stated the volunteer considered the program affordable and fit for him since he wanted to care for children and teach them sports as well. Another states her experience was "life changing." This organization is well known to give the best programs in Africa, make sure you give their program a look in your research into volunteer work with children in Tanzania.
Sarah and Oliver Ehlers founded a Broader View Volunteers in 2007 after a volunteering trip to Chile. While volunteering in Chile they realized overwhelming need of the children and incredible difference volunteers made in helping a local orphanage. With a goal to provide developing countries around the world with significant volunteer program, Broader View a registered as a non-profit currently works in 25 countries around the world with 245 programs.
About A Broader View Child Care Project
Tanzania orphanage volunteers work to support three children's centers located outside of Arusha. The centers are home to approximately 20 children, ranging in age from 4yr-15yrs old. Loving dedicated staff that opened their hearts to these vulnerable kids and orphans runs the centers. They provide shelter, food, love and education to orphans, abandoned and street children of surrounding community.
Volunteers support the orphanage by providing an extra set of hands with the daily chores; cooking, meal preparation, washing clothes. Activities with the children including reading books, helping with homework, creating games, sports or coaching, teaching songs, dance or other past times. You are required to be patient, open minded with a sense of adventure.
The Fee
A Broader View does not require registration fees for volunteering in Tanzania orphanage program. The program fee is $ 1100 for a two-week stay and $ 1400 for a four-week stay. The fees covers for accommodation, meals, airports pick up, orientation, orientation and safety briefing, project placement and onsite supervision.
Reviews
A Broader View has astounding reviews on Go Overseas of 9.9 rating. Many volunteers show a lot of enthusiasm with comments like " impactful" "lovely." makes sure to check out A Broader View as you explore your options to volunteer Tanzania orphanage.
Projects Abroad is a UK based organization started over 25 years ago, with the goal to help volunteers fulfill their potential and make the world a better place. Projects Abroad works with a unique model for volunteers as well as the communities we are in. They plan, monitor and evaluate all our projects in close consultation with local communities, conducting rigorous impact assessments as standard practice. And their goal is making the world a better place, one volunteer at a time.
About Projects Abroad Volunteer with Children In Tanzania Project
While Volunteer with Children in Tanzania, you will work with children and help support early childhood development in care centres. You'll get involved in running educational activities, games, and sports. This will be a chance for you to gain childcare experience, learn about the local culture, and expand your horizons. The care centres are often overcrowded and understaffed. As a volunteer, you'll be a welcome pair of helping hands to local caregivers and teachers. Everything you do here is part of our long-term, sustainable efforts to support children's development and education.
You'll be based in either Arusha or Moshi, both lush, green communities where you can connect with nature in your free time. You can spend your weekends on an exciting safari or take a trip to the island paradise of Zanzibar.
The Fee
Projects Abroad offers $2,565 for a two-week program in Tanzania, or $ 3,155 for a four-week stay in Tanzania childcare volunteering program $1250. This program does not ask for registration fees. Program fee covers airport pickup, accommodations and food, travel and medical insurance, emergency assistance rom international emergency response, and certification of project completion.
Reviews
Projects Abroad is more expensive than other programs, but they have a deep obligation while you are in Volunteer Tanzania projects. Excellent online reviews include comments like "secure and fun experience" "felt supported and safe." They have unmatched security support and standards and that makes their programs very popular. If you have a high-quality security requisite then this is this the organization to deeply look at.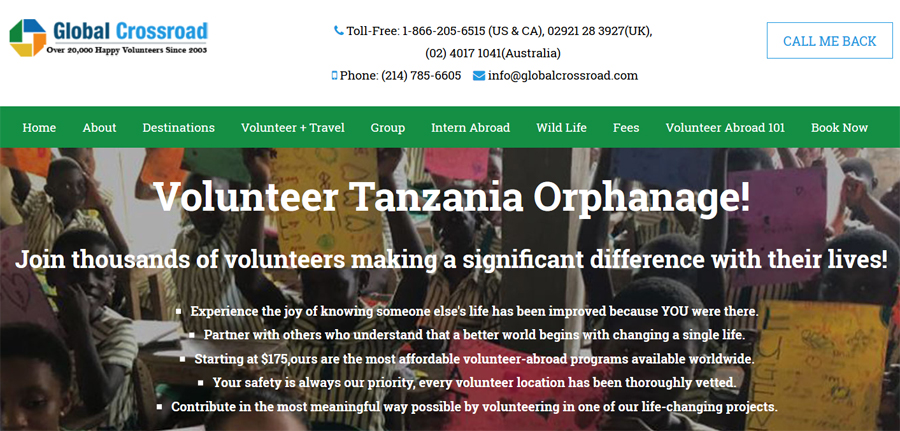 Founded in 2003 and a registered LLC in Dallas, Texas Global Crossroad is a world known international volunteer organizations. With over 200 programs in 18 countries Global Crossroad is located in Asia, Africa and Latin America. With a growth rate of bout 300 percent each year, the organization offers personalized volunteer programs with plenty of time for travel and adventure. Global Crossroad's goals are to offer volunteers with several life-changing opportunities and experiences.
About Global Crossroad Volunteer Tanzania Orphanage Project
Tanzania is among the least developed countries in the world, with half the population living in poverty. Progress has been made over the last decade; however, lack of infrastructure, access to education, high unemployment, and gender inequality all contribute to poverty in Tanzania. HIV/AIDS and other diseases have devastated the country.
Joining volunteer work Tanzania orphanage you will our your skills and abilities to help improve the lives of the Tanzanian people. You will not only to give children a chance to a successful life but also fulfill your dream of making positive changes in the world. You will work with children teaching them English and computer skills.
The volunteer Tanzania orphanage Fee
The registration fee is $299. In addition, a two-week stay fee is $300 or $550 for a four-week stay. The program fees covers accommodations and food, airport pickup and transfer in-country orientation, in-country support, personalized project, pre-departure information and certificate of completion. Organized field trips and flights tickets are not included in the fees.
Reviews
Past reviews are raving and positive suggesting a fulfilling experience. Global Crossroad has a 9.1 rating online. Great statements like "forever grateful" "highly recommended experience" "secure projects." The company delivers on what it promises and the reviews confirm as such. Check out and research more on Global Crossroad volunteer Tanzania orphanage.
Conclusion
Sadly, poverty, HIV/AIDS, diseases, abuse and alcoholism have left many children in Kenya with no families, depriving them of the parental love and care they need. You can take this opportunity to change children's circumstances by caring and nurturing them in cheap Tanzania orphanage programs to give them a chance to a brighter future.
Volunteering with orphaned children in Tanzania is a very meaningful project. Your work will help improve the quality of life by supporting and guiding children to create a better life for themselves and future generations. Your help and support will not only improve lives of the children but also leave you fulfilled knowing that generational poverty in Tanzania will be eliminated.
Now that you have 10 best and cheap volunteer Tanzania orphanage opportunities available. If you are looking to work in childcare or orphanage in Tanzania contact any of the providers for a great opportunity today.
If you are interested to volunteer at an orphanage of other beautiful countries, we have orphanage programs available in countries like Nepal, India, Sirlanka, Thailand, Ghana, Uganda, Cambodia, Kenya, Peru, Guatemala, South Africa and Ecuador.