837 Views
Home
»
blog
» 10 Best Cheap [Include Rates & Reviews] Thailand Volunteer Teaching English Companies 2021| Compare & Save
10 Best Cheap [Include Rates & Reviews] Thailand Volunteer Teaching English Companies 2021| Compare & Save

Travellers Quest is committed to help you take a decision to volunteer abroad with confidence. We don't have a bias to ANY of the organization featured here. Our best list is created after careful examination of prices, reviews and organization reputation. You are free to select any organization with no obligation.
Are you ready to start your volunteer work in Thailand and are wondering how find the right program provider? It can be overwhelming when you realize just how many options are out there when it comes to volunteering abroad. You want to choose the most affordable and impactful volunteering opportunity.
TravellersQuest has done majority of the research work for you. In this article we present you with a comprehensively researched and selected list of the best teaching English volunteer program in Thailand. We want you to choose with no obligation the most affordable, reputable and impactful volunteering opportunity abroad.
In this article, you will get to:
Find the best 10 affordable volunteer providers for teaching English in Thailand
Click the GET MORE INFO NOW button, and with one click, send an inquiry to all the providers on this list.
Easily select the perfect program for you by comparing prices and programs with absolutely no obligation whatsoever.
Download our FREE volunteer abroad guide at the bottom of this article, to know ALL you need to know about a worthwhile volunteer experience abroad.
Table update September 17, 2019
This best organization is a leading independent volunteer organization based in the UK. With over 100 programs across 20 countries, Original Volunteers sends over 1000 volunteers to different parts of the world each year. This award winning organization offers some of the most flexible programs abroad, you can custom make a program that suits your needs and what you are looking to achieve. If you are looking to take up multiple projects within a short period of time this might be the organization for you.
About Original Volunteers Teaching English Volunteer Program In Thailand
On this unique award-winning program you will gain an incredible new skill, even if you had not considered teaching previously, which has led to many of our volunteers to start new careers in TEFL (Teaching English As A Foreign Language). You do not need any prior teaching experience to be successful in teaching English volunteering opportunity in Thailand. And of course we cannot fail to mention that the children are extremely motivated for English and have a great respect for their volunteer teachers.
Volunteer Teaching English in Thailand Fee
Thailand program is very cheap and affordable starting at $159 administration fee and $265 for two-week stay at the program. This fee is inclusive of pre-departure preparation pick up at airport, daily meals and accommodation.
Reviews
Original Volunteers is a multiple award-winning provider and comes highly reviewed by publications including the Guardian and BBC. Past volunteers have especially praised the program for being very affordable and flexible. The diversity of the programs keep volunteers coming back! Read more reviews here!
Abroad Review-
Why we selected Original Volunteers:
Original Volunteers was included to this 10 best list because of the cost of the volunteer teaching English program in Thailand and the flexibility of the program. While the programs are somewhat limited you will still be able to gain the full experience of working with poor communities in Thailand.
This best teaching provider is a UK based volunteer abroad agency that offers life-changing opportunities to GAP students who are looking to take time to explore the world while working to change impoverished communities. PMGY offers over 100 programs in 17 countries that we think will be very appealing for young and adventurous travellers looking for a student friendly program.
About PMGY Thailand English Teaching Volunteers
This great English teaching volunteer program in Thailand encourages students to develop a skill that will help them to achieve their future goals. When you support local students converse with fluent, native English speakers you will greatly improve their language skills. You'll support and assist the local teachers with teaching in large classrooms that can have up to 40 children in at one time. This program will give offer you life-changing experience.
PMGY Volunteer Teaching English in Thailand Fee
PMGY teaching English volunteering program in Thailand is absolutely cost friendly. A minimum of two-week stay starts at $305 in addition to a registration fee of $189. The fees are inclusive of accommodation, food, airport pick up, pre-departure info pack, and transfers to the project. You'll not find this kind of prices anywhere else.
Reviews
With one of the best reputations worldwide among travelling GAP students, PMGY have certainly earned their positive reviews. Read more online from past volunteers who have spoken very highly of the excellent programs provided and affordable prices including ongoing support offered by PMGY during their volunteering experience. Check reviews here:
Why we selected Plan My Gap Year Volunteers:
Plan My Gap Here our top selection based on their cost efficient and very student friendly Thailand teaching volunteer program. Although the programs are not as diverse, many volunteers are happy with the level of high support that you receive as a learning volunteer.
International Volunteer HQ (IVHQ) is a New Zealand based organization founded in 2009, and has expanded to be one of the biggest volunteer organizations in the world. Since inception they have hosted over 100,000 in over 40 destinations around the world, sending at least 20 volunteers to Thailand each month. If you are looking for a meaningful volunteer work and the opportunity to experience a life-changing volunteer vacation this is the best company to look out for.
About IVHQ Volunteer Teaching English program in Thailand
As a volunteer teaching English in Thailand, you'll be supporting a project that promotes better access to education. You will focus on providing assistance to teaching English initiatives in the local villages and hill tribes. In northern areas of Thailand, local people have very limited access to formal education and there is a real need for volunteers to assist in teaching, not only young children, but also adults from surrounding hill tribes and local villages. Your support in this great program will change lives of both children and adults.
The Fee
IVHQ has a registration fee of $299, and a two- week stay fee of $380. This foots the bill for your accommodations and meals, airport pick-up, and the 24/7 support of the in-country staff. When you pay for the registration fee you have unlimited access to online volunteer training.
Reviews
This provider has years of experience in teaching volunteering program in Thailand and is very affordable. For this reasons many past volunteers had impressive things to say. Comments such as "money well spent" "respectful host family" are across over 2,400 of online reviews that we looked through. Read more online reviews on:
Why we selected International Volunteer HQ:
We selected this provider as a best provider for English teaching volunteer in Thailand program because they are very affordable with a very easy application process and online training that prepares you to take up your volunteer duties. The programs are limited to what the community organization offers but offer all you are looking for to change lives in Thailand.
RCDP is a best provider and perhaps one of the oldest and most experienced volunteer organization in the world. Founded in 1998 RCDP offers over 200 highly affordable volunteers programs in 20 countries across the world. They are dedicated to unparalleled in-country support from experienced staff, ensuring a safe, meaningful volunteer experience.
About RCDP Volunteer Teaching English in Thailand
The standard of English all over the country is very poor.Trained manpower is still in short supply. English, however, has become very important for ordinary Thais to learn as their career could hinge on their ability to speak and write in English. By joining volunteer teaching English in Thailand, you will teach English and help ordinary Thais learn English. This best program will help change lives of poor Thais across the country and help them get work.
The Fee
You'll pay a $279 registration fee, which be for the pre-trip planning and support throughout your trip. This English teaching volunteer opportunity in Thailand is quite affordable and a two-week stay is $440 that covers airport pick-up, accommodation, meals and fundraising for the project and it is paid directly to the projects.
Reviews
Positive online reviews include statements like "great local support" "host families are supportive" "eye opening experience." Past volunteers have expressed great satisfaction with the support with the company rated it at 94% in Go Overseas. Look up for more reviews online:
Why we selected RCDP:
RCDP is out top pick because of years of experience, affordability and the value of the volunteering teaching English program in Thailand. The connection with the grassroots organizations is the reason the RCDP continues to be in business and allows you to experience travel and culture while changing the world.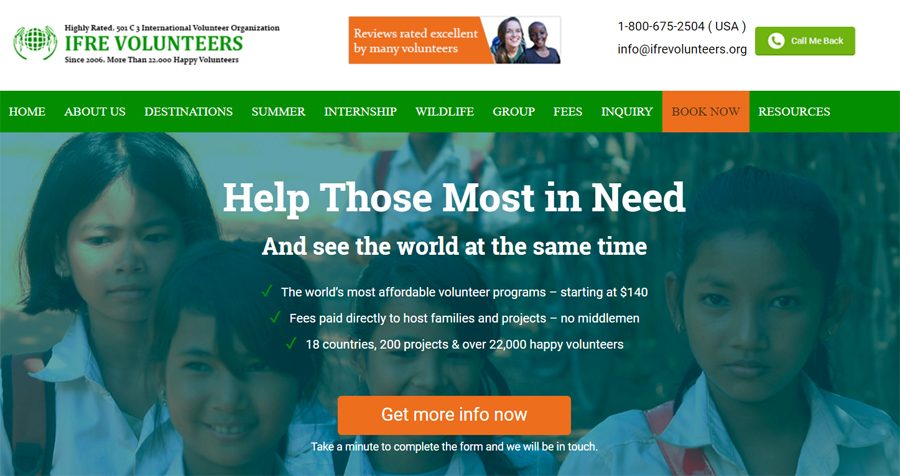 Founded in 2006, IFRE is a renowned leader in the volunteer abroad industry. This registered non-profit works with grassroots organizations in 20 developing countries around the world offering affordable and safe volunteer programs. Since inception they have worked with over 17,000 volunteers. Like these volunteers you can truly make a genuine and positive impact in the communities by joining this best top volunteer teaching English in Thailand provider.
About IFRE Volunteer Teaching English in Thailand Program
With the booming tourism industry English is now a very important part of education in Thailand. Unfortunately, good English education in private English schools is expensive and out of reach for children of low-income families. When you volunteer teaching English in Thailand, you will be teaching in a local public school making a significant impact in the lives of Thai students. You'll inspire students to improve their English skills and bring about positive change in their lives as well as gain valuable teaching experience.
The Fee
You'll pay a registration fee of $299 for this great and affordable program. It will cost you $440 for a two-week stay or $660 for a four-week stay. The fee covers for your airport pickup, program orientation, food and accommodation, personalized project, pre-departure information and certificate of completion.
Reviews
Over the years IFRE has garnered solid reputation for providing safe, reliable, and affordable English teaching volunteer opportunities in Thailand and across the world. Numerous reviews online, past volunteers have acclaimed the organization for being efficient and transparent with information before departure and on arrival at the project in Thailand. There are 456 reviews online on both Go Overseas and Abroad Reviews, read them here Go Overseas:, Abroad Reviews.
Why we selected IFRE
This provider was selected because over the years they have been consistence with the teaching English program. They are safe affordable with a value added to their programs. Even with limited programs they are transparent and ensure that the fees go back to the communities.
We were attracted to go GoEco because they have positioned themselves as leaders in environmental volunteering. This award winning organization was started in 2005 and offers 150 volunteer programs around the world. Each year, over 1,000 volunteers find impactful and cost friendly adventures abroad thanks to GoEco.
About Go Eco Teaching and Renovation Program
This great program offers teaching and construction in schools. There is a wide array of primary and secondary schools in Thailand for poor children in remote areas of the country. The children have limited access to education so they travel to the school for lessons and return home during certain periods of the year. You'll have the opportunity to engage with the schoolchildren via informal teaching and games, including maintaining the buildings and grounds.
Volunteer Teaching English in Thailand Fee
The inexpensive volunteering teaching opportunities in Thailand with Go Eco do not have a registration fee. It has a minimum of a two-week program stay at a cost of $770, while a four-week stay is $1,210. Your program fee includes which includes airport pick up and departure transport, housing, food, and full support throughout your trip.
Reviews
GoEco is one of the most popular volunteering abroad companies. The organization is quite popular online with many past volunteers reviewing that the organization is safe and secure with very impactful projects. The price is a merit point, and the programs are properly coordinated to work with local organizations. Read reviews on Go Overseas–
Why we selected GoEco
We took a closer look at this provider and we were impressed by how articulate and detailed their program is. It was an easy selection based on the reviews, the price points and professionalism. This Thailand teaching volunteer program may be a little limiting but it will be an opportunity for you to learn something new while in Thailand.
Originally started in 2007, Friends for Asia has placed hundreds of volunteers, from more than 18 different nationalities, in our volunteer and intern programs around Bali, Nepal, Vietnam and Thailand. This provider attracted us because their projects assist local communities with challenges related to community development and sustainability while allowing volunteers to experience the whole travel and culture experience.
About Friends for Asia Volunteering Teaching English in Thailand
This unique project will have you acting as a teaching assistant in the enchanting Chiang Mai. You'll help develop and support lesson plans for children in preschool all the way up to high school, as well as occasionally offering lessons to the adults in the community. You'll spend roughly 15 to 20 hours per school week in class.
The Fee
This company strives to keep their program fees low and affordable therefore they do not charge a registration fee. Most of the fees you'll pay are invested directly back in the community you are supporting. For two-week stay in Thailand volunteering with English teaching program you will pay $799 and for four-weeks you will pay $1,075. The fee will take care of costs such as your accommodation, food, airport pickup and transfer and in-country support.
Reviews
Just like you, many other volunteers have put their trust in Friends for Asia for an exceptional experience volunteering abroad and it has certainly been a life-changing experience. Read more about how former volunteers have enjoyed their cultural experience and transformed communities in need by volunteering teaching English in Thailand. Read reviews:
Abroad Reviews-
Why we selected Friends for Asia
This provider appealed to us because they are so knowledgeable about the communities and the programs that they offer in Thailand. The costs of the teaching English volunteer project in Thailandare slightly on the higher side but by promise that the programs are very safe and impactful.
This extremely efficient company is based in UK , Kent, Since 2011, Gap 360 offers over 200 trips in 50 destinations around the world, offering volunteers for incredible and impactful opportunities. We love Gap 360 approach to offering many option trips including paid work, adventure trips and group tours. This provider is constantly adding new and exciting opportunities, trips and destinations to an ever-expanding range of Gap 360 travel programs.
About Gap 360 Teaching & Childcare Volunteer in Thailand
You'll be able to make a difference as a childcare or teaching volunteer program in Thailand. You'll help out at a pre-school childcare center in a temple volunteering with amazing local kids, or get hands-on in a classroom teaching English in schools in an incredible rural area of Thailand. Apart from teaching you can explore Bangkok and experience authentic Thai life in stunning Surin in your free time.
The Fee
The program fees for Gap 360 are very competitive and there is no registration fee. Prices for a two-week stay start at $951 and for four-weeks cost $1,179. The fee paid covers for 24/7 local support network, project orientation, volunteer placement, food, and accommodation and airport pick-up on arrival.
Reviews
Not only does GAP360 offer competitive Thailand teaching volunteer program, but they also have exceptional reviews from past volunteers where they express their gratitude for supporting them during the registration process and for offering a variety of options to choose from. Check what 700 other reviewers have to say:
Why we selected GAP 360
This provider attracted our attention because of all the variety programs they offering to volunteers. The costs are on the competitive but you have so many programs to choose from including worthwhile volunteer teaching English in Thailand. It is rare to find such an organization. Grab this chance.

Love Volunteers is a best and affordable organization founded in 2009 and based in New Zealand. This award winning organization has worked with over 20,000 volunteers in 150 projects across the global. With years of experience this provider is best because they have community-based programs that are sustainable and safe for both returning and first-time volunteers.
About Love Volunteers Education Support Thailand Program
On this essential education program, you will be placed in schools, which have high levels of staff shortages as a result of limited funding and inadequate resourcing. You will have a choice between two schools, which are always thrilled at the opportunity to welcome native English speakers. Regardless of whether you have a teaching background, your presence alone gives students and faculty the chance to practice their English skills as they would in the real world.
The Fee
For starters you will pay a registration fee of $299, and this English teaching volunteering opportunity in Thailand has a 2-week stay for a low fee of $669. This includes airport pick-up, housing in a volunteer house, 3 meals a day, and 24/7 local support and project placement.
Reviews
The reason why Love Volunteers has such a solid reputation worldwide and loved by past volunteers is for their trustworthiness and reliability and it is reflected in past volunteers' reviews. Read over more about what other volunteers have had to say about the excellent communication and outstanding support from local and international staff members in over 500 reviews online:
Why we selected Love Volunteers:
We selected them because they're a great choice for first time volunteers or those who need help planning, with a tailored dashboard to take you through the steps of getting ready for your trip abroad. They have a limitation when it comes to programs however, you will get the full worth of your time and support when you take Volunteer Teaching English in Thailand.
This best provider UK based organization has over 25 years helping volunteers follow their passion to change the world and make it a better place. We like their hassle-free travel, with secure projects that work to change poor communities around the world. Since inception they have sent worked with 115,000 volunteers on incredible and fulfilling projects in over 20 countries.
About Projects Abroad Volunteer Teaching English In Thailand Program
This unique and impactful project will have you teaching English volunteer project in Thailand, and help disadvantaged students improve their conversation through fun activities. You'll work in elementary and secondary schools, based in the beautiful town of Krabi. This is a great way to add practical classroom experience to your resume, which can help your future career.
The Fee
Project Abroad maintains quite competitive prices and is dedicated to keeping the prices for teaching English volunteering program in Thailand affordable for volunteers. There is no registration cost with this provider, the minimum stay for two weeks starts at fees $ 2,860 and covers for food, accommodation and donation to the local community, emergency assistance, transport to and from work and in-country support.
Reviews
Many volunteers have loved their time and experience abroad with Projects Abroad. They have loved how dedicated the organization is and the value in the programs they say is remarkable. Read more about their thoughts in reviews outlining how great the balance between adventure and cultural immersion is while volunteering teaching English in Thailand. Read reviews on Go Overseas and Go Abroad.
Why we selected Projects Abroad
We like their commitment to volunteer safety and security with one of the best comprehensive evacuation plan in the industry. The fees are higher but the program and travel around the country will leave loving this provider. Projects Abroad is a great choice to look into when selecting a provider.
Conclusion
While we have done the majority of the research for you and presented you with a range of low cost volunteering teaching opportunities in Thailand, the ultimate decision is up to you with no obligation. Choose wisely and ensure the company has good communication before you commit to them. Find a company that responds well to your passion and life goals.
It is important that you volunteer with a company that you really believe in and see through your passion to make positive change in the world.
Good luck. Remember to keep in touch and give us your feedback after your trip abroad.
If you are interested to volunteer teaching in any other beautiful country, we have teaching programs available in countries like Tanzania, India, Ecuador, Brazil, Argentina, Peru, Kenya, Uganda, South Africa, Ghana, Bali, Cambodia, Nepal, and Sirlanka