667 Views
Home
»
blog
» 8 Best Cheap [Include Rates & Reviews] Uganda Volunteer Teaching English Companies 2021| Compare & Save
8 Best Cheap [Include Rates & Reviews] Uganda Volunteer Teaching English Companies 2021| Compare & Save

Travellers Quest is committed to help you take a decision to volunteer abroad with confidence. We don't have a bias to ANY of the organization featured here. Our best list is created after careful examination of prices, reviews and organization reputation. You are free to select any organization with no obligation.
Do you dream of taking an African Safari while experiencing diverse Ugandan culture and working with children in underprivileged communities? When you start researching providers online you will quickly realize that there are so many organizations offering teaching English volunteer programs in Uganda. It can be overwhelming and maybe a turn off to proceed with the research.
To save your time and avoid frustration, TravellersQuest has invested hours of research and filtered the best 8 organizations offering teaching English programs in Uganda, based on affordability, reputation, online reviews and quality of the program. It is our hope that with one of these organizations you can find the most rewarding and impactful volunteer experience possible. In this article, you will get to:
Check out the most affordable volunteer providers for teaching English in Uganda
Click the GET MORE INFO NOW button, and with one click, send an inquiry to all the providers on this list.
Easily select the perfect program for you by comparing prices and programs with absolutely no obligation whatsoever.
Download our FREE volunteer abroad guide at the bottom of this article. It has everything you need to know for a safe, and life-changing volunteer abroad opportunity
Table update September 18, 2019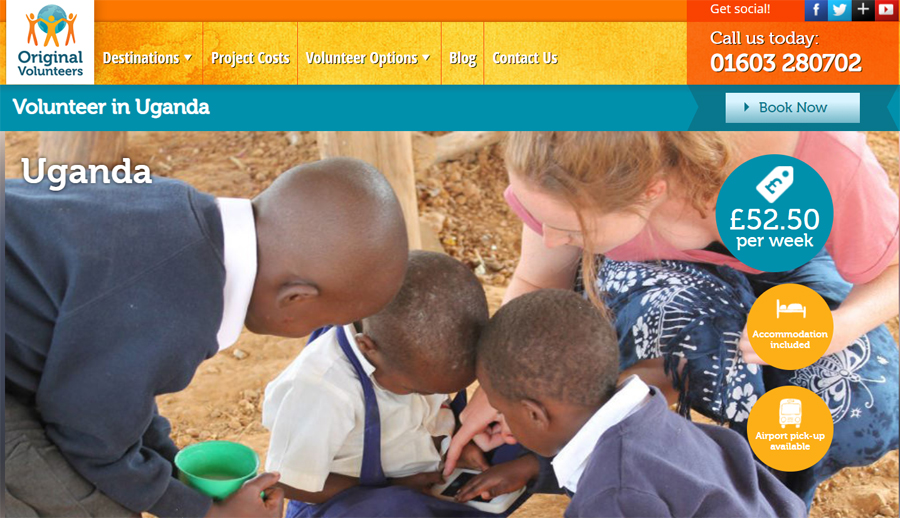 Based in UK, Original Volunteers is a leading independent volunteering abroad programs provider with over 100 programs in 20 countries across the world. We selected them because they can tailor placements to your request. If you have a skill or specific idea in mind that you would like to share with a community, then this is the organization for you. And better still they will help you implement and make you project come to fruition!
About Original Volunteer Teaching English In Uganda
Original Volunteers provides an affordable and high-value teaching program in Uganda. In this program you'll assist the local teacher with classes, organize arts and crafts and outdoor activities. With ever increasing student numbers, now reaching 500, every extra pair of hands is needed. You will be left feeling fulfilled as you have played a pivotal role on this project and see the smiles on the children's faces because of the care and affection that was provided by you. If you are a qualified teacher, you may be able to take a class under the local teacher's supervision.
Volunteer Teaching English in Uganda Fee
You will find that this provider keeps their registration and teaching English volunteer program in Uganda fee very affordable. You will pay a registration fee of $185 and $145 for a two-week stay. The fee covers for pre-trip coordination, fundraising assistance, airport pickup, safe accommodations and healthy meals in Uganda.
Reviews
By offering very cheap and customized meaningful projects, Original Volunteers has received 100 online reviews that boast 8.2/10-satisfaction rate. Previous volunteers highly appreciate the program's invaluable flexibility and cultural immersion.
Why we selected Original Volunteers
What we loved most about this provider as a best provider for volunteering teaching English in Uganda program is the very cheap cost and the fact that you can actually custom make your own program if you have a special skill or interest. How convenient is that!
As a top reputable organization RCDP International Volunteers is one of the most affordable and reliable volunteer abroad organizations. Established in 1998, RCDP offers volunteering programs in 20 countries across the world. With over 18,000 volunteers trusting their skillful team, RCDP offers over 200 meaningful programs including teaching English volunteer opportunity in Uganda. This organization is best because over the years it has grown exponentially, by offering safe, affordable and high value programs.
About RCDP Volunteer Teach English In Uganda Program
This great program by RCDP will provides kids with an opportunity to learn and have a chance at the succeeding in future. In this program you'll teach English to the children between the age of 6 and 16. You will teach according to the official curriculum, but you can also use your own methods to make the class very interactive and fun. You can for instance hold debates and discussions, as this will often encourage the students to speak and understand English better. It will also encourage student participation and a fast learning process.
The Fee
RCDP offers a very cheap teaching English volunteer program in Uganda. You will only pay a one-time registration fee of $279 together with program fees of $200 for a two-week stay or $400 for four weeks. Fees cover your accommodations and meals, a safe airport pick-up, and the 24/7 support of the in-country staff.
Reviews
Usually volunteers look for reviews to get an insight of what the program looks like from past participants. RCDP has some great and amazing reviews for websites and social media. Past volunteers have loved the high value and cheap programs that is changing lives of children in Uganda. Read some amazing reviews here:
Why we selected RCDP:
RCDP is high on our list of providers offering English teaching volunteer programs in Uganda because they have years of experience offering affordable and quality and safe programs abroad. Not only do they have 24/7 local support at the program but they also help in the application process that is simplified and fast.
As a best provider Global Crossroad is a leading volunteer abroad organization founded in 2003. Since inception the organization has ran some of the most affordable and high profile abroad programs including summer escapes, mini adventures, hands on medical volunteer programs and college group programs, over 200 projects in 18 countries across the world. We loved that this provider has affordable and diverse programs available for everybody from all walks of life.
About A Global Crossroad Volunteer Teaching in Uganda Program
Global Crossroad has a great and cheap teaching English program in Uganda. In this program you will have the opportunity to help your students learn and sharpen their English language skills, which will greatly help them in their futures. Your commitment to volunteer to teach English in Uganda can make a significant impact on the present and future lives on the local children.
The Fee
Volunteering in Uganda English teaching program with Global Crossroad starts at the low price of $250. You'll pay a one-time registration fee of $299. The fees cover for costs of host family accommodation, three meals per day, and services of the local staff members.
Reviews
Past volunteers are happy with their experiences in Uganda with Global Crossroad. More than 400 great reviews online have rated this provider at 9.1/10 on Go Overseas website. Most reviews reflected the high quality of the program, affordability and a desire to go back to Uganda. Check out more.
Why we selected A Global Crossroad:
This organization caught our attention because they aim for high quality by providing excellent support throughout the volunteering period. Global Crossroad is also a best teaching English volunteer program in Uganda provider for offering reasonably affordable prices, with a huge percentage of the fees going back to the communities.
Volunteering Solutions was founded in 2007, and works in 26 countries providing 154 programs. Over the years VolSol has hosted over 14,000 volunteers who have collectively worked for 781,000 volunteer hours. This great organization offers one of the best and most volunteer abroad organizations with the goal to nurture communities and add color to lives of disadvantaged people.
About Volunteering Solutions Volunteer Teaching Program In Uganda
VolSol's teaching Volunteer Program in Uganda is great and gives you the opportunity to pursue your passion of working with impoverished kids in the community. This program focuses on English language classes, international cultural exchanges, and education murals, targeting a wider audience including villagers and local women folks. You'll assist teachers and also take individual classes. English, general awareness, science, and Maths are the main subjects you'll be teaching.
Volunteer Teaching English in Uganda Fee
Not only is it one of the most rated but also very cost efficient offering the best teaching volunteer program in Uganda. A registration fee of $250 is required, with a minimum program stay of 2 weeks for super low fee of only $380. This includes airport pick-up, housing, program orientation, and your breakfast, lunch and dinner each day.
Reviews
Over 400 previous t volunteers have been extremely fulfilled and satisfied volunteering in Uganda with VolSol. They love that the organization is keen on the safety of the programs and some level of diversity from teaching women to children and the youth. Read more about the great things they have to say about the ongoing support and dedication of the local staff.

Why we selected VolSol:
VolSol made our top best 9 providers for teaching English volunteer programin Uganda because it is affordable with amazing life-changing programs. There is a limitation in the diversity of the program but the one available are very affordable, impactful and safe.
ELI stands for Experiential Learning International, and this non-profit was founded in 2011. ELI has worked with thousands of participants from 41 countries, providing them an amazing array of programs. We liked this provider because whether you are a student, a professional, or a retiree, it has endless options for you to choose from.
About ELI Volunteer For School For Poor And Orphaned Children in Uganda
This ELI Uganda teaching English volunteer program is one of the best and most affordable. In this program you will assist with teaching, and are encouraged to lead other activities such as sports and arts in order to enrich the lives of the children. While working in this school you will assist with the day-to-day care of the children, teach reading and arithmetic, and assist with improving the facilities. Through your support you will help children change the narrative and become useful members of the society in future.
The Fee
ELI has always provided volunteers with some of the most affordable fees for teaching English volunteering opportunity in Uganda. Your program fees will completely cover your accommodations, breakfast and dinner, airport pick-up and transfer, and the constant support of a local team in Bali. There is also a one-time registration fee of $200. Weekly program fees start as low as $490! The allocation of your fees is completely transparent.
Reviews
ELI has an admirable collection of positive reviews from past volunteers that will definitely help inspire you to book your Uganda English teaching volunteer program. Volunteers love the openness to experience culture, the cost and uniqueness of the program. Read 80 great reviews here:
Why we selected ELI Abroad:
This provider was top of our list because of the all-inclusive programs from students including seniors. They have a variety of affordable programs that would cater even for first time volunteers and we love that about this provider. It also offers a perfect opportunity chance for cultural immersion and travel when you enroll to volunteer teaching English in Uganda.
International Volunteer HQ is a New Zealand-based volunteer abroad organization that has been working with adventurous and compassionate volunteers from around the world since 2007. With 35 program destinations, IVHQ has remained a leader by providing safe, high quality, exciting, and rewarding volunteer and travel experiences have remained their top priority. We love that about this provider!
About International Volunteer HQ Volunteer Teaching Program in Uganda
The aim of this great project is to contribute to the development of under-resourced schools and increase opportunities for Ugandan students from disadvantaged backgrounds to receive a quality education. In this program you'll be working alongside local teachers. Typical subjects taught at the schools include English, Math, Sports, Science, History, Music and Social Studies. Students can range in age from 3 to 20 years old, depending on the school in which you are placed. You do not need to be a qualified or experienced teacher to participate. So great!
The Fee
IVHQ offers both new and returning volunteers exceptional prices for exceptional volunteer teaching schools in Uganda program. You'll pay a one-time $299 registration fee. Weekly program fees start at just $380. A two-week minimum commitment is required. Your program fee includes airport pickup, orientation, accommodations, meals, continual support, project placement and supervision.
Reviews
IVHQ is one of the top volunteering abroad companies across the globe and past volunteers can confirm that. Comments such as "affordable and secure" "best abroad experience ever" and "worth every penny."
Check over 2,500 more reviews here:
Why we selected International Volunteer HQ:
We selected this best provider because they offer FREE English online certification to all volunteers before leaving for volunteer teaching English in Uganda. It is also an organization that has secure and safe program at a very affordable price. However they only offer limited teaching programs in Uganda.
In June 2009, brother and sister team Julian and Kelly started Love Volunteers in New Zealand. After months of visiting different countries and projects, they started with a simple website, which was complete with 20 projects in 12 countries and never looked back. They have continued to grow adding new projects and locations with the best volunteers abroad program options.
About Love Volunteers Teaching in Kampala Uganda Program
On this high-value Love Volunteers' teaching program you will teach in a school in Uganda, which has high levels of staff shortages as a result of limited funding and inadequate resourcing. You'll also help students to improve their career prospects. In addition, to playing an invaluable role in teaching children and supporting their educational needs you will help to increase their chances of higher levels of education, and thus the chance for future employment and a brighter future.
The Fee
Love Volunteers program fees are very reasonable for what's included and the quality of your experience. Program fees for a two-week stay start at $399, but all include meals, accommodations, airport pick-up, transfer to project, local orientation and training, and in-country support. A registration fee of $299 is required.
Reviews
Since 2007, Love Volunteer has continued to receive incredible reviews from past volunteers who are eager to encourage others to take a journey with this long-standing, affordable, and reputable organization. Past volunteers have highly praised English teaching volunteering in Uganda program as life-changing experience.
Why we selected Love Volunteer:
Love Volunteers rightfully made to this 10 list because it has very high profile programs that are fairly priced. The program fee for Uganda volunteering teaching English program is very affordable. If you are looking for high quality with a unique and flexible program then this is for you.
A Broader View (ABV) is an affordable best company founded in 2007 in Pennsylvania US. This registered non-profit, specializes in meaningful volunteering abroad travel programs ranging from gap year programs to family volunteering. With over 40 years of staff experience ABV has donated over $3.5 million to impoverished communities around the world. We loved that this provider gives back 90% of the program fees to the community to create sustainable programs.
About A Broader View Children Education Program
ABV offers a great and affordable program in a village school in Uganda. In this teaching volunteering opportunity in Uganda, teaching experience is not required. Children attend school without a separation of ages, so you can expect 5-6 year olds with 12 year olds in the same class, which gives you the opportunity to be creative. You can begin working with some children, teaching English and basic math. Native English speakers are in high demand and volunteers are anxiously welcome at the school.
Volunteer Teaching English in Uganda Fee
This provider offers reasonably priced volunteer in teaching program in Uganda.
You'll not pay for registration fees. For a two-week stay the charges are $995, and a four-weeks stay is $1,290. Your program fee will covers most of your costs, including comprehensive travel insurance, food, accommodation, project placement and in-country support.
Reviews
ABV has racked up an impressive assemblage of positive reviews from past volunteers. Reading just a handful of their reviews will help make you feel even more confident about your decision to join their team. There are over 400 reviews from past volunteers online check them out here:
Why we selected A Broader View:
This best provider offers the best comprehensive insurance package in the industry. In addition to having the most unique and safe volunteer teach English in Uganda, 90% of the program fees go back to the communities, to ensure that they keep this program sustainable. We loved that about this organization.
IFRE Volunteer is a registered non-profit founded in 2006 in Texas, US, with a mission to offer the most affordable as well as the highest quality volunteer and humanitarian experience abroad. If you are seeking a meaningful and exciting adventure abroad then this is the right organization for you. They ensure that all volunteers have the best experience with host families and a lot of free time to travel and indulge in the culture.
About IFRE Volunteer Teaching English in Uganda
IFRE offers a great and safe program in Uganda. In this program, you'll teach English in provide less fortunate children in rural schools with the chance at a prosperous and bright future. You can also volunteer to teach English in Uganda in public schools, to improve English, share your passion and bring a change in the life of children. With the growing tourist industry, English has become an increasingly vital skill, and public schools are sorely lacking in resources and manpower to keep up with this demand. You are desperately needed in this program!
The Fee
IFRE's fees are very cheap compared to similar providers in Uganda. You'll pay $299 for registration fee and $250 for a two- week stay you can extend your stay for 4 week for a cost of $590. The fee will cover accommodation, food and some pre-travel administration costs.
Reviews
This provider is favorably rated and commended by past volunteers who have taken up teaching English volunteer program in Uganda. If you are looking for an affordable, high rated programs and reputable provider then this provider is right up your alley. Many raving comments like "life-changing experience" and more are available below for you to read: Go Overseas: and Abroad Reviews.
Why we selected IFRE:
IFRE is reputable across Uganda for offering a very cheap and affordable program with safe host families and a lot of time to travel. The rural schools teaching in Uganda program sounds limiting but you will have the best experience immersing yourself in the culture and travelling around Uganda, and this is why we selected this provider.
Conclusion
Now, that you have gone through all the 10 best volunteer teaching in Uganda providers, we hope that joining volunteer teaching English In Uganda is no longer a dream. You have great and affordable organizations are to select from. Choose wisely with no commitment the organization that you feel will offer what you are looking for.
Best wishes and safe travels. Keep us posted on your experience volunteering in Uganda.
If you are interested to volunteer teaching in any other beautiful country, we have teaching programs available in countries like Tanzania, India, Ecuador, Brazil, Argentina, Peru, Kenya, South Africa, Ghana, Thailand, Bali, Cambodia, Nepal, and Sirlanka