770 Views
Home
»
blog
» 10 Best Cheap [Include Rates & Reviews] Kenya Volunteer Teaching Companies 2021| Compare & Save
10 Best Cheap [Include Rates & Reviews] Kenya Volunteer Teaching Companies 2021| Compare & Save

Travellers Quest is committed to help you take a decision to volunteer abroad with confidence. We don't have a bias to ANY of the organization featured here. Our best list is created after careful examination of prices, reviews and organization reputation. You are free to select any organization with no obligation.
Are you passionate about working with disadvantaged children to help them improve their lives while increasing your international travel experience and learning new culture and practices? If this sounds like what you are looking for then teaching English volunteer program in Kenya might be what you are looking for.
As you begin looking into available program providers, you'll find hundreds of companies offering a variety programs. And you may be confused what criteria to use to choose the best program. Our researchers surveyed hundreds of organizations offering volunteer teaching in Kenya each based on reputation, proficiency, affordability, and safety, and chose the 10 best. We sincere belief choosing any one of these providers without obligation, you'll have an extremely satisfying and safe experience in Kenya.
In this article, you will get to:
Discover the most affordable volunteer providers for teaching English in Kenya
Click the GET MORE INFO NOW button, and with one click, send an inquiry to all the providers on this list.
Easily select the perfect program for you by comparing prices and programs with absolutely no obligation whatsoever.
Download the FREE volunteer abroad guide at the end of this article. It has ALL you need to know for a safe, and impactful volunteer abroad opportunity
Table update September 19, 2019
Founded in 1998, RCDP International (RCDP) is known its moderate prices and reliability. With more than 200 programs in 20 countries across the company this best provider focuses on establishing sustainable community development efforts in extremely impoverished communities. As a registered non-profit, RCDP has hosted over 18,000 volunteers in impactful community based programs across the world.
About RCDP Volunteer Teaching In Kenya
RCDP's as a best provider has a great teaching program in Kenya that gives hope to students attending schools in poorer region. You will work as an English teacher. You have the option to dig into teaching right on or you can assist the local teacher at first and start on your own when you have gained the necessary confidence. You will mostly follow the official curriculum; however, you can bring in your teaching methods also. Your passion will help increase the student's ability to comprehend English better, encourage participate and make the class fun.
The Fee
Program fees for volunteer teaching English in Kenya include an initial registration fee of $279, while the two-week program fee is $250 and the four-week fee is $450. The fees pay for your housing and meals, airport pickup and transfer, program orientation, in-country support, project personalization, pre-departure information, certificate of completion, fundraising ideas and letter, and a discount for returning volunteers. They also support the local staff and community programs in which you will work.
Reviews
With over 20 years of experience offering English teaching volunteer program in Kenya, RCDP has garnered stellar online reviews, including comments such as "hands-on and supportive" "amazing experience" and "children in the schools were a true pleasure." Past participants praise RCDP's unparalleled in-country support, outstanding experiences, and local community culture.
Why we selected RCDP:
This provider is top of our list because it they are distinguished by its educated, attentive, energetic staff both in the international office as you start your application process to the local office at Kenya volunteer teaching English program. They are also very affordable with years of experience offering the best opportunity to teach poor children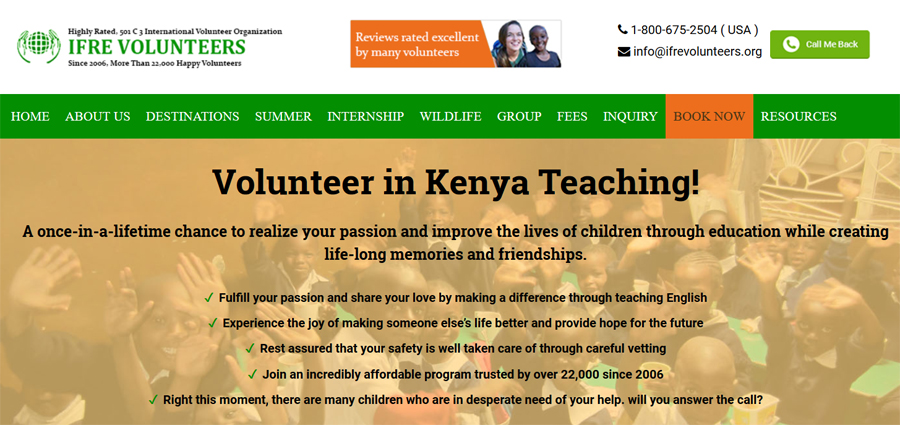 As a best provider, IFRE Volunteer is a registered non-profit founded in 2006 in Texas, US. We love this organization because it is distinct from other providers since it focuses on an intimate grassroots approach to its 200 programs worldwide. Since inception IFRE has hosted over 22,000 volunteers in 18 countries in developing countries around three continents.
About IFRE Teaching English In Rural Schools Program
IFRE offers an exceptional and cheap teaching program in Kenya. In this program, you'll be able to teach English to children from disadvantaged families while immersing yourself in the Kenyan culture and language. As a volunteer, your main goal is to increase the student's ability to comprehend English and encourage them to participate in creative activities. With their newfound ability, they will be able to obtain better jobs in the future and raise themselves out of poverty. And you will fulfill your passion working with children from poor communities in Kenya.
The Fee
This best and affordable provider offers $250 program fees for two weeks stay including an initial registration fee of $299, while a four-week stay will cost you $450. The fees pay for your housing and meals, airport pickup and transfer, program orientation, in-country support, project personalization, pre-departure information, certificate of completion and fundraising for Kenya teaching English volunteer program.
Reviews
IFRE has positively been evaluated and reviewed by both alumni volunteers including online reviewing websites like Abroad Reviews with impressive things to report. Striking reviews include, one past volunteer that stated volunteering in teaching English program in Kenya exceeded expectations. Another one said, "IFRE was very supportive and afforded bonus activities while working in the school in Nairobi."
Read 400 IFRE reviews here:
Why we selected IFRE:
This best provider non-profit made our top best 10 list because of their commitment to keep low and affordable prices while not compromising with the quality of teaching English in Kenya program. IFRE also ensures all communities are provided with sustainable programs by donating part of your fees to the community projects. We also loved that they are extremely transparent with the way they spend program fees.
Founded in 2007, Volunteering Solutions is a reputable best provider with high value and cost- effective volunteer opportunities. An award- winning organization they have over 154 programs and hosted over 14,000 volunteers in 26 countries who worked for more than 780,000 combined volunteer hours. VolSol was selected because it has very unique and safe programs and in Kenya it is exceptional.
About Volunteering Solutions Volunteer Teaching Program In Kenya
VolSol offers a great and affordable program in Kenya. In this program, you'll assist with the teaching of different subjects in Kenyan elementary and high schools. You will also work in community schools and orphanage schools to teach English, mathematics, science, geography, social sciences, history, physical education, art, and music. You will have the option to work alongside the teachers, assist them in teaching activities or also teach a class on their own.
The Fee
This provider is famous for its affordable volunteer teaching in Kenya. You will pay an application fee of $250, while a two-week stay will cost $390 or $550 for four-week stay. The fees paid cover for meals, accommodation, field projects, certificate of completion, discount for returning volunteers and in-country support. Flights and insurance are not included in this fee.
Reviews
Positive online reviews of this provider include statements like "a awesome and worthwhile experience" "glad I went to Kenya" "awesome African experience." For a "meaningful … life changing experience overseas," Previous volunteers cannot stop raving about how VolSol's program is impactful and community oriented. Read nearly 400 reviews from past volunteers and see why we also loved them.
Why we selected Volunteering Solutions:
We were attracted to their deep commitment to operate ethically and sustainably, along with unmatched training and support they give to their volunteers. As a best volunteering teaching English in Kenya program provider, VolSol is also affordable with high value programs.
Started in 2007, IVHQ is one of the largest in the industry, currently offering volunteer-abroad opportunities in more than 40 program destinations worldwide across Africa, Asia, North America, Latin America, Europe, the Caribbean, and the Pacific. We loved that the company strives to provide affordable experiences that are legitimate, of high quality, and safe. If you are a first time traveller looking for an organization that will assist you with preparation of the trip abroad then this is the best provider for you. They offer bonus TEFL course online to all volunteers in preparation to volunteer teaching program.
About International Volunteer HQ Volunteer Teaching in Kenya Program
IVHQ has the best teaching volunteer program in Kenya. In this program you have an option to teach in a community or government school in Nairobi. This project is well suited to aspiring teachers as well as volunteers with an interest in education and supporting youth development opportunities in disadvantaged communities. You will do not need to be a qualified or experienced teacher to participate, as work is done under the supervision of local staff. However, you are encouraged to prepare by completing relevant training, such as teaching English as a foreign language (TEFL) course
The Fee
IVHQ offer slow-priced volunteer opportunities in Kenya. Their fees are $279 for program registration, with weekly fees starting at an affordable minimum of $380 for two-week stay at English teaching volunteering program in Kenya. The fee covers your utilities including food and accommodation. It does not cover airfare to Kenya, sightseeing trips, or any such form of transportation.
Reviews
Excellent online reviews include comments like "a priceless experience" "felt supported and safe" "most incredible TEFL online training ever." Past volunteers loved that the programs were high quality and responsibly operated volunteer experience in Kenya. Be sure to look at more reviews here:
Why we selected IVHQ:
This provider was selected because of reasonable rates and exceptional services they offer at the teaching volunteering program in Kenya. The free online course also caught our attention as it prepares volunteers for a life-changing experience. Even thou there are only two options available with this provider in Kenya, past volunteers have confirmed that it is a sustainable and high quality program.
Agape Volunteers, a UK based non-profit organization founded in 2011 and is now running some of the best inexpensive volunteer programs in Kenya, Ghana, Tanzania, and South Africa. What we loved most about this organization is that volunteers with years of experience volunteering across the world ran this organization. As a registered non-profit Agape Volunteers ensures both genuine benefits to communities and an assurance your money is spent wisely.
About Agape Volunteers Teaching Volunteering In Kenya Program
If you want to volunteer by teaching English abroad, then teaching in Kenya gives you a great chance to go and help to provide lessons to children in one of Agape's local partner schools. In this program you'll take teach English, maths or science. Games and sports are another important part of school life, so please be prepared to get involved with these as well. It will change lives positively forever.
The Fee
Agape has one of the most affordable teaching volunteer programs in Kenya. There are no registration fees and there are no differing costs between programs. Two weeks stay at the program will cost you $690 or you can stay for four weeks at a cost of $ 890. The fee covers room, food, and field support. The fee excludes airfare, pocket money.
Reviews
Agape Volunteers is a reputable low-cost volunteer organization in Kenya that manages and runs responsible and meaningful internship programs and volunteer experiences throughout Africa. Many positive online reviews support this statement. You will feel at home immediately with Agape Volunteers, as the staff is extremely welcoming.
Why we selected Agape Volunteers:
We were attracted to Agape Volunteers because they invest back the program money to the communities ensuring that the teaching English volunteering program in Kenya is very sustainable. They are slightly highly priced but take in mind that they have no registration cost which we love.
Love Volunteers was founded by brother-and-sister team Julian and Kelly in 2009. The high fees charged by volunteer-abroad providers were demoralizing so they formed their own organization that would commit to provide economical and transparent volunteer opportunities. Ten years later the company has expanded to 39 countries across the world offering over 150 programs. We love that this best provider gives back 90 percent of program fees to local host organizations.
About Love Volunteers Education Program In Nairobi
This essential Kenya teaching English volunteer program aims to help vulnerable children in Nairobi through giving them a solid education. In this program you'll work within elementary and high schools teaching a variety of subjects. This may include mathematics, science, geography, social sciences, history, business education, English, art and music. Volunteer teachers in Kenya are not required to have teaching experience, however this would of course be advantageous. Your support will help positively change lives of children forever.
Volunteer Teaching in Kenya Fee
Love Volunteer's affordable English teaching program in Kenya charges a registration fee of $299 including $419 for a two-week stay or $629for a four-week stay. The fee covers for your airport pickup, program orientation, food and accommodation, personalized project, pre-departure information and certificate of completion.
Reviews
This organization is known as a very reliable organization therefore, the ratings online are high with adorned reviews such as "children are highly committed " "uncompromised quality" "very safe and respectable host families." Past volunteers love that Love Volunteers is very transparent with the fees and is a well-established company with years of experience. Read more than 400 reviews here:
Why we selected Love Volunteers:
Love Volunteers was selected as best volunteering teaching program in Kenya best provider because all their programs are continuously inspected for positive impact, social responsibility, and safety. Even with limited options in this program, the best part is that it is sustainable because 90% of your program fee is invested back to the schools in Kenya.
Go Eco is a nonprofit and ethical volunteer organization established by Jonathan Gilben and Jonathan Tal. Both founders were volunteers who had travelled the world to numerous destinations working with disadvantaged communities in developing countries. A unique international ecological project later inspired them to establish Go Eco in 2005. We selected this best organization because it ensures that all the programs are environmental friendly.
About Go Eco Village Kindergarten In Rural Kenya Program
This provider has one of the best and affordable volunteer teaching programs in Kenya. When you participate in Go Eco volunteer in Kenya Kindergarten program, you'll assisting teachers as they play games, sing songs and teach English. Your contribution will help teachers give the best education possible to their students, as well as give you a rewarding teaching experience.
Volunteer Teaching in Kenya Fee
Go Eco does not charge a registration fee but offers only a two-week stay program at $770 or a four-week program $1,210. You'll find their prices are definitely a little higher than some other providers on this list. The fee includes airport pick up and departure transport, housing, food, full support throughout your trip, onsite supervision.
Reviews
Go Eco believes that a greater number of volunteers will find volunteer in Kenya in English teaching program interesting and attractive if it is affordable, high quality and also worthwhile. This is the reason why Go Eco is usually the best choice for many volunteers. It also has a large number of happy and satisfied alumni volunteers and has earned positive recognition from many online reviewing websites.
Why we selected Go Eco:
This company stood out because it offers very environmental friendly programs in Kenya. With sustainable and inexpensive volunteer in English teaching program in Kenya, Go Eco supports prospective volunteers to take safe and meaningful programs to positively change the world.
A fully fledged and registered non-profit, Experiential Learning International (ELI) was founded in 2001 and based in US. Since it's inception, ELI has expanded to provide 150 best and affordable programs across the world. We loved that the organization sends over 1,000 volunteers from 41 countries to work with impoverished communities in developing countries. We selected Eli for its reputation to provide safe and impactful programs alongside grassroots.
About Eli Abroad Education Program In Kenya
Eli Abroad offers one of the best and most affordable programs in Kenya. In this program, you'll work in a primary or secondary school in Nakuru. The primary schools are especially in need of English teachers because as an official language in Kenya, students must pass an English proficiency test to move on to secondary school. You can also assist subjects such as math, geography, the sciences, and entrepreneurial classes. In addition you can also assist with extra-curricular activities in order to serve as mentors and role models to the children.
Volunteer Teaching in Kenya Fee
You'll pay $200 registration fee used for the pre-trip planning and support throughout your trip. This volunteer teaching English program in Kenya is quite affordable with a two-week stay at $595, which covers airport pick-up, accommodation, meals and fundraising for the project, and it is paid directly to the projects.
Reviews
This unique volunteer opportunity has left past volunteers raving about their experience. In past reviews, volunteers speak highly of ELI Abroad about the registration process for the volunteer in Kenya teaching program and orientation offered before start of the program. Over 82 reviews can attest to that.
Why we selected ELI Abroad:
As a best provider non-profit this provider fit right in our list forteaching English volunteer program in Kenya providers because they work in conjunction with local communities, providing the program that are needed and required in the community. They are also affordable and provide a high value education program in Kenya.
A non-profit, organization based in the US, Sarah and Oliver Elhers founded A Broader View Volunteers (ABV) in 2007. They started this best provider with the goal to offer in-expensive volunteer-abroad options across the world. Since its inception, ABV has raised more than $4 million for local communities worldwide and offers 245 programs in 25 countries.
About A Broader View Teaching Education Program
A Broader View great and safe English teaching volunteer program in Kenya is in a village school located outside of Mombasa. In this program you will serve orphans, foster children and local village children. You'll support the local teachers with English and math classes; encourage students to learn and play and instill pride in their schooling. You can also assist with the physical upkeep of the school with activities like painting, decorating, mending desks etc. Prior teaching experience is not required, you simply need an open mind, caring spirit and to be compassionate.
The Fee
The fee for Kenya English teaching volunteer program is $ 995 for two weeks and $1,290 for 4 weeks. ABV does not require you to pay a registration fee, which we love because it makes the program cost efficient. This fee covers the marketing and administrative costs including food and accommodation, in country staff service, workshops and program orientation.
Reviews
Previous volunteers have highly recommended this great provider for top quality yet affordable service they provide, and shown their support by leaving amazing and positive reviews. Volunteer Forever has over 230 positive reviews and has rated ABV at 5 stars. Read more here:
Why we selected Broader View:
A Broader View was added to this 10 best list because of the high value of the teaching English in Kenya program and obligation to support local communities. While the programs are little more costly limited their deep commitment to operate ethically and sustainably, along with unmatched training and support, mean you get what you pay for with this organization.
This best provider was founded in 2004 in Zimbabwe. With 15 years of experience African Impact offers the great in-expensive opportunities in more that 12 countries in Africa. An award-winning provider, they have hosted over 12,500 volunteers from all corners of the world. Working with a passionate team they have built, grown and developed hand-in-hand with local African communities over 100 programs since inception.
About African Impact Teaching and Vulnerable Childcare Program In Kenya
African Impact great program offers teaching assistance to vulnerable children in the Limuru community in Kenya, many of whom are orphaned, affected by HIV/AIDS and developmentally challenged. In this program your extra special care and attention will help promote their development in under-staffed, impoverished schools. You'll assist a teacher at a local school in developing new teaching material by combining your fresh, international ideas with the teacher's classroom knowledge.
Volunteer Teaching in Kenya Fee
African Impact does not charge a registration fee, which you should keep in consideration while choosing best provider. However a two-week stay starts at $1,713, while a four-week stay is $2,635. Fees cover accommodations and food, airport pickup and comprehensive pre-departure information including support from local staff. Fees do not include flights, travels and personal expenses.
Reviews
Numerous raving online reviews from content and fulfilled volunteers, give African Impact a 9.4/10 rating on Go Overseas. Previous volunteers in teaching volunteer opportunity in Kenya program have comments range from programs being impactful to working with the local communities and having respectable host families.
Why we selected African Impact:
This provider caught our high because of the knowledge they have when it comes to communities in Kenya and what they need. The prices are high compared to other providers for Kenya teaching volunteering programs, but 80% of your program fees goes back to the communities in Kenya to ensure sustainability of the program, and we loved that about this provider.
Conclusion
This list has presented you with high quality, safe and affordable teaching English volunteer opportunity in Kenya. You may be interested in one or several programs that seem perfect for you. Making a final decision may not be easy but knowing the best options available for you in Kenya is valuable. Choose wisely with no obligation and enjoy your time volunteering in Kenya.
We would love to hear which Kenya volunteer program you selected! Drop us a line or two, in the meantime, Safe travels and enjoy Kenya!
If you are interested to volunteer teaching in any other beautiful country, we have teaching programs available in countries like Tanzania, India, Ecuador, Brazil, Argentina, Peru, Uganda, South Africa, Ghana, Thailand, Bali, Cambodia, Nepal, and Sirlanka