567 Views
10 [Best Cheap]Wildlife Volunteer Opportunities in Costa Rica Providers for 2021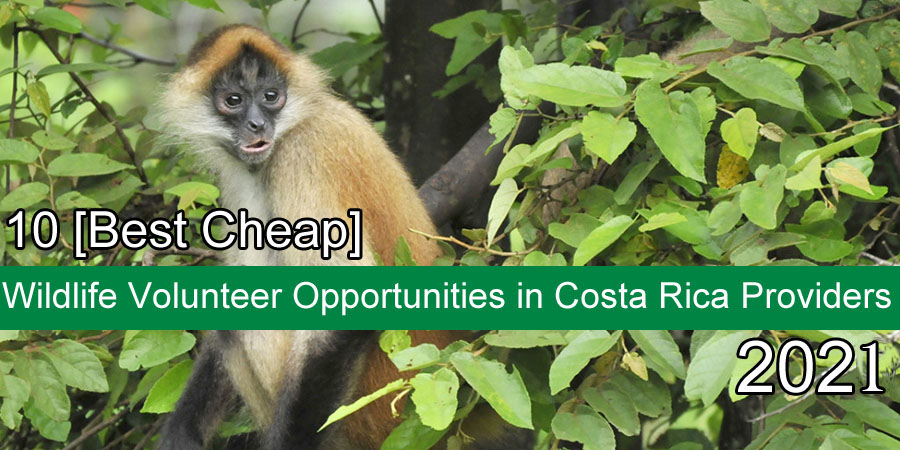 Are you planning to volunteer in Costa Rica and experience delightful beaches and sunshine while giving back to the community? Volunteering in Costa Rica is an exciting and incredible fulfilling opportunity to take up. However it can be overwhelming to find the right program and provider for wildlife conservation volunteering opportunity in Costa Rica.
It can be stressful and time wasting searching the internet for a provider that check all your requirements, and selecting the wrong provider you risk to shatter your dreams for an amazing Costa Rica conservation volunteer experience. For this reason we have summarized the top 10 high value, impactful and affordable wildlife volunteer opportunities in Costa Rica. This guide will save you time and energy to go through multiple browsers. In this article, you will get to:
Select the most affordable volunteer providers for wildlife conservation in Costa Rica
Click on "Get More Info" button below to send an inquiry to all the providers on this list.
Match the costs and programs and choose without obligation the one that fits you best.
Copy our FREE volunteer abroad guide at the end of this article. It an all-inclusive guide for you to know a safe, and impactful volunteer abroad chance.
IFRE Volunteer
IFRE Volunteer was founded in 2006 in Texas, US, and is a fully registered non-profit with a mission to offer the most affordable as well as the highest quality volunteer and humanitarian experience abroad. If you are seeking a meaningful and exciting adventure abroad then this is the right organization for you. They have hosted over 20,000 volunteers in 18 countries around the world. If you are looking for a company that is growing fast, with diverse programs then this is right up your alley.
About IFRE Wildlife Sanctuary Volunteer Program In Costa Rica
IFRE's great project helps rescue, rehabilitate and release wildlife that have suffered injuries or were forced into captivity from the illegal pet trade. In this project you'll improve the animal's quality of life in the sanctuary, feeding, watering, and offering environmental enrichment. In addition you will clean and repair enclosures, offer tours to the public, assist in the rehabilitation and release of injured or confiscated wildlife, plant trees, work in the garden, and help care for orphaned baby wildlife. If you are interested they will teach you the proper way to respect and care for wild animals and allow you to make a direct impact on their quality of life.
The Fee
This organization offers volunteers with some of the most inexpensive fees for wildlife volunteering Costa Rica. Program fees cover your accommodations, meals, airport pick-up and transfer, and the constant support of a local team while in Costa Rica. There is also a one-time registration fee of $299, and weekly program fees start as low as $420 for a two-week stay.
Reviews
IFRE has not received any major negative reviews for their Costa Rica conservation volunteer program, and volunteers report lots of good experiences. They mostly love this provider because they are affordable, with best local support team offering quality and a diverse program. See all the reviews here!
Why We Selected IFRE:
IFRE made a good impression because of the additional value they offer to volunteers and the communities. They are also very affordable with safe and high value wildlife volunteer opportunities in Costa Rica that is well designed to allow you a lot of time travel around Costa Rica.
Love volunteers

Love Volunteers was established in 2009 a by brother-and-sister Julian and Kelly. It is one of the most reputable organizations for young and first time volunteers offering quick and personalized registration dashboard and simple and diverse high value projects in 39 countries in the world. Over the years they have hosted over 100,000 volunteers, sending at least 2,000 each year. What is even more rewarding about best provider is that 90 percent of program fees is reinvested in local host organizations.
About Love Volunteers Wildlife Rescue Volunteer Program In Costa Rica
This fabulous project was developed to simply save animal lives. The Costa Rica conservation Volunteerprogram plays a significant role in helping animal rescue centres continue their wonderful work by supplying a willing volunteer labor force to assist them. You'll improve the future prospects of the indigenous animals of Costa Rica, work to save the lives of vulnerable animals in addition to researching the animals of Costa Rica to learn more about their lives and ultimately, how to protect them.
The Fee
The program fees ranges from $659 for two weeks up to $1,239 for four weeks. The fees cover airport pick-up, orientation, accommodation and meals program supervision, in-country 24/7 volunteer support and administration costs. You'll pay an additional registration fee of $299.
The Reviews
Love Volunteers offers one of the most highly reviewed wildlife volunteer opportunities in Costa Rica. Past participants praise their experience, prices and the ability to learn and work with other like-minded volunteers while in animal rescue program. Read over 450 online positive reviews.
Why We Selected Love Volunteers:
Love Volunteers was selected as best provider for Costa Rica wildlife conservation volunteering program because all their programs are safe and simple with high added value. Even with limited options we loved that the programs are suitable for first timers and very cost effective.
Global Crossroad International Volunteers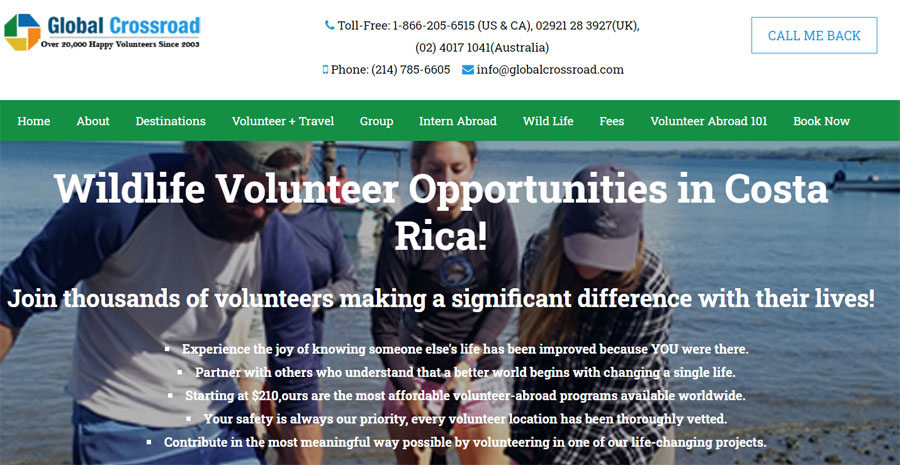 Global Crossroad Volunteers was registered in Dallas, Texas in 2003 and is one of the world's fastest growing international volunteer vacation organizations. It is a BBB accredited organization offering over 200 program in 18 countries located across three continents. From their founding 'till today they have served more than 18,000 volunteers. We were attracted to them because they are highly reviewed by the majority of past volunteers and that they have a low cost and inexpensive volunteering programs.
About Global Crossroad Wildlife Rescue Program In Costa Rica
Global Crossroad has a high-impact program in Costa Rica. In this program you will work in wildlife sanctuary founded in 1994 by Mainor Khayyan and Rodolfo Orozco, two native Costa Ricans with an affinity for animals, especially wild parrots. Volunteering at the wildlife sanctuary in Costa Rica is an incredible opportunity where you will have the chance to work up close and personally with a variety of amazing exotic animals. Your dedication to this inspiring wildlife volunteer project in Costa Rica will truly make a difference in the lives of all the animals that now call the wildlife sanctuary home.
The Fee
Global Crossroad charges a registration fee of $299, in addition to a minimum of a two-week stay at the wildlife sanctuary Costa Rica volunteer program starting at $420, or a four-week stay at $840. Fees cover accommodations and food, airport pickup and comprehensive pre-departure information including support from local staff. Fees do not include flights, travels and personal expenses.
The Reviews
Many volunteers have loved their unique, affordable and independent impactful program with wildlife in Costa Rica Find out more about some personal reflections from past volunteers in the 400 reviews below.
Why We Selected Global Crossroad:
We were attracted to Global Crossroad because of their commitment to operate safe, affordable and sustainable wildlife volunteer opportunities in Costa Rica. As a best animal rescue program provider they ensure that they offer programs that have a longevity, therefore more than 80 percent of the program fee is invested back to the sanctuary.
GVI (USA)
Founded in 1998 and based in the US, GVI runs programs in 21 locations, in 13 countries around the world, each manned by our local staff and aligned to the 17 United Nations Sustainable Development Goals. Their high-quality and sustainable development programs continue to regularly be featured in reputable international and regional publications such as National Geographic, CNN, and Sunday Times. As a best provider they guarantee ethical principles, which we advocate for.
About GVI Jaguar Conservation In Costa Rica Program
GVI's great and unique program is located in Costa Rica's Tortuguero National Park. In this wildlife conservationproject you'll set up and monitor cameras set along the Tortuguero coastline and in the forest, and note any tracks on the beach, to note jaguar abundance in the area. Depending on local partner needs, you might also monitor camera images to build an ID of jaguars in the region and collect data for genetic research. How cool!
The Fee
The minimum time commitment for the wildlife volunteer opportunities in Costa Rica with GVI is two weeks. The cost for this time, with living, food, local support and airport pickup expenses included is $2,750, which makes for a very competitive volunteering opportunity with priceless memories.
Reviews
A solid reputation in Costa Rica and affordable wildlife conservation volunteer opportunities make GVI an excellent choice to trust your adventure with. Past volunteers loved the structure of the programs and the professionalism of GVI.
Learn more about what other volunteers have to say about GVI based on their past experiences:
Why We Selected GVI:
This organization is truly a global family brought together by our dedication to long-term positive impact. They are very successful because of their commitment to investing in authentic, meaningful connections with global organization like the UN. This is the reason this provider topped our list for volunteering Costa Rica wildlife sanctuary.
GoEco (USA) – 2006
Founded in 2003 in US, Go Eco hosts over 1000 volunteers each year offering high value and cheap impactful programs in partnership with local community groups to renowned global organizations. We selected this provider because they are a great and leading Eco-tourism Company with over 150 extraordinary community, wildlife and environmental initiatives all over the world. All their projects are safe and secure to ensure every volunteer experience is impactful.
About GO Eco Animal Rescue and Conservation Volunteer Project In Costa Rica
Go Eco offers the best and very unique program in Costa Rica. You'll help sloths and other indigenous animals at one of several wildlife rescue centers and sanctuaries. In addition you will work closely with indigenous Costa Rican wildlife such as sloths, jaguars, parrots and more and contribute to conservation efforts at one of the region's renowned sanctuaries.
The Fee
Go Eco's opportunity in Costa Rica starts at $990 for two weeks or $1,570 for four weeks. We love that the program is reasonable and does not require a registration fee. The program fee covers for costs such as program inspection, and marketing costs, food, accommodation and airport pickup including local staff support.
Reviews
This is a reputable organization with many positive and raving reviews about animal rescue opportunity. Past volunteers attest to Go Eco offering the most productive volunteer wildlife work opportunities in Costa Rica with transparency. With about 600 reviews Costa Rica program, GoAbroad and GoOverseas rate this provider at an average of 9.5/10. Read all the reviews below:
Why We Selected Go Eco:
After hours of research we selected this award winning organization because of their commitment to offer the greatest and most affordable wildlife volunteer opportunities in Costa Rica. As an award-winning provider, we believe that this organization will offer has the expertise required hosting you.
Project Abroad
Projects Abroad is UK based best providers with over 25 years helping volunteers follow their passion to change the world and make it a better place. We like their hassle-free travel, with secure projects that work to change poor communities around the world. Since inception they have sent worked with 115,000 volunteers on incredible and fulfilling projects in over 20 countries.
About Projects Abroad Birds, Butterflies and Bat Conservation Program In Costa Rica
Projects Abroad animal volunteering experience in Costa Rica is based in beautiful Nicoya peninsula in Costa Rica. You'll work in a government-run conservation reserve, Barra Honda National Park. This is the perfect volunteer opportunity to gain plenty of conservation experience through the work you do. Volunteering with animals abroad will set you apart as someone committed to solving global conservation issues. Your work will include animal conservation trips into underground cave networks to survey bats, reforestation work, and many other activities.
The Fee
Program fees for volunteer Costa Rica wildlife sanctuary does not registration fee. However, the two-week program fee is $2,369 and the four-week fee is $2,927. The fees pay for your housing and meals, airport pickup and transfer, program orientation, in-country support, project personalization, pre-departure information, certificate of completion, emergency assistance, and project equipment.
Reviews
For 25 years Projects Abroad has garnered star-studded online review for wildlife volunteer opportunities in Costa Rica including comments such as "hands-on and supportive" "best mentorship program" and "offers best travel insurance." Past participants praise this provider unparalleled safety precautions and in-country support. Read more here!
Why We Selected Projects Abroad:
What is interesting about this provider is that they may be slightly expensive compared to other organizations but they offer the best travel and international evacuation insurance in Costa Rica. Additionally they provide a defining experience for young people as they move from adolescence into adulthood.
A Broader View (ABV)
A Broader View (ABV) is a US based non-profit organization specializing in in meaningful volunteering abroad travel programs. If you are looking for gap year program, a family volunteers vacation or a life-changing experience overseas, the ABV is the best provider to turn your dreams of volunteering abroad into a reality. Founded in 2007 ABV has donated over $3.5 million to communities in developing countries around the world.
About A Broader View Volunteer in Costa Rica Sloth Mammal Conservation Program
ABV offers a very unique and rare volunteer program on protecting the sloth population in Costa Rica. You will work in a Monitoring Center that provides a unique way for locals and international volunteers to get involved in the conservational efforts. You will be involved in researching the populations and behavior of local mammals including sloths, monkeys, raccoons and anteaters
The Fee
This provider offers the best-valued prices for Costa Rica wildlife conservation volunteering program. No program registration fee is needed with ABV, which we love. A two-week stay program starts at $1,150. The fees cover for costs of host family/hostel accommodation, three meals per day, and services of the local staff members.
Reviews
ABV in Costa Rica is a very reputable with raving online reviews. GoAbroad rates the company at 99 %. Past volunteers were raving about unique program and the flexibility especially for young travellers.
Why We Selected A Broader View:
This provider is best because they not only offer affordable prices for wildlife volunteer opportunities in Costa Rica but also a best non-profit organization for young gap student travellers or people in between careers. We think by engaging this provider you will have a chance to grow and experience culture while saving wildlife in Costa Rica
Global Leadership Adventures (GLA)
Fred Swaniker, a Stanford MBA graduate, founded this best organization in 2003. Originally from Ghana, Fred began dreaming of a way to develop future leaders of Africa, regardless of income. He began by developing the African Leadership Academy, which would offer a world-class education and promote ethical and principled leadership among top high school students from all over the continent. GLA is now offering summer volunteer program in 4 continents and continues to grow!
About Global Leadership Adventures Animal Rescue Volunteer Opportunity In Costa Rica
GLA's great rescue program rescues and rehabilitates animals in Costa Rica. If you are an animal lover looking to make a difference this is a program for you. On this program, you will gain pre-veterinary experience working alongside certified veterinarians and animal rescue experts. Not only will you do compassionate, hands-on work with lovable, furry friends at a dog rescue center, you'll also get to study exotic wildlife species in a country known for its wildlife preservation. In your time off service, experience all the outdoor adventure and natural beauty Costa Rica has to offer.
The Fee
This organization offers competitive prices for volunteering wildlife Costa Rica conservation program that is more like a learning program as well. There is no registration cost for this program, but you'll pay $3,899 with a two-week stay. The fee covers for food, airport pickup accommodation and all cultural activities, lectures and weekend excursions.
Reviews
GLV is perfect for learning students and animal lovers. It is renowned for offering animal rescue programs in Costa Rica and has astounding reviews online. Go Overseas has 298 reviews with a rating of 9.8 /10 satisfaction. It is highly commended by previous volunteers for its highly impactful projects and free training they receive while working in Costa Rica.
Why We Selected Global Leadership Adventures:
GLA offers a fresh, new approach to service learning abroad for intellectually curious and socially oriented teenagers. It is one of the organizations offering wildlife volunteer opportunities in Costa Rica to young teenagers who are curious and brave enough to travel abroad for a good cause. It is pricier than other providers however insurance and evacuation plan are included in the price, in addition to all your local travels in Costa Rica.
Ubelong (USA)- 2009
Founded 2009 by Cedric Hodgeman, Ubelong is based in US and offers volunteer abroad opportunities across the world. This organization attracted us because it is one of the most affordable offering safe and secure programs to young and inexperienced volunteers. If you have a gap year or a university student and would like to make positive and lasting impact on the most critical and environmental challenges, then this is the organization for you.
About Ubelong Animal Rescue Volunteer Opportunity In Costa Rica
Ubelong best program is located in Cartago and it is quite diverse specializing in animal care and caregiving in a rescue center. The center aims to rescue injured and mistreated stray dogs so they can live healthier, better lives and, hopefully, be adopted by loving families. The center also helps raise awareness in Costa Rica about the importance of caring for dogs. In this program you'll help the staff in the daily tasks of the center like bathing and brushing the animals, walking them, playing with them and giving obedience training. Volunteers help with cleaning the kennels and any miscellaneous tasks that come up.
The Fee
You'll pay $295 to register in volunteering in animal rescue program in Costa Rica. A two-week stay at the project is $570 while a four-week stay is $925 one of the most affordable providers in Costa Rica. The fees cover food and accommodation, airport pickup, airport pickup, orientation and in-country support. Airfare, visa fee, vaccinations, insurance and other personal expenses are not included in the program fee.
Reviews
Past Ubelong volunteers have praise the organization the best organized and structured wildlife volunteer opportunities in Costa Rica. Amazing reviews include comments like "I saved animals and it is the greatest achievement of my life" "my experience in Costa Rica is comparable to none."
Read all those good reviews here:
Why We Selected Ubelong:
Ubelong landed on our radar for top 10 best providers because it is the cheapest volunteering Costa Rica wildlife conservation providers. Many reviews also show that despite the low cost the organization does not compromise on the quality of the program. With over 12 years of experience in Costa Rica we are confident that Ubelong will offer you a high-value life changing volunteer opportunity.
Working Abroad
Working Abroad is a great and best provider that runs programs in over 30 countries across the world focusing on wildlife conservation and community development projects. Founded in 1997 it is one of the first volunteer abroad agencies on the web and one of the pioneers in worldwide volunteering abroad. We love this organization because it has a wide range of programs including marine conservation volunteering, wildlife and habitat conservation volunteering, environmental education and ecology.
About Working Abroad Playa Tortuga Conservation Volunteer Project In Costa Rica
Working Abroad offers the best and great turtle conservation project in Costa Rica. In this project you'll work within a non-profit biological research and education center. You will care and protect hatchery and camp, assist project biologist with turtle data collection, monitoring and management including relocating eggs to hatchery or safe location on the beach.
The Fee
This best provider offers affordable wildlife volunteer opportunities in Costa Ricawithout compromising the quality of your experience. There is no registration fee for this program, however you will pay of $883 for a two-week program stay or $1,518 for four-week stay. Program fees cover transportation, program induction, food and accommodation, administrative costs, and project orientation.
Reviews
Working Abroad offers the best volunteer opportunities in Costa Rica with wildlife and past volunteers have attested to it with great and positive reviews. This provider is well recognized and loved by past volunteers that have rated it at 9.5/10 on GoOverseas website. Read all 52 great reviews here:
Why We Selected Working Abroad:
Working Abroad fit all the check boxes on our list for the top best organizations. They are affordable, with years of experience in animal conservation and the environment. Besides the volunteering Costa Rica animal conservation program being unique it offers you an experience to volunteer and learn more from professional local staff. It's a multiple win and we love it.
Conclusion
This guide you have read above was intended to provide you with an overview of the best rated, high-value and cheap wildlife volunteer opportunities in Costa Rica Now that we tried to help you by researching different companies, the final decision is still up to you, with no obligation!
Ensure that the company you choose communicates well with you during all stages of the application. And don't forget to keep us posted after your trip in Costa Rica.
If you are interested to volunteer in any other beautiful country, check out these articles that explain best cheap volunteer program providers in Nepal , SriLanka , India , Bali , Cambodia,Tanzania , Ghana , Kenya, SouthAfrica , Brazil, Peru , Ecuador, Guatemala, Mexico, Uganda , Costa Rica , and Thailand. Get idea about scholarship volunteering by reading our 50 Best Volunteer Abroad Scholarships 2020. Check out our High School Volunteer Abroad program providers to find best affordable program for high scholars.