Alan Tours
Headquarters
South Africa
With experience forged and tempered under the African sun in some of Southern Africa's more remote and prestigious game reserves, the expertise of qualified FGASA (Field Guides Association of Southern Africa) and cultural guides who specialize in all aspects of the diversity of our country. We provide a depth of insight into our modern culture and the historical context of South Africa as it is today.
Spend quiet evenings in remote destinations where the only sounds are those of the natural world around you. Sit out under jewel encrusted skies, the crackle of the wood fire throwing shadows, while the scent of the wood smoke and the traditional braai (barbecue) sizzling on the open fire, combine to stimulate a hunger born of an exciting day on the African veld. Listen to fireside tales of adventure and excitement, mirth and myth that will hold you spell bound late into the night when you will be ready for a comfortable nights rest in superb accommodation.
Reviews
Write a review for ""
5 Alan Tours Programs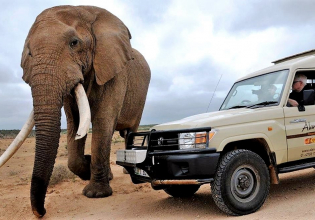 Destinations

South Africa

STARTS/ ENDS IN

Port Elizabeth / Port Elizabeth

Travel Styles:

Active and Outdoor, Adventure, Wildlife, Landscapes & Nature...

See More

Operator
From
$
1131
Duration

3 days