Andes Salt Expeditions was founded in 1986 by Braulio Mamani, a descendant of a mining family and has been a miner. Pioneer as guide of the mines in the rich hill of Potosí, Uyuni salt flats , colored lagoons to more than 100,000 tourists visitors from all over the world. It is a universally recommended long-standing guide, with more than 36 years of experience of the mines, salt flats of Uyuni colored lagoons of the south west of Potosí, with experience and background qualifies it for the hard and demanding work to found Andes Salt Expeditions tour operator receptive tourism invites you to know the spectacular landscape of the Uyuni salt lake, colored lagoons that is one of the most spectacular wonders isolated from Bolivia. Our services are guaranteed with our professional team and Andes Salt Expeditions is definitely the best option, we are ready to continue to serve you tourist routes created to suit your interest.
The amazing salt flat and color lagoon tour includes hostel with private toilet, English speaking guide is operated by our company Andes Salt Expeditions, with daily departures, company with good reputation for more than 32 years of experience.
The purpose of our company is to provide an excellent service of good quality with programs that have as destination the great salt flat of Uyuni and colored lagoons, starting from Uyuni, ending in san Pedro de Atacama Chile or returning to Uyuni; For this our company has offices in Uyuni, Potosí city with logistic conditions to travel beautiful landscapes of 1000 km, Toyota vehicles land cruiser, Nisan Patrol 4x4WD transport conditioned for difficult access roads, with a permanent preventive , Corrective maintenance of the vehicles with professional mechanics, hostels and hotels for overnight of 3,4 stars, such as being hotel of salt Luna Salada, Hotel Palacio de Sal, Hotel de sal Cristal Samaña and line hotels Tayca with service of restaurant, Heating, hot water, wifi, with private baths based on double beds, matrimonial, triple, quadruples, as well as trained guides in Spanish, English, French, drivers / mechanics, bilingual guides for tasks and eventualities that arise in The journey. At the head of its director Braulio Raul Mamani with much experience.
Where the roads are more rugged and the route is made at an average of 3660 4,500 meters above sea level high, with a fleet of vehicles TOYOTA LAND CRUSSIER, NISAN PATROL 4X4WD.
Welcome to Andes Salt Expeditions, to share our experience of 32 years of service in the salt flat of Uyuni and colored lagoons so that they can enjoy, with 6 consecutive ,awards of certifications of excellence of quality service by TRIPADVISOR 2015-2021.
The company, renowned for its good service by the South American Handbook books, Petit fute Bolivia, TripAdvisor who took over as leader in the salt flats and colored lagoons of lipez of Potosi and interconnected to salt hotels, like hotel luna Salada, Palace of salt, hotel Tayca, toasting a good service according to the request and comfort of our clients.
Reviews
Write a review for ""
1 Andes Salt Expeditions Programs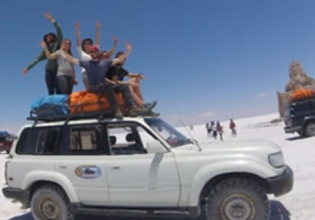 Destinations

Bolivia

Travel Styles:

Active and Outdoor, Adventure, Jeep & 4WD, Sightseeing Tours...

See More

Operator