Catch the Island spirit and get ready to paint the town red. The Kukoo Kunuku is all about making new friends while having fun. Every evening we celebrate birthdays, anniversaries, honeymoons and the end to many a lazy day in Paradise. From a champagne toast at sunset to a casual Caribbean dinner to a parranda (party on wheels) as we visit our favorite bars in Aruba, clubs and watering holes, the party is all about you. During the day you can see the Kukoo Kunuku cruising city streets and wandering down country roads on its island tour.
Our guests come from all over the world and are all ages, both young and old it is the perfect way for the old and the reckless and the young and the restless to spend an evening in paradise. Hop aboard the Kukoo Kunuku for an evening of fun and entertainment or a day full of adventure. Don't miss the bus!
Reviews
Write a review for ""
1 Kukoo Kunuku Programs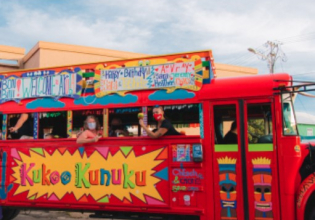 Destinations

Aruba

Travel Styles:

City Sightseeing, Beer and Drinks, Party and Nightlife

Operator