About
Outward Bound Costa Rica inspires a lifetime of leadership, growth, and a commitment to serve through adventure-based learning. Since 1994, led by highly skilled and safety-conscious staff, we have delivered experiential education courses, utilizing Costa Rica, Panama, and Nicaragua's tropical rivers, reefs, and rainforests to help participants discover their hidden potential, and move beyond what they thought possible.
We believe that the development of leadership skills, service experience, self-esteem and self-confidence is paramount for students and adults to thrive—in the classroom, in the workplace, in their family and in the world. Our courses encourage participants to value each other's strengths and differences and to live, work, and learn as a team. We provide opportunities for individuals to challenge themselves and to succeed. Our educational model is based on 70+ years of teaching through experiential learning.
These five core principles are central to every Outward Bound Costa Rica course. They allow us to provide authentic adventures, with participants being challenged to step outside of their comfort zone:
ADVENTURE & CHALLENGE
We believe that challenge and providing adventure within the context of our environment are fundamental to personal growth and satisfaction. During our adventurous outdoor activities, participants overcome physical and mental challenges and are encouraged to take responsibility for themselves and their team, developing life-skills along the way.
LEARNING THROUGH EXPERIENCE
We believe that people grow and learn best by doing. Experiential learning connects us to our natural world and is an integral part of personal development. Our expeditions are designed to increase curiosity, experimentation, and participation in learning situations, helping participants develop their leadership style and teambuilding skills.
COMPASSION & SERVICE
We believe that service to others is exercised through compassion, action, and words, and that it should be a part of the daily life of all people. As part of our group development, participants build interpersonal skills and learn to exercise tolerance and cooperation in order to create a sense of community in their team, mirroring the outside world.
PERSONAL & SOCIAL RESPONSIBILITY
We believe that social responsibility begins with the self and extends to our family, work, community, and world. During our programs, groups engage in social and environmental service projects and are immersed in local communities, helping participants evaluate their impact on society, both locally and globally.
ENVIRONMENTAL INTEGRATION
We believe that personal wellness is achievable through building holistic connections between the self and the environment. Our unique locations allow participants to focus on their immediate surroundings, without external distractions, and gain a greater respect for the natural world.
Reviews
Write a review for ""
1 Outward Bound Costa Rica Programs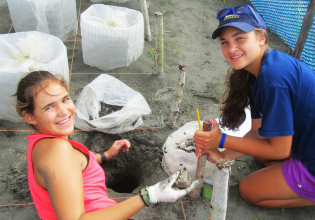 Destinations

Costa Rica

Age Range

13 / 18 Years

Project Types:

Sea Turtle and Marine Conservation, Environmental Conservati...

See More

Operator