Founded in 2014, Overland Ireland was the brainchild of avid adventurers Clodagh and Reinier. After overlanding, touring and guiding ourselves across the world, we believed we had all the ingredients to offer a magical product to tourists visiting the Emerald Isle.
Our love for the great outdoors, Irish culture, history, music, and the craic inspired us to share every part of the Island. We've gone off-the-beaten-track and found some incredible hidden and not-so-hidden gems. We want to share this incredible country with the rest of the world and our range of small group tours in Ireland has been crafted with a lot of care and attention.
Every year, we continue to welcome hundreds of new friends from all corners of the world, and we help them discover and explore Ireland in ways they never could on their own, whether it's part of our Ultimate Ireland Tour, our Ireland to Island Tour taking in Skellig Michael, or one of our Self-Drive Experiences, we take great pride and pleasure in showing off the best parts of Ireland!
Team Overland believes that big things come in small packages. Our small group tours concentrate on offering big experiences to all our guests. We know individual attention and care is key to making every customer's holiday unique, exciting and unforgettable.
Reviews
Write a review for ""
1 Overland Ireland Programs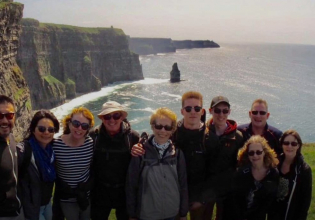 Destinations

Ireland

Travel Styles:

Tours and Travel, Art and Architecture, City Sightseeing, Co...

See More

Operator
From
$
1155
Duration

5 days