Phuket Sail Tours is a fully-fledged boat tour company based in Phuket, Thailand. The company was started in 2004 as a small family-owned business. They offer marvelous island tours from Phuket to Khao Lak in the Andaman Sea. The company offers tours for small groups with a maximum of 20 members as they believe in providing quality services, individual attention and ensuring maximum enjoyment for travelers.
Through the boat tours, Phuket Sail Tours aims to help travelers discover and experience many beautiful islands and beaches in Thailand like Kho Phi Phi and the surrounding islands of Maya Bay, Phang Nga Bay, James Bond Island, Monkey Beach, Phi Phi and Phang Nga Bay National Parks. The tours will take you through crystal-clear waters, sea caves, hidden lagoons and much more. They have a range of boats like speedboats, sail boats, big boats as well as dinner cruises and private charters. The company is fully committed to the safety of its travelers and they have well-trained guides who are also proficient in First Aid.
Join the community of travelers who have already been to Thailand. Read Phuket Sail Tours Reviews and share your own experiences on TravellersQuest.
Reviews
Write a review for ""
1 Phuket Sail Tours Programs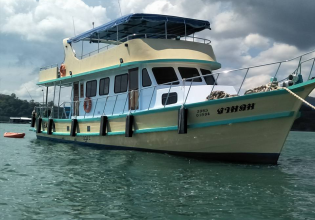 Destinations

Thailand

STARTS/ ENDS IN

Ao Por Public Pier / Ao Por Public Pier

Age Range

3 + Years

Travel Styles:

Active and Outdoor, Adventure, Local Boat Rides, Ocean Cruis...

See More

Operator