Your Aruban Friend Frankie expanded its services and is now operating as RockaBeach Tours. We offer a variety of tours including our well known UTV & ATV Adventure Tours & Unguided UTV & ATV Rentals, The 4×4 Jeep Wrangler Tour, Half Island Beach Bus Tour, Full Island Truck Tour with the highest view on the island!
Our team members Joe 'aka Crazy Joe', Camilo, Mark & Jersey are all professional certified tour guides with a great sense of humor and knowledge of Aruba's history, culture, geology, and flora & fauna. They're more than happy to give you the most exceptional and informative tours around the island. Our mission is that you leave the island with great memories and wonderful stories to take back home.
Read 1 Reviews
Write a review for ""
Great

We did a family tour with our 13 and 15 year old kids and they loved it. Jersey and Moe were great. Get the goggles and face covers, money well spent. Great afternoon and for the price it was above my expectations.
1 RockaBeach Tours Programs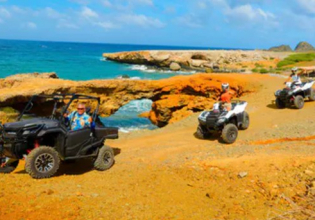 Destinations

Aruba

Travel Styles:

Active and Outdoor, Adventure, Sightseeing Tours

Operator