Sam Tour China is a well-established travel company in China. They have been in the tourism business since 1992. The company is managed by a reliable and professional travel team who are passionate about travel themselves and know all about the best destinations, people and culture. Their combined expertise has enabled them to create unique and unforgettable tours that will provide travelers with wonderful memories. All their tours are carefully designed with great attention to detail and provide value for the customer.
Sam Tour China has partnered with other travel service providers such as airlines, trains, hotels and specialized tour operators to provide holistic travels services. They cater to many regions in China such as Sichuan, Yunnan, Guizhou, Guangxi and Tibet and famous cities like Beijing, Cheng Du, Gui Lin, Xi an and Shanghai among others. The company offers a wide range of travel opportunities and some of their best tours are Panda Experiences, Qingcheng and Dujiangyan Irrigation System, Sichuan Culture Show with Hot Pot Dinner and trip to the Leshan Grand Buddha.
Are you keen on discovering China with Sam Tour China or have you already completed your journey? You can read Sam Tour China Reviews on TravellersQuest and also share stories from your own trip (once you go) by writing a review on our platform.
Reviews
Write a review for ""
1 Sam Tour China Programs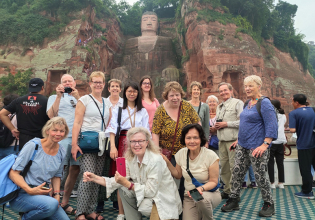 Destinations

China

Age Range

2 + Years

Travel Styles:

Tours and Travel, Adventure and Sports Activities, Active an...

See More

Operator