Signature Tours is one of the most reputable tours operating agencies in Argentina. The company is proud of its team of experienced and knowledgeable travel specialists committed to delivering a supreme quality assistance to make holiday an exceptional and enriching one. Signature Tours' every itinerary, transportation, and accommodation are carefully designed and thoroughly vetted for your safety, comfort, and maximum satisfaction.
Signature Tours operates a wealth of high-quality Argentina travel opportunities, allowing you to explore the best attractions- nature, culture, history, arts & crafts, wildlife, nightlife and more. Besides, you can also involve in exciting and adventurous activities if you are an adventure seeker. The highly committed guides can place the best package addressing all types of your travel requirements, budget, and time-frame.
Write a review of Signatures Tours and enhance future travellers if you have visited Argentina with them previously. Or, you can learn more about this Argentina tour operator by reading the reviews below if you are planning a trip with them in future.
Reviews
Write a review for ""
2 Signature Tours Programs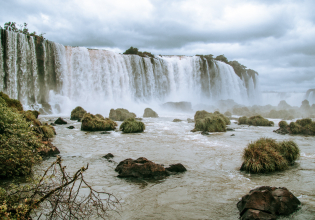 Destinations

Argentina

STARTS/ ENDS IN

Puerto Iguazu / Puerto Iguazu

Age Range

1 / 99 Years

Travel Styles:

Tours and Travel, Adventure and Sports Activities, Active an...

See More

Operator
From
$
500
Duration

3 days
Destinations

Colombia

Age Range

1 + Years

Travel Styles:

Tours and Travel, Active and Outdoor, Sightseeing, Attractio...

See More

Operator
From
$
560
Duration

5 days