Iran is different from anywhere else. The expansion of the tourism industry has seen many destinations reach saturation point, which has led people to seek new destinations that remains truly different from where they came.
Iran provides that. Whether it is the culture and traditions that have developed over 5,000 years, some of which are national and some of which remain regional, all of them remain for tourists to engage with, be challenged by and learn from.
Whilst some are now seeking to build walls and put up barriers, Iran is inviting people in. It is open wand wants to open further, it is changing and offers people an experience they will not experience elsewhere.
Our travelers choose us for
SURFIRAN is an Iranian tour operator and travel agency offering tour packages to those interested in Iran. We provide our travellers with any services needed to travel in Iran, be that tours across the country, help with visa or transport arrangements.
The places you'll stay
Unique, authentic accommodation is one of our priorities; from luxury hotels to the camps in the desert and along waterways and boutique city hotels.
Knowledge and expertise
The value added of SURFIRAN's offering is its knowledge and expertise, competitive rates, and specialty a focus on cultural travel, which translates into increased satisfaction for the customer.
Our tailor-made touch
While we offer a range of scheduled trips, our tailor-made journeys are what we do best. Our resources and experience mean your adventure can be all you dreamed about and more.
Experiences designed for you
Whether you're after wildlife and wilderness, culture and heritage, an active adventure or simply a unique experience, we know how to create an extraordinary itinerary.
We know that every one of our travelers' is unique, and so is every journey. Our travel designers have personally visited the regions they specialize in, and have expert knowledge to tailor any journey to suit your trip style.
Our leaders on the ground
Our guides are archaeologists, mountaineers, conservationists, photographers, and more, so you'll always be safe and surrounded by passionate and knowledgeable company.
We pride ourselves in the extensive, firsthand knowledge and personalized service our team of experts can offer.
You can rest assured that you will be accompanied by the best local guides and escorts, offering unparalleled local knowledge to bring each location to life.
Our Promise to You
Our reputation is built on providing quality service with real personal touches.
Read 1 Reviews
Write a review for ""
Bad customer support

Tried to contact them but they ignored me

How this program can be improved?

invest more on customer service
1 SURFIRAN Programs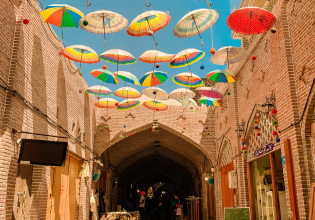 From
$
1414
Duration

7 days