Trekking Planner Nepal is a Nepal based Government registered tour provider involved in providing enriched and unforgettable experiences for travellers from across the world. This tour operator is owned and managed by travel veterans that have over 20 years of experience. All of their staff members are dedicated to offering you safe and well managed trips in and around the Himalaya. The tours and trekking packages are operated in multiple languages including English, French, and German. Trekking Planner is registered with the Government of Nepal, Trekking Agencies Association of Nepal, Nepal Mountaineering Association and the Kathmandu Environmental Education Project.
Trekking Planner Nepal offers its adventure travel packages in Nepal, Tibet and Bhutan. In Nepal, it offers a variety of trekking and travel packages like Everest trekking, Annapurna trekking, Langtang trekking, cultural, spiritual, heritage, yoga, sightseeing, heli tours and adventure sport packages like rafting, paragliding, bungee, rock climbing, and many more. Likewise, Trekking planner also operates amazing tour packages in Bhutan and Tibet.
If you have travelled with Trekking Planner and would like to write a review, you can do so below. Read real reviews of Trekking Planner below if you are about to tour with this company.
Reviews
Write a review for ""
1 Trekking Planner Programs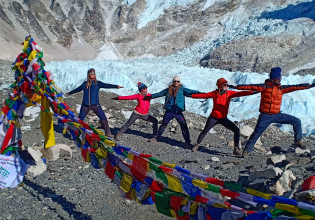 Destinations

Nepal

STARTS/ ENDS IN

Kathmandu / Kathmandu

Age Range

16 / 75 Years

Travel Styles:

Active and Outdoor, Adventure, Trekking, City Sightseeing, S...

See More

Operator
From
$
1709
Duration

15 days