Accessible Adventure Pvt. Ltd
Accessible Adventure has more than two decades of experience in planning adventure holidays in the Himalayas. We specialize in organizing small group tours, and private and tailor-made holidays designed to match your needs. Our trips are fully supported and we offer personalized service to our clients. The care and attention that we put into your trip ensure that your holiday is more enriching and satisfying. Besides, with our experts' help, you can tailor and customize your perfect trip designed around your requirements.
Journeys to the Himalayas are filled with adventure and inspiration. Join us and discover the mystical Shangri Las of the Himalayas – Nepal, Bhutan, and Tibet, and colorful and diverse India. You can choose to travel to a single country or multiple destinations.
Our unique holiday experiences include trekking and hiking adventures and challenging peak climbing expeditions. Our culture and heritage tours and helicopter tours offer you a grand and insightful perspective of the Himalayas. We cater to all kinds of travelers – from intrepid adventurers to families with kids, the elderly, and solo female travelers.
Discover the Himalayas with us. We will take you where you want to go. Why not join us for an adventure of a lifetime?
Read 1 Reviews
Click here to write a review for Accessible Adventure Pvt. Ltd or select program to write a review for specific program.
Write a review for ""
Annapurna circuit trek

My girlfriend and I just returned from a 14-day Annapurna Circuit Trek with Accessible Adventure. I honestly cannot suggest it highly enough. Our guide (Shiva) and porter (Ganesh) were fantastic and made the trip unforgettable for us. They both spoke good English, making conversation simple, and they both had a terrific sense of humour, making the trip extremely enjoyable. We learned so much about the region from Shiva's depth of information and felt confident in his enormous expertise. He took care of everything for us (from meals to lodgings to permission inspections), so we could simply relax and enjoy the event.Ganesh also made sure we had all we needed and was a great source of laughter while we played local card games! He was a pleasure to deal with and took great delight in his job. The view was breathtaking and well exceeded my expectations. The program is carefully planned out and provides lots of balance throughout. Himal checked in with us every day to make sure we were okay, which put us at rest. He did all in his ability to ensure that we were content during the journey.
10 Accessible Adventure Pvt. Ltd Programs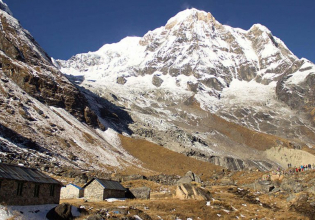 Destinations

Nepal

STARTS/ ENDS IN

Nepal / Nepal

Age Range

5 / 78 Years

Travel Styles:

Countryside and Village Visits, Culture Shows & Excursions,...

See More

Operator
From
$
760
Duration

9 days