About
AIM Abroad is a Community Interest Volunteer Company affiliated with Global Orphanage Trust in India. AIM Abroad works to provide volunteering opportunities in India for people who want to offer their services and travel with a grassroots organization. We realize that your skills and interest in helping the needy are valuable assets, which will support these struggling communities in India.
Volunteers with Aim Abroad have the opportunity to get a glimpse into the local people's lives, experience their hospitality, and see the smiles with which they battle their poverty. Volunteers are needed in areas where a great amount of personal contribution is necessary such as teaching, care for orphans, and helping the disabled. As a foreigner, you can bring new aspects and modern knowledge into local grassroots organizations' work and unforgettable memories into the lives for whom you would work. You will notice the curiosity with which deprived Indian children will approach you with their enthusiastic questions.
AIM Abroad offers the following programs.
Teaching
Care for orphans (mainly girls)
Medical - Health Care Program
Work with Special Need Children
Assist rural women
Reviews
Write a review for ""
1 Aim Abroad Programs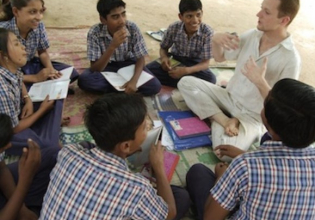 Destinations

India

Age Range

18 + Years

Project Types:

Teaching English, Youth Development

Operator