Foot Slopes Tours and Safaris
About
Tanzania Safari | We are top-notch Tanzania Safari Tour Operators based in Arusha for Safari in Tanzania. We specializing in Tanzania family Safari Packages, Honeymoon Safaris, Serengeti Great Migration Safari, Photography Safaris, Private Wildlife Safari, Mountain Trekking, and hiking (Kilimanjaro and Mount Meru).
Our Tanzania Safari Holiday Packages we offer is for a world-class experience you will never forget. With a strong team, we guarantee the best services for you. We are top-rated online with 5star rating Reviews on TripAdvisor.
We recommend you book and pay your Safari before arriving in Tanzania if you expect to travel to the most popular destinations during high seasons like Serengeti National Park, Ngorongoro crater, Kilimanjaro, and protected areas.
Alongside we are experts in organizing the best Tanzania Budget Camping Safaris, Lodge Safaris Packages with the best price guarantee). Tanzania Safari Tours from 1Day- 2Day Safaris, 3- 4 Days Tanzania Safari Serengeti, and 5-7 Days African Safari Tour Packages from Arusha, Serengeti, Ngorongoro, Tarangire, Lake Manyara, Lake Eyasi or Natron + Kilimanjaro National park or 5 weeks Safaris). Individual custom honeymoon adventures, student's cultural-services, to share a beautiful experience or family stays.
Read 2 Reviews
Click here to write a review for Foot Slopes Tours and Safaris or select program to write a review for specific program.
Write a review for ""
A balanced safari that covers all the good spots

I went on a 4 day safari with Footslopes and had a great experience. All the co-travelers were really nice and we developed a wonderful rapport with each other. The driver, cook and guide that joined us were also great. They explained to us the ways and lifestyles of the beautiful wild animals and gave us plenty of time to take photos. We went to Serengeti, Ngorongoro and Tarangire wildlife parks and saw all the big five plus many others.
1 Foot Slopes Tours and Safaris Programs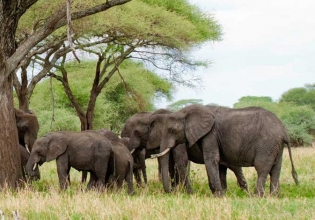 Destinations

Tanzania

STARTS/ ENDS IN

Arusha / Arsha

Age Range

2 / 100 Years

Travel Styles:

Adventure, Bird Watching, National Parks, Nature and Bush Wa...

See More

Operator
From
$
1420
Duration

4 days