Nepal Mother House Treks & Expedition Pvt. Ltd.
Dear Traveler,
Welcome to Himalaya Kingdom Nepal, known as the roof of the World "Mt. Everest". Nepal has been named as a Heaven on Earth, is a wonder in the Himalayas. It is the Shangri-La, a living cultural Museum, the birthplace of the Lord Buddha and is the country of living Goddess.
We would like to introduce you that Nepal Mother House Treks and Expedition Pvt. Ltd. Company as one of the leading local trekking agencies in Nepal. We are the Government authorization local company of Nepal, the Ministry of Culture, Tourism and Civil Aviation, and are an active member of TAAN (Trekking Agents Association of Nepal), NMA (Nepal Mountaineering Association), KEEP (Kathmandu Environment Education Project), and NTB (Nepal Tourism Board).
Nepal Mother House Treks Company has been established to provide excellent and quality service in Nepal. At Mother House Treks, we are a young and dynamic professional team that successfully organizes every Trekking, Tour, Hiking, Short and Luxury Trekking, Day Hiking, including Adventure Outdoor Activities such as; Peak Climbing, Expedition by local expert Leaders, Guide, porters, and other staff.
Moreover, we are specialized in World Heritage Sightseeing Tour, Historical and Religious Tour, White Water Rafting, Jungle Safari, Buddhist Pilgrims Tour, Hindu Pilgrims tour, Meditation Tour, Yoga Tour, Shamanism Healing Tour and Mountain Biking, Hotel reservations in Nepal per as every individual traveler's requirements. However, we also offer exciting and exhilarating tours in Tibet and Bhutan as neighbors. Our goal is to provide a lifetime experience for our customers. Your satisfaction is a pleasure! Let us make your time in Nepal an experience you will never forget.
Reviews
Click here to write a review for Nepal Mother House Treks & Expedition Pvt. Ltd. or select program to write a review for specific program.
Write a review for ""
2 Nepal Mother House Treks & Expedition Pvt. Ltd. Programs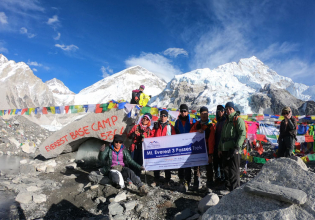 Destinations

Nepal

STARTS/ ENDS IN

Kathmandu / Kathmandu

Age Range

17 / 75 Years

Travel Styles:

Adventure, Climbing, Hiking, Trekking, City Sightseeing, Cou...

See More

Operator
From
$
1403
Duration

14 days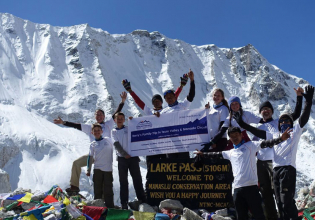 Destinations

Nepal

STARTS/ ENDS IN

Kathmandu / Kathmandu

Age Range

9 / 75 Years

Travel Styles:

Adventure, Hiking, Trekking, Cultural, Religious & Historic...

See More

Operator
From
$
1005
$
975
Duration

11 days