Palm Lanka Tours and Travels (PL) is based in Negombo, Sri Lanka and has been running tours and travel services all over Sri Lanka. The company has an expert team who have over 15 years of experience leading tours all over Sri Lanka. They are also experts at leading private tours and crafting personalized tours. The company guides and drivers are all licensed under Sri Lanka Tourist Board. They ensure comfort and security of travelers while helping them discover the most interesting places.
Palm Lanka Tours and Travels offers a huge range of tour and travel services in Sri Lanka ranging from day tours and round tours to multi-day tours. They are there to assist in every step of the traveler's journey to Sri Lanka and are committed to meeting all their requirements related to not only tours but with transportation and hotel bookings. Whether you want to explore the ancient ruins or the city life or relax in peaceful beach or experience the culture of Sri Lanka, they are always at your disposal to provide the best.
Learn first-hand account from travelers by reading Palm Lanka Tours and Travels and plan a memorable holiday. If you have travelled to Sri Lanka already, do leave a review about your trip.
Reviews
Write a review for ""
1 Palm Lanka Tours Programs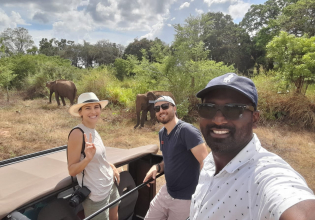 Destinations

Sri Lanka

STARTS/ ENDS IN

Sri Lanka / Sri Lanka

Age Range

2 / 80 Years

Travel Styles:

Active and Outdoor, Climbing, Art and Architecture, City Sig...

See More

Operator
From
$
905
Duration

7 days