Volunteer Action for Change Kenya
About
We are a development platform created by Kenyan Youths to enhance the process of sustainable service delivery at the local community level.
VACK aims to inspire youth and women in particular to actively participate in the development process through skills development, empowerment and support for the implementation of local initiatives. Our services are realized through voluntary exchange, leadership development, development cooperation, intercultural exchange, community service, non-formal education, empowerment programs.
VACK was founded in 2013 and officially registered in 2015 with the full mandate to address the socioeconomic challenges faced by local communities across Kenya.VACK delivers services in education, health, leadership training, enterprise development, ICT development and agriculture; assisting young people in their personal and socioeconomic development, so as to encourage self- confidence helping young people to participate in the life of the unit, to express their views and play an active part in their planning and management of their own activities. We also enhance the development of the entrepreneurial skills of youths especially from rural areas so as to enhance their employability at the local level.
VACK also organize events in Kenya whose aim is to enable the stakeholders understand the development need of women/young people, chart a way forward and come up with initiatives that engage them constructively. VACK also offer consulting services aimed at enabling women/young people initiatives get financial funds from partners, in the long run our goal is to set up a revolving fund that will assist women/young innovators and social entrepreneurs be able to implement their ideas thus securing employment.
Our Mission
To improve and spearhead the safe and well being of the communities we serve through volunteering interventions.
Our Vision
Volunteerism for uncompromising sustainable development.
Our Goals
Improve the skills capacity of youth & women
Develop & promote viable voluntary opportunities
Promote responsible attitudes among the youth
Mobilize resources for the development of community initiatives
Promote the delivery of sustainable services in local communities
To create a pool of social entrepreneurs readily willing to assist in addressing the local socioeconomic challenges.
Reviews
Click here to write a review for Volunteer Action for Change Kenya or select program to write a review for specific program.
Write a review for ""
1 Volunteer Action for Change Kenya Programs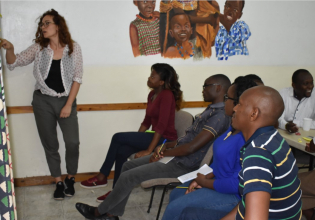 Destinations

Kenya

Age Range

18 + Years

Project Types:

Women Empowerment, Community Development, Human Rights, Education

Operator