Rising Adventure believes in responsible tourism. We are a well-established company and engaging in the tourism sector for many years. Our main concern is to provide the best and best quality services ever possible. Our services are trekking, tours, mountaineering, jungle safari, rafting, ultra-light flight, mountain flight, paragliding, and others. We sell them at a very reasonable cost, though; we have the price–range services.
Safety and Satisfaction are our mottoes. We designed your trip itineraries concerning your demand and conditions. The trekkers can enjoy the hassle-free trip as our schedule includes a sufficient rest day for having acclimatized properly. We use authentic licensed guides and porters who are professionally trained and always ready with the first aid kits. Besides, most of our outdoor staff are from the hilly region of Nepal so; their experiences for guiding on the adventure areas are enough. We also provide the oxygen cylinder and PAC bags on request.
During your travel, our company takes every responsibility that is included in your trip package. For instance, your accommodation, food, transportation, guiding, and so on. Anyway, our services are noteworthy as we respect your valued time and hard-earned money.
We also assure you that the paid money in advance for confirming your travel is safe with us as our company is fully authorized by the Nepal Government and registered at Registrar Company Office, Nepal Tourism Board, Tourism and Civil Aviation Department, Taxation Office, Nepal National Bank, and Industry Department.
At last, every member of Rising Adventure is experienced and trained. All are very attentive at their work. We provide 24/7 services and respond to your email promptly.
Reviews
Write a review for ""
2 Rising Adventure Programs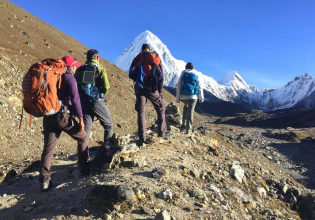 Destinations

Nepal

STARTS/ ENDS IN

kathmandu / kathmandu

Age Range

12 / 100 Years

Travel Styles:

Adventure and Sports Activities, Adventure, Climbing, Trekki...

See More

Operator
From
$
1310
Duration

14 days
Destinations

Nepal

STARTS/ ENDS IN

kathmandu / kathmandu

Age Range

8 / 99 Years

Travel Styles:

Adventure and Sports Activities, Active and Outdoor, Art and...

See More

Operator
From
$
1060
Duration

1 day