100+ Restaurants Open on Christmas 2023 | TravellersQuest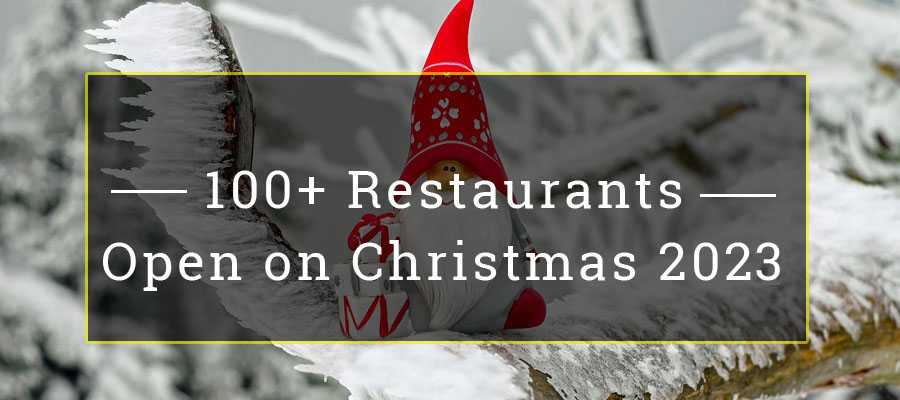 Do you ever wish that more restaurants were open on the holidays? Have you ever wondered what restaurants are open on Christmas near me?
Between hours of holiday shopping, decorating the tree with kids, entertaining party guests, and singing cheerful carols–we pour a lot of energy into celebrating Christmas. Every year, more and more restaurants serve meals throughout the holiday season to support hungry diners hoping to avoid their home kitchens. So whether you can't quite muster up the energy to cook a big meal, don't celebrate Christmas festivities at all, or just want to treat your loved ones to a fancy holiday feast, we have compiled a list of restaurants open on Christmas to gift you one less thing to think about!
In this article, we cover a variety of restaurants that may serve food for a full 24 hours, part of the day, on Christmas eve, or for all three Christmas day meals. We'll focus on national chain restaurants because they are the most applicable to our wide-ranged audience, but you should check your local news website to see which independent and family-owned restaurants are open in your area as well.
As you review this article, please keep in mind that local holiday hours may vary by location so its always best to call ahead and confirm opening and closing hours.
Table of Contents
Fast Food Restaurants Open on Christmas
Who doesn't love some good quick eats? Weather you just don't feel like cooking this Christmas or need an energy boost before visiting with family and friends, we've included this list of fast food restaurants that will be open for your holiday needs.
Starbucks
Hours at Starbucks on Christmas day may be modified, but come Christmas Eve and Christmas day, this reliable restaurant will be ready to serve you breakfast, lunch, dinner, and – of course coffee!
Jack in the Box
Even though Jack in the Box restaurants are a franchise, the corporate organization expects that all local owners open their restaurants for Christmas Day. Specific hours may vary based on location.
Panda Express
Are you craving Asian noodles or fried rice this holiday season? Most Panda Expresses will open for Christmas, but because this is a franchise you'll want to call ahead before counting on Asian cuisine for your Christmas dinner.
Dunkin' Donuts
Only a few Dunkin Donuts will be open on Christmas, and those that are will likely have limited hours. However, if you join the Dunkin Donuts Perks Rewards program, and you're lucky enough to live near one of the open franchises, you can enjoy a free beverage gift on Christmas!
McDonald's
Corporate owned locations will stay open for Christmas Day, but franchises may close if they deem necessary. Before heading to get your McDonald's fill on Christmas, we recommend you call ahead.
Sonic
Sonic franchise owners manage their hours independently, so doublecheck with your local Sonic to confirm holiday hours.
Burger King
If you need a last-minute meal to share, have no fear because Burger Kings will be open on Christmas Day and you can take advantage of their special 100 nuggets for $10 deal.Most locations will have limited holiday hours.
Pizza Hut
What restaurants are open on Christmas near me? Pizza Hut of course! Well, we hope. Only a select few locations are open, but if you're lucky to live near a restaurant that is open, you can treat yourself to pizza Christmas breakfast, lunch, or dinner.
Steak 'N Shake
With festive milkshake flavors to mix up your regular order, you can rely on Steak 'n shake to appease your holiday hunger no matter what time of day or night through the holidays.
Five Guys
Five Guys Burgers and Fries will have some openlocations on Christmas so you can have a celebratory Christmas hamburger!
Taco Bell
Opposite of McDonald's, corporate Taco Bell locations will be closed while franchised restaurants stay open for Christmas 2021. This may vary on location, so always call to confirm before leaving your house!
Hardee's/Carl's Jr.
Carl's Jr. and Hardee's are both open for breakfast, lunch, and dinner on Christmas Eve and Christmas Day… although holiday hours may vary.
Wendy's
Wendy's franchise owners may decide to open their store on Christmas depending on community demand.
Pret-a-manger
Pret-a-manger is an international sandwich shop.This is one fast food restaurant that is open on Christmas, so f there's one near you, you are in luck!
Kentucky Fried Chicken
Do you need a quick holiday meal this year? KFC is the perfect fast food restaurant for those who like to get takeout to share.
Del Taco
If you're hoping for Mexican on Christmas Day you may be in luck. Del Taco will be open this holiday season.
Domino's
Craving Pizza this Christmas? Holiday meal prep just got a whole lot easier. Call your local Dominos to confirm holiday hours. Select locations will be open!
Bakers Square
Stop by Bakers Square this Christmas to eat a delicious quick meal or grab one of our famous pies to go. They will be open for breakfast, lunch, and dinner on Christmas Day.
Family dine-in Restaurants Open on Christmas Day
What restaurants are open on Christmas near me for family dining needs? Even if these restaurants don't offer Christmas Day Specials, they are still committed to serving you every day through the holiday season.
Cheesecake Factory
The Cheesecake Factory will have some select locations open on Christmas Day, but the majority of the others will be closed. Check with your local restaurant before making holiday plans.
Macaroni Grill
Pasta lovers will be thrilled to learn that the Macaroni Grill opens on Christmas day. Reservations are recommended.
Buffalo Wild Wings
Although they may not open first thing in the morning, Buffalo Wild Wings allows you to wing it if you're feeling like something different for your holiday meal.
McCormick & Schmick's
If you want to celebrate your Christmas festivities with seafood and steak, McCormick & Schmick's will be open for you on Christmas Day.
Applebee's Grill
Take advantage of Applebee's 2-for-20 deal for your Christmas Dinner. Many Applebee's restaurants will stay open for both Christmas Eve and Christmas day, but the decision is ultimately up the local store manager – so make sure to call ahead!
Smith & Wollensky
Although Smith & Wollensky aren't offering any holiday specials, they will be open on Christmas Day.
The International House of Pancakes (IHOP)
All IHOPs adhere to their normal 24/7 schedule. You could even get a free meal by signing up for the Pancake Revolution program!
Huddle House
Staying true to their slogan, "Any meal, any time," Huddle House stays open 24/7 even through the Christmas holiday craze.
Waffle House
Always reliable, the infamous waffle house maintains its 24/7 schedule throughout the holidays for around the clock breakfast needs.
Denny's
Denny's is committed to staying open 365 days of the year, including Christmas. They even offer annual 'Festive Flavors' until the first week in January.
Morton's
What restaurants on open on Christmas near me? Your local Morton's of course! Celebrate Christmas this year with holiday cocktails and a delicious steak or (for a limited time) Lobster lunch or dinner.
Ruth's Chris Steak House
Craving some of Ruth Chris's famously delicious sizzling sides? Start a new tradition and join Ruth Chris for Christmas Eve or Christmas Day in 2021 to enjoy a full Ruth's experience.
Legal Sea Foods
If you're craving sea food this Christmas, you're in luck! Many Legal Sea Foods will be open for lunch and dinner on Christmas Day. Reservations are recommended and private dining rooms must be reserved in advance.
Benihana
This Japanese Steakhouse is not only for Dunder Mifflin staff this Christmas. To enjoy a unique and delicious dining experience, head to open Benihana restaurants for Christmas Day lunch or dinner.
Ruby Tuesday
The majority of Ruby Tuesday's restaurants will be closed for Christmas Day, but if you live New York, you are in luck! The Times Square location will be open.
Perkins
A lot of Perkins will be open on Christmas Day, but some franchise owners may choose not to open. Contact your local Perkins to learn about holiday hours before you head out.
Chevy's Fresh Mex
If you're looking to add a little spice to your holiday menu, look no further. Get your green and red via guacamole and salsa at Chevy's Fresh Mex.
Luby's Cafeteria Serving up holiday specials of prime rib or blackened chicken breast with bacon wrapped shrimp, Luby's is happy to serve you on Christmas Day this holiday season.
Sizzler
Whether you're looking for hand cut steaks, savory seafood, or class burgers Sizzler will open its restaurant doors for you this Christmas. Contact your closest location for Christmas Eve and Christmas Day hours.
Cheese burger in Paradise
Experience an island getaway this Christmas… at least for lunch or dinner! Grab your Cheese burger in Paradise for lunch and dinner on Christmas Day.
Del Frisco's Grille
Only one Del Frisco's Grille will be open– the location in New York City. what better way to celebrate the holiday than a distinguished dining experience complete with wine and steak?
Buca di Beppo
Buca di Beppo uses only the finest and freshest ingredients for their authentic Italian cuisine. Cooked to order and served family-style, their restaurant makes for an ideal Christmas dinner with family and friends.
Village Inn
If you're wondering 'what restaurants will be open on Christmas near me this year,' look no further! The Village Inn will be open on Christmas Day.
Dave & Buster's
Dave and Buster's will be open for both Christmas Eve and Christmas Day this year for loads of festive family fun! Call ahead to confirm holiday hours.
TGI Fridays
TGI Friday's will be open on Christmas this year, although hours may vary based on location. Call ahead to confirm!
Chuck E Cheese
Take your little ones to Chuck E Cheese for a surprise Christmas Pizza party this year! Not all locations will be open, so call ahead to confirm.
Landry's Sea food
Enjoy Christmas Day 2021 with open Landry's restaurants offering their regular menu of fresh seafood offerings.
Downtown Aquariums
Although only a select few Downtown Aquarium restaurants will be open on Christmas Day 2021, guests can enjoy their meal while surrounded by mesmerizing marine life. What a unique way to spend the holiday!
STK Steakhouse
Some STK Steakhouses will have open doors on Christmas Eve and Christmas Day. Come to STK to enjoy incredible steaks and entrees.
El Torito
El Torito's Christmas menu includes a variety of your traditional and not-so-traditional favorites.
Buffets open on Christmas Day
Many (though not all) of these restaurants offer all-you-can-eat buffets inspired by Christmas traditional favorites, just make sure to call ahead in case of special holiday hours… and don't forget to wear your comfortable clothes to take advantage of the non-stop feast!
Old Country Buffet
Old Country is an old classic. It will be an all-you-can-eat Christmas gift to the family.
Golden Corral
Most Golden Corrals will be open for Christmas day offering carved ham, homestyle cornbread stuffing, coconut cake, and more!
Fogo De Chao
If you're feeling fancy this Christmas, head to your local Brazilian Steakhouse Fogo De Chao! They are hosting an all-day Christmas extravaganza – a meat lover's dream!
Bon Appetite
Florida residents will be delighted to learn about the special and extensive Christmas Day Buffet Bon Appetite is serving up this year, complete with Salmon Bruschetta, old-fashioned macaroni and cheese, sweet potato mash, and more!
Ryan's
This popular Ryan's buffet restaurant will be open for Christmas Day offering a variety of traditional favorites!
Hometown Buffet
The Hometown Buffet brings you a special Christmas menu on Christmas Day. Most locations open for lunch and dinner.
Jake's Grille
What restaurants are open on Christmas near me? Oregon residents can count on Jake's Grille. This eatery offers a lovely Christmas buffet with big portions of fish and meat for hungry guests. You must call ahead and make reservations for this buffet opportunity.
Rainhas Churrascaria
This massive all-you-can-eat Christmas Brazilian meat buffet is not for the faint-hearted. Come prepared to eat (quite literally) pounds and pounds of salads, sea foods, meats, and more.
Chain Restaurants Near Me that offer special Christmas meals in 2021
Although the following restaurants' hours may vary due to local owner's and community demand, at least some locations they will be open, and they will be serving up special once-a-year Christmas menus.
Marie Callender's
Come down to your local Marie Calendar's for a special three-course meal on Christmas Day, or order some of Marie Calendar's famous pies to go! Call ahead to confirm holiday hours!
Sullivan's Steakhouse
Sullivan's Steakhouse will be open for a special holiday Prime Rib dinner on Christmas day.
Shari's Cafe
Mot Shari's Café will open to serve a special Slow Roasted Turkey dinner on Christmas Day. Call your local Shari's to confirm menu details and holiday hours.
The Boston Market
Most Boston Market's will be open on Christmas Day offering a special Christmas meal. You can dine in, take-out, or have your meal delivered!
Hard Rock Cafe
Most Hard Rock Cafe restaurants are open on Christmas Day featuring special holiday menus. Call your local Hard Rock to learn about holiday specials and confirm Christmas hours.
Fleming's Steakhouse
Although not many Fleming's Steakhouses will be open on Christmas, those that are will offer special holiday deals and meals. Call your local Flemings to confirm holiday hours and specials.
Chart House
The Chart House not only offers amazing views, but also features a special "Cherish the Cheer" dinner this holiday season.
Shoney's
Shoney's offers a special Christmas Day feast featuring menu items such as slow-roasted turkey, hand-breaded fried chicken, and sweet potato casserole. You can also order meals to go!
Song & Hearth
Tennessee residents will be happy to know that Song & Hearth is opening its doors for the coziest Christmas brunch you'll ever attend.
Local Restaurants offering Special Christmas Day Meals in Chicago
Are you wondering 'what restaurants are open on Christmas Day near me' for your Chicago Christmas vacation? Or maybe you're a local researching upscale holiday dining option. No matter your reason for eating out in Chicago on Christmas, here's some restaurants that are sure to be open for Christmas and ready to celebrate with you.
Margeaux Brasserie
Join Margeaux Brasserie this Christmas Day for a special holiday dinner. This prix fixe menu will highlightroasted Leg of Lamb and Roasted Peking Duck Breast.
The Langham Chicago
Visit one of Chicago's fanciest brunch buffetsthis Christmas Day for an immaculate dining experience. The Langham Chicago buffet spans two floors of the hotel!
Cherry Circle Room
The Cherry Circle Room restaurant opens for Christmas 2021 to offer prix fixe menus on Christmas Eve and Christmas Day, where they'll be serving family-style entrees. Meal options include short rib bourguignon, broiled walleye pike, bouillabaisse, and more!
Mercat a la Planxa
Dine on delicious Spanish paellas and other creative tapas for Christmas brunch or dinner when you join Mercat a la Planxa for your holiday this year.
City Mouse
City Mouse is featuring a specialholiday menu for Christmas dinner in 2021 that will feature items like the Bake Brie Cheese, Roasted Duck Beast, and Caramel Cake.
Café Robey
Café Robey is offering an affordable "Holiday Two-Course Meal" this Christmas Day. Guests may choose items such as roasted turkey, mashed potatoes, stuffing, gingerbread cake and more!
Upscale Dining Restaurants Open for Christmas Day in New York City
Between the magic of Times Square during the holidays, incredible and endless Christmas shopping opportunities, and festive Christmas parades – a lot of people spend their holidays in the Big Apple! Here are some restaurants that will be open in New York City.
Tavern on the Green
If you're visiting New York City for Christmas this year, you can celebrate Christmas Day by dining at the iconic Tavern on the Green. They're offering a special four-course prix-fixe menu this year.
Woodpecker
What better way to enjoy a White Christmas than to curl up next to a wood-fired entrée? Woodpecker will be open throughout the holidays offering their regular menu of roasted meats, fish, pastas, and wood-fired pizzas.
Boqueria
Boqueria opens for Christmas Day this year. Enjoy their regular menu item tapas or elect for the special Christmas Feast menu featuring Maine lobster, monkfish, mussels, roasted carrots, , chorizo Iberico, almond and hazelnut cake, and more!
The Wayfarer
If you find yourself in Midtown this year, you can head to this delectable brunch, lunch, and dinner spot Wayfarer on Christmas Day.
Red Rooster Harlem
Enjoy an a la carte menu on or opt for a three-course prix fixe menu that features butternut squash soup with eggnog cream, gingerbread gremolata, roasted duck breast with root vegetable mash, and more on Red Rooster Harlem.
Ginny's Supper Club
Join Ginny's for live jazz and a festive Christmas Day brunch buffet featuring deviled eggs, collard greens succotash, apple-carrot mash, and mac & greens.
Edgar's Steakhouse
Dine in a literal castle this Christmas. Their Christmas Day special includes buffets with carving stations with roasted New York strip loin and other delicious entrees, sides, and desserts.
Zumas
The midtown Manhattan restaurant eatery opens for Christmas dinner to offer internationally inspired dishes and seasonal cocktails.
Christmas Day Dining Options in Los Angeles
If you're heading west for 2021 Christmas festivities, check out some of these incredible dining opportunities at restaurants that are committed to staying open for Christmas Day.
Saddle Peak Lodge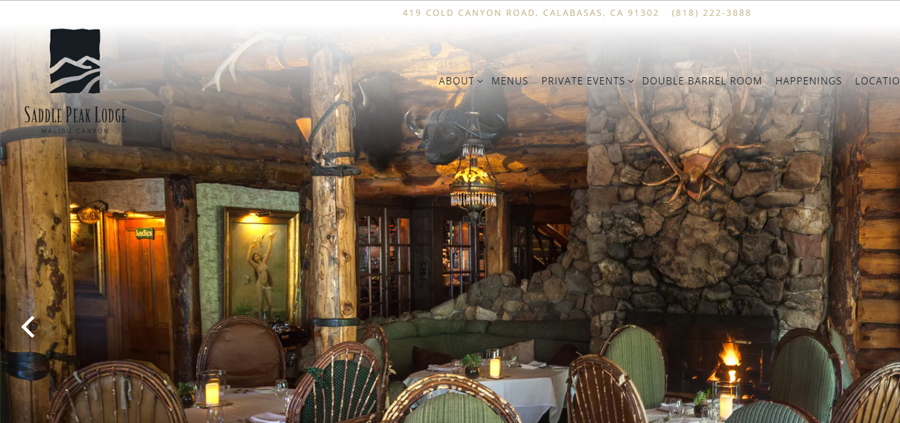 Join chef Adam Horton for dinnerat Saddle Peak Lodge restaurant open on Christmas Day.The menu includes braised short ribs, cranberry-glazed elk, pumpkin pie, peppermint ice cream and more.
The Belvedere at The Peninsula Beverly Hills
Belvedere will be serving a family-style feast this Christmas Day featuring a duck confit rillette, turkey with sage stuffing, seared scallops with maple-glazed kobocha, and more.
Le petit Paris
What restaurants are open on Christmas near me? Le Petit Paris is a great option, offering an amazing all-you-can-eat Brunch Buffet this Christmas featuring a large and delicious selection of food and Christmas specials.
Culina
Enjoy an authentic and rustic Italian Christmas dinner this year. Culina's Christmas Day menu includes a whole roasted sea bass with porcini and white wine, tortellini enbrood, stewed white beans, and more!
Gwen
Gwen offers four-course prix-fixe meal available on both Christmas Eve and Christmas Day. This delicious meal features roasted scallops, New York strip steak with duck-fat–roasted potatoes, eggnog ice cream, and more! What's more, all Gwen's meats are locally sourced.
No Mad
Join No Mad to celebrate its first Christmas as an open restaurantin L.A.! Offering three-course prix-fixe meal that features options like curried squash soup, roast-beet salad, truffled potato purée, filet mignon, and more!
Are you planning to travel to Nepal on this Christmas? Do you want to know what are the best dishes of Nepal? Visit this best Nepal foods article and learn about amazing Nepalese dishes.
If you want to learn the foods of other countries, we also have articles on best foods in Korea, Thailand's best foods, Japanese dishes, best dishes in Ireland, amazing foods of Africa, Vietnamese dishes, best street foods of Cambodia.
Related Articles