100+ Restaurants Open Near You Thanksgiving 2023 | TravellersQuest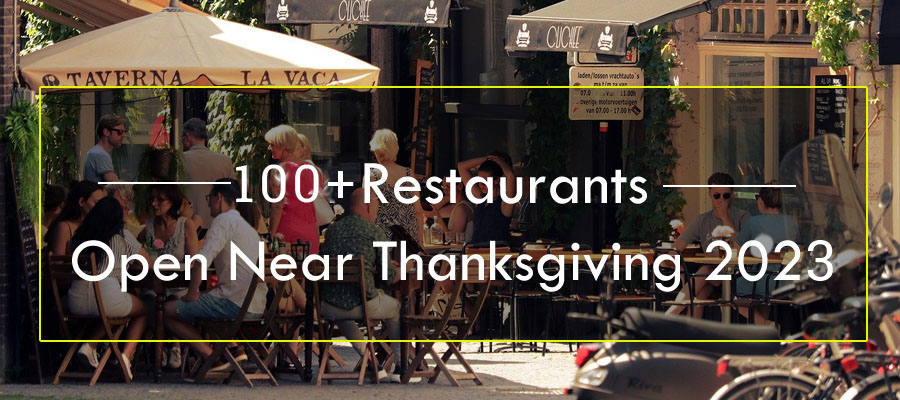 Do you love Thanksgiving because of all the delicious food? Are you wondering how you can get out of cooking turkey this year? Are you questioning 'what restaurants are open on Thanksgiving near me' for the 2021 season?
Thanksgiving is a United States holiday dedicated to celebrating friends and family through culinary creations. Restaurants open for the holidaysare a true gift for many people who may be tired from holiday travel, inadequate turkey cooks, people who hate cleaning up a messy kitchen, or just prefer to go out to a nice meal as an alternative Thanksgiving dinner. We don't blame you! The benefits of eating out on Thanksgiving rather than staying in and home-cooking for days are very clear. There are a lot of restaurants that stay open on this special day to serve you a festive holiday menu.
We provide an overview of a variety of restaurants that may be near you and open this Thanksgiving. There's a place for everyone during this traditional holiday feast whether its relaxing with casual fast food options or going classy and taking the family to a fine dining establishment. We focus on chain restaurants because they are the most accessible for our wide-ranged audience of readers, but you should also remember to check local news websites and call ahead to independent and family owned restaurants to see what other options your local community can offer for Thanksgiving feasts.
Are you ready to hang up your apron this year, even if it is just for a change of pace? Take a look through this list of restaurants we have compiled for you to navigate the fall holiday season.
Table of Contents
Fast Food Restaurants Open on Thanksgiving
If you are the type of person who like to make plans on a whim or may not have a regular eating schedule, this may be the category of restaurants that interest you the most.
Starbucks
Even if you don't eat a full meal at Starbucks, grabbing a festive pick-me-up like a pumpkin spice latte is a great way to celebrate Thanksgiving!

McDonald's
Most McDonald's do generally stay open for this holiday, although they may have modified hours. Call your local McDonald's to confirm holiday hours.

Burger King
A chicken sandwich may not be the same as a honey roasted ham, but for a quick fix, you can count on Burger King for Thanksgiving holiday hunger.
Jack in the Box
Jack in the Box is open 24/7 – ready to serve no matter when you start craving their seasonal pumpkin spice shake or infamous curly fries!
Papa Johns
Making your big Thanksgiving feast is now just as easy as opening your front door. Delicious pizza for a change in holiday pace on Papa Johns? What's not to be thankful for!

Pizza Hut
What restaurants are open on Thanksgiving near me? Pizza Hut, of course! Whether you're replacing your turkey for pizza, or ordering some easy appetizers for the football crowd in your family, people are sure to appreciate this non-traditional gesture!
Popeyes
Not all Popeyes will be open, so you should call to confirm holiday hours. However, those that are open may be serving up 13-16-pound pre-cooked Cajun Style Turkeys!
Steak 'N Shake
With festive milkshake flavors to mix up your regular order, you can rely on Steak 'n shake to appease your holiday hunger no matter what time of day or night through the holidays.
Paris Baguette
Take advantage of Paris Baguette bread and bakery options for your Thanksgiving meal this year. That's one less thing you'll have to prepare.
Qdoba
Qdoba restaurants were open for Thanksgiving in 2018, and you can expect the same thing for this year. Chips and queso can make an interesting addition to any Thanksgiving Day menu!

White Castle
Seasonal turkey sliders for less than $2 on White Castle? What's not to be thankful for. Just make sure to call ahead as many holiday hours are subject to franchise owner's discretion.
Dominos
Dominoes will let you custom-design and order a pizza online. Turkey Day meal prep just got a whole lot easier thanks to Domino restaurants open near you for Thanksgiving 2021!
Little Ceaser's
Another great pizza option for the holidays is Little Ceaser's. Whether you're adding pizza as a menu item or replacing your turkey for a cheesy pizza pie, you can't go wrong with this option!
Dunkin' Donuts
Start turkey day right with a festive donut and your daily dose of coffee before heading to the relatives' house to embrace your in-laws and start the TV-watching marathon.

Tim Hortons
Need to satisfy your sweet tooth before the big feast? Head over to Tim Horton's in the morning for a pick-me-up to prepare you for the rest of your Turkey Day festivities.
Sonic
Sonic may not be a traditional Thanksgiving stop, but if you need a snack or don't feel like cooking this year, most of these drive ins will be open.
Subway
Celebrate your Thanksgiving this year by buying a round of turkey sandwiches for your friends and family in Subway!
Family dine-in restaurants open on thanksgiving
What restaurants are open on Thanksgiving near me for family dining needs? Even if these restaurants don't offer Thanksgiving Day Feasts or special one-day-only holiday meals, they are still committed toserving you every day through the fall holiday season.
The International House of Pancakes (IHOP)
IHOP adheres to their normal 24/7 schedule year-round, including Turkey Day. You could even get a free meal by signing up for the Pancake Revolution program!

Huddle House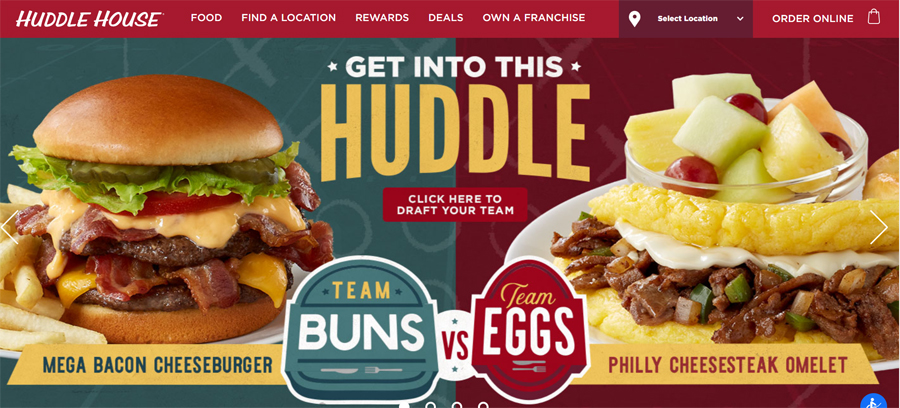 Staying true to their slogan, "Any meal, any time," Huddle House stays open 24/7 even through the Turkey Day holiday craze.

Waffle House
Always reliable, the infamous waffle house maintains its 24/7 schedule throughout the holidays for around the clock breakfast needs.

Denny's
Denny's is committed to staying open 365 days of the year, including Thanksgiving. Denny's "Festive Flavors" menu even features turkey dinner and pumpkin spice pancakes.

Applebee's
The majority of Applebee's restaurants will be open for Thanksgiving Day, although many may adjust hours for the holiday. Take advantage of Applebee's 2-for-$20 deal.

Buffalo Wild Wings
Buffalo Wild Wings allows you to wing it if you're feeling like something different for your main holiday meal.

Rainforest Café
Celebrate this Thanksgiving with roasted turkey and redskin mashed potatoes in the rainforest!
Chili's
Trade traditional turkey for some scrumptious and famous baby back ribs! Just call to make sure your local restaurant is staying open.
Ruby Tuesdays
If you're craving French fries rather than the standard mashed potatoes and gravy, you may need to head to Ruby Tuesdays this year!
Del Frisco
Del Frisco's restaurant is rooted in American tradition – what better place to celebrate this American holiday than a distinguished dining experience complete with wine and steak?
Romano's Macaroni Grill
All Romano's Macaroni Grill restaurants will be ready to welcome hungry diners to their restaurants for Thanksgiving 2021. This Italian American chain's holiday menu features sausage and apple stuffing, roasted turkey breast, and pumpkin cheesecake.
Fogo de Choa
If you're looking for something a bit fancier for your Thanksgiving celebration, Fogo de Chão is a fine dining Brazilian steakhouse where waiters serve a variety of barbecued meats directly to your table.
Hooters
What restaurants are open on Thanksgiving near me? You can always count on your local Hooters to celebrate this holiday with plenty of football and beers!

Smith & Wollensky
Although Smith &Wollensky aren't offering any holiday specials, they will be open for regular business hours during the Thanksgiving holidays.
Medieval Time
Most of the medieval times castle restaurants will be open, but if you're thinking about celebrating the holidays with a giant turkey leg, we recommend calling ahead to confirm holiday hours.
STK Steakhouse
To celebrate the holidays, STK will be offering a few Thanksgiving inspired menu items. They will also offer their normal menu, featuring incredible steaks and entrees.
Buffets open on Thanksgiving Day
Many of these restaurants offer all-you-can-eat buffets inspired by Thanksgiving traditional favorites, just make sure to call ahead in case of special holiday hours… and don't forget to wear your comfortable clothes to take advantage of the non-stop feast!
Old Country Buffet
All Old Country buffets will be open for Thanksgiving 2021 from 11:00 am to 6:00 pm. Come hungry in comfortable clothes to take advantage of this turkey day buffet opportunity!
Hometown Buffet
Hometown buffet stays true to its name by offering some truly scrumptious homemade Thanksgiving food that includes oven-roasted rotisserie-style turkey breast, honey-glazed baked ham, carved roast beef, and much more.

Downtown Aquariums
Although only a select few Downtown Aquarium restaurants will be open for Thanksgiving 2021, guests will enjoy a buffet-style feast while surrounded by mesmerizing marine life.
Landry's Seafood
Enjoy an all-day traditional Thanksgiving buffet with a seafood twist in select locations. Not feeling like eating turkey this year? Landry's also offers their traditional menu.
Ponderosa and Bonanza Steak houses
Rather than cooking meals big enough to support seconds and thirds, just come on down to the Ponderosa and Bonanza Steak house for their special holiday themed buffet.

Golden Corral
What restaurants are open on Thanksgiving near me? Golden Corral may be one of the best options due to their elaborate and well planned out holiday buffet that includes all the trimmings and Thanksgiving favorites. Just get ready, because their special Thanksgiving buffet is pay-by-weight!
Ryan's
This popular buffet restaurant will be open on Thanksgiving Day offering a variety of delicious Turkey Day favorites!
El Torito El Torito's Thanksgiving buffet offers a turkey and ham carving station and many of your traditional and not-so-traditional holiday favorites. Available at most locations.
Weber's Restaurant & Boutique Hotel
Spend your holiday festivities in the Weber's grand or atrium ballroom for an exquisite buffet experience. Reservations required!
Chain Restaurants Open Near Me that offer special Thanksgiving meals
Although the following restaurants' hours may vary due to local owner's and community demand, at least some locations they will be open, and they will be serving up Turkey Day themed breakfasts, lunches, or dinners.
Cracker Barrel
Cracker Barrel begins serving the traditional turkey day meal mid-day, and it's not one miss!Plus start your Christmas shopping early by stopping into their old country store.
McCormick & Schmick's
Do you want to trade out turkey for steak and seafood this year? All McCormick & Schmick's restaurants will be open.
Ted's Montana Grill
Ted's Montana Grill also serves up a Thanksgiving three-course meal featuring roast turkey. Head to this restaurant for a change in pace in your traditional Thanksgiving at home.
T.G.I. Friday's
Not all TGI Friday's will stay open for Thanksgiving Day so you should call your local restaurant to confirm holiday hours, but those that do may offer a holiday feast to remember! The feast includes two appetizers, two entrees, and two desserts of your choosing.
Bahama Breeze
Celebrate your Thanksgiving Day with Bohemian flare when you order the Bahama Breeze thanksgiving feast. Specials also include festive desserts and cocktail drinks.
The Capital Grille
The capital Grill serves an upscale thanksgiving menu on Turkey day. Theirrestaurant will be open with a full dinner menu for Thanksgiving 2021.
Chart House
For a unique Thanksgiving dinner, head to the Chart house. Their culinary team infuses local flavors with exotic techniques. Their special festive menu will be served all November long!
Buca di Beppo
What restaurants are open on Thanksgiving near me? The Italian chain restaurant is already preparing for turkey day by accepting online reservations. Their holiday menu cannot be compared.

Ruth's Chris Steak House
Although Ruth's Chris Steak House restaurant hours will vary depending on location, they offer both a full menu and a special Thanksgiving three course feast!
Sizzler
This restaurant specializing in seafood, steak, and salad will be serving up a special Thanksgiving feast this year.
Legal Seafoods
This Thanksgiving Legal Seafood restaurants will remain open, Legal will be serving up a legitimate turkey dinner complete with all the trimmings! They will of course have plenty of pescatarian options for seafood purists.
Black Angus Steakhouse
Black Angus Steakhouse offers a holiday special this year for the Thanksgiving holiday that that includes all the classic favorites and more!
Chevys Fresh Mex
Chevy's Fresh Mex restaurant will offer a special three course Texas-Mexican inspired Thanksgiving dinner complete with roast turkey and jalapeno cheddar bread!
Seasons 52
Eat in harmony with nature this season by hosting your Thanksgiving Day festivities at Seasons 52. They will be offering a special Turkey Day menu that will inspire your taste buds!
Eddie V's
Come on down to Eddie V's prime quality seafood restaurant for your holidays this year. Restaurants will offer up a special holiday menu for guests.
Maggiano's Little Italy
Maggiano's Little Italy will be serving a four-course family-style dinner for Thanksgiving 2021 that includes classic Thanksgiving sides. Prices vary by location and reservations are highly recommended.
K&W Cafeterias
What restaurants are open on Thanksgiving near me? K&W Cafeterias certainly is! This economic Thanksgiving Dinner option features all your homestyle favorites.
Mini's Cafe
With lots of options to choose from, Mimi's café Thanksgiving Dinner will not disappoint!
King's Family Restarurant
If you're looking to dine like a King, plan your big Thanksgiving feast at King's Family Restaurant. This delicious menu is only available during the afternoon hours! Kids feast (size, food types, and price) is also available.
Luby's Cafeterias Luby's Cafeterias serves up a traditional Thanksgiving meal with roast turkey, cornbread dressing, your choice of two sides, bread, and dessert! All for less than $15.
Sullivan's Steak house
This restaurant opens for an elaborate Thanksgiving feast that has something for the whole family including hard-carved roasted turkey, apple-smoked bacon, bananas foster bread pudding, and Nutella crème brulee!
Morton's The Steakhouse
Are you looking for a holiday meal done to perfection? Offering both lobster and steak, you need look no further! Celebrate your Thanksgiving feast at Morton's for a guaranteed scrumptious meal!
Fleming's Prime Steakhouse & Wine Bar
Enjoy a steak at Fleming this Thanksgiving. There will be a three-course menu offered, although details depend on year and location.
Thanksgiving "to-go" feasts & online meal ordering
What restaurants are open on Thanksgiving near me? Maybe you don't even have to worry about that when you order your meals days ahead of the holiday. Skip the hassle this year and take advantage of this modern way to enjoy the holiday.
Bob Evans
Bob Evans offers keeps its restaurant doors open every year, and continues to offer its infamous Thanksgiving Farmhouse Feat, which is a fully cooked, heat-and-serve homestyle meal featuring all the Thanksgiving staples. Delicious!
Marie Callender's
You have the option to dine-in at Marie Callendar's or get a "feast-to-go." Just remember that Marie Callender's Thanksgiving take-out requires 3-hours of heating in preparation to serve!
The Boston Market
At the Boston Market, we commit to keeping our restaurant open on Thanksgiving (the most popular food holiday of the year). You can dine in or carry out, as well as order items a la carte, making it easy to add a few extra menu items to your Thanksgiving dinner.
Mitchell's Fish Market
This fish market is changing things up for Thanksgiving to serve traditional style Turkey Day favorites with the option to take your "feast to go." Feast to go orders must be placed early so don't wait!
Chef'd + Wolfgang Puck
Renowned Chef Wolfgang Punk is teaming up with Chef'd to prepare your dream Thanksgiving dinner! All you have to do is order a dinner meal kit, and you can easily cook like a famous chef at a restaurant open for Thanksgiving in your own kitchen!
Williams-Sonoma
Williams-Sonoma offers all the Thanksgiving essentials you need to create a memorable feast. Order online today.
Omaha Steaks
Thanksgiving Dinner has never been easier than ordering your entire meal online and having it delivered right to your door by Omaha Steaks!
Honey baked Ham Company
When you order through the Honey baked Ham company, you can choose to order fully cooked and ready to serve turkey, just like our famous Ham. Take it easier this holiday season and let us do the work.
The Farmer's Hand
The Farmer's Hand will open on Thanksgiving Day tofocus on providing locally sourced produce and their Thanksgiving special is no exception. Make sure to order before Nov. 9th!
Zingerman's Cornman Farms
Ann Arbor residents can order Thanksgiving online for farm-fresh, Thanksgiving essentials.
The Vintage House
This extensive but traditional Turkey Day menu can serve between 15 and 20 friends for your Thanksgiving festivities by the Viantage House.
Upscale Dining Open for Thanksgiving in New York City
Are you wondering 'what restaurants are open on Thanksgiving near me' for your New York Thanksgiving vacation? Go out on the town to take full advantage of the city that never sleeps for a lovely dining experience in some of New York's most beautiful and well-known restaurants.
Le Coq Rico
Chef Guillaume Ginther serves a three-course upscale dining experience when you join Le Coq Rico for Thanksgiving this year.
Il Mulino
Make reservations at this open Italian restaurant for a prix fixe Thanksgiving menu with traditional fare the year.
Aretsky's Patroon
Enjoy an upscale three-course Thanksgiving dinner at this Midtown East mainstay. After dinner, you can head up to the heated rooftop bar for football and mulled apple cider. Delicious!
Legacy Records
Chef Ryan Hardy is planning a four-course fine dining Thanksgiving Day dinner this year at his restaurant Legacy Records. Enjoy pure savory goodness complete with an optional wine pairing.
Rotisserie Georgette
Rotisserie Georgette offers a three-course holiday menu consisting of traditional favorites with a touch of French influence. This fine dining establishment offers mains ranging from the classic menu to seafood varieties and vegetarian alternatives.
Carmine's
Dine in or "take out" your Thanksgiving feast this year when you dine with Carmine's. With a variety of menu items, you certainly won't be disappointed.
Tavern on the Green
Featuring a four-course menu with all the good Turkey Day trimmings, Tavern on the Green's menu includes a free-range roasted turkey and your favorite desserts.
Riverpark
Join Tom Colicchio's team for a family style three-course Thanksgiving feast including shared dishes such as roasted, heritage turkey, apple hash, and wild mushroom stuffing.
The Grill
In 2018, the Grill offered an over-the-top Thanksgiving menu – appropriate for America's favorite food holiday. This year, they intend to do the same!
American Cut
Enjoy your Thanksgiving dinner with food from Iron Chef Marc Forgione's Midtown and Tribeca steakhouses. Festive menu items may include squash ravioli, Misty Knoll Farms turkey, and twice-baked sweet potato goodness!
Meals for Thanksgiving Day- Open Restaurants in St. Louis
Between their traditional Thanksgiving Day Parade and numerous tourist attractions, St. Louis offers a lot to do on Thanksgiving. Don't miss out on some of our top picks for Turkey Day dining in this festive city.
Boundary St. Louis
This hip and upscale bar restaurant is a great place to gather for a pre-dinner cocktail or delicious Thanksgiving inspired buffet meal. You can count of Boundary St. Louis when asking 'what restaurants are open on Thanksgiving near me?' for the 2021 season.
Lemp Mansion
Visit the historical Lemp Mansion this Thanksgiving for a traditional, family style buffet feast. You can even stay overnight in Victorian themed rooms afterward!
Innsbrook Resort
The Innsbrook resort serves an annual Grand Thanksgiving Buffet for you and your family at a reasonable price.
Schneithorst's
Come down to Schneithorst's for hearty Thanksgiving favorites and a good time this Turkey Day. Along with traditional turkey, favorite festive pies, sides, and regular menu items will be available.
Pietro's
Com to Pietro's family-owned restaurant opens for Thanksgiving lunch or early dinners. This sit down dining experience consist of turkey or pork, traditional sides, and dessert – all at a reasonable price. Reservations are recommended.
Pere Marquette Lodge
The historic Pere Marquette Lodge serves traditional Thanksgiving food featuring carving stations, traditional and unique selections of side dishes, salads, and dessert including a bananas foster station.
Edgewild Winery
Join Edgewild Winery for a bountiful Thanksgiving buffet with food options ranging from carved turkey to baked five-cheese macaroni, to an omelet bar, Fill your plate once, twice, three times or more. Reservations are recommended.
Thanksgiving Day Feasts in Seattle
If you're heading to the beautiful northwest for 2021 fall festivities, check out some of these incredible Turkey Day dining opportunities at restaurants that are committed to staying open for Thanksgiving.
Agrodolce
Join this award-winning restaurant for a family style Thanksgiving. Agrodolce puts an Italian twist on traditional favorites.
Daniel's Broiler Prime Steaks & Seafood
Daniel's Broiler Steak & Seafood is a great option for your Thanksgiving meal this year. Offering a four-course dinner to its guests, diners will be able to choose from a variety of proteins, desserts, and sides.
Frolik Kitchen
Join Frolik Kitchen & Cocktails for a rooftop view. Their holiday menu will feature special limited menu items including burrata, brussels sprouts, the Motif burger, and more.
Outlier
Away from home for the holidays? When you spend your Thanksgiving with Outlier, this community-oriented spot will welcome you for a Friends giving celebration with a buffet for all to enjoy. What's more, proceeds benefit the No Kid Hungry charity.
Palisade Thanksgiving Dinner-to-Go
If you're looking for an upscale dining experience this Thanksgiving, head to Palisades for sweeping views of Elliott Bay and an indoor pond, If you're not looking for a dine-in option, you can also order a "feast to go," which feeds up to 12.
Turkey Day Specials at Local Restaurants in Los Angeles, California
What restaurants are open on Thanksgiving near me? Los Angeles residents look no further. Los Angeles offers a variety of special holiday dinners for Thanksgiving 2021.
Best Girl
Best Girl offers a special 3-course meal featuring all the traditional Thanksgiving favorites… but with a Best Girl twist!Come to this restaurant to experience new culinary creations.
Nick & Stef's Steakhouse
Enjoy a traditional holiday dinner with all the Nick & Stef's Stakehouse. Not craving turkey? That's okay – we're offering our full a la carte menu and our signature stakes as well.
The NoMad Restaurant
Join NoMad at our Los Angeles restaurant locations for Thanksgiving 2021 to make new holiday traditions. We offer a three course Prix Fixe Thanksgiving Dinner. We can't wait to see you dine with you.
Dekkadance
A unique Thanksgiving buffet opportunity for Los Angeles residents and visitors, serving a multitude of Thanksgiving inspired culinary creations with amazing city-scape views.
Patina Restaurant
Join Chef Andreas Toller for an incredible Thanksgiving dinner. With a traditional menu built around feasting with the senses, you can choose from a three- or six-course dining experience.
Le Petit Paris
Join us for a fine dining experience this holiday season. Le Petit Paris welcomes guests to a three course Thanksgiving lunch or dinner.
If you are planning to visit Nepal during Thanksgiving, you can explore this best dishes of Nepal article to learn about the amazing Nepalese foods of Nepal.
If you want to learn about the foods of other countries, we also have articles on best foods in Korea, Thailand's best foods, Japanese dishes, best dishes in Ireland, amazing foods of Africa, Vietnamese dishes, best street foods of Cambodia.
Related Articles