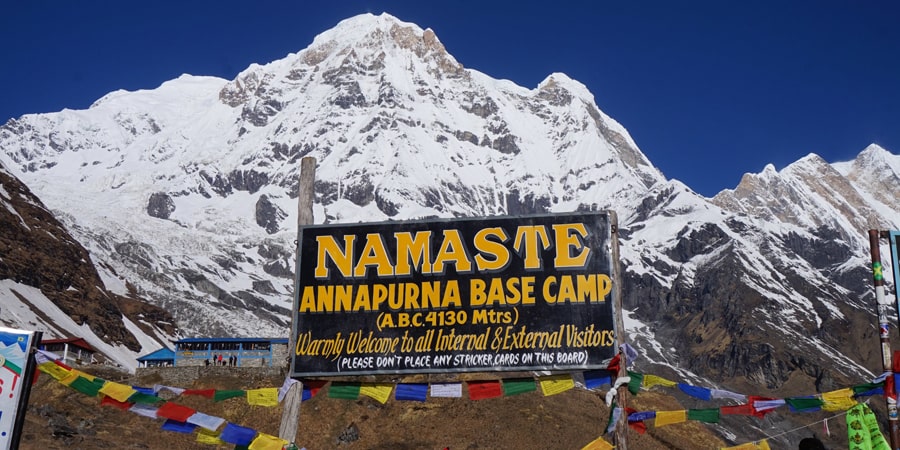 Image Credit: https://www.nepalecotrekking.com/blog/annapurna-base-camp-trek-reviews-cost-map-itinerary/
Trekking Annapurna Base Camp (4100m) gives a lifelong experience of the natural and cultural wonders of Nepal. It's a hiking route stretching through multiple altitude environments. The trail takes you through the exotic cultures and traditions of Nepalese captivated vegetation ascending to the base camp of the world's 10th highest peak Annapurna I.
It begins from the Lake City Pokhara, moving along the beautiful Gurung, Magar, and Aryan Villages. In this trek, you would get to interact with the traditional lifestyle and cultural people in Nepal along with an opportunity of viewing the rare animals and plants.
From the Annapurna Base Camp, you witness the stunning views of Annapurna Massif, Dhaulagiri, Fishtail, Hiunchuli, Tilicho, and many more. On the way, you will watch the magical sunrise over the Annapurna ranges from the spectacular heights of Poon Hill (3,210m), and enjoy the hot water pool at Jhinu Danda.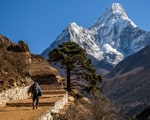 Get Free Quotes, Compare and Save on Your Ultimate Nepal Trekking Experience
Effortlessly connect with multiple Nepal trek providers to find the perfect adventure at the best price.
Annapurna Base camp Trek-Highlights
The base of the 10th tallest Mountain (Mt. Annapurna I – 8091m/26545ft)
Exotic Himalayan wildlife vegetation lush, waterfalls, beautiful rivers, pristine lakes
Buddhist monasteries, natural caves, and Gurung cultural museum.
Picturesque sceneries of Mt. Annapurna, Machhapuchhre, Dhaulagiri
Fascinating sunrise view from the famous viewpoint of Poon Hill (3210m/10192ft)
The natural hot spring at Jhinu Danda (1780m/5840ft)
Ethnic Gurung and Magar settlements and their lifestyle
The traditional architecture of houses and temples
Trekking across large waterfalls, rhododendron forests, bamboo forest
Popular teahouse trek and local cuisine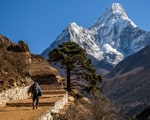 Get Free Quotes, Compare and Save on Your Ultimate Nepal Trekking Experience
Effortlessly connect with multiple Nepal trek providers to find the perfect adventure at the best price.
Where is Annapurna Base Camp Trekking Located?
This trek lies in Annapurna Sanctuary, located in 40 km directly north of Pokhara. Your trekking starts and ends in Pokhara, the second-largest city in Nepal. The route heads through the Australian camp, Landruk, and Deurali to Annapurna Base Camp. In the trek, you will reach Poon Hill, the famous sight viewing spot via Ghorepani (2750 m). Then trekkers continue their journey via Thadapani towards Annapurna Base Camp.
The trek route lets you experience jaw-dropping mountain views, beautiful vegetation along the way, and local ethnic groups of Gurung, Magar, and their lifestyle.
Chapter 1: Annapurna Base Camp Trek Routes and Maps
The trekking map covers the trail for this journey where Pokhara is the main gateway for this trek. From here, you can take different courses to Chomrong village and join the main trail. Then you follow the Ghorepani Poon Hill trail, connect at Chomrong and make the way to Annapurna Base Camp. It helps to find suitable start and end points for the base camp trek. You will get an accurate description of the entire trekking route.
Chapter 2: Best Time to Trek Annapurna Base Camp
Ans: Autumn and spring season are considered the best time to trek in this region. Trekking here in February and March or November and December is suitable for a great experience. Thousands of trekkers come to Nepal to hike during these times of the year. You will get a clear sky and pleasant weather for trekking.
Chapter 3: Best Annapurna Base Camp Trek Companies
There are thousands of existing companies in the trekking business that promise to provide the best experience for trekking in the Annapurna region. Before choosing one, you need to research online querying the ratings they received, company history, customizable itinerary, and prices. Joining a reputable agency with safe trekking program lets you have the most memorable experience in your life.
Chapter 4: Annapurna Base Camp Trek Cost
Your trekking cost depends on the services, itinerary, and the trekking agency you preferred. This trek costs you between 700 USD and 1000 USD which covers transportation, accommodation, meals, and necessary permits.
Chapter 5: Annapurna Base Camp Trek Permit and Visa
Permits are compulsory for all trekkers wherever you trek in Nepal except for Nepali citizenship. If you are planning to take this journey, then you require two trekking permits to enter the Annapurna region. The first one is the Annapurna Conservation Area Project (ACAP) permit. Similarly, the next permit is Trekkers Information Management System (TIMS) card.
Chapter 6: Annapurna Base Camp Trek Packing List
Trekking to this base camp is a once-in-a-lifetime experience, but you need to wisely prepare for the trek. Packing the right gear and clothing makes your burden half and lets you have a smooth and comfortable trekking experience. Are you wandering with your need and judgment? It gives complete details for the necessary and right items to carry with.
Chapter 7: Annapurna Base Camp Trek Accommodation and Food
In this trek, you can find quite good tea houses and hotels, but in high season accommodation is limited. One needs to share rooms with a partner or other close friends, where a single room is hard to find. Along with this, you will enjoy local and traditional cuisine.
Chapter 8: Annapurna Base Camp Trek Ground Transportation
For Annapurna trek Nepal, all the trekking agencies provide the airport to hotel pick and drop-off facilities. You can use public transportation or local buses during the trek. A tourist bus will serve you from Kathmandu to Pokhara and return trip. Then from Pokhara to the trail starting point and return will be by private vehicle.
Chapter 9: Annapurna Base Camp Trek Internet and Telephone
There is a good internet connection in most places on this trek, however, it is not always reliable. Two telecommunication companies, Ncell and NTC, operate and provide the service. You can use data packages using Ncell or NTC sim-card and access the internet. Most small villages and hiking trails have good cell phone coverage, but it's poor or unavailable in other places in the region.
Chapter 10: Annapurna Base Camp Trek Guides and Porters
Before going on this trek, you need to decide whether you manage your own or tour with a travel agency. If you don't join any trekking company, then better to keep in touch with a local porter or guide. Trekking guides and porters make your travel interesting and easier, particularly in an unfamiliar region.
Chapter 11: Annapurna Base camp Trek Difficulty
Trekking in this region is considered a less strenuous trek in comparison to other popular treks of Everest and Annapurna. With proper preparation, any determined and reasonably fit trekker can succeed. Becoming a shorter, lower, and easier trek offers you an abundance of a lifetime experience.
FAQs
How long does it take to trek the Annapurna base camp?
Ans: Several trailheads lead you to reach the destination, so it takes around 6 to 12 days depending on the Annapurna trekking route
Can you hike the Annapurna base camp on your own?
Ans: Yes, you can go on this trek alone, but you should know all the basic things required to do this – time, season, budget, packing, and porter.
How difficult is Annapurna base camp?
Ans: The trek is considered a moderate one as the route isn't so steep and difficult.
How much does it cost to trek Annapurna base camp?
Ans: It can cost you from $ 700 to $ 2500, depending upon the route, service, and trek operator that you choose.
Which is better Annapurna or Everest?
Ans: Annapurna trek is less strenuous than the Everest Base Camp trek as it requires more strength training to complete. The biggest factor is the altitude of EBC which is higher.
How long does it take to climb Annapurna 1?
Ans: Climbing Period of Annapurna 1 (8091m) is 29 days.
Where do you start the Annapurna base camp trek?
Ans: Your real trek begins from Kande after the 20-minutes flight from Kathmandu to Pokhara and 2 hours bus drive from Pokhara to Kande.
Which trek is more recommended: the Annapurna base camp or the Everest base camp?
Ans: Regarding cost, alleviation, and difficulties, trekking to the Annapurna base camp is easier. These Annapurna and Everest both have their distinct identity, it solely depends on your choice.
How does it feel like to trek solo to Annapurna base camp?
Ans: Since the route is busy most time of the year, you won't feel lonely, and it's up to you whether you enjoy solo or in a group.
Is the Annapurna base camp trek best?
Ans: It's considered one of the best treks as it traverses through beautiful mountain rivers, sub-tropical forests, charming villages, and into the Annapurna sanctuary.
Why is the Annapurna base camp trek so popular for tourists?
Ans: This trek is famous for tourists because it offers breathtaking Mountain views, an experience of the typical Nepali village, local people, and their way of living a traditional life in the Himalayas of Nepal
How do I go to the Annapurna base camp trek?
Ans: You can take a 20-minutes flight from Kathmandu to Pokhara or take a 6 hours bus ride. Again take a bus to Ghandruk or Kande, where your real trek begins.
What are the highlights of an Annapurna base camp trek?
Ans: The major highlights in this trek are:
-Stunning views of Mt. Machhapuchre (Fishtail), Mt. Dhaulagiri, and massif Annapurna
-Experience Nepalese culture, tradition, typical life, and taste of Nepalese local cuisine
-Views of rhododendron and fascinating natural vegetation
What is the easiest way to trek the Annapurna base camp?
Ans: Take a 20-minute air flight from Kathmandu to Pokhara, then take a bus ride to Ghandruk. However, you can have other options to trek from Kande, Kimchi, or Nayapul for this Annapurna trekking Nepal.
Do I need a guide for the Annapurna base camp?
Ans: You can go for a solo trek in this region, however having a guide brings added value to your trekking experience.