Image Credit: https://www.adventurewhitemountain.com/annapurna-base-camp-trek
Trekking in ABC region is considered moderate and not challenging. Oxygen and atmospheric pressure occur more at a higher elevation. However, one needs to trek up to more than 4000 meters above sea level which demands physical and mental fitness.
New trekkers may struggle to go on hiking here, but most experienced hikers might find it easy. Those who can trek up to 6 to 7 hours a day can easily to trek in the region.
Annapurna trek difficulties often come at higher altitudes. In these most adventurous and breathtaking -journeys, there will increase a certain level of difficulties. There are several factors that make the ABC trip difficult, as mentioned below: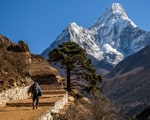 Get Free Quotes, Compare and Save on Your Ultimate Nepal Trekking Experience
Effortlessly connect with multiple Nepal trek providers to find the perfect adventure at the best price.
Time and Distance
It takes around 13 days to reach Annapurna Base Camp
Walk for 6 to 8 hours every day
Walk 15 to 20 kilometers every day to cover the distance
Hiking at a higher elevation might be challenging
Hiking distance is 115 kilometers long
Symptoms include fatigue, backache, body soreness, muscle pain, and leg cramps
Safety Measures
Take breaks and relax regularly
Be active and have some hiking expertise
Eat a lot of proteins and calories-related fruits to make you feel more energized
Undertake some trekking-related workouts and practice rising to greater altitudes
Create hiking regimens that include both uphill and downhill hikes
One of the most challenging aspects of any hike is the elevation. One might face Annapurna base camp trek difficulty adjusting to the low oxygen levels at a high altitude. The altitude of 4130 meters exceeds that of the average sea level which is the most challenging here. So, don't underestimate it. You can check out the symptoms of Altitude Sickness and be cautious.
Nausea and vomiting
Dizziness and poor sleep
Effects similar to a hangover
Difficulty in catching a breath
A High rate of heartbeat
Difficulty in stopping cough
Foam in saliva
Saliva might contain blood
Your lips, nails, and tongue might slowly turn blue
Unclear vision
Confusion in simple things
Difficult to walk heel-in-toe on a straight path
Diarrhea, headaches, loss of appetite, insomnia
Safety Measures for Altitude Sickness during Annapurna Trekking Nepal
Strengthening your body with appropriate training before the ABC trek
Maintain a high level of hydration during the trek
Avoid alcohol while trekking
Go slow during your trek
Have low altitude gains
Maintain cleanliness
In case you observe the symptoms, make a descent to lower altitudes
Should not ignore health problems because the symptoms can sometimes be severe
Eat liquid substances while walking in high altitude
Get some altitude sickness meds as well
Weather and Temperature
Annapurna trek weather is significant for trekking in the region which varies a lot. One should be aware of weather patterns and climatic shifts. Some of the influencing factors to weather are:
Autumn and Spring Season
Autumn and spring are the best seasons for the Annapurna base camp trek. During this season, you can have a panoramic view of breathtaking mountain landscapes; however, you may face:
Huge traffic makes it difficult as it obstructs enjoying trekking comfortably
The tea shops, hotels, and even the trail will be overcrowded
Imagine going on a trek for peace, and you never get it
Hotels are filled with travelers –
If you don't go without an agency you might be in mess. The rooms must be pre-booked and the services will be served late due to more guests in the hotel.
ABC trek becomes much more dangerous and challenging during the winter. In this season you can find:
Heavy snowfall and temperatures below 0° are conceivable
Temperature goes down to – 17 degrees Celsius at night
Temperature is usual and moderate during the day
Trekking may also result in avalanches and other natural calamities
Summer Season
This is one of the challenging times to trek Annapurna Nepal. During this time, you may have:
The summer season has the hottest and the high rainfall effect
The lower altitude regions are of high temperature and humidity
Due to regular rainfall, the trails are slippery and have more chances for a landslide
Trekking in the scorching sun isn't fun at all
The risk of landslides and uncertain rainfall may interrupt your itinerary for a day or two
Dark clouds appear often in the summer in the upper region
However, besides the uncertainties and risks, food and accommodation become a little cheap at this time during the Annapurna base camp trek. Greenery and peace are everywhere. Not too many people do the trek in the Summer season. So, you and your squad enjoying the whole route.
Winter Season
The winter season in this region starts at the beginning of December and lasts till the month of February. Although it's the best time to watch mountains being snowcapped and shining like a diamond, you can have:
The trials might be covered with the falling snow which can give hard time
Freezing weather can knock you down
Get off-season discounts in different hotels and homestays
Snow in the upper altitudes might make trekking difficult
The amount of sunshine is quite low this season
The temperature can get as low as -20 degrees
Keep an eye out constantly for weather forecasts for snowfall
Possibilities of an avalanche
Training and Experience
In this most thrilling and adventurous Annapurna trek in Nepal, one will witness one of the world's ten highest peaks on this excursion. A lack of preparedness makes the ABC trip challenging. To overcome this, one needs to:
Finish appropriate training before beginning this delightful stroll
Physically and mentally ready for hiking for at least 6 hours to complete
Take a hiking class or a professional training program
Keep up with your companions to make your journey more enjoyable
Need to put in a lot of practice time before heading out on your adventure
Must be at least an average hiker to deal with the difficulties
Training to handle the difficulty of the Annapurna Base Camp walk
You may increase your strength, endurance, ability, and talents by taking a class. Problems arise when you go on an Annapurna base camp trek adventure without thinking or planning. Next, you may do a range of exercises, including jogging, stretching, swimming, etc. It is possible to overcome the ABC trek's difficulties with proper and appropriate training.
Lodging, Food, and Beverages
Many resting areas and motels are located in the trekking area. However, it becomes more challenging as you climb higher in height. At lower altitudes, luxury is achievable but not at higher elevations. Hotels and resting areas at lower elevations may be more costly.
Furthermore, food is mostly covered in trekking packages. To earn additional stamina, you might sometimes take it on your own. Food is less expensive at lower elevations than at higher elevations.
Getting a single room during high seasons is challenging. Trekkers find rooms with shared restrooms and other limited facilities. Carry water bottles, water purification tablets, and drinks with you.
Budgeting
The price of products and utensils differs from place to place. One can find it at a cheaper rate in specific regions and more costly in others. So, better to manage your resource before leaving for trekking Annapurna Nepal.
Be sure you have enough money to get there and back. Transportation is straightforward just up to Pokhara. Sometimes, you need to use alternate forms of transportation outside of Pokhara. Similarly, herds, mules, and porters will be available to help you with your stuff.
At lower heights, everything looks to be less expensive. You will not have to worry about food or water because these are included in the hiking package. Thus, if you must make a purchase, do it at a lower elevation.
Guide and Porter
Without a porter or guide, it adds difficulty to the trek. And, it becomes impossible to carry all the possessions while hiking to Annapurna.
You'll need a lot of practice to trek without a guide or porter. The hike isn't challenging in any way. However, there are a few rough and steep spots. Going up and down the stone steps is quite challenging. If you hire a porter and tour guide, it's a wise decision.
Routes
There are several ups and downs on the Annapurna base camp trekking route. Several factors, including the trial, influence the ABC trek difficulty. Trekking, on the other hand, might be difficult for novice trekkers. You'll likely slip through the steep stone or terrain.
As a consequence, you must select the most appropriate trail for you. If you fall from a great height, you might get wounded. Concentrate on paths when walking.
During the rainy season, the trails might get muddy which is unavoidable. Extra time and effort will be required to complete the challenge that leads up to base camp.
Well-packed clothes will diminish trekking difficulty. One must bring a warm jacket with crampons for trekking and sunglass for protection from snow refraction. One also must bring a waterproof jacket and pants or umbrella for this trekking. Here is the gear list for trekking Annapurna:
Camera and extra battery and memory
Battery charger 2 pins and power bank, Mobile
Headlight with an extra battery
Sunglasses
Trekking poles
Sunhat and a warm hat
Sandals for teahouse wear
pair of woolen gloves
Trekking boots
Down jacket
Rain trousers and a rain jacket
Hiking shirt- two pairs
Two pairs of underwear
Water bottle one for hot water and another for cold water with some iodine purification tablets
Insurance copy and passport
Sleeping bag
Snacks, chocolate, and energy bars
Toiletries like toilet paper wet tissue
Bath gel and shampoo two in one
Sunscreen SPF 50 and lip balm SPF 50 as well
Soap and towel
Nail cutter
Toothpaste and brush
Moisturizer and hand sanitizer
Enough cash (no ATMs in the remote areas)
Thus, one needs to trek carefully to overcome the Annapurna trek difficulties. Drinking plenty of water and consuming a balanced diet might be a great help. Take smaller, more achievable steps as well. Trek consciously and actively to avoid any pitfalls.
FAQs
---
Is Annapurna base camp trek easy?
Ans: It's considered moderate trekking.
How difficult is the Annapurna base camp trek?
Ans: This trek is moderately challenging and depends on weather conditions and preparation.
How crowded is the Annapurna base camp?
Ans: During the high season, there is huge traffic, whereas, in the off-season, you can notice fewer trekkers in the region.
Is Annapurna base camp trek safe?
Ans: It's safe and secure for all nationals.
Which is harder Everest base camp or Annapurna?
Ans: Everest Base Camp trek is definitely more challenging than the Annapurna trek. The biggest factor is altitude.
Conclusion
Shading light on the lap where mountain jeweled Annapurna Massif is situated, this guide gives details on how to treasure a lifetime experience. Annapurna base camp trek lets the visitors explore and enrich knowledge about mountains' lives, locality, biodiversity, local culture, and history.
With the detailed features and complete requirements, this guide unfolds trekking trails to trekkers' needs. This gives a glimpse of what you need to accomplish from beginning to end of the journey. All essential equipment & gear, accommodation, food, transportation, and all features that one needed during the trek are minutely discussed.
If you are looking for information regarding routes of Annapurna Base Camp trek read Routes and Maps of the Annapurna Base Camp Trek chapter. Best Annapurna Base Camp Trek Time chapter explain in detail about the best time to trek in Annapurna Base Camp region. If you are wondering how to choose the best trek operator, find detail information from this How to Choose the best Annapurna Base Camp Trek Operator chapter.
The cost chapter Cost of Annapurna Base Camp Trek explains all types of cost and fees of Annapurna Base Camp trek. If you need information regarding visa and permit of Annapurna Base Camp trek read Visa and Permit for Annapurna Base Camp Trek chapter.
The packing list chapter explains the main items to Packing for Annapurna Base Camp trekking. Learn in detail about the food and lodging during trekking Annapurna Base Camp in the Accommodation and Food chapter. If you want information about Annapurna Base Camp trek ground transportation read the chapter Ground Transportation during.
In other chapters of this Annapurna Base Camp Trek guide, we have explained in detail of Internet and Telephone Facility in the Annapurna Base Camp region and how and where to find theTrek Guides and Porters. Moreover, you can explore our Nepal tours and treks package page to find several amazing Annapurna base camp trekking deals.