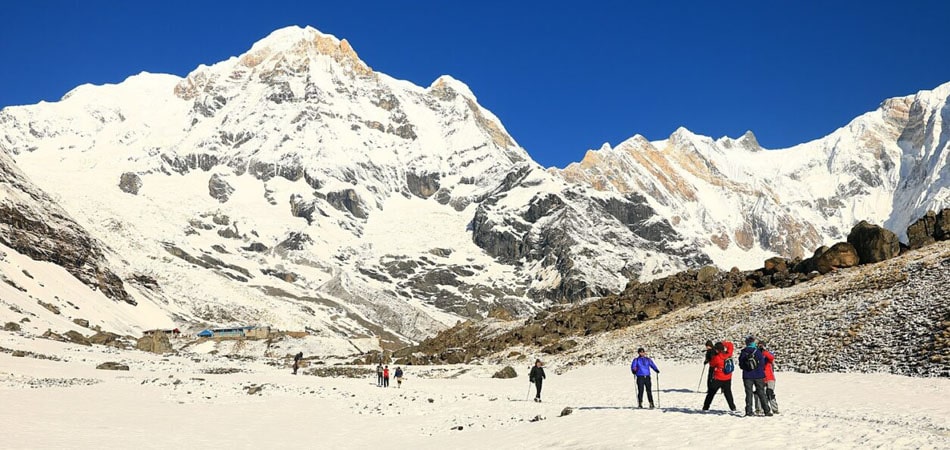 Image Credit: https://www.escapehimalaya.com/packages/annapurna-base-camp-trek/
The price for trekking in Annapurna Base Camp ranges from USD 750 to USD 2500 depending upon the route, service, itinerary, and trek operator. It generally includes all permits, transportation, accommodations, meals, guide, and porters. Because of its shorter distance and cheaper price, it is popular among trekkers.
So, what are the factors that contribute to the Annapurna Base Camp trek budget? Do you want to know the actual cost? Don't worry. This chapter gives a detailed breakdown of the total cost including almost everything that you required for this trek. Read ahead: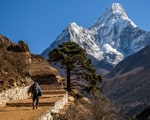 Get Free Quotes, Compare and Save on Your Ultimate Nepal Trekking Experience
Effortlessly connect with multiple Nepal trek providers to find the perfect adventure at the best price.
International flight to/from Nepal
The international flight cost to Nepal depends upon your traveling place. Ticket price ranges from budget class (low) fare to business class(high) fare flight. For example, the cheapest flight from the USA to Kathmandu is around $ 660, but on average low is around $ 700.
The flight costs during high season-September to November and March to May-are the most expensive. However, booking in advance will lower your expense or traveling in the off-season. Next, you can't get direct flights from major countries like Australia, the USA, and England.
Visa Costs
As one sets out for trekking Annapurna and gets a flight to Kathmandu, he/she gets the visa on arrival at the Tribhuvan International airport in Kathmandu. You can obtain your visa-on-arrival by filling out Arrival Card and Online Tourist Visa forms. Remember, these are needed for all tourists except Indians.
Nepal Tourist Visa for 15 days – $30
Nepal Tourist Visa for 30 days – $50
Nepal Tourist Visa for 90 days – $125
You'll need two permits for the Annapurna Base Camp trek. However, your trekking agency will arrange these permits for you.
Trekking Permit Cost
Travel Insurance Cost
Unprecedented weather conditions and altitude in the Himalayas can make situations beyond control. For this very reason, you need to be ready and safeguard your travel.
Buying travel insurance is a great idea while trekking in Annapurna Nepal. It can bear your cost in case of emergency or crisis. In the trek, you may suffer from hypothermia, altitude sickness, skin infections, sprained ankles, and more.
Travel insurance often covers an altitude of up to 6000m. If your body needs medical support for the fatal condition in the mountains, you need a helicopter rescue. It can cost you around $ 5000.
Traveling from Kathmandu to Pokhara and vice-versa isn't difficult. It takes around 6-7 hours bus drive. The next option is you can take a domestic flight which can traverse in 30 minutes.
Transportation fare is given below:
Public bus – $5
Tourist bus – $7
Private jeep – $250
Plane – $120 (One-way flight)
Accommodation and Food Cost (in Kathmandu and in Pokhara)
Most Annapurna base camp trek package cost covers airport transfers, accommodation and food expenses, and sightseeing. It depends on whether you stay in a luxurious hotel or look for a budget hotel. Hotels available in Kathmandu and Pokhara range from basic to star hotels.
Accommodation in economy hotel/night – around $10 or less
Accommodation in luxury hotel/night – up to $500 or more
For food, there is a wide range of options in Kathmandu and Pokhara since they are popular places for tourists. You can find local as well as international cuisines where Dal Bhat is Nepali traditional meal available across the country. It costs you around $3 whereas international dishes cost you more.
Accommodation and Food Cost (in Trekking Region)
During the trekking after Kathmandu and Pokhara, you'll find teahouses and lodges. A trekker needs to adjust to the rudimentary facilities – a wooden bed, a wooden table, a pillow, a blanket, and squat toilets.
In the lower part of the trail of trekking Annapurna Nepal, the facilities available there will surprise you. You can find a tea house that offers a hot shower, flush toilet, and Wi-Fi. But, as you trek higher, the basic facilities will be there, and one needs to pay more for just basic services.
Nowadays, a tea house in the region caters to a wide range of food menus and beverages. In this trek, you have to pay for
Accommodations and meals – from $20 to $30 on average per day.
Meals (Dal Bhat) in the lower part – $4
Meals (Dal Bhat) in the upper part – $6 and more
Guides and Porters Cost
Hiring an Annapurna base camp trek guide will make your trek successful without any hassle. They have a good knowledge of trekking routes and local culture and are very careful regarding advanced booking and logistics. It will definitely enrich your trekking experience.
Next, the porter will ease your burden of carrying your extra bags and gear. So, you will comfortably walk with your light backpack at higher altitudes.
Trekking Gears and Equipment
All the trekking gear and equipment can be bought or hired in Kathmandu or in Pokhara. Make sure you have at least a pair of trekking shoes, a trekking pole, a nice trekking bag, a water bottle, and a warm set of clothes. It will cost around $ 300 to $ 500.
Network and Internet Cost
Trekkers have access to the mobile network and internet access using NTC/NCell sim card. In the area where wi-fi is available, it lets them access the internet. The cost for a sim card and wi-fi is as follows:
NTC/NCell sim card – $1
Wi-Fi – up to $5 (many places provide free wi-fi)
FAQs
How much does it cost to trek Annapurna base camp?
Ans: It costs around $700 to $2500 depending on the itinerary, facilities, services, and tour operators you preferred.
Is Annapurna base camp trek expensive?
Ans: No, it isn't, however, you can go from budget trekking to highly expensive trekking. It depends on service, tour operator, facilities, and itinerary preferences, and affordability.
What will be the total duration and cost of the Annapurna Base Camp trek?
Ans: It will take around 6 -12 days which will cost around $700 – $ 2500.
If you are looking for information regarding routes of Annapurna Base Camp trek read Routes and Maps of the Annapurna Base Camp Trek chapter. Best Annapurna Base Camp Trek Time chapter explain in detail about the best time to trek in Annapurna Base Camp region.
If you are wondering how to choose the best trek operator, find detail information from this How to Choose the best Annapurna Base Camp Trek Operator chapter. If you need information regarding visa and permit of Annapurna Base Camp trek read Visa and Permit for Annapurna Base Camp Trek chapter.
The packing list chapter explains the main items to Packing for Annapurna Base Camp trekking. Learn in detail about the food and lodging during trekking Annapurna Base Camp in the Accommodation and Food chapter. If you want information about Annapurna Base Camp trek ground transportation read the chapter Ground Transportation during.
In other chapters of this Annapurna Base Camp Trek guide, we have explained in detail of Internet and Telephone Facility in the Annapurna Base Camp region, how and where to find the Trek Guides and Porters and how much dangerous and safe is Annapurna Base Camp Trek. Moreover, you can explore our Nepal tours and treks package page to find several amazing Annapurna base camp trekking deals.