Image Credit: https://basecampadventure.com/annapurna-base-camp-trek-in-may/
Trekking with a guide or a porter is a very wise decision. Due to their invaluable local knowledge, they can assist you in case of an accident or emergency problem. They know where the best places to stay and eat and show you the hidden treasures along the trail.
The significant part while hiring a guide is to look for a local one. Your Nepali guide will be everything to you along the trek. You might remember your guide or porter as part of your trekking Annapurna experience, so look for the registered guide.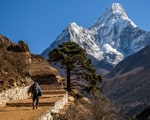 Get Free Quotes, Compare and Save on Your Ultimate Nepal Trekking Experience
Effortlessly connect with multiple Nepal trek providers to find the perfect adventure at the best price.
Registered Guide
Registered guides are normally trained and well experienced with good speaking English. Find one before you depart to Pokhara. Normally, if you are booking a trip through a local agency, you get a chance to meet your guide in Kathmandu.
By taking a registered guide with you, you can set your pace as you planned. You can stay where you want and know lots of things about the people, culture, and place. So, make sure you are trekking with an experienced, registered, and accredited Annapurna base camp trek guide.
Tourists who visit Nepal without a Guide and porters may go missing and never come back. It happens because trekking trails have no signs and very difficult to find out the main trekking paths. You just can hire Guide, porters, or porter cum Guide for successful trekking in the unknown region.
Look in the Guide's Qualification to successfully complete your Annapurna trekking Nepal:
Government license Holder
Experienced in first aid trained
Knowledgeable of locality, people, and culture
Good English speaking
On other hand, a porter cum guide speaks English but not fluently and carries your luggage. A porter with experienced in trails and its periphery with basic English can guide you to your destination.
Guide and porter make your journey to be easier and more knowledgeable. Guide lead trekking paths check TIMS and entry pass permit. The trekking guide provides information on the history, culture, and lifestyle of the people residing there, and details knowledge on various aspects of living and non-living beings located in the Annapurna base camp trek region. They give remedy measures if you are contracted high altitude sickness. Porter carries heavy bags and luggage if you are bound to take it with you as they are experienced in carrying heavy loads.
Porter cum guide service leads trekking paths and checks TIMS and entry permit pass. They even provide basic knowledge of the history, culture, and lifestyle of the people residing there. You will be given information on various aspects of living and non-living beings located in that region.
Luggage for Porter:
The guide doesn't carry your Luggage. Just in case you got a High altitude sickness Guide will help you.
Porter carries your Luggage around 15kg to 25 Kg.
Porter cum Guide carries your Luggage around 12Kg to 18Kg.
Guide / Porter Charge:
Guide – $25 per day including his/her accommodation meals, salary, insurance, and equipment.
Porters – $18 per day including/accommodations meals, salary, insurance, and equipment.
Porter cum guide – $22 per day including his /her accommodation meals, salary, insurance, and equipment.
Trekking companies offer you this special individualized Annapurna base camp trek guide service. Porters carry luggage of two clients maximum. Guides do not carry any luggage. Guides and guide-porters speak enough English to communicate well, porters only understand basic English. Guides of course are well-trained and have lots of experience in trekking. Moreover, they are able to tell you many things about the mountains, the culture, the history, and the religions of Nepal.
FAQs
Can you hike the Annapurna Base camp on your own?
Ans: Yes, you can go on trekking in the region on your own.
Do you need a guide for the Annapurna Base camp?
Ans: Not necessarily, but it would be better to trek easily and get more information if you hike with a guide.
Where to find guides and porters to trek Annapurna?
Ans: You can find them mostly in Kathmandu or at Pokhara. If you trek with tour agencies, they will arrange all required to make your trekking successful.
How much does it cost in a day to hire a guide and a porter while trekking to Annapurna base camp?
Ans: Hiring a guide, costs you around $20 – $25, whereas for a porter, it costs you around $15 – $20.
How much do you tip a porter?
Ans: It's up to you and your budget. Generally, tourists tip a porter around $1 – $10 or more.
If you are looking for information regarding routes of Annapurna Base Camp trek read Routes and Maps of the Annapurna Base Camp Trek chapter. Best Annapurna Base Camp Trek Time chapter explain in detail about the best time to trek in Annapurna Base Camp region. If you are wondering how to choose the best trek operator, find detail information from this How to Choose the best Annapurna Base Camp Trek Operator chapter.
The cost chapter Cost of Annapurna Base Camp Trek explains all types of cost and fees of Annapurna Base Camp trek. If you need information regarding visa and permit of Annapurna Base Camp trek read Visa and Permit for Annapurna Base Camp Trek chapter.
The packing list chapter explains the main items to Packing for Annapurna Base Camp trekking. Learn in detail about the food and lodging during trekking Annapurna Base Camp in the Accommodation and Food chapter. If you want information about Annapurna Base Camp trek ground transportation read the chapter Ground Transportation during.
In other chapters of this Annapurna Base Camp Trek guide, we have explained in detail of Internet and Telephone Facility in the Annapurna Base Camp region and how much dangerous and safe is Annapurna Base Camp Trek. Moreover, you can explore our Nepal tours and treks package page to find several amazing Annapurna base camp trekking deals.