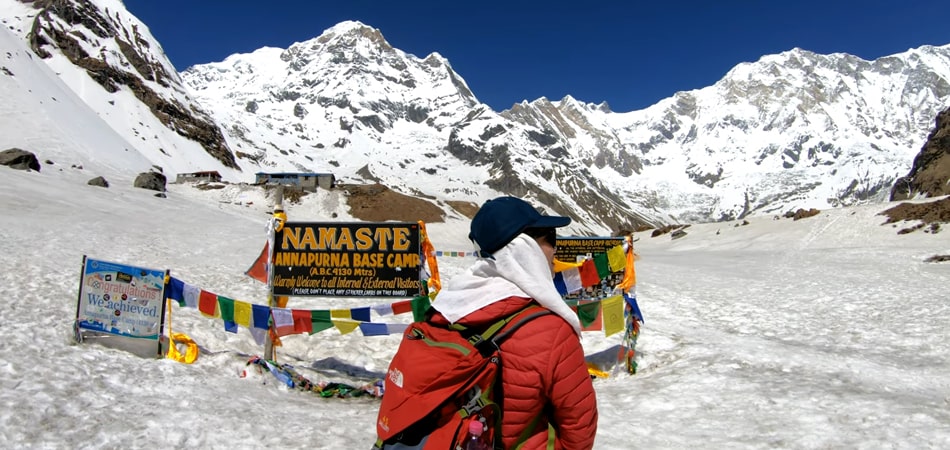 Image Credit: https://www.odysseytreksnepal.com/annapurna-base-camp-trek/
A trekker requires to obtain a Nepal visa. For this, you should apply to get a visa at your nearest Nepalese Embassy/Consulate or Mission offices in your own country. You also can have this upon your arrival at Tribhuvan International Airport in Kathmandu.
To apply for a visa, you need the following documents:
Valid passport for at least 6 months
Two passport-size photographs
Visa fees in US dollars
However, SAARC countries nationals (India, Bhutan, Sri Lanka, Pakistan, Bangladesh, Maldives, and Afghanistan) and China do not require any visa to visit Nepal. A Transit visa for foreign nationalities is only provided for 3 days. Therefore, a visa is required for longer stays.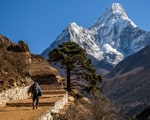 Get Free Quotes, Compare and Save on Your Ultimate Nepal Trekking Experience
Effortlessly connect with multiple Nepal trek providers to find the perfect adventure at the best price.
Tourist Visa Fees:
Transit visa (3 days) – Free of cost
Multiple entries (15 days) – 30 USD or equivalent convertible currency
Multiple entries (30 days) – 50 USD or equivalent convertible currency
Multiple entries (90 days) – 100 USD or equivalent convertible currency
Trekking permits are required for all trekking regions in Nepal including. The government of Nepal and the authorized associated bodies can issue it. The type of permits required will differ as per the trekking area. Some of the trekking regions are restricted areas where individual trekkers are strictly forbidden.
You can easily obtain it at the Nepal Tourism Board office at Bhrituktimandap, Kathmandu. Before applying for the Annapurna base camp trek permit, ensure that you have all the required documents. They are:
Original passport and passport photocopy
Visa copy
Four passport-size photos
Cash for the permit fees applicable in local currency
Trek Permits for Annapurna Base Camp
There are two permits required for trekking to Annapurna base camp Nepal:
In Nepal, most of the trekking regions fall under either national parks or conservation areas which you will need. To obtain a national park or conservation area permit you will need to fill out a form and submit it to the Nepal Tourism Board Office. The tourism board offices are located in Kathmandu and Pokhara.
It will cost around Rs. 3000(equivalent to $30) per trekker. You can get it at Nepal Tourism Board, Bhrikuti Mandap, Kathmandu.
Nepal Tourism Board (NTB) and Trekking Agencies Association of Nepal (TAAN) have brought Trekkers Information Management System (TIMS) permits into action. Concerning ensuring the safety and security of trekkers and controlling illegal trekking, it's implemented. This permit is required in all trekking regions of Nepal apart from the controlled area, where you will need a special permit.
Group trekkers will have to obtain Blue TIMS cards by paying a fee of Rs 1,000 per person or the equivalent of USD 10. Free Individual Trekkers (FITs), or in this case Annapurna base camp trek solo have to get Green TIMS cards by paying a fee of Rs 2,000 or equivalent of USD 20. However, SAARC countries' nationals have to pay:
Group trekkers Rs 300 (equivalent to $3) for TIMS cards
Individual trekker Rs 600 (equivalent to $6) for FITs
You'll need to present the following documents to obtain these permits for trekking Annapurna Nepal:
A copy of your passport
Itinerary/route
Two passport-sized photos
Dates of your trek
Travel Insurance paper
Entry and Exit points
Emergency contact information
Although the majority of the trekking regions in Nepal require a TIMS permit, the permit is only valid for the trekking area/route as mentioned in the permit.
You can get it at Nepal Tourism Board, Bhrikuti Mandap, Kathmandu.
FAQs
Do I need a visa to travel to Nepal?
Ans: All foreign visitors except Indians are required to have a valid visa to travel to Nepal.
How much does it cost for a Nepal visa?
Ans: Nepal visa costs depend on the number of days it is issued for:
Nepal Tourist Visa fee for up to 15 Days: USD 30
Nepal Tourist Visa fee for up to 30 Days: USD 50
Nepal Tourist Visa fee for up to 90 Days: USD 125
How to get a permit for the Annapurna trek?
Ans: You need to fill the form with required documents (valid passport and its photocopy, two passport size photographs) and submit it with a permit fee at Nepal Tourism Board, Bhrikutimandap, Kathmandu to get a permit.
Do you need a permit for the Annapurna Base camp?
Ans: Yes, you need Annapurna Conservation Area Permit (ACAP) and Trekker's Information Management System (TIMS) for this region.
How do I get Annapurna trekking permit?
Ans: Annapurna trekking permit comprises two permits – Annapurna Conservation Area Project (ACAP) and TIMS card. For this you require
Valid passport with its photocopy
Visa copy
Four PP size photograph
Permit fee applicable in local currency
Duly filled-form
And present it to Nepal Tourism Board, Bhrikutimanadap, Kathmandu.
Can I do the Annapurna Base camp on my own?
Ans: You can go for this trek independently, with or without a guide, a porter, or in a group.
Where can I buy trekking permits in Nepal?
Ans: You can have trekking permits from Nepal Tourism Board, Bhirkutimandap, Kathmandu.
How much is a trekking permit in Nepal?
Ans: You require two types of permits for Annapurna trekking Nepal. These two permits cost:
ACAP permit fee for foreigners: 3000 NPR (Approx. $29)
ACAP entry permit fee for SAARC nationals: 1000 NPR (10$)
TIMS permit: 1,000 NPR ($10)
For SARC Nation 200 NPR (Approx. $2)
If you are looking for information regarding routes of Annapurna Base Camp trek read Routes and Maps of the Annapurna Base Camp Trek chapter. Best Annapurna Base Camp Trek Time chapter explain in detail about the best time to trek in Annapurna Base Camp region.
If you are wondering how to choose the best trek operator, find detail information from this How to Choose the best Annapurna Base Camp Trek Operator chapter. The cost chapter Cost of Annapurna Base Camp Trek explains all types of cost and fees of Annapurna Base Camp trek.
The packing list chapter explains the main items to Packing for Annapurna Base Camp trekking. Learn in detail about the food and lodging during trekking Annapurna Base Camp in the Accommodation and Food chapter. If you want information about Annapurna Base Camp trek ground transportation read the chapter Ground Transportation during.
In other chapters of this Annapurna Base Camp Trek guide, we have explained in detail of Internet and Telephone Facility in the Annapurna Base Camp region, how and where to find the Trek Guides and Porters and how much dangerous and safe is Annapurna Base Camp Trek. Moreover, you can explore our Nepal tours and treks package page to find several amazing Annapurna base camp trekking deals.