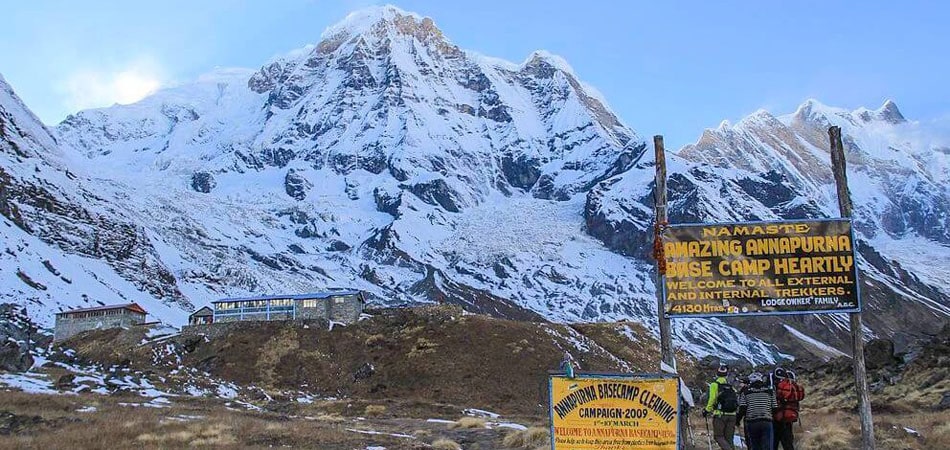 Image Credit: https://mosaicadventure.com/best-time-to-trek-annapurna-base-camp-trek/
All seasons have a distinct impact on the trekking sector. However, the best time to trek in the region hugely differs on a person's choice, enthusiasm, and preparation. You will get the most comfortable weather and the best views during Spring and Autumn. During these times of the year, you definitely enjoy your trekking because of the pleasant weather and clear sky.
If you are curious to know which season is the best, learn about each season and decide as per your trekking style and preference.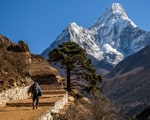 Get Free Quotes, Compare and Save on Your Ultimate Nepal Trekking Experience
Effortlessly connect with multiple Nepal trek providers to find the perfect adventure at the best price.
Autumn (September – November)
This season is the best season for the Annapurna base camp trek due to moderate temperatures, mild wind, and low precipitation. During this season, bright sun, and clear skies let you have a superb view of the mountains and surroundings.
The monsoons will be over by early September, and the weather ranges from mild to warm days. Daytime temperatures can reach up to 20°C in high altitudes and the nights are colder with temperatures around 5°C.
Pros:
The weather is stable
The temperature in uphill and lower mountains reaches about 15-24°C
Days tend to be warmer
Spectacular view of golden color beneath the crystal blue sky
The environment is clean, and the lowlands are lush
The biggest festivals of Nepal – Dashain & Tihar
Cons:
Heavy traffic
Slightly expensive
Spring (March-May)
Spring is another best time to visit Annapurna base camp with a mild climate and quite low rainfall. You can have a very welcoming trekking environment. The temperature starts rising from mid-March up to mid-May. The mean daily temperature in the ABC is between 10 to 0°C. Lower trek regions are even warmer.
Pros:
The temperature in upper hill and lower mountain ranges from 16-23°C
Pleasant, warm trekking conditions in the day and warmer nights
Experience the remote corners of the Himalayas
Clearest mountain views
Inviting trek route with red, pink, and white rhododendron flowers
Cons:
Trekking can get hot and sweaty at a lower altitude
Afternoon clouds are common which can bring clouds and some downpours
Heavy traffic in Annapurna trekking
Summer (June – August)
It's also the season of monsoon, the rain makes the trails wet and slippery, and the temperatures remain high. The day temperatures at high elevations usually range from 10°C to 23°C and get relatively colder which is between 5°C to 10°C at night.
Pros:
Rain keeps dust and pollutants away
Fewer traffic lets you enjoy the beauty and solitude of the mountains comfortably.
View of lush vegetation
Cons:
The monsoon in Nepal leads to wet and humid conditions
Normally trails will be muddy and slippery
You will encounter many leeches along the trail
Winter (December – February)
During this season, ABC Trek regions are cold but it excites adventurous trekkers. The temperature can get as low as -10°C. Daytimes are relatively warm with plenty of sunshine.
The coldest time occurs between December to early February but the Annapurna trek weather gradually turns to warm after late February. For beginners, it's tough to go on trekking, but experienced trekkers will have no problem.
Pros:
The skies are clear with perfect views of snowcapped mountains
The trekking routes are quiet, you can give more attention to the scenery and people
You can celebrate New Year or Christmas in the mountains with incredibly friendly local people
Trails are the least busy
Cons:
Many of the high passes are closed due to the heavy snowfall
Colder temperatures require more planning and equipment
FAQs
What is the best time to trek to Annapurna base camp?
Ans: Autumn is considered the best time to trek Annapurna.
Can you trek Annapurna base camp throughout the year?
Ans: Yes, adventurous trekkers can go trekking in all seasons, however, it's challenging to trek during winter or monsoon.
Is there snowfall in the Annapurna base camp?
Ans: Yes, there is snowfall in the region, especially in the winter season.
What is the weather like in Annapurna?
Ans: The Annapurna weather can be fickle at times and it's always best to plan ahead based on the weather forecast.
If you are looking for information regarding the routes of the Annapurna Base Camp trek read Routes and Maps of the Annapurna Base Camp Trek chapter. If you are wondering how to choose the best trek operator, find detail information from this How to Choose the best Annapurna Base Camp Trek Operator chapter.
The cost chapter Cost of Annapurna Base Camp Trek explains all types of costs and fees of Annapurna Base Camp trek. If you need information regarding visa and permit of Annapurna Base Camp trek read Visa and Permit for Annapurna Base Camp Trek chapter.
The packing list chapter explains the main items to Packing for Annapurna Base Camp trekking. Learn in detail about the food and lodging during trekking Annapurna Base Camp in the Accommodation and Food chapter. If you want information about Annapurna Base Camp trek ground transportation read the chapter Ground Transportation during.
In other chapters of this Annapurna Base Camp Trek guide, we have explained in detail of Internet and Telephone Facility in the Annapurna Base Camp region, how and where to find the Trek Guides and Porters and how much dangerous and safe is Annapurna Base Camp Trek. Moreover, you can explore our Nepal tours and treks package page to find several amazing Annapurna base camp trekking deals.