Image Credit: https://www.travelsofabookpacker.com/blog/annapurna-base-camp-trek-without-guide
Trekking in ABC ground transportation starts from airport pick up, sightseeing in Kathmandu and Pokhara. You can use the car, private jeep, tourist bus or local bus to reach Pokhara from Kathmandu. After Pokhara to the trek starting point, you can go by car or bus, and return using the same sort of transportation.
Inside cities like Kathmandu and Pokhara, trek organizer provides private luxury tourist vehicle (car, jeep, hiace, bus) for airport transfers and sightseeing. Trekkers can use taxis as well inside the city. Most important, trekkers most be highly cautious while driving on off-roads of Nepal, especially during monsoon. Knowing and choosing good modes of transportation during Annapurna base camp trekking Nepal is an integral part of a trekker.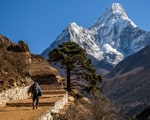 Get Free Quotes, Compare and Save on Your Ultimate Nepal Trekking Experience
Effortlessly connect with multiple Nepal trek providers to find the perfect adventure at the best price.
Kathmandu to Pokhara
Transportation between Kathmandu and Pokhara is easily available. You can take a bus drive or air flight. Even in road transportation, you have multiple options – tourist bus, local bus, private jeep, car, or taxi. Tourist buses leave from Kantipath, near Thamel at 7 am as all buses leave around the same time. For tourist buses:
Ticket price: Rs 1000 (around $10) per person
Travel duration: 6 – 7 hours to reach Pokhara
Local buses leave from the New Bus Station in Balaju, Kathmandu. Regarding the fare, it's a bit cheaper than the tourist one. Fare can be around Rs 500 (around $5) which cover seat and luggage cost. These local buses or minibuses depart throughout the day. They leave whenever they are full, so no specific time. It takes around 6 -7 hours, depending on traffic and how often your driver stops for breaks and to pick up passengers.
When you reach Pokhara bus station you need to take a taxi or local bus to reach Lakeside where you're supposed to stay. It costs about Rs 400(around $4) by taxi or Rs100 (around $1) by local bus.
Once you reach Pokhara, you've multiple options for a trekking starting point. They are:
Pokhara to Nayapul (Trekking starting point for)
Nayapul is the starting point for this trekking Annapurna Nepal. Local buses or private vehicles are available from Pokhara to get to Nayapul. It takes about 2 hours to reach Nayapul from Pokhara. You can also hire a private jeep or a car if you are willing to pay a little extra.
Pokhara to Kande
You can reach the trailhead at Kande by public bus or taxi from Pokhara. The bus trip takes around 2 hours and costs about Rs 300 ($3). Getting to the bus station from the lakeside cost you around Rs 100 ($1).
Pokhara to Ghandruk
From Baglung bus park in Pokhara, you can take a jeep ride to Ghandruk. It costs around 6000 per jeep. This journey takes about 3 hours, and the same amount of time and cost goes for returning back.
Pokhara to Phedi or Birethanti
Trek to Annapurna base camp organizer arranges private vehicle from Pokhara according to the necessity to reach Birethanti or Phedi. For a shorter trip, some use private jeep up to Kimche for the Annapurna base camp trek. After completion of the trek, those private vehicles pick up trekkers from Phedi or Birethanti. There is no road construction in these trekking regions.
Pokhara to Besisahar
Road transportation is the only single option to reach Besisahar. Depending upon your customized Annapurna base camp trek itinerary can end at Besisahar or Kaligandaki valley where real trekking begins. The extensive construction of roads (gravel/ off-road) in both Marshyangdi valley and Kaligandaki valley gives trekkers options. They can start and end trekking using multiple ways.
Access to private vehicles and local jeeps has made the trek significantly shorter. However, driving to attempt the Thorong-La pass to Manang can be serious because of altitude sickness. Crossing Thorong-La pass to reach Muktinath, again one can drive to Pokhara in a jeep through Kaligandaki valley.
Pokhara to Kaligandaki Valley
Generally, the Kaligandaki valley trek starts from Birethanti including Ghorepani and Annapurna Poonhill trekking. The trekking ends when one reaches Jomsom and flies to Pokhara. In case of bad weather and no flight, the trekker may need to drive in a local jeep through Kaligandaki valley including Tatopani, Beni and finally to Pokhara or vice-versa.
As soon as you finished your trekking destination, you may come back and stay a few days at Pokhara or leave for Kathmandu. The decision is up to you or if you are travelling with the agency, you'll get it according to the itinerary. Now, you return through the same road and use an already booked vehicle like a tourist bus or a private one.
Drive from Pokhara to Kathmandu
After completion of trekking Annapurna, one needs to return back to Kathmandu via 6-7 hours of driving. Upon arrival at the capital city, you will be given a farewell dinner if you are trekking with a tour agency.
Airport Drop
With plenty of wonderful memories, you will go to TIA for your scheduled international flight using a taxi or another private vehicle.
Travellers and trekkers can use taxis inside Pokhara city. The same rule applies to returning from Pokhara to Kathmandu. Using one-time flights, and another time road transportation, to and from Pokhara is also possible.
If you are looking for information regarding routes of Annapurna Base Camp trek read Routes and Maps of the Annapurna Base Camp Trek chapter. Best Annapurna Base Camp Trek Time chapter explain in detail about the best time to trek in Annapurna Base Camp region. If you are wondering how to choose the best trek operator, find detail information from this How to Choose the best Annapurna Base Camp Trek Operator chapter.
The cost chapter Cost of Annapurna Base Camp Trek explains all types of cost and fees of Annapurna Base Camp trek. If you need information regarding visa and permit of Annapurna Base Camp trek read Visa and Permit for Annapurna Base Camp Trek chapter.
The packing list chapter explains the main items to Packing for Annapurna Base Camp trekking. Learn in detail about the food and lodging during trekking Annapurna Base Camp in the Accommodation and Food chapter.
In other chapters of this Annapurna Base Camp Trek guide, we have explained in detail of Internet and Telephone Facility in the Annapurna Base Camp region, how and where to find the Trek Guides and Porters and how much dangerous and safe is Annapurna Base Camp Trek. Moreover, you can explore our Nepal tours and treks package page to find several amazing Annapurna base camp trekking deals.