Image Credit: https://basecampadventure.com/annapurna-base-camp-trek-map-full-information-guide/
This trek is popular for its spectacular routes in the region and is accessible from several trailheads. The route shown on the map is cheaper and shorter. Surrounded by some of the highest peaks in the world; Annapurna I (8091 m), Annapurna South (7219 m), Machapuchhre (6993 m), and Hiunchuli (6441 m), it has a unique setting.
Trekkers take several routes in the Annapurna sanctuary national park. The direct route goes through the Australian camp, Landruk, and Deurali to the destination. Pokhara is the main gateway to trek in the region. From here, you can take different courses to Chomrong village and join the main ABC trail. The trek is carried out along with the Annapurna Poonhill trekking.
Trekking for this route starts at Nayapul from where trekking continues to Ghorepani (2750 m). Trekkers often stay overnight here hiking to Poon Hill (3210 m) for a sunrise view. Then the route continues via Thadapani towards Annapurna Base Camp.
You will get a detailed route concerning the different options to trek to this region. Among those, some of them are discussed below: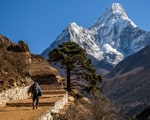 Get Free Quotes, Compare and Save on Your Ultimate Nepal Trekking Experience
Effortlessly connect with multiple Nepal trek providers to find the perfect adventure at the best price.
Rapid Annapurna Base Camp Trek
This trekking trail is tremendously popular, enlisted as one of the most popular trekking itineraries from across the world. Being the fastest way, you can complete your destination in less than a week's time. Your fascinating journey starts and concludes at Pokhara lakeside.
Busy people with limited time often go with this option. It allows them to visit the Annapurna and Machhapuchhre base camp.
This trek will offer you to see the following mighty mountains cliffs:
Annapurna I (8,091 m)
Annapurna South (7,219m)
Himchuli
Gangapurna
Annapurna III (7,555m)
Mt. Machhapuchhre
Lamjung Himal
Mt. Manaslu
Mind-blowing sunrise and sunset views, pleasant rhododendrons forest, and snow-capped mountains are the major prime seduction. The lifestyle, culture, dress, tradition, and charming hospitality of the local people make your trek an auxiliary lifetime experience.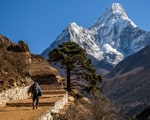 Get Free Quotes, Compare and Save on Your Ultimate Nepal Trekking Experience
Effortlessly connect with multiple Nepal trek providers to find the perfect adventure at the best price.
Sample 6 days itinerary for Rapid Annapurna Base Camp Trek
Day 1: Drive to Kimche (2 hrs Drive) and trek to Ghandruk (Altitude: 1940m/6360 ft, Trek: 2-3 hrs)
Day 2: Trek to Chhomrong (Altitude: 2170m/7120ft, Trek: 5-6 hrs)
Day 3: Trek to Deurali (Altitude: 3,230m/10,597ft, Trek: 5-6 hrs)
Day 4: Trek to Annapurna Base Camp via Macchapuchre base Camp (Altitude: 4,130m/13,545ft, Trek: 5-6 hours)
Day 5: Trek to Bamboo or Sinwa (Altitude: 2310m/7578ft, Trek: 7-8 hrs)
Day 6: Trek to Kyumi, drive back to Pokhara (Altitude: 1,780m/5,859ft, Trek: 5-6 hrs)
Annapurna Base Camp Trek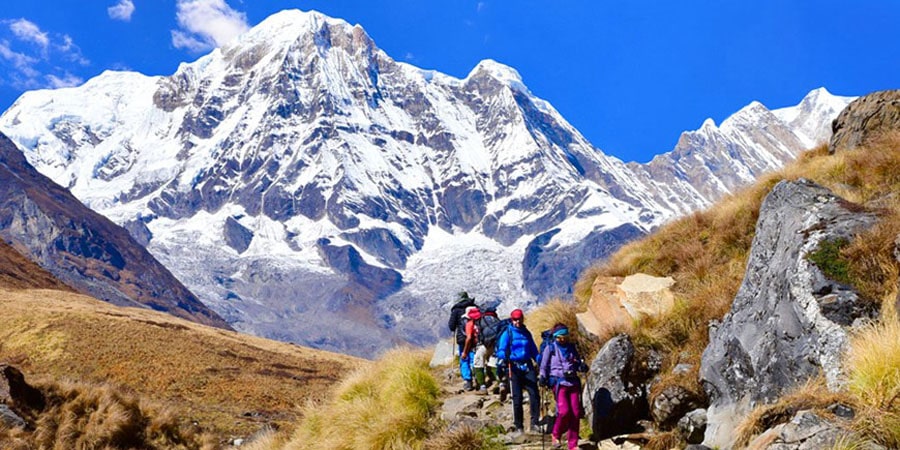 Image Credit: https://www.nepaltraveladventure.com/annapurna-base-camp-short-trekking.php
This customized trek is designed to take you to the dreamland of many fellow travelers within a short time. Your adventurous, and mountain views journey starts with a short flight from Kathmandu to Pokhara. From Pokhara, you climb up slowly and gradually to Tikhedhunga and then go to Ghorepani village. During this tail, you will be stopped by Poonhill for a captivating viewpoint then continue the trip through dense forests and settlement areas to Sinwa.
Now you ascend to Deurali and then to Annapurna Base Camp. As soon as we reach the base camp, we will be blessed with empowering views of mountains such as Mt. Annapurna, Mt. Gangapurna, Mt. Macchapucchre, Mt. Hiunchuli, Mt. Lamjung, Mt. Nilgiri, and many more. After enjoying some quality time in the base camp, you descend to Bamboo and then to Pokhara via Jhinu Danda.
Sample 11 Days Itinerary for Annapurna Base Camp Trek:
Day 1: Arrival in Kathmandu
Day 2: Fly to Pokhara, drive to Nayapul, and trek to Tikhedhunga, (Trek: 4hrs)
Day 3: Trek to Ghorepani (2,874 m/9,429 ft, 4-5 hrs)
Day 4: Trek Poonhill (3,210m/10,529ft) to Tadapani (2,610m/8,560ft, 6-7 hrs)
Day 5: Trek to Sinuwa
Day 6: Trek to Deurali (3200m/10,500ft, 5-6 hrs)
Day 7: Trek to Annapurna Base Camp (4,230 m/13,810ft, 6-7 hrs)
Day 8: Trek to Bamboo (2,310m/7,575ft, 6-7 hrs)
Day 9: Trek to Jhinu Danda (1,780m/5,840ft, 5-6 hrs)
Day 10: Trek to Siwai, drive to Pokhara, and fly back to Kathmandu.
Day 11: Departure Day
Heli Tour to Annapurna Base Camp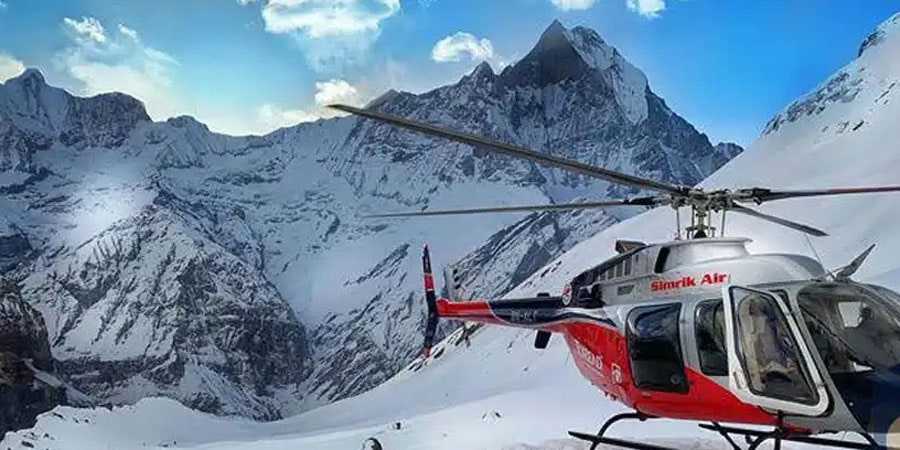 Image Credit: https://www.himalayanmentor.com/annapurna-base-camp-helicopter-tour.html
The quickest way to explore the Annapurna region in a short interval of time is through the Heli tour. It starts from Pokhara lakeside offering a wide view of Himalayan ranges as well as other surrounding peaks of the Annapurna region. Aged people and younger ones enjoy it enormously as they can't bear hiking.
Heli tour to this region offers views of popular highest peaks of Nepal such as Annapurna I (8091 m), Annapurna II (7937 m), Dhaulagiri (8167 m), Fishtail (6993 m), Annapurna Base Camp (4130 m) and more. The destination can be reached within a 2-3 hours helicopter ride from Pokhara.
During this Annapurna base camp helicopter tour, the helicopter takes off from Pokhara airport leading you in the northern direction. It is very exciting looking down the dense green forests, beautiful villages, rivers, hills, and terrains. You will be delighted with the mighty views of the entire Annapurna Ranges along with other summits.
After some time, you approach the outstanding snow-capped Himalayan peaks of the Annapurna region. As it lands at the helipad of Annapurna Base camp, you will spend half an hour for fantastic views. Then, you fly back to Pokhara.
Annapurna Base Camp Heli Tour Itinerary (Sample)
6:00 AM: Reach Pokhara airport from the hotel where you stayed.
6:30 AM: Boarding the Helicopter and flying to Annapurna Base Camp.
6:45 AM: Helicopter Land at Annapurna Base Camp. You will have 30 minutes' time to explore Annapurna Base Camp and take panoramic pictures.
7:15 AM: Fly back to Pokhara Airport. Reach Pokhara Airport around 7:30 AM.
FAQs
How many miles is the Annapurna base camp trek?
Ans: It's about 68 miles that cover this trek.
How long is the Poon Hill trek?
Ans: This trek stretches around 45 km long.
How can I go to Annapurna?
Ans: There are three ways you make a visit:
1. Take a bus from Pokhara to Kimchi and start trekking,
Or
2. Take a private vehicle like a taxi, or jeep from Pokhara to Nayapul and begin your trek,
Or else
3. Take a Heli tour from Pokhara airport to ABC
Where is Annapurna base camp?
Ans: This site lies in the Annapurna Sanctuary which is 40 km directly north of Pokhara, elevated at the altitude of 4130 meters in central Nepal.
If you are looking for information regarding the best time to trek to the base camp of Annapurna, read the Best Annapurna Base Camp Trek Time chapter. If you are wondering how to choose the best trek operator, find detailed information from this How to Choose the best Annapurna Base Camp Trek Operator chapter.
The cost chapter Cost of Annapurna Base Camp Trek explains all types of costs and fees of Annapurna Base Camp trek. If you need information regarding the visa and permit for the Annapurna Base Camp trek read Visa and Permit for Annapurna Base Camp Trek chapter.
The packing list chapter explains the main items to Packing for Annapurna Base Camp trekking. Learn in detail about the food and lodging during trekking Annapurna Base Camp in the Accommodation and Food chapter. If you want information about Annapurna Base Camp trek ground transportation read the chapter Ground Transportation during.
In other chapters of this Annapurna Base Camp Trek guide, we have explained in detail of Internet and Telephone Facility in the Annapurna Base Camp region, how and where to find the Trek Guides and Porters and how much dangerous and safe is Annapurna Base Camp Trek. Moreover, you can explore our Nepal tours and treks package page to find several amazing Annapurna base camp trekking deals.