Image Credit: https://www.thirdrockadventures.com/blog/annapurna-base-camp-trek-a-complete-guide
There is a good facility of internet access via Wi-Fi, and mobile networks in different regions of Nepal right now. The service is good in the urban areas; however, services are poor and not reachable in remote areas in the country.
Concerning the internet access Annapurna base camp trek, some lodges provide free Wi-Fi and some will charge. It depends on where you are staying. Most places where charge a range from $ 1- $ 4. It includes Wi-Fi usage and mobile charging; however, the internet connection is unreliable sometimes.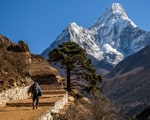 Get Free Quotes, Compare and Save on Your Ultimate Nepal Trekking Experience
Effortlessly connect with multiple Nepal trek providers to find the perfect adventure at the best price.
Teahouse/Lodge Wifi
Internet and WIFI facilities are installed in most of the teahouses and lodges of the trekking region. One can expect such service in most lodges or teahouses. However, services are not accessible due to the difficult topographies and technical problems in some places.
You can easily find WIFI services in these areas during trekking in Annapurna Nepal:
Birethati
Ghandruk
Tatopani
Jomsom
Muktinath
Thorong Phedi
High Camp
Thorong Phedi and High Camp are technically high areas among the mentioned places. So, Using WIFI in these areas can cost around Rs 200($2).
Using WIFI:
Send some messages and pictures
Can't stream high-definition video
If streams, it will take a lot of time
Don't completely rely on Internet service
Don't expect stable signals and high-speed Internet
Internet Access via SIM card
You can use sim cards to have internet connections in Annapurna base camp trekking Nepal. Using sim cards is the cheapest way to access the internet. Sim cards also provide many data packages at cheap rates to access the internet.
It is the only available alternative for Wifi service. There are two popular telecommunication companies. They are:
Among NTC and NCELL, NTC is most suitable for the trek due to its reachable even in the most rural part of Nepal. You can have 3G services in most of the places in the Annapurna region while using NTC sim. However, the chances of getting full network coverage are 25%.
You can subscribe to the internet package which costs you less. You can subscribe to more or fewer data as you need. NTC provides various 3G/4G data packages at incredible prices:
| | | | |
| --- | --- | --- | --- |
| Price | Data | Minutes | Valid |
| Rs. 500 ($4.5) | 7 GB (1 GB Daily) | 60 | 7 Days |
| Rs. 700 ($6.5) | 4.5 GB | 60 | 28 Days |
| Rs. 1200 ($11) | 28 GB (1 GB Daily) | 100 | 28 Days |
| Rs. 1200 ($11) | 12 GB | 60 | 42 Days |
NTC Network
NTC prepaid SIM cards for tourists are cost-effective and have several benefits. You can purchase NTC SIM, at the TIA NTC counter or other shops in Kathmandu or in Pokhara for trekking Annapurna Nepal. For a SIM card you need to:
Attach a photocopy of your passport / ID card
Attach a passport-size photograph
Fill out the registration form
Pay Rs 100 (around $1)
Ncell Network
Ncell has introduced a special SIM for travelers named Visit Nepal SIM. It is a SIM for travelers to experience high-quality and uninterrupted connections while in Nepal.
For Visit Nepal SIM, you require:
A photocopy of your passport
One passport-size photo
Your arrival visa
A filled-out registration form
Rs 100 (around $1)
| | | |
| --- | --- | --- |
| Days | Price (incl. Taxes) | Data (GB) + Voice (Minutes) |
| 3 | NPR. 290 | 3GB + 30 mins |
| 7 | NPR. 490 | 7GB + 70 mins |
| 14 | NPR. 980 | 14GB + 140 mins |
| 28 | NPR. 1470 | 28GB + 280 mins |
| 30 | NPR. 2888 | 88GB + 888 mins |
Most small villages and hiking trails of Annapurna base camp trek have good cell phone coverage. In some areas, however, the network can be poor or unavailable. In the base camp itself, the connection may not be available or as good.
A new GSM Mobile tower, installed in the Mardi route, has benefitted ABC Trail. It is a solar-powered station at an altitude of 3,550 m/11,647 ft. Concerned stakeholders are planning to expand it. Soon there will be a good stable phone connection in the region.
FAQs
Is there a mobile network in the Annapurna base camp?
Ans: Yes, cell phone networks are available during the trek. There are two giant telecommunication- Ncell and NTC networks which cover most of the small villages and trails.
Is there WIFI on the Annapurna Base camp?
Ans: Some teahouses in the region offer un/paid Wi-Fi services but don't expect high-speed connectivity at this place.
Is there a network in the Annapurna base camp?
Ans: At higher altitudes like ABC, you can get the mobile network and internet connection poor.
If you are looking for information regarding routes of Annapurna Base Camp trek read Routes and Maps of the Annapurna Base Camp Trek chapter. Best Annapurna Base Camp Trek Time chapter explain in detail about the best time to trek in Annapurna Base Camp region. If you are wondering how to choose the best trek operator, find detail information from this How to Choose the best Annapurna Base Camp Trek Operator chapter.
The cost chapter Cost of Annapurna Base Camp Trek explains all types of cost and fees of Annapurna Base Camp trek. If you need information regarding visa and permit of Annapurna Base Camp trek read Visa and Permit for Annapurna Base Camp Trek chapter.
The packing list chapter explains the main items to Packing for Annapurna Base Camp trekking. Learn in detail about the food and lodging during trekking Annapurna Base Camp in the Accommodation and Food chapter. If you want information about Annapurna Base Camp trek ground transportation read the chapter Ground Transportation during.
In other chapters of this Annapurna Base Camp Trek guide, we have explained in detail of how and where to find the Trek Guides and Porters and how much dangerous and safe is Annapurna Base Camp Trek. Moreover, you can explore our Nepal tours and treks package page to find several amazing Annapurna base camp trekking deals.