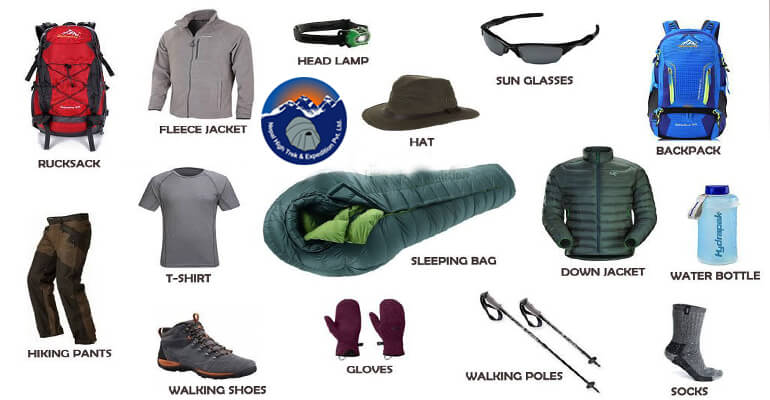 Image Credit: https://www.nepalhightrek.com/packing-list-of-everest-base-camp-trek/
Trekking to the base camp is a once-in-a-lifetime experience, but one needs to prepare well for the trip. This comprehensive packing list includes trekking equipment, clothing, trekking gear, a first-aid kit, and other necessary items. Your packing anxiety will be over with this as it comes in handy- to ease your packing stress.
This ultimate essential packing list has all the things you need for the trek. However, your need and judgment can make the better decision to have smart and wise packing. Similarly, information regarding weather conditions of the region plays a vital role to pack. Here are essential items to pack for this Annapurna base camp trek: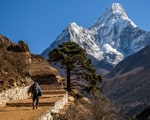 Get Free Quotes, Compare and Save on Your Ultimate Nepal Trekking Experience
Effortlessly connect with multiple Nepal trek providers to find the perfect adventure at the best price.
Trekking Permits
You need a TIMS (Trekkers Information Management System) card and an ACAP (Annapurna Conservation Area Project) trekking permit to go for this trek. Carrying it along the journey makes it comfortable if some authority or checkpoints asked you to show it. So, don't forget to pack in your bag.
Cash
Independent trekkers need to have enough money for accommodations and food during the trek. Planning to spend around $40/day will work smoothly. But for trekkers who are taking tour packages, tour operators provide accommodation and food. If you just carry a few bucks per day, it will be enough for snacks or hot showers. There are no banks or ATMs anywhere during trekking in Annapurna trail areas.
Map and Guide Book
Arrange your route each day. There are many trailheads that lead to the destination. Another important aspect is to hire a guide who takes you through successfully of your trek. You can also find an electronic copy. Taking notes or photographs of the relevant page of the physical one eases your trail.
Duffle Bag
Bring a collapsible duffle bag which you can use for packing your extra clothes or necessary items. If the bag is around 90/100 liters (20-22 gallons) in size, it's ok. Don't worry. The porters or yaks will be carrying this bag during the Annapurna trekking Nepal.
Sleeping Bag
Trekkers better have their own sleeping bag, although you will get a good bed at some lodges. They even provide electric bed-topping, and blankets are pretty warm unless you plan on sleeping in tents.
Trekking Poles
Trekking poles support you while trekking. It seems to be like your third leg during the treks as you hike ups and downs in the rocky hills. So, look for an adjustable and collapsible pole that suits the trek.
Day Pack
A 30–35 liter day pack is big enough to carry personal documents, a camera, money water, a first aid kit, snacks, and extra clothes for Annapurna trek Nepal. Find a bag with a hip belt and an inner frame for back support. Be sure to do a test pack at home to make sure all your gear fits because you need to carry it on the trail every day.
Stuff Sacks and Organizers
To stay organized you better pack your necessary items in a combination of different-sized stuff sacks. Ziploc freezer bags are suitable to keep wet gear separated and keep electronics dry and protected.
Rain Protection
You need to pack a rain cover in case to protect your gear from rain. If your gear gets wet, it can really ruin your trek.
Clothing to Pack
Head Wear
A hat for sun protection: a wide-brimmed hat or a sun cap to protect yourself from the scorching sun and its strong rays
Balaclava or Neck Gaiter: a proper balaclava to keep your neck warm as well as to cover your mouth and protect lips from the cold in the high altitudes of Annapurna base camp trekking.
Headlamps: Useful while trekking at low visibility, especially during nights.
Sunglasses or Goggle: Sunglasses can protect you against harsh UV rays and strong wind.
Body Wear
Full Sleeve Shirt made up of moisture-wicking fabric
A pair of lightweight shirts, preferably nylon or synthetic fabric
Short sleeve shirt made up of moisture-wicking fabric
Lightweight thermal tops: Thermal tops are a must for higher altitudes on the trekking trail where the temperature gets chillier, and you need to keep your body warm.
Down jacket: Down Jackets are essential that can keep you warm up to -10 Degree Celsius.
Waterproof hoody jacket: You need an outerwear jacket made up of waterproofing material. During unprecedented rainfalls in Annapurna trekking, it becomes handy and it also blocks the wind.
Waterproof hiking pants: Two pairs of comfortable trekking pants that are quick-drying and made of synthetic material.
Hiking shorts: Hiking shorts will be a wise decision for the summer season.
Fleece pants: A pair of warm fleece pants or comfortable track pants to change when you arrive at your lodging.
Light Thermal Trouser: You can have comfortable sleeping wearing it.
Fleece Woolen Pants: A pair of warm bottoms to wear under your trekking pants makes you comfortable. Merino Wool base layers and synthetic material will work.
Hand Wear
Gloves: Gloves keep your hands warm at the high altitudes of the Annapurna base camp trek. You may get numb hands or even frostbite. Better pack a pair of warm fleeces and a waterproof one.
Foot Wear
Hiking boots: A comfortable pair of hiking shoes is a must during the trek. It should fit you perfectly with proper ankle support. You'll be walking for 6-7 hours each day.
Sports shoes: You need a pair of sports or trainers shoes. You will use it when you take your hiking boots off.
Socks: A pack of 3 or 4 pairs of thin liner socks and 2 or 3 pairs of thick socks.
Carry antibiotics as your General Physician prescribed
Please don't bring sleeping pills as they are respiratory depressants
Painkillers, Paracetamol, Ibuprofen, Aspirin, Advil
Cough Lozenges
Triangular Bandage
Foot Powder for keeping your feet in good condition
Anti-inflammatory Tablets
Skin-blister repair kit
Anti-diarrhea pills
Altitude sickness Tablets: Diamox or Acetazolamide to prevent AMS
Water purification tablets or water filters
Prescriptions, in case you need to purchase your medications
Sunscreen–SPF 50 which is to protect you from the extreme rays at altitude
Lip Balm – This is essential to protect you against the fierce sun
Insect Repellent, containing DEET
Hand Sanitizer – This is essential to keep your hands clean on the trail
Wet Wipes/Baby Wipes
Electrolytes, powder, or multivitamin tablets
Required Toiletries for Trekking Annapurna Nepal
Daily hygiene purposes include:
A medium-sized quick-drying towel
Toilet Paper
Toothbrush, toothpaste, soap
Deodorants
Nail clippers, Small Mirror
Face and body moisturizer
Female hygiene items besides above mentioned are:
Sport Bras: While trekking you sweat lots. So having a comfortable sports bra will be a great relief.
Travel-Sized Shampoo: Due to a long trip will make your hair dry and frizzy. You can pack dry shampoo to take a quick shower.
Skincare Items: Weather conditions may cause your skin to get dry. Pack a travel-sized moisturizer, skin cleanser, and sunscreen along with you.
Sanitary Pads: Sanitary pads are necessary if you're traveling during menstruation.
Fleece Headband: Fleece headbands will keep your hair away from your face and protect you from cold.
FAQs
What do you need for the Annapurna Base camp?
Ans: You need a proper bag pack of everything necessary for your Annapurna base camp trek. It includes your right gear, clothes, first-aid kit, documents, and cash.
What should I wear to Annapurna base camp?
Ans: You should wear nice warm clothes at higher altitudes and light-weight dresses in the lower part of the trip. It depends on whether condition as well. Don't forget to have a pair of comfortable trekking shoes.
Do you need crampons for the Annapurna Base camp?
Ans: No, you don't need it. You need a pair of good-quality hiking boots and hiking poles for extra support and stability instead.
If you are looking for information regarding routes of Annapurna Base Camp trek read Routes and Maps of the Annapurna Base Camp Trek chapter. Best Annapurna Base Camp Trek Time chapter explain in detail about the best time to trek in Annapurna Base Camp region. If you are wondering how to choose the best trek operator, find detail information from this How to Choose the best Annapurna Base Camp Trek Operator chapter.
The cost chapter Cost of Annapurna Base Camp Trek explains all types of cost and fees of Annapurna Base Camp trek. If you need information regarding visa and permit of Annapurna Base Camp trek read Visa and Permit for Annapurna Base Camp Trek chapter.
Learn in detail about the food and lodging during trekking Annapurna Base Camp in the Accommodation and Food chapter. If you want information about Annapurna Base Camp trek ground transportation read the chapter Ground Transportation during.
In other chapters of this Annapurna Base Camp Trek guide, we have explained in detail of Internet and Telephone Facility in the Annapurna Base Camp region, how and where to find the Trek Guides and Porters and how much dangerous and safe is Annapurna Base Camp Trek. Moreover, you can explore our Nepal tours and treks package page to find several amazing Annapurna base camp trekking deals.