RCDP Volunteers
Headquarters
United States
RCDP International Volunteer is a non-profit humanitarian organization that empowers disadvantaged communities with sustainable and meaningful volunteer programs. RCDP International Volunteer offer unique, highly flexible, safe and very affordable programs in over 18 countries of Asia, Africa and Latin America.
Each year, many volunteers of all ages enroll in RCDP International Volunteer's programs and set out on an unforgettable journey that will empower them and give them insight into how lives in other parts of the world are lived. Through our volunteer program, our volunteers will have the opportunity to give back to local communities where you will live, immerse in local culture and make local friends. Your contribution will have a lasting impact.
Read 1 Reviews
Write a review for ""
Amazing experience!

Apart from teaching English, you will also get involved in organizing various interesting educational activities. Your valuable support and native-level language skills will help poor Indian children develop English skills and get lucrative jobs in the future. Previous English teaching experience is desired but not mandatory to join this teaching English volunteer project in India. You'll need to have sound communication skills in English. You are also expected to be open-minded, self-motivated and should have a strong passion to learn and take new initiatives.
10 RCDP Volunteers Programs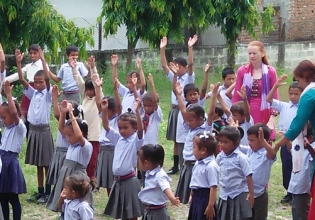 Destinations

Nepal

Age Range

18 + Years

Project Types:

Teaching English

Operator